The Security Service of Ukraine has established the identities of six residents of Kyiv who illegally disseminated information about the work of air defense forces during the massive Russian attack on Kyiv that took place on May 16.
That night, they took unauthorized photos and videos of the work of Ukrainian air defense forces, and then posted these materials for the general public on social networks. Among them, these persons recorded the results of the defeat of Russian cruise and ballistic missiles. Thus, they could reveal the location and specifics of the domestic air defense system. In a matter of minutes, these videos were "picked up" by numerous Telegram channels and Russian propaganda sites, including resources controlled by the special services of the aggressor country.
The law enforcement officers promptly identified the people who posted photos and videos of the air attack on Kyiv and the work of air defense on social networks. SBU employees conducted investigative actions in the places of actual residence of the persons involved. At the same time, mobile phones and computer equipment, which they used to distribute prohibited content, were seized.
Based on these facts, SBU investigators registered a criminal proceeding under Part 2 of Art. 114-2 of the Criminal Code of Ukraine (unauthorized dissemination of information about the direction, movement of weapons, armaments and ammunition in Ukraine, movement, movement or placement of the Armed Forces of Ukraine or other military formations formed in accordance with the laws of Ukraine, committed under martial law). Currently, a pre-trial investigation is being conducted by investigators of the State Security Service of Ukraine in Kyiv and Kyiv region. Perpetrators face up to 8 years in prison.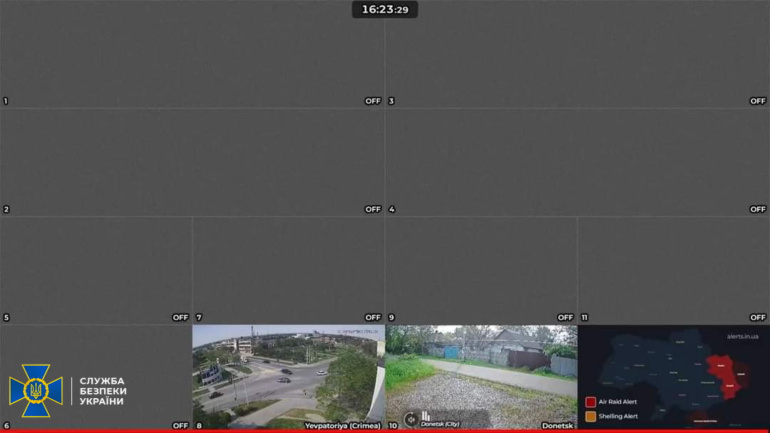 In addition, cyber specialists of the SBU blocked the operation of online cameras that automatically recorded the operation of the Ukrainian air defense. According to the investigation, the discovered video cameras are on the balance sheet of several commercial structures in the capital. At the same time, access to the captured files was open to a wide range of users, who posted the video of the night attack on Kyiv publicly available on YouTube. The occupiers could use the information obtained in this way to adjust repeated air strikes on the capital of Ukraine.
The Security Service of Ukraine reminds of the ban on shooting and publishing video and photo materials regarding the activities of the Armed Forces of Ukraine, as well as the consequences of enemy shelling. The publication of such materials on the Internet is considered as adjustment of enemy fire and is a criminal offense according to the law.