Today could be another day for the air defense/anti-missile defense of Ukraine. In the course of the night Russian air attack, which is called the most complex in recent times, all 18 missiles fired and 9 UAVs were shot down, including 6 "hypersonic" aeroballistic missiles "Dagger" and 3 S-400 ground-based ballistic/anti-aircraft missiles and Iskander-M.
Updated [22:13]: according to the detailed information of the General Staff, during the Russian night shelling, Ukrainian air defense shot down not 18, but 25 missiles: 6 Kinzhal aeroballistic missiles, 9 Kalibr cruise missiles and 10 ground-based missiles (S-400, Iskander-M). At the same time, the White House cannot confirm reports of damage to the Patriot complex in Ukraine. National Security Adviser Kirby said the US is ready to help with repairs as needed.
The text of the original news
In addition to them, the following were destroyed:
9 Kalibr cruise missiles
6 Shahed attack drones
3 UAV "Orlan" and SuperCam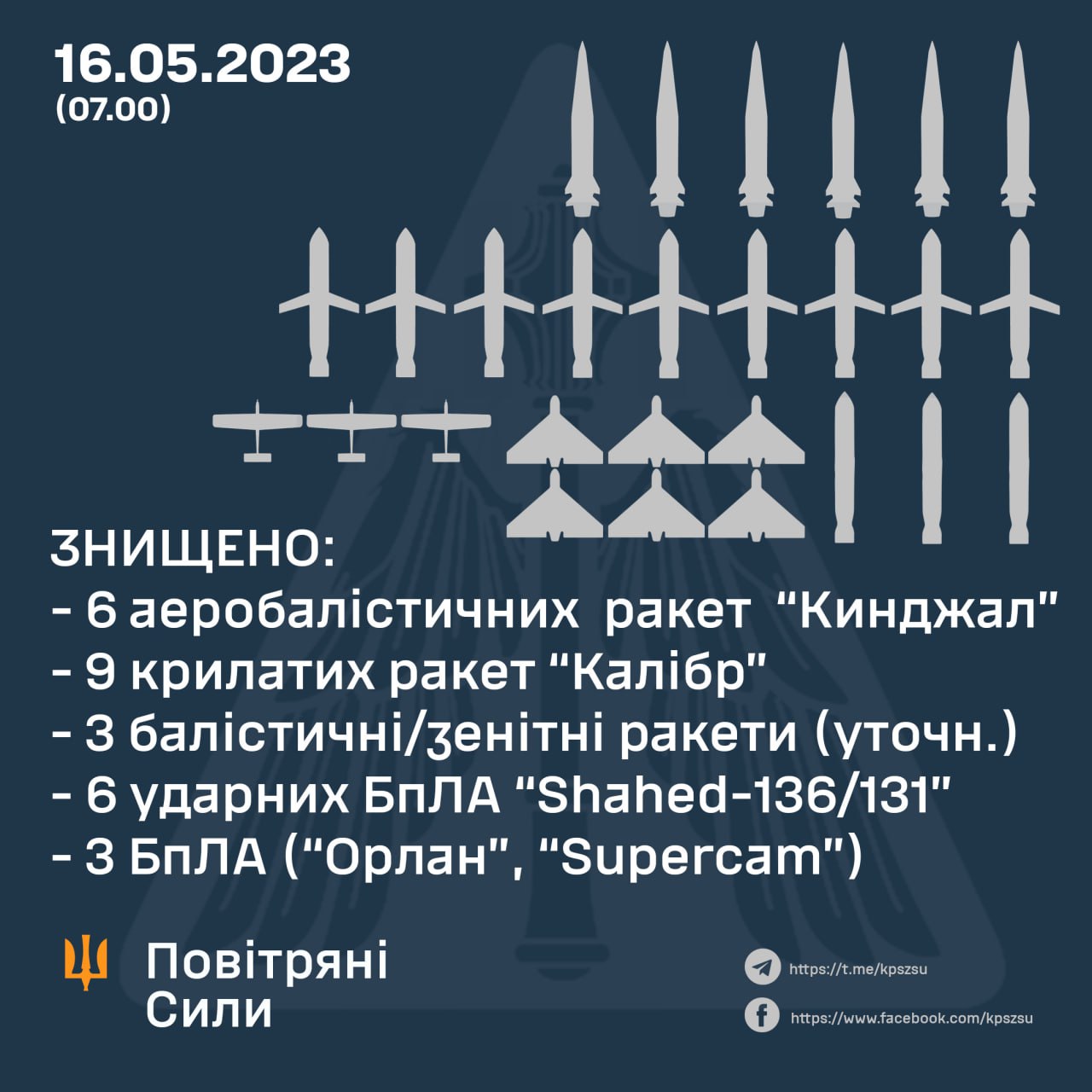 The defeat of several "unbeatable" Daggers is a remarkable achievement, and the result is no less impressive – the first case of interception of anti-aircraft missiles. Hitting 100% of air targets during a combo attack is also rare. Glory and thanks to the Ukrainian soldiers and allies who provided funds for air defense!
Unfortunately, the shelling was not without consequences. KMVA informs about falling debris in Darnytskyi, Obolonskyi, Solomyanskyi, Svyatoshynskyi and Shevchenkivskyi districts of Kyiv. In the Solomyansk district, an auto equipment and a non-residential premises caught fire, the fire has already been extinguished. In other areas, there was minor damage: debris fell on cars, near residential buildings and in the forest park zone. There is no information about the victims.
Ukraine continues to strengthen its air and missile defense system. Germany transfers additional IRIS-T systems, France and Italy announced that the SAMP/T complex is already in Ukraine.
The ability to launch long-range missile strikes is also increasing: Ukraine already has British Storm Shadow missiles with a range of 250 km and a 450 kg charge, France also announced the transfer of SCALP-EG long-range missiles (modified Storm Shadow with a cluster warhead). Looking forward to ATACMS for US HIMARS installations.
American Patriot air defense systems: a new level of protection of the Ukrainian sky
Sources: Air Force, KMVA, State Emergency Service