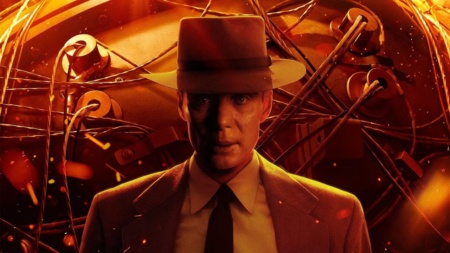 The season of summer blockbusters is in full swing, which means that there are many big-budget popcorn films waiting for viewers. Somewhere next to them, more modest projects were located. In July, the audience will try to entertain, laugh, scare, and also get to know the famous historical person better. Read more about the most interesting novelties of the month in our traditional material.
"Astral 5: Red Door" / Insidious: The Red Door
Genre: supernatural horror
Premiere date: July 6
Where to watch: cinemas
Ten years have passed since the events of the film "Astral: Chapter 2" (2013). Josh Lambert sends his son Dalton to a prestigious Ivy League university. But demons from the past are haunting the Dalton family again, so they will have to give another battle to the supernatural forces hiding behind the mysterious red door.
Before us is the continuation of the two previous parts and the fifth series of the "Astral" franchise. Starring Patrick Wilson is making his directorial debut, and producer Jason Blum has long been planning an Astral-Sinister crossover.
"Parents in law" / The Out-Laws
Genre: crime comedy
Premiere date: July 7
Where to watch: Netflix
Successful bank manager Owen Browning is about to marry his charming girlfriend Parker. But on the eve of this, a gang of robbers, known as "ghost bandits", suddenly visits Owen at work. And it would be nothing if some signs did not indicate that the criminals are the parents of the future bride of an unsuccessful banker.
Considering that the film was produced by Adam Sandler's company Happy Madison, and he himself became one of the producers, an unpretentious comedy film is expected for the evening with a pleasant cast.
"Mission: Impossible – Dead Reckoning Part One" / Mission: Impossible – Dead Reckoning Part One
Genre: spy action
Premiere date: July 8
Please see: cinemas
Ethan Hunt and his team embark on a new mission. This time they will search for dangerous weapons that can fall into the wrong hands. Faced with an all-powerful enemy, the main character understands that this task is extremely important and must be completed at all costs. Even if you have to sacrifice the lives of loved ones.
For the sake of the film, the unstoppable Tom Cruise did a new crazy stunt on a motorcycle, and the film's budget swelled to a record 290 million dollars for the series. Apparently, the Paramount studio is counting on a repeat of last year's success of Top Gun: Maverick. The spy franchise itself is gradually reaching its climax, and this will be the first part of the finale of the story of Ethan Hunt.
"Bird Box Barcelona" / Bird Box Barcelona
Genre: post-apocalyptic horror, thriller
Premiere date: July 14
Where to watch: Netflix
As you can easily guess, the events of the film will take place in Barcelona. Sebastian and his daughter Hanna try to survive in a world where people commit suicide en masse after visual contact with a mysterious entity.
Barcelona is a spin-off of the 2018 film The Birdcage, starring Sandra Bullock. At the time, it broke viewing records on the streaming service, but received mixed reviews from film critics.
"Oppenheimer" / Oppenheimer
Genre: biographical drama
Premiere date: July 20
Where to watch: cinemas
A biographical drama from Christopher Nolan, which tells about the life and activities of the American theoretical physicist Julius Robert Oppenheimer. He was the scientific director of the "Manhattan Project", within the framework of which the first samples of nuclear weapons were developed.
The plot of the film is based on the biography "American Prometheus" by Kai Byrd and Martin J. Sherwin, which was published in the mid-zeros. The work won the Pulitzer Prize. The role of the "father of the atomic bomb" was played by Cillian Murphy.
"Barbie" / Barbie
Genre: fantasy romantic comedy, adventure
Premiere date: July 20
Where to watch: cinemas
Barbie and Ken were kicked out of the fabulous Barbieland because they were not perfect dolls. Now these two will have to look for happiness in the real world, which, as you know, is not a fairy tale at all.
It is very strange to see a gloomy historical film about the creator of the atomic bomb and a frivolous film in pink tones, based on the cult doll from Mattel, side by side. But we live in such strange times. The screenplay was written by Greta Gerwig and Noah Baumbach, who worked together on last year's "White Noise", and Margot Robbie and Ryan Gosling played the main roles of the polished dolls.
"Web" / Cobweb
Genre: horror movie
Premiere date: July 20
Where to watch: cinemas
Eight-year-old Peter constantly hears a strange knocking in the walls of his room. The boy's parents do not pay attention to this and put everything down to the child's rich imagination. But Peter is sure that they are hiding a dark secret from him.
Of course, the modest "Web" has no chance to compete with "Oppenheimer" and "Barbie", but this work may interest horror fans. And those viewers who are already tired of loud and often senseless blockbusters. Lizzy Kaplan and the star of the hit "Boys" Anthony Starr played the main roles here.
"They Cloned Tyrone" / They Cloned Tyrone
Genre: science fiction comedy
Premiere date: July 21
Where to watch: Netflix
A series of terrifying events brings together a trio of characters who would otherwise never have come together, and puts them on the trail of a terrible government conspiracy involving the cloning of people.
They Cloned Tyrone was conceived as a project that would pay homage to the blaxploitation films of the 70s. Debutant director Jewel Taylor cited films such as They Live (1988), Groundhog Day (1993), Napoleon Dynamite (2004) and It (2014) as sources of inspiration while working on with this fantastic comedy.
"Haunted Mansion" / Haunted Mansion
Genre: supernatural horror, comedy
Premiere date: July 27
Where to watch: cinemas
Single mother Gabby and her 9-year-old son move into an old mansion located in New Orleans. But soon they discover that ghosts live here. To fight the spirits, the frightened heroes seek the help of a former researcher of paranormal phenomena, a priest, a psychic and a professor of history.
"Haunted Mansion" is already the second adaptation of Walt Disney's attraction of the same name. The first, starring Eddie Murphy, took place two decades ago and received negative press.
"Fight with the Devil" / Sympathy for the Devil
Genre: psychological horror, thriller
Premiere date: July 27
Where to watch: cinemas
An ordinary driver is forced to obey the will of a mysterious passenger with a weapon in his hands, who promises that today the man will pay for all his past sins. This meeting will turn into a nightmarish journey with an uncertain destination. Perhaps they will become hell itself.
Nicolas Cage continues to please his fans with crazy and even somewhat infernal images, and it is certainly difficult not to notice a certain charm.