Seven years ago, tablets were experiencing a real boom – they were bought by everyone and everything: for work, games and calls. Since then, this segment has suffered a considerable decline in sales, but is still popular. After all, a tablet is a universal station with a large screen for entertainment and fruitful work, for communicating with friends and colleagues, for studying and hanging out on social networks.
In this partner review with Blackview, we take a look at its new budget tablet Blackview Tab 16. We talk about its incredible configuration, design and filling, about games, performance and software. And also about sound, camera and autonomy. Finally, we will not forget to share the experience of use.
Project partner?


Blackview Tab 16 specifications
| | |
| --- | --- |
| Body materials | plastic and metal |
| Screen | IPS-LCD 11 inches, resolution 1200×2000 pixels, 60 Hz |
| Processor | Unisoc Tiger T616, 12 nm, 8 cores, 2xCortex-A75 + 6xCortex-A55 |
| RAM | 8 GB LPDDR4 |
| built-in memory | 256 GB eMMC 5.1 |
| Interfaces | Wi-Fi (b/g/n/ac), Bluetooth 5.0, USB-C |
| Cameras | main – 13 MP with autofocus, front – 8 MP without autofocus |
| Sound | stereo, 4 speakers |
| Mobile Communication | yes, 4G, Nano-Sim |
| Memory card | yes, microSD (up to 1 TB) |
| Sensors | accelerometer, light sensor |
| Navigation | GPS/GLONASS/Beidou/Galileo |
| Additionally | FM radio, OTG |
| Battery | lithium-polymer (Li-Pol) at 7680 mAh, fast charging 18 W |
| Operating System | Dock OS 3.0, Android 12 |
| Dimensions | 260×164×7.9 mm |
| Weight | 533 grams |
Packaging and assembly
Blackview Tab 16 comes in a large stylish box. Inside is the tablet itself with a protective film on the screen, an additional protective glass, a USB-A to USB-C cable, an 18W power supply, a clip for opening the SIM card slot, a stylus, a protective case with a folding magnetic cover and documentation.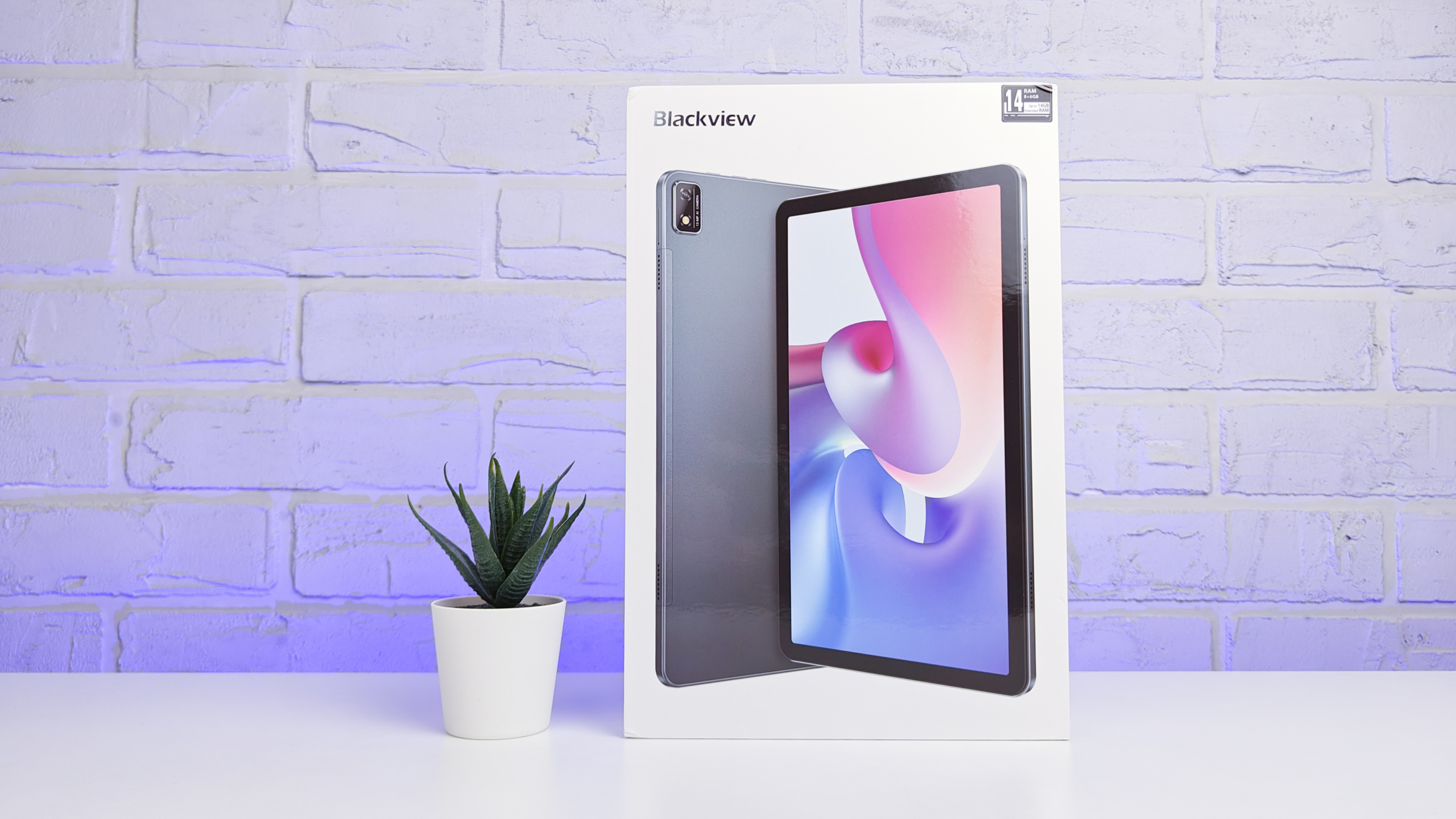 As you can see, many useful accessories have been put in the box, which adds value to the tablet and makes its use as convenient and comfortable as possible.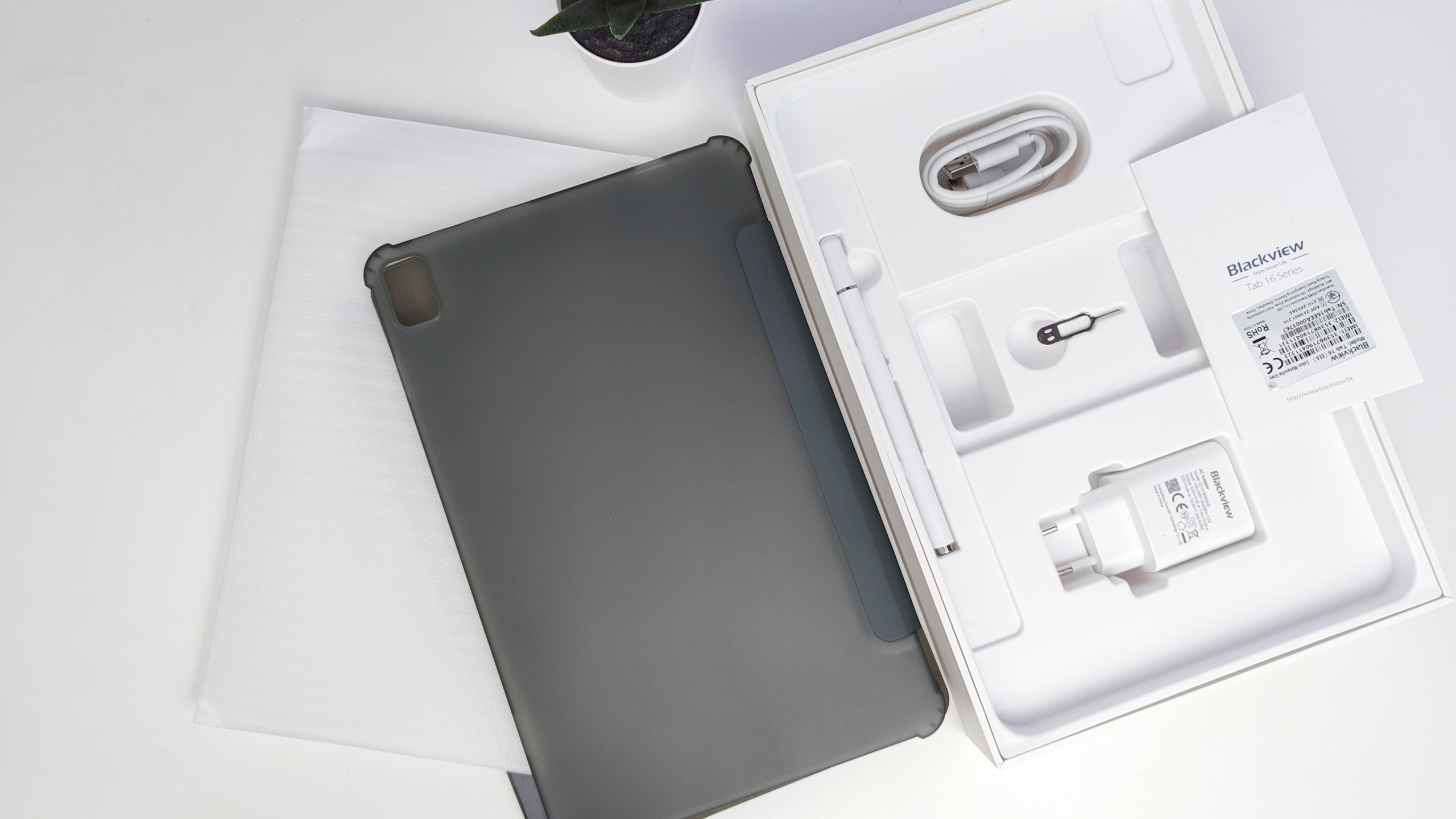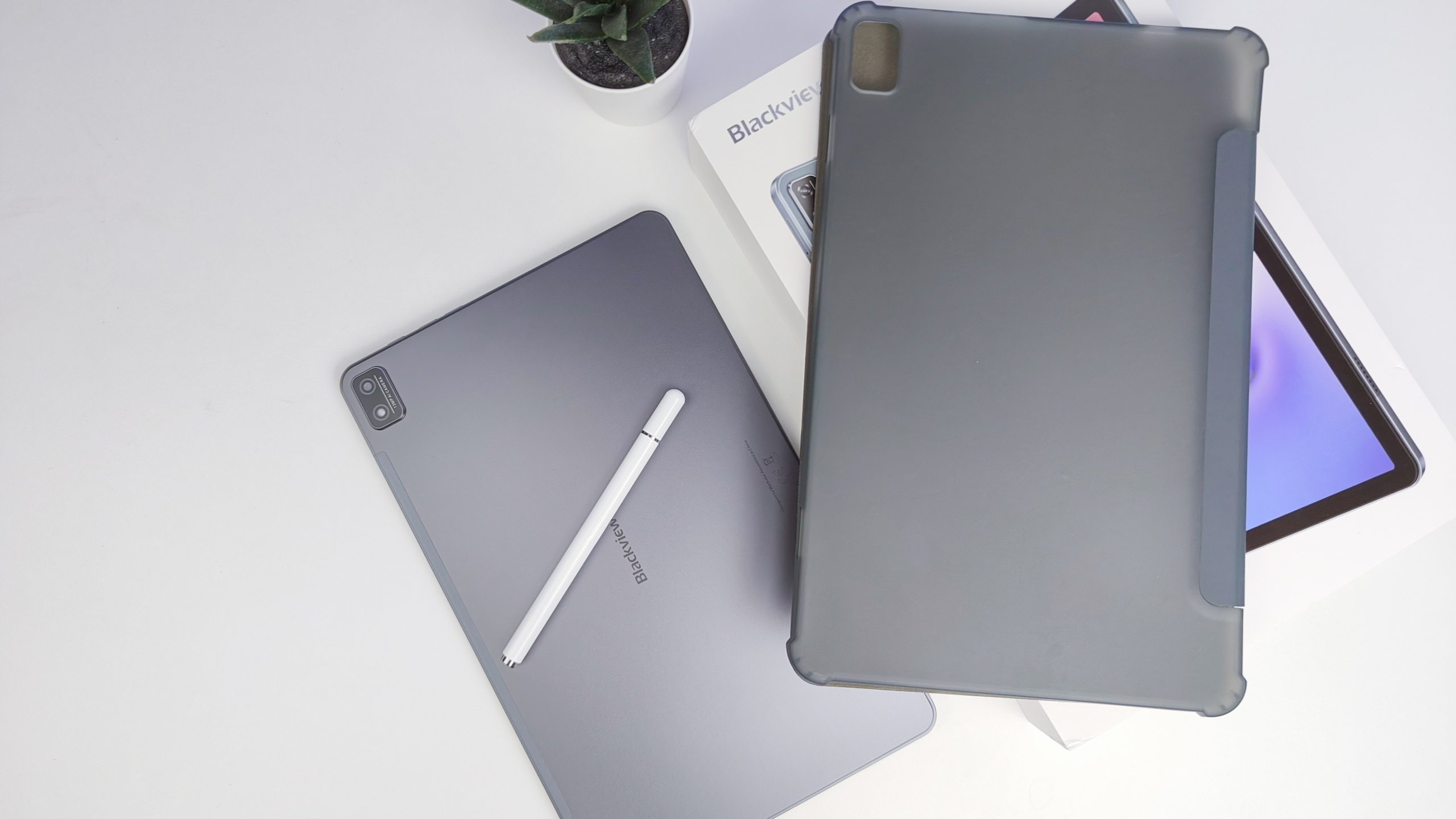 The stylus is simple and cheap, but comfortable, light and with a magnetic cap that won't get lost.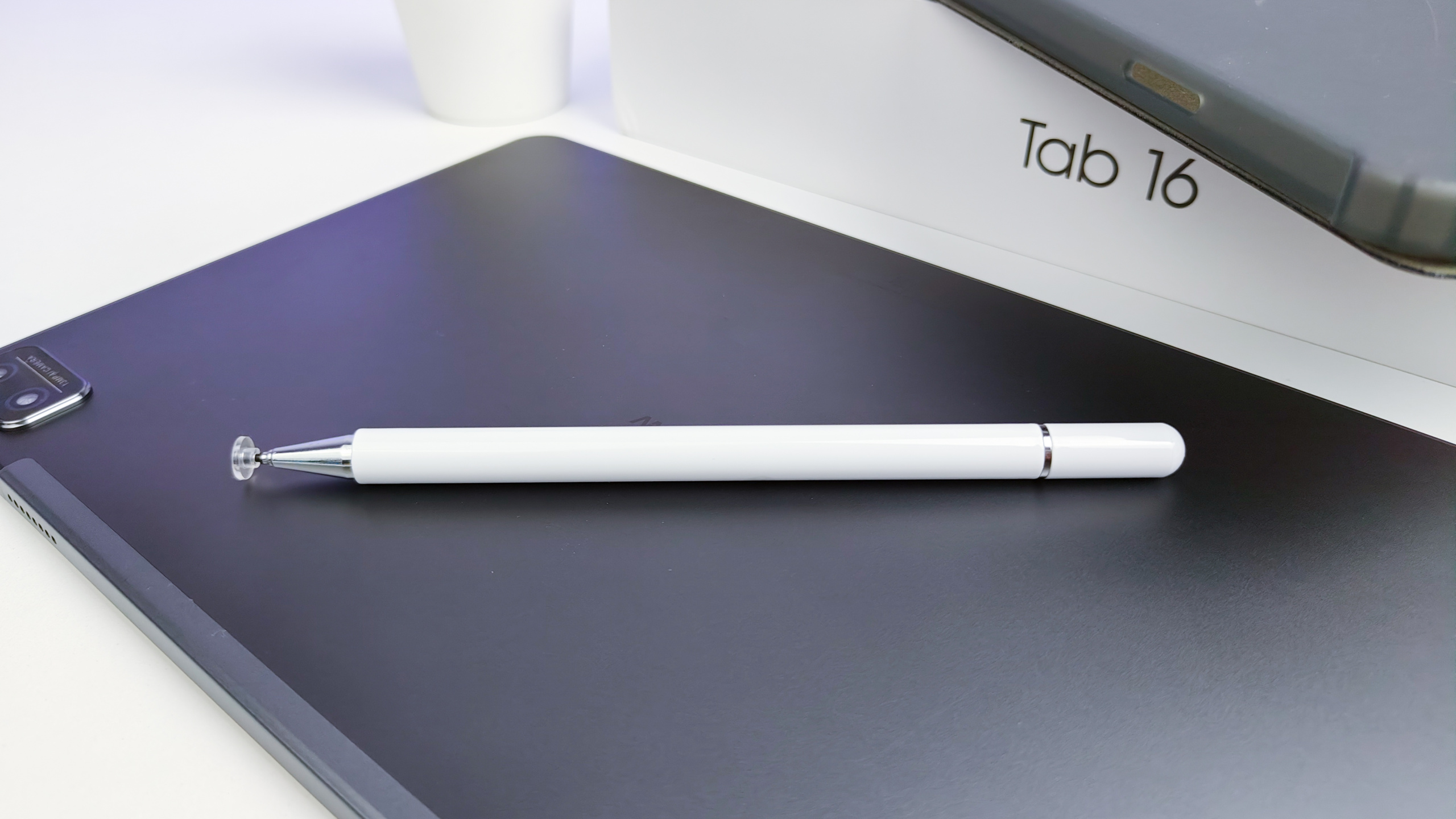 You should also pay attention to the additional protective glass to the already installed complete film. It can be left for later, when the film is rubbed off, or installed instead of it immediately.
I liked the silicone translucent cover. It is stylish and reliable, with corner protectors and a convenient magnetic cover. It not only locks or unlocks the screen, but also folds into a triangle and is a stand.
Using the Blackview Tab 16 becomes very convenient with the complete case. The tablet looks cool, is protected, automatically turns on/off the screen and comes with a stand.
Design and ergonomics
Blackview Tab 16 looks modern: thin body, relatively thick frames around the screen, so that it is comfortable to hold flat faces, rounded corners.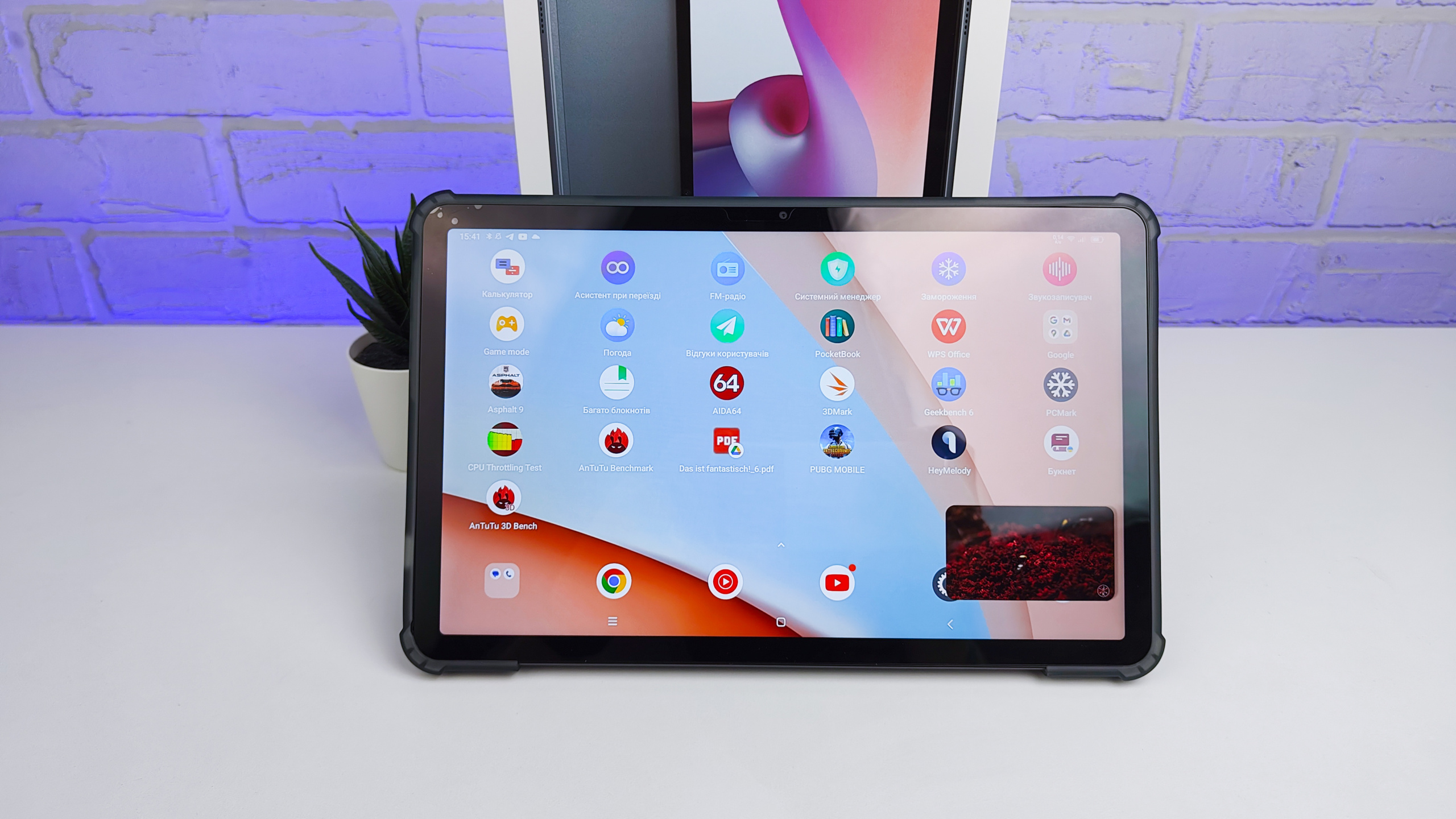 Metal tablet with plastic elements. Dimensions of the model – 260×164×7.9 mm, and weight – 533 grams. In addition to gray, the review also includes models in blue and green.
The front camera is located in the middle of the tablet on the upper edge. There is a light sensor nearby. It is in a horizontal position. We will continue to remember this landscape format in our heads when describing the sides of the tablet and the elements placed on them.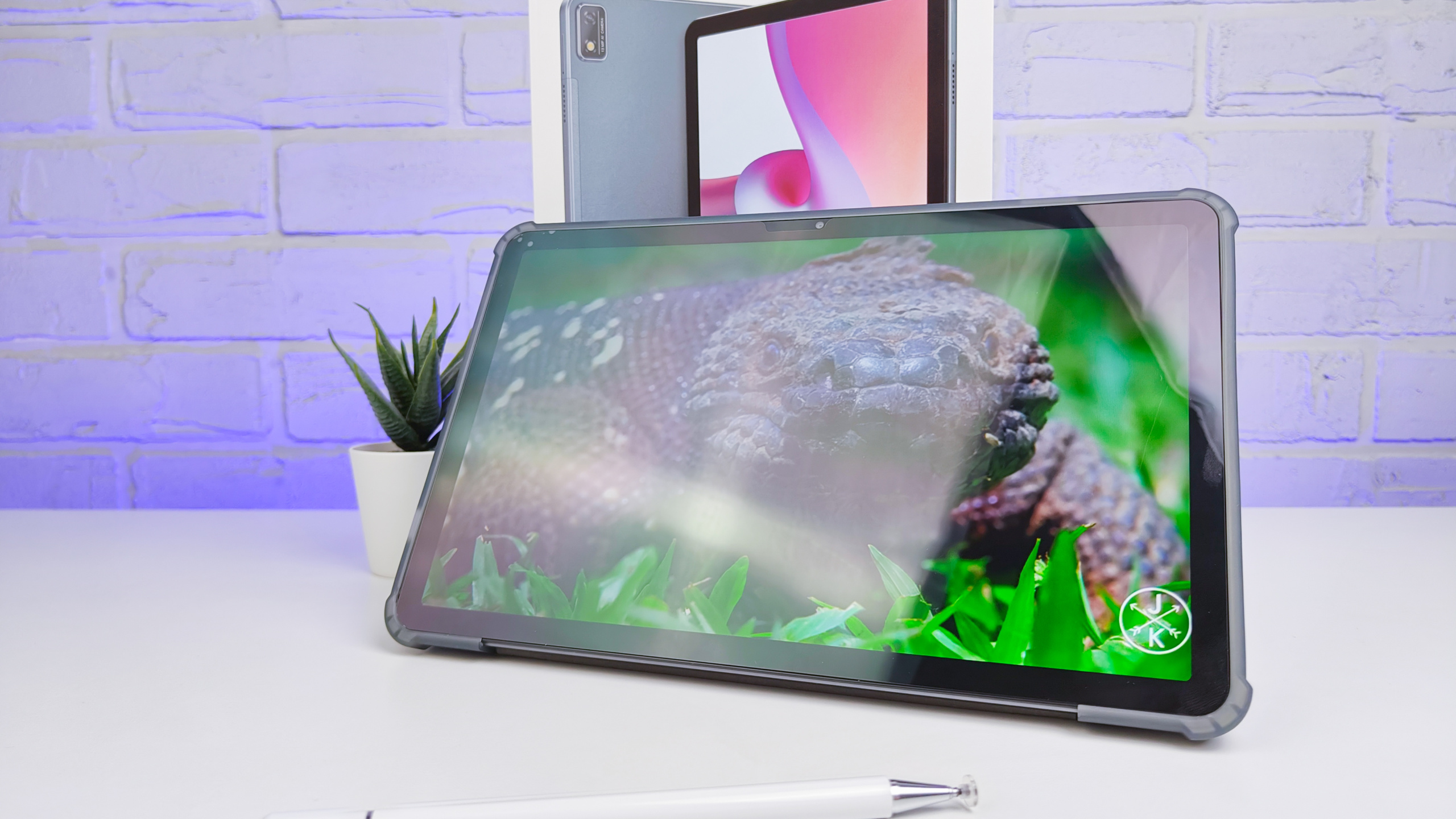 On the back panel, we see the Blackview inscription, a place for the main camera with a flash, a thin plastic insert for better Wi-Fi and Bluetooth performance, and an edge notch along the edge of the entire body.
A USB Type-C port, separate volume keys and a lock button are placed on the left end.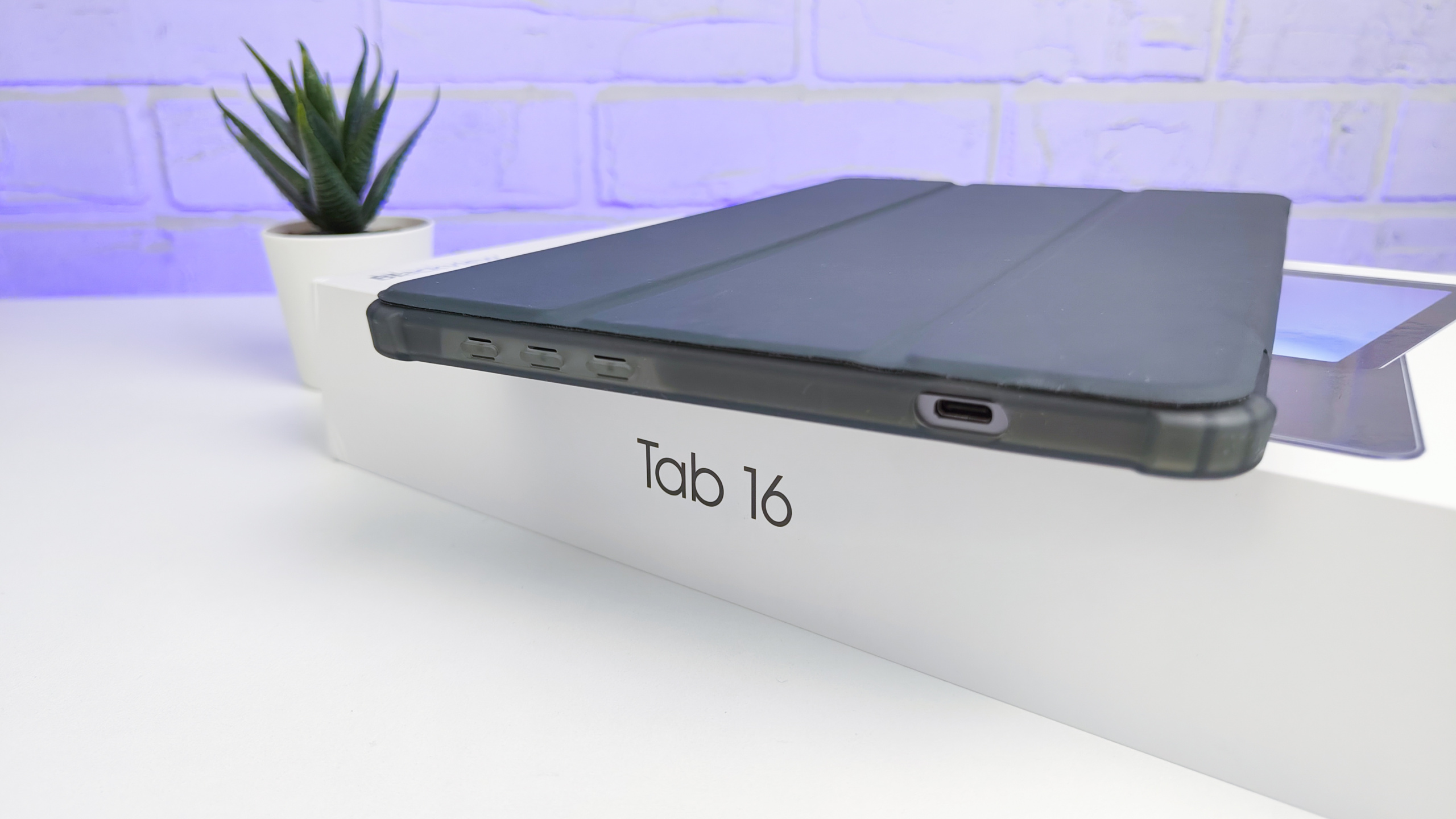 There is nothing on the right side.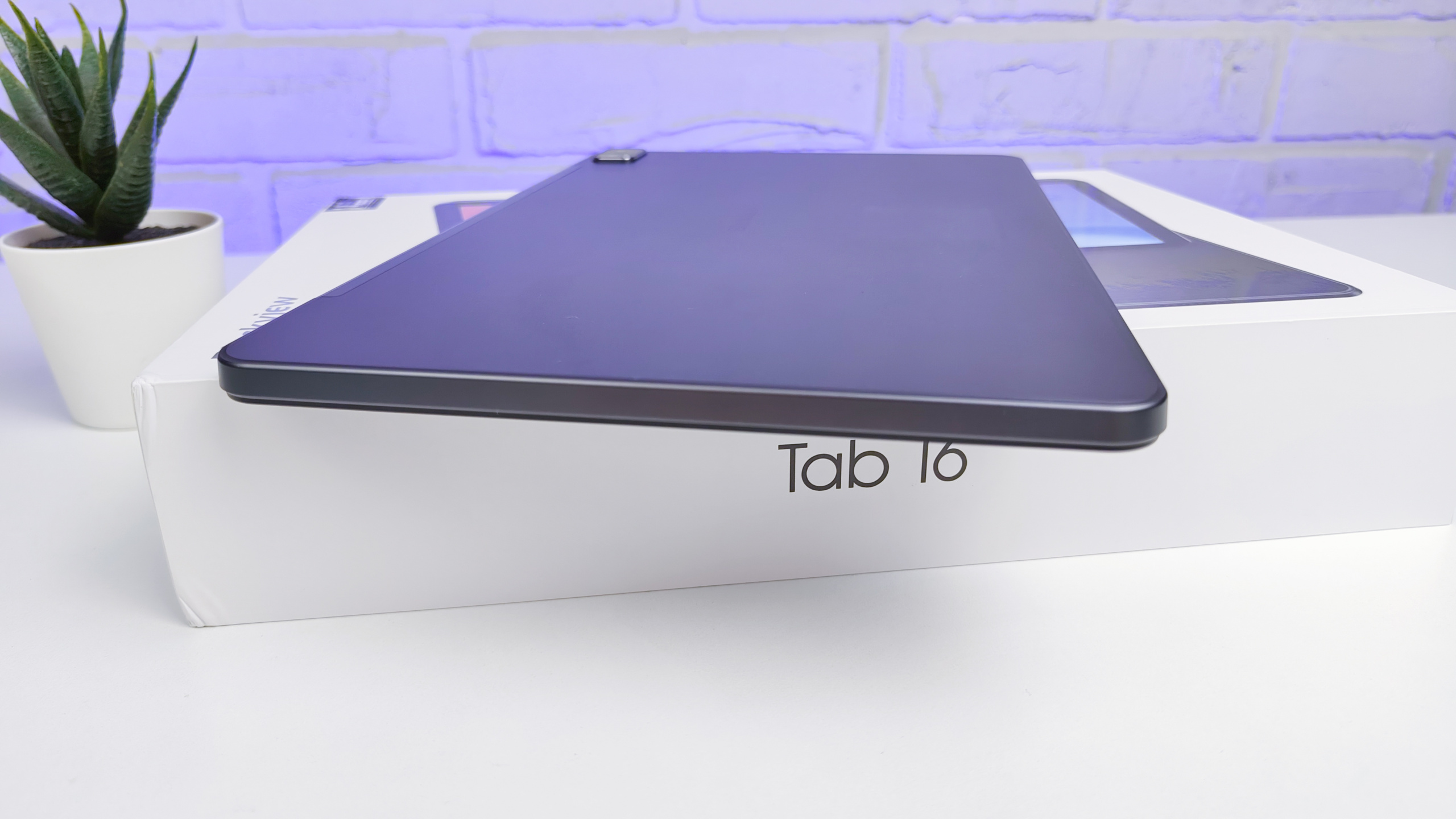 On the bottom edge we see a pair of stereo speakers.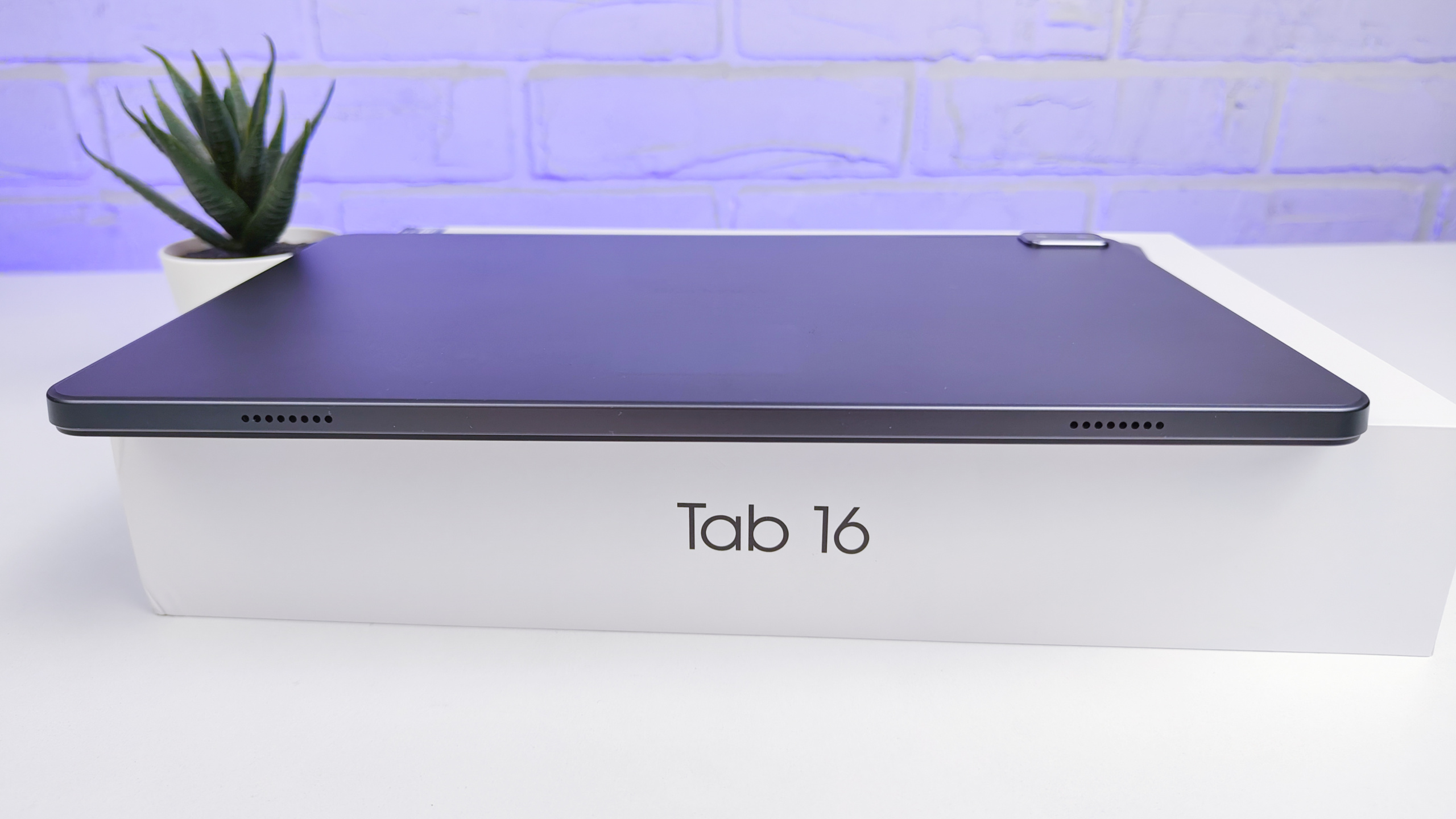 Two more speakers and a combined slot for two SIM cards and a microSD card are located on the top.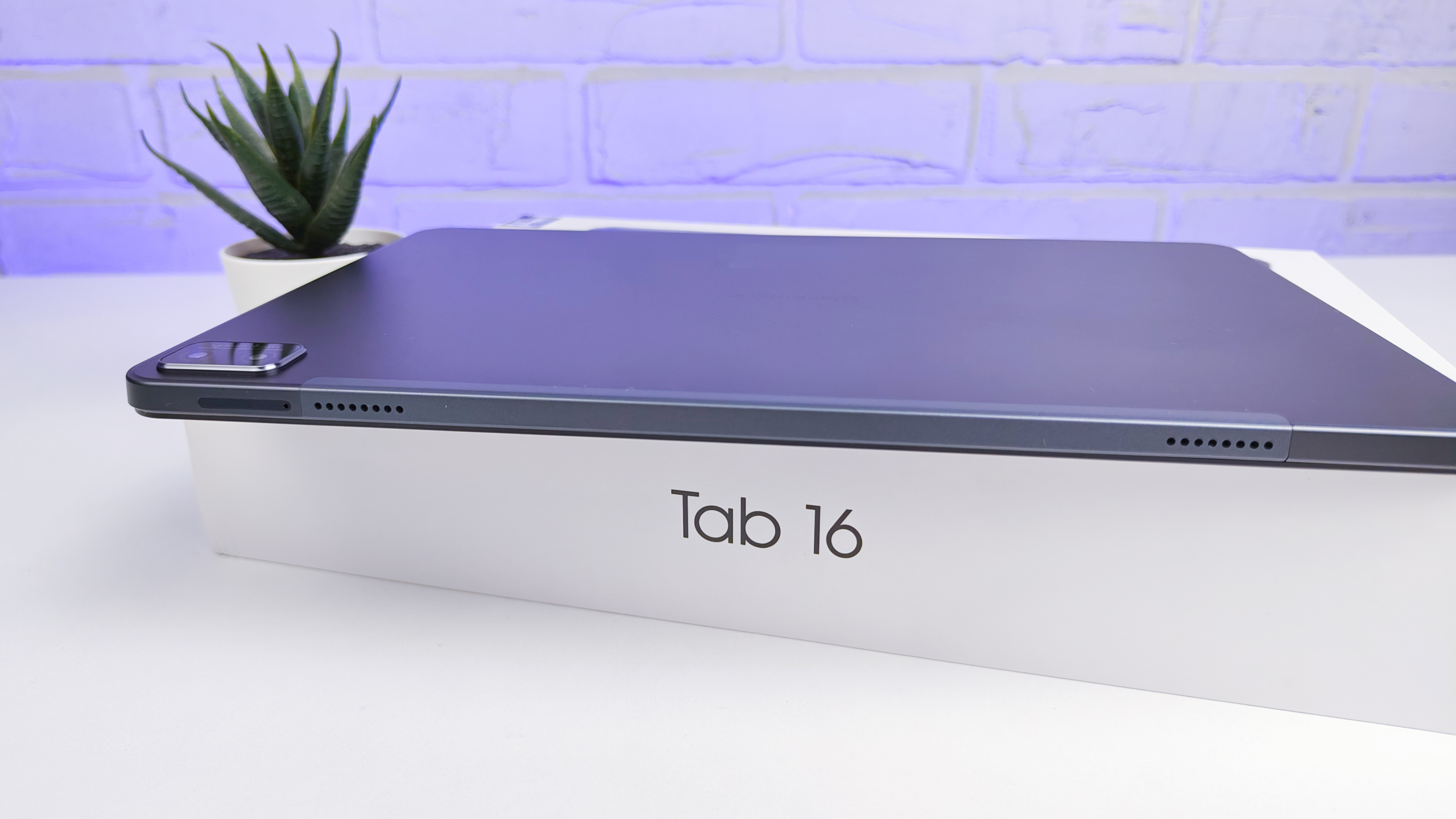 You can view the Blackview Tab 16 specifications on the website
Blackview Tab 16 display
Blackview Tab 16 is equipped with an 11-inch IPS-LCD screen with a resolution of 1200×2000 pixels. The standard refresh rate is 60 Hz. The density of pixels per inch is 212ppi. The contrast ratio is 1000:1, and the maximum brightness is 250 nits. The tablet screen supports the SGS TÜV Rheinland protection certificate.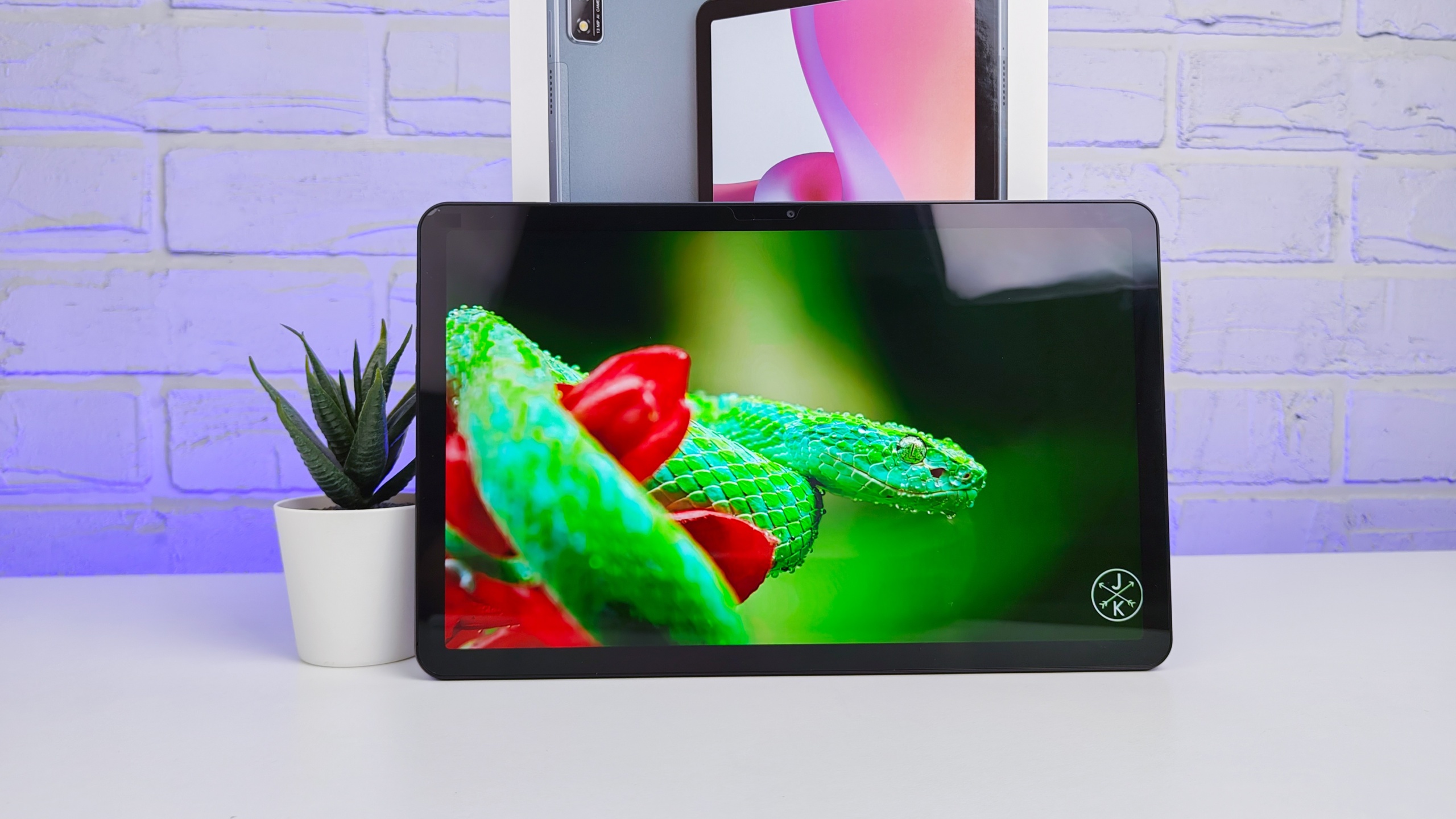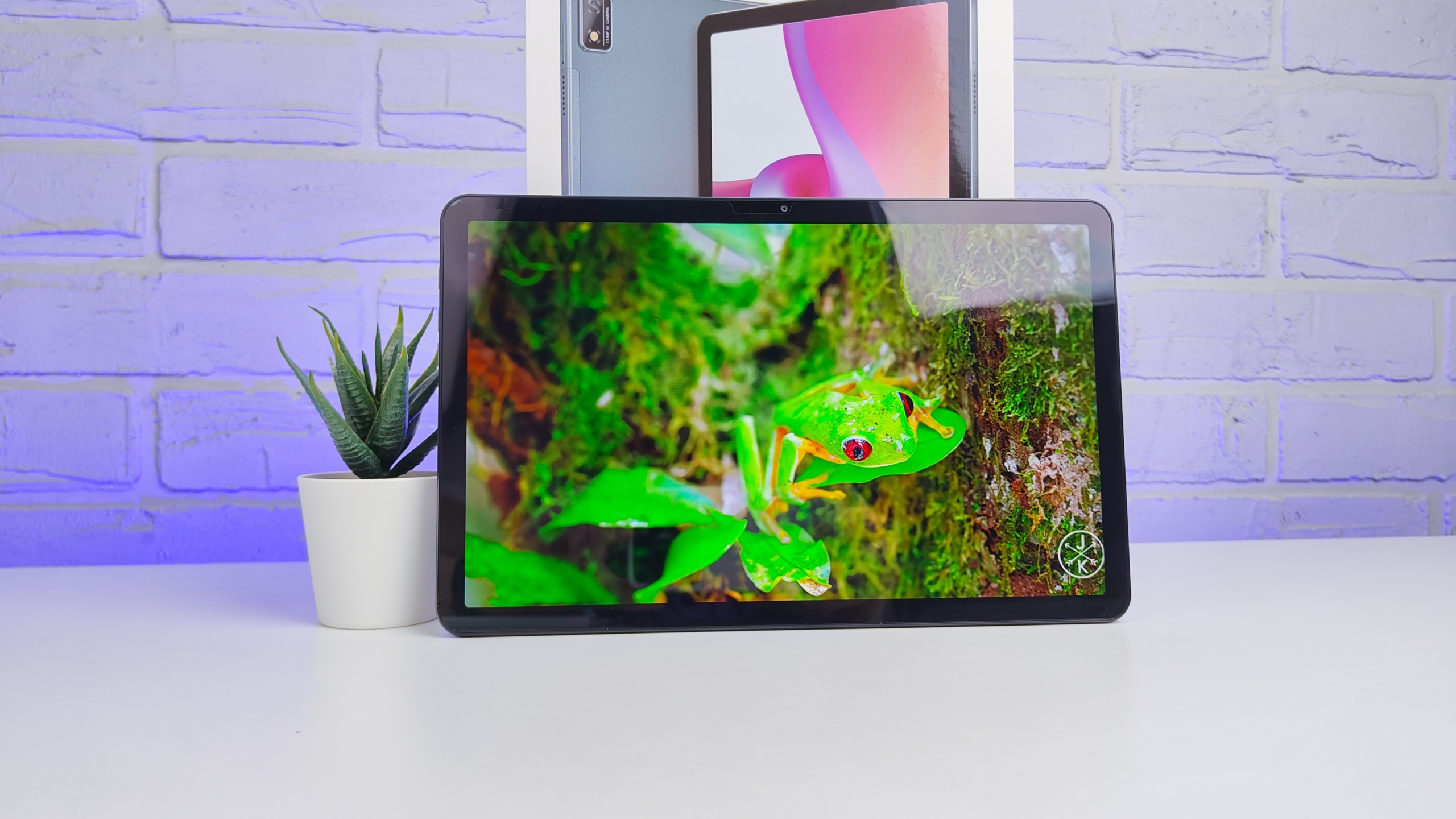 The installed IPS matrix has good viewing angles, and its relatively small brightness on paper is actually adequate. I was a little lacking in brightness only in direct sunlight. In all other situations, especially at home, I bet on 65%, because the higher figure was already too bright.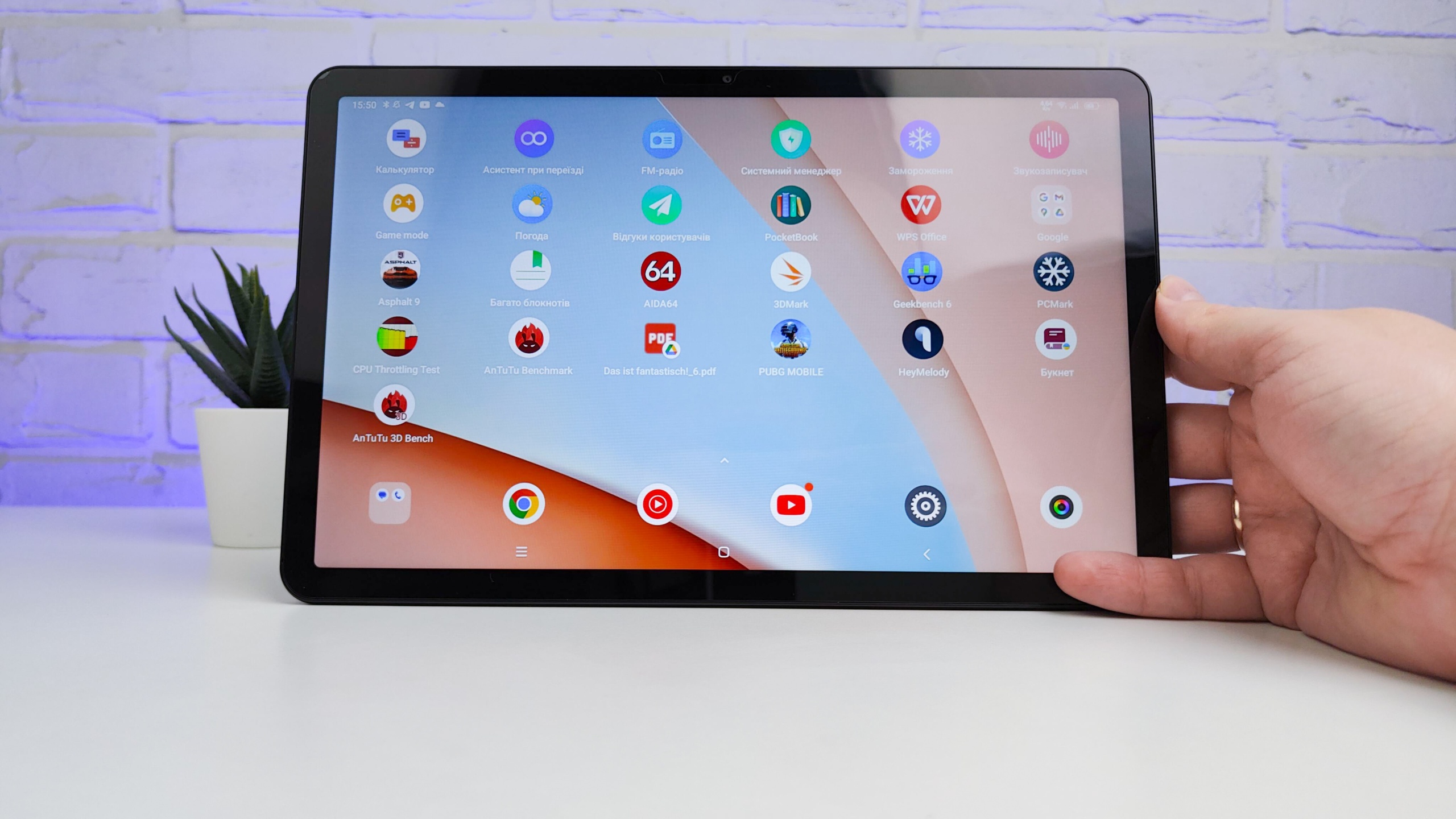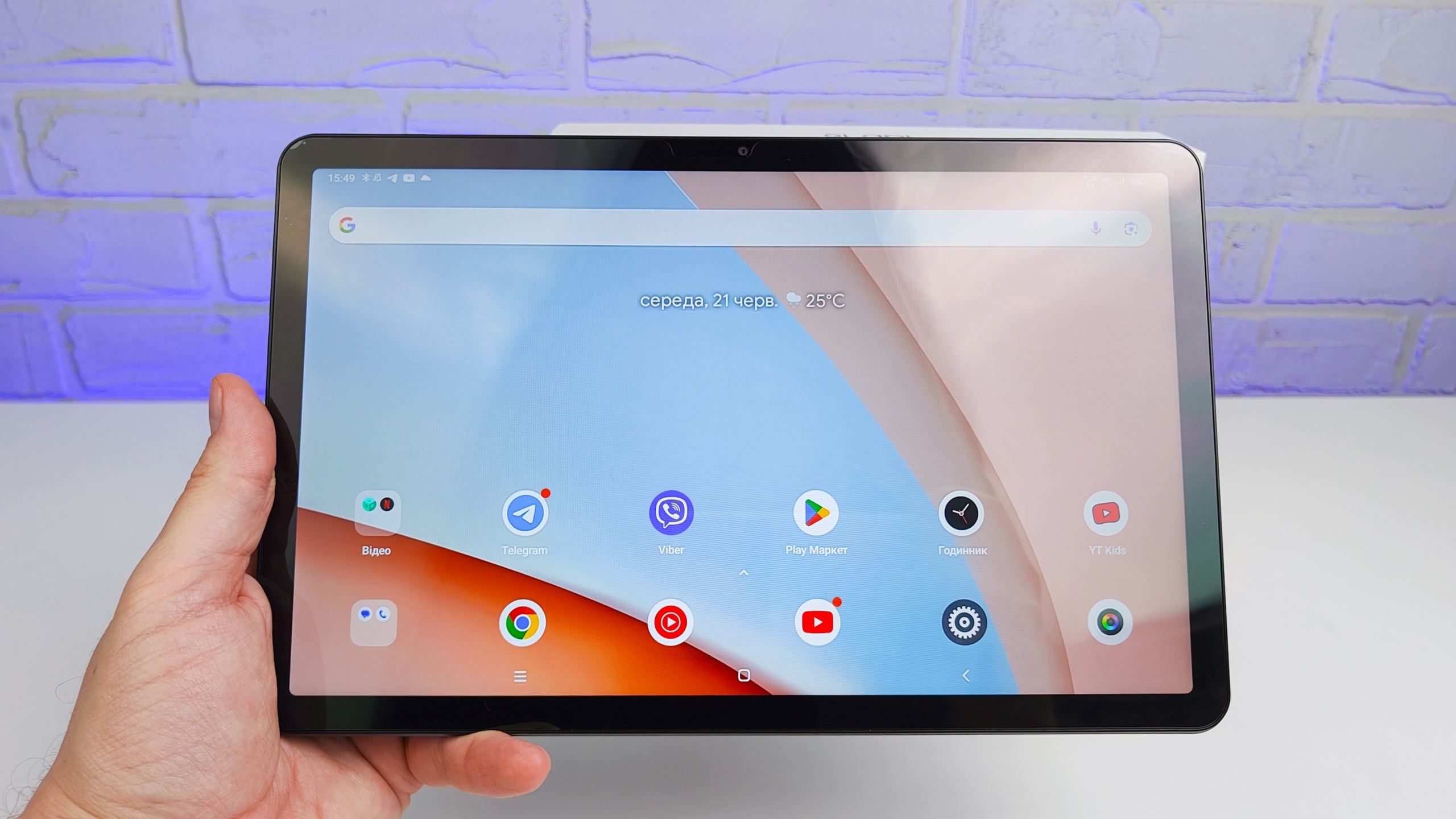 The Blackview Tab screen has pleasant saturated colors and adequate contrast. And if you don't like something, you can change the color temperature in the settings and adjust it to suit yourself. There's also a night mode that removes the blue color, as well as a "Night Screen" feature that turns the display black and white. It's handy in the evening for reading, browsing, etc.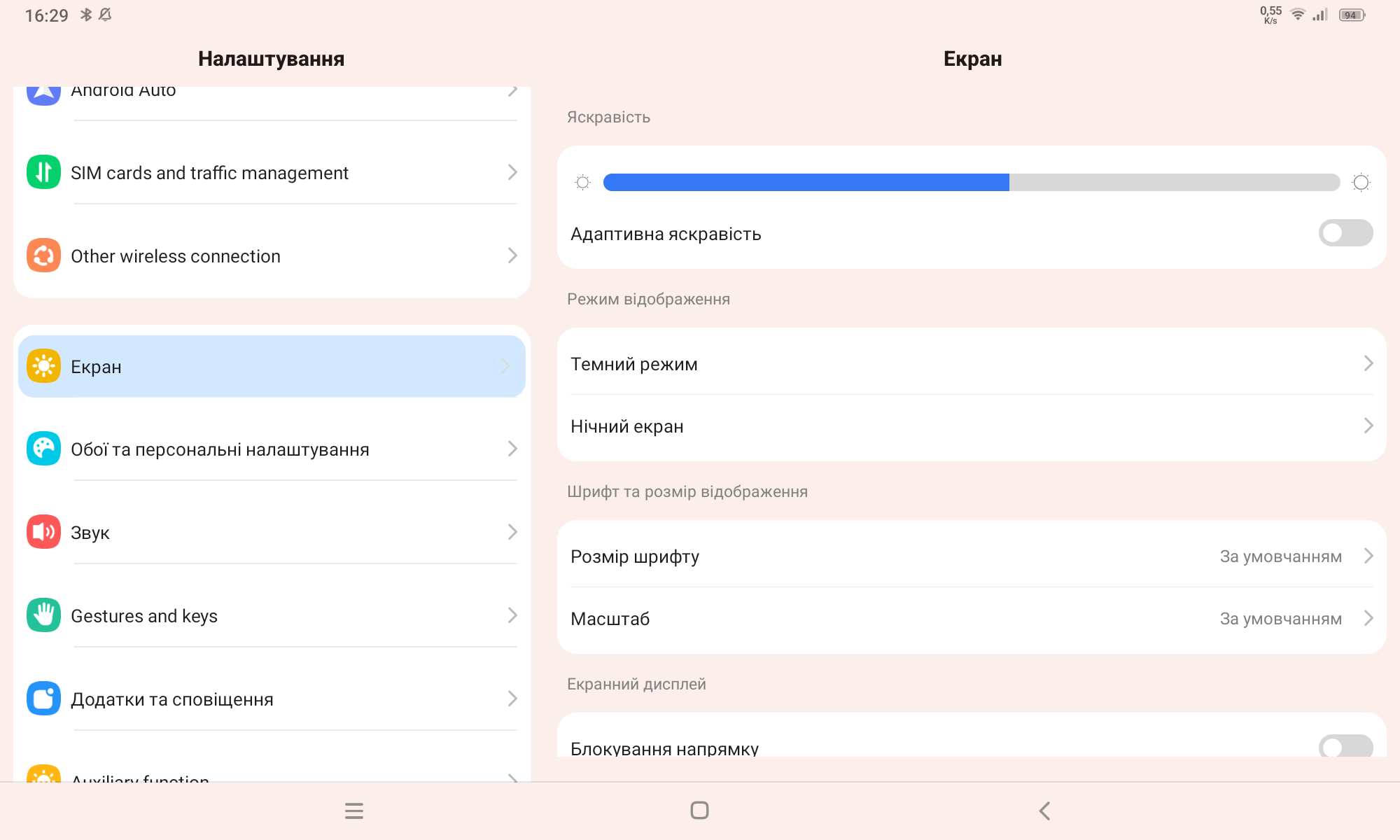 The overall impression of the screen is good. The resolution of 1200×2000 pixels is certainly not the best for 11-inches, but when using the tablet in any scenario, the pixels are not visible, and the picture is as bright and clear as possible. For the money that the tablet costs, it is strange to wish for more.
You can choose the color and order the Blackview Tab 16 tablet by following the link
Productivity, software and games
Blackview Tab 16 works on an octa-core Unisoc Tiger T616 chip (two Cortex-A75 cores at 2000 MHz and six Cortex-A55 cores at 1800 MHz), made using 12nm technology. Mali G-57 graphics.
The RAM here has 8 GB of LPDDR4. Additionally, you can enable up to 6 GB of virtual RAM. The tablet also has 256 GB of built-in eMMC 5.1 memory. If this is not enough, you can add a memory card up to and including 1 TB.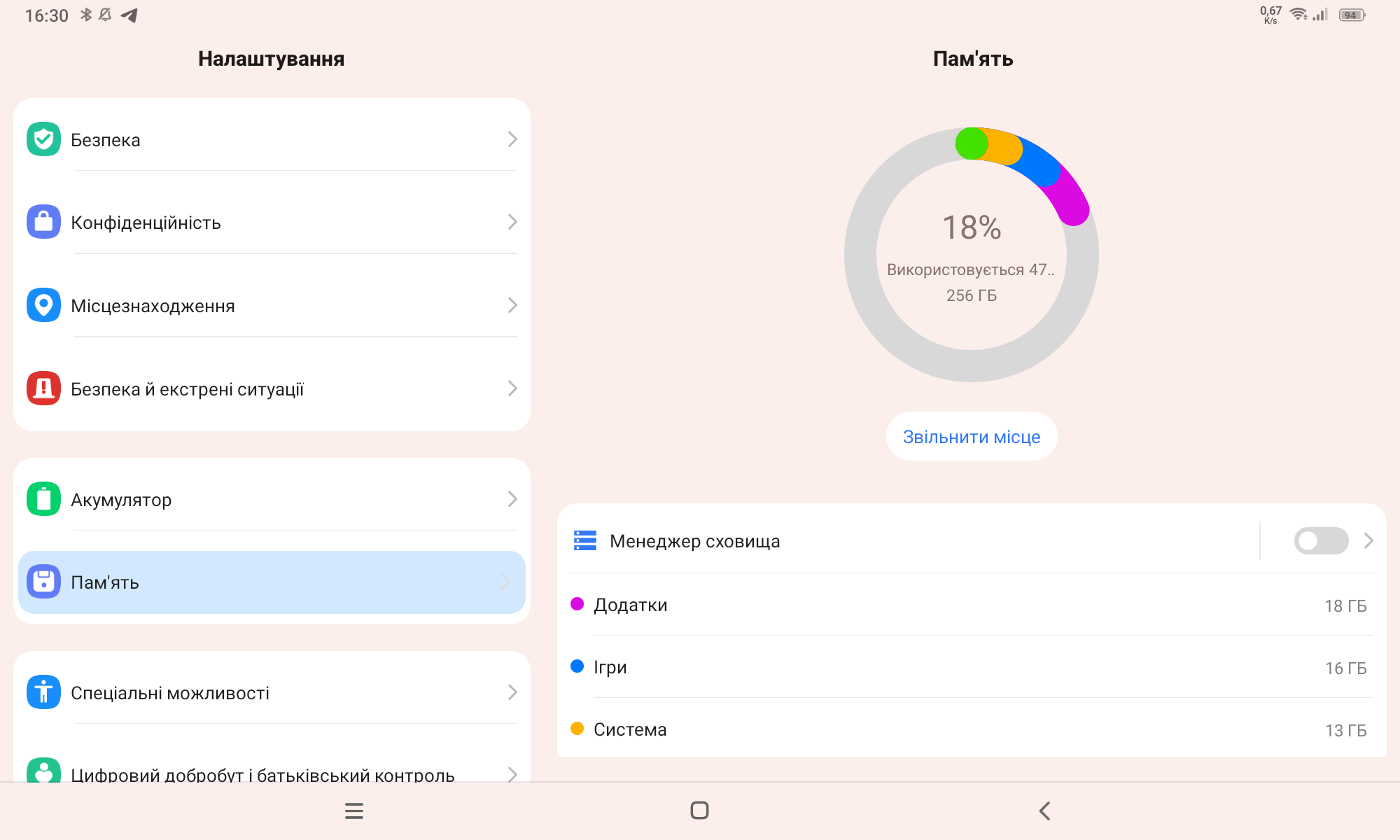 The modules include Wi-Fi 2.4 GHz / Wi-Fi 5 GHz (802.11a/b/g/n/ac) and Bluetooth 5.0. There is also an excellent list of audio codecs supported by aptX, aptXHD, aptXHD, LDAC, AAC and SBC. Navigation is provided by GPS/GLONASS/Beidou/Galileo.
A budget tablet has a simple chip and that's normal. The memory is more than enough, and you can add a microSD card. The tablet produces good numbers for its price category in various tests. And it is good that the chip does not heat up even under heavy loads.
In games, the Blackview Tab 16 also shows itself correctly. Of course, it will not be possible to run top projects at high or maximum graphics settings, but the tablet pulls average presets without any problems and shows normal fps numbers. And this device easily runs simpler games at maximum graphics settings.
On a tablet, you can easily play something as simple as Teenage Mutant Ninja Turtles: Shredder's Revenge, and something more demanding like Call of Duty Mobile, PUBG Mobile or Wild Rift.
Blackview Tab 16 OS Android 12 and Doke OS 3.0 branded shell installed on top. The add-on is simple in style and has good appearance settings, including changing the theme, icons and so on.
The shell is as close as possible to "pure" Android. There are few installed proprietary applications, and those that are are surprisingly useful. For example, there is a quick transition from one device to another, a multifunctional notepad, freezing programs, game mode, and so on.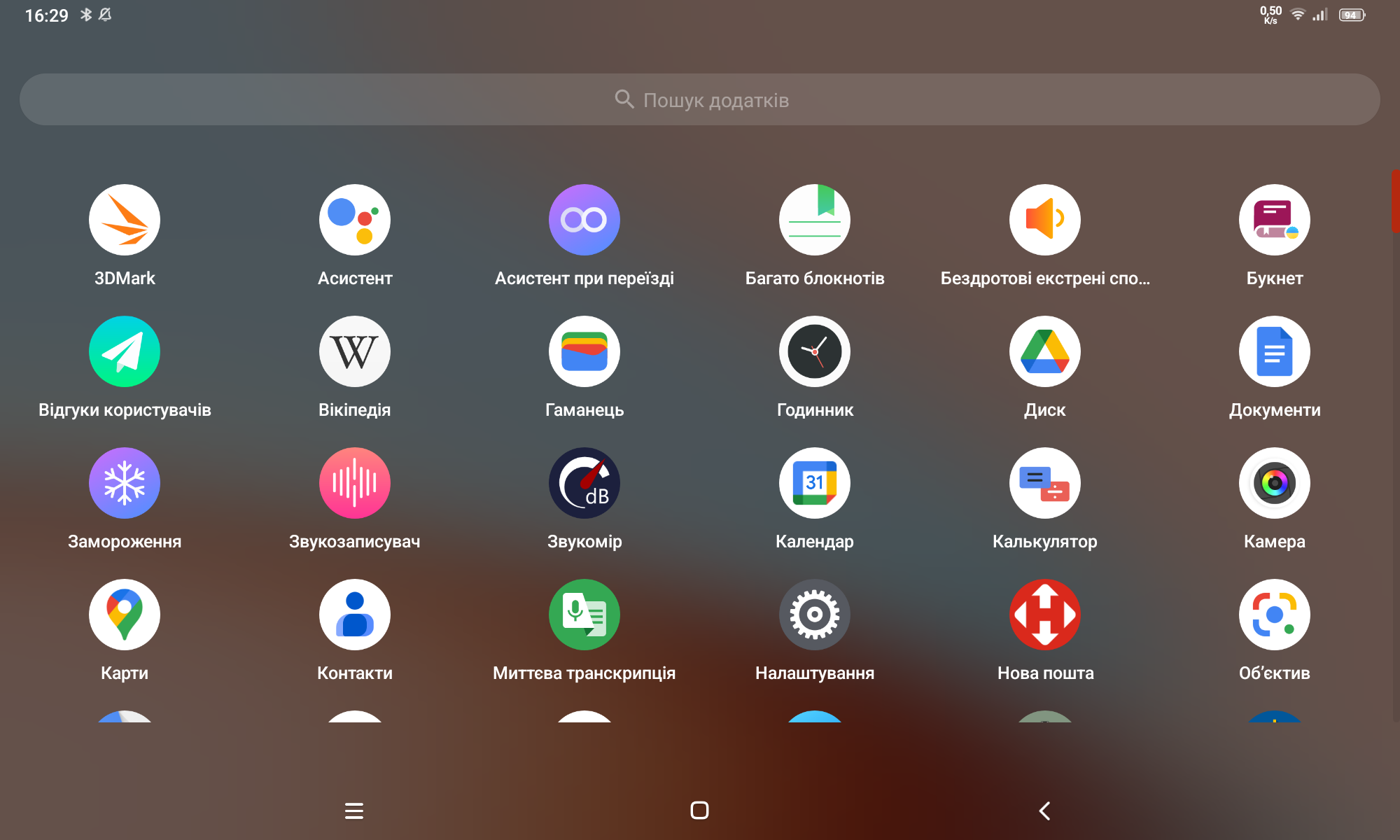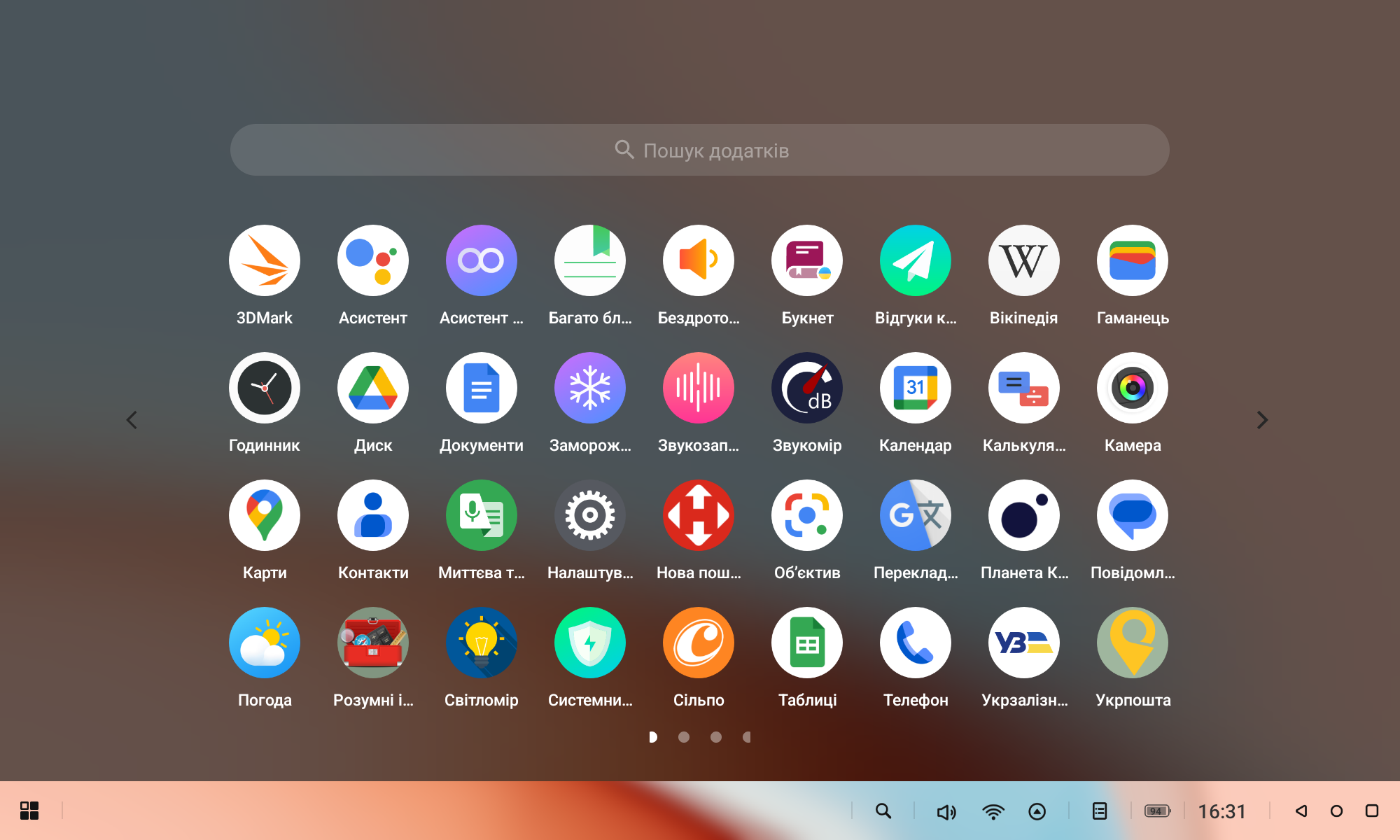 I will mention the PC mode separately. This is a handy feature when you need a computer instead of a tablet for simple tasks. We connect a keyboard and mouse via Bluetooth, turn on PC mode and get a device for surfing the Internet, editing and writing texts, video communication, etc.
Not that all of this can't be done in normal tablet mode, but sometimes it's just convenient for some to do it with a keyboard and a familiar PC interface. Of course, when switching to PC mode, the icons and their location change and become as close as possible to Windows.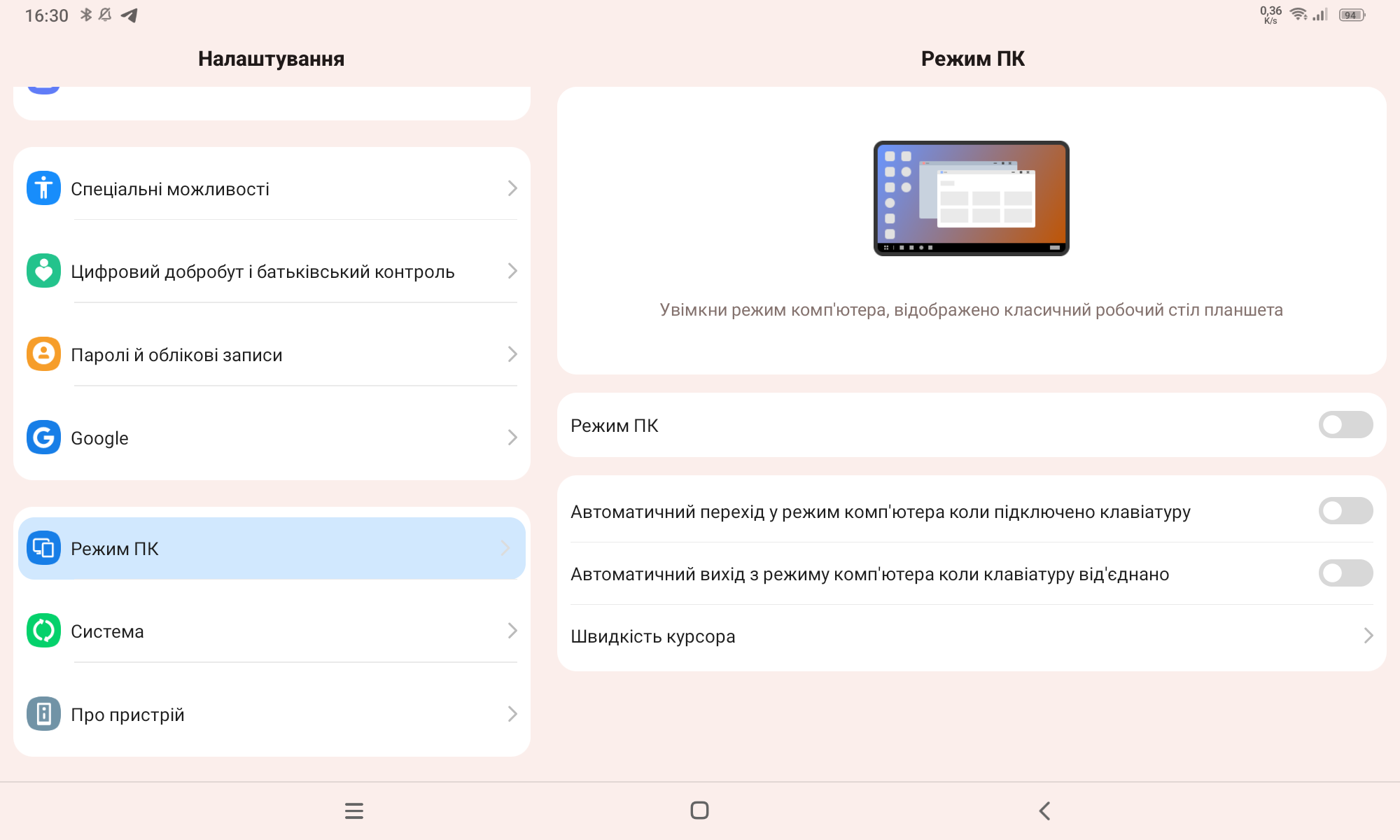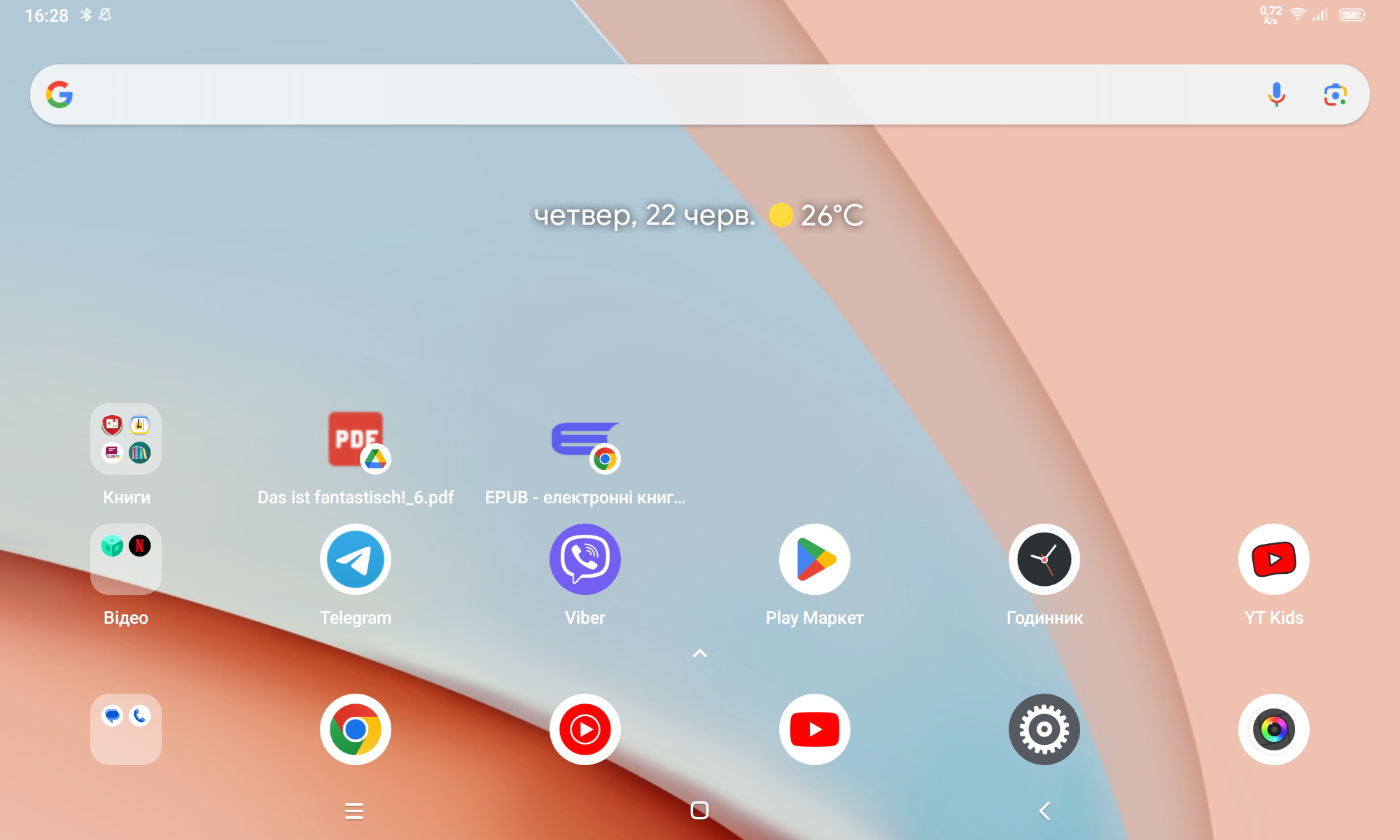 Doke OS 3.0 works fast and correctly. For a week and a half of use, I caught only a few micro-freezes and no serious slowdowns. Of course, this is a budget tablet with simple hardware and a 60Hz screen, so you shouldn't expect super-smooth operation. But this system will definitely not be buggy and annoying – everything works reliably and as efficiently as possible.
Order a tablet Blackview Tab 16 you can follow the link
Camera and sound
The Blackview Tab 16 has a primary 13-megapixel Sony IMX258 sensor with f/2.2 aperture. Of course, there is no optical stabilization, and the video is shot in 1080p at 30 frames per second.
The front module here is 8 MP, and it is also Sony IMX258 (f/2.0). It shoots videos in 720p at 30fps.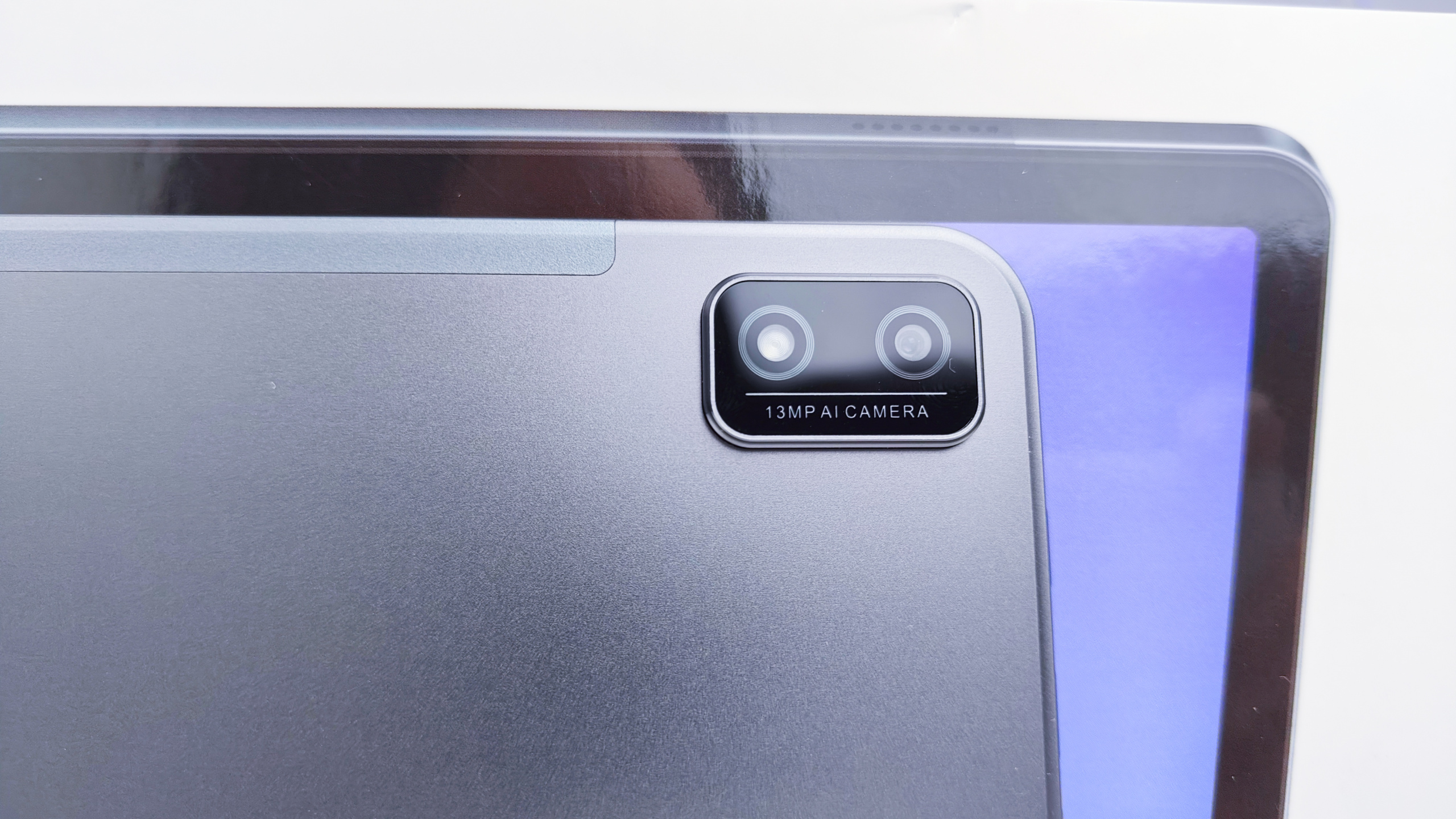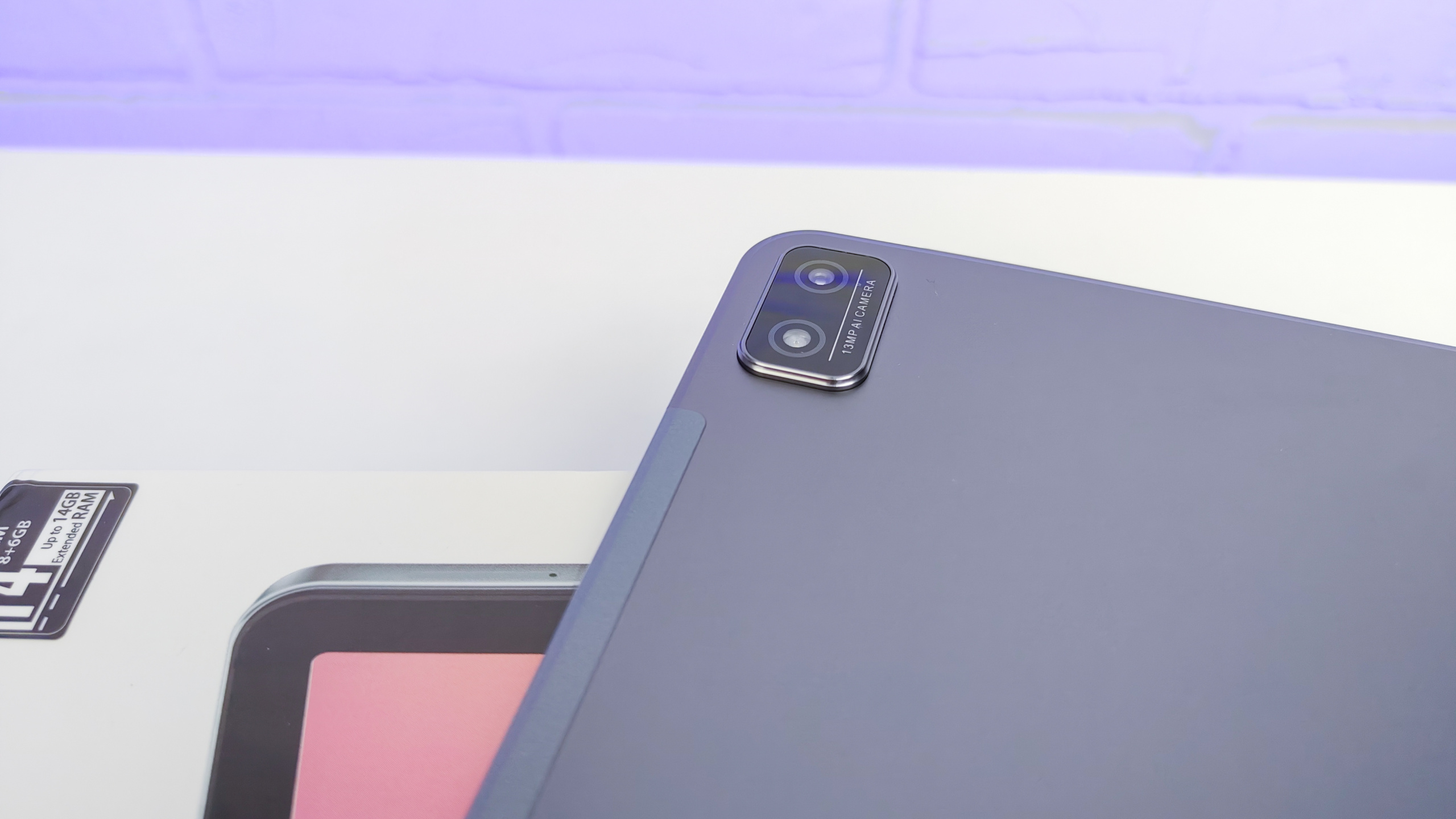 As with most tablets, the cameras on the Blackview Tab 16 are designed "to be" and take simple and unpretentious photos. This is definitely not enough for posting on social networks, but you can pick up something or chat via video without any problems.
The tablet does not have a fingerprint scanner, but it is equipped with a facial recognition system. It works great, so I recommend installing it for protection. The camera recognizes the user almost instantly, at different angles and even if the tablet is turned horizontally or vertically. In some much more expensive models or smartphones, this system works worse. And here everything is implemented perfectly.
Blackview Tab 16 received four speakers, and therefore has a full stereo. In general, the sound is one of the advantages of this model. In addition to the popular supported audio codecs mentioned above, the tablet has good and loud sound from the speakers. It is spacious and even has bass, as much as possible for this size.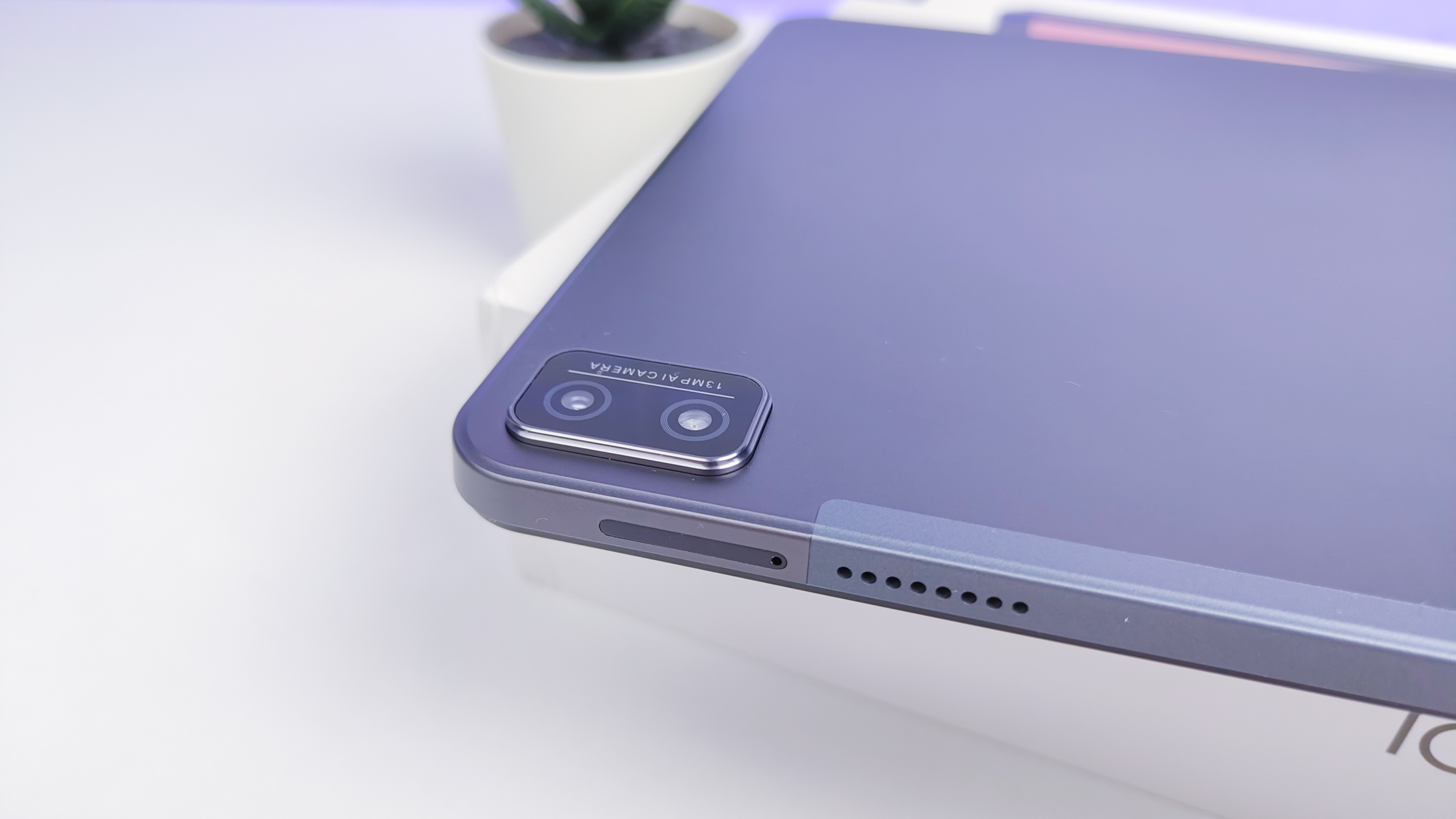 The tablet is good for watching a video from YouTube or a movie on Netflix. If necessary, you can even listen to music. In the settings, you can play with the balance of the sound of music on the left or right channels.
Four speakers are located on the top and bottom of the tablet. Even if you close some of them with your hands, they will still provide a loud, full-fledged stereo. Moreover, the speakers are not covered even in the case, because it has special cutouts, and the case holds the tablet at an angle so as not to cover them.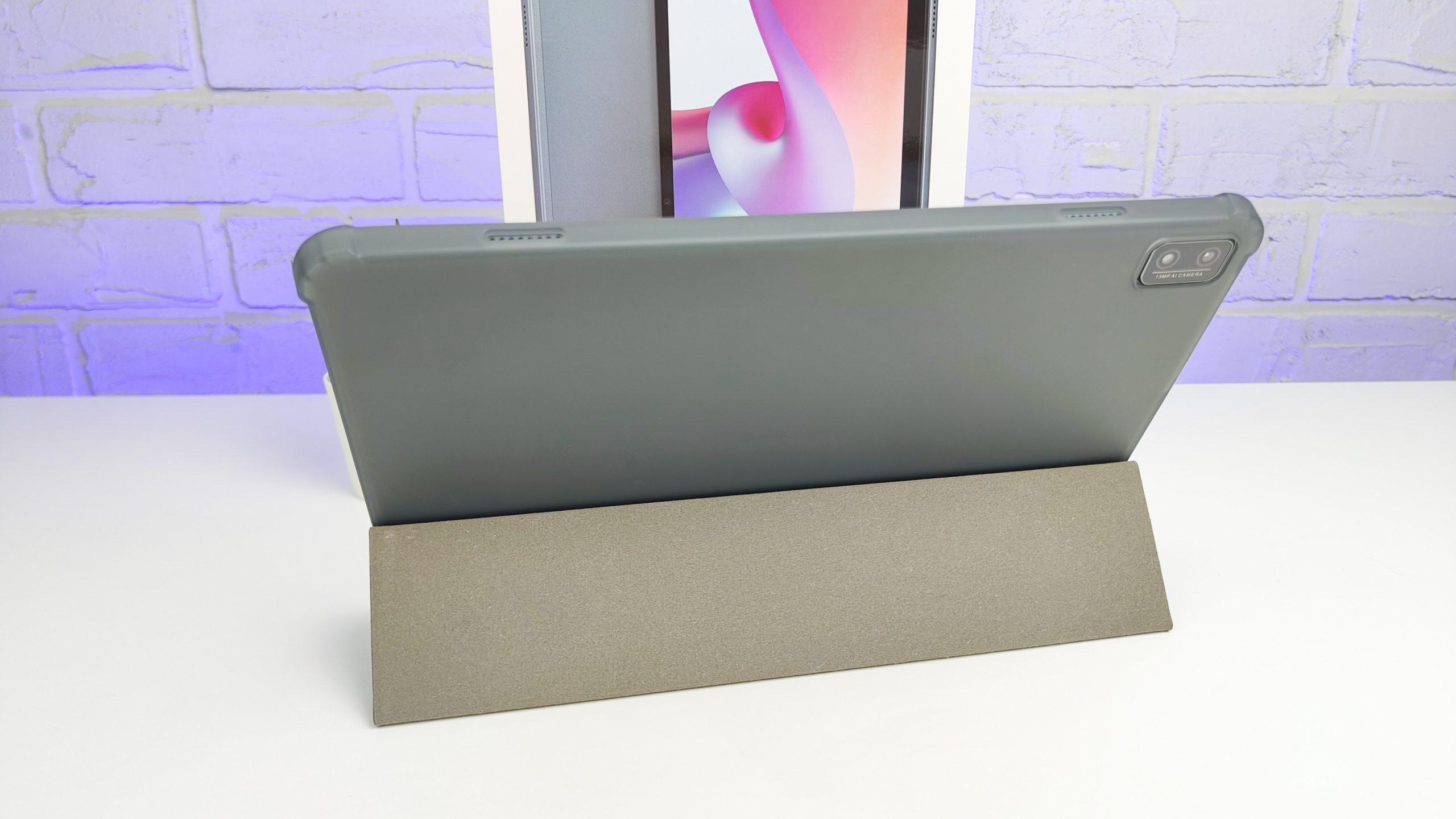 Blackview Tab 16 autonomy
Blackview Tab 16 is equipped with a battery with a capacity of 7680 mAh. The manufacturer says that on one charge the tablet works up to 18 hours or up to 360 hours in standby mode.
In fact, the tablet gave such results in the PC Mark tests, and this is a good indicator.
Blackview Tab 16 keeps the battery all day under serious load with brightness at 80%, with calls, many games, reading books and magazines, surfing the Internet and watching YouTube for five hours at almost maximum volume. If you reduce the load a little and increase the brightness to 50%, then it is enough for two days without any problems.
The device has an 18W charger, it charges from 0% to 100% in almost three hours.
Order a tablet Blackview Tab 16 you can here
Experience of use
Blackview Tab 16 is better to use in a case, especially since it is included and convenient. The tablet has a modern design and certainly does not look more expensive than its price tag of UAH 7,000.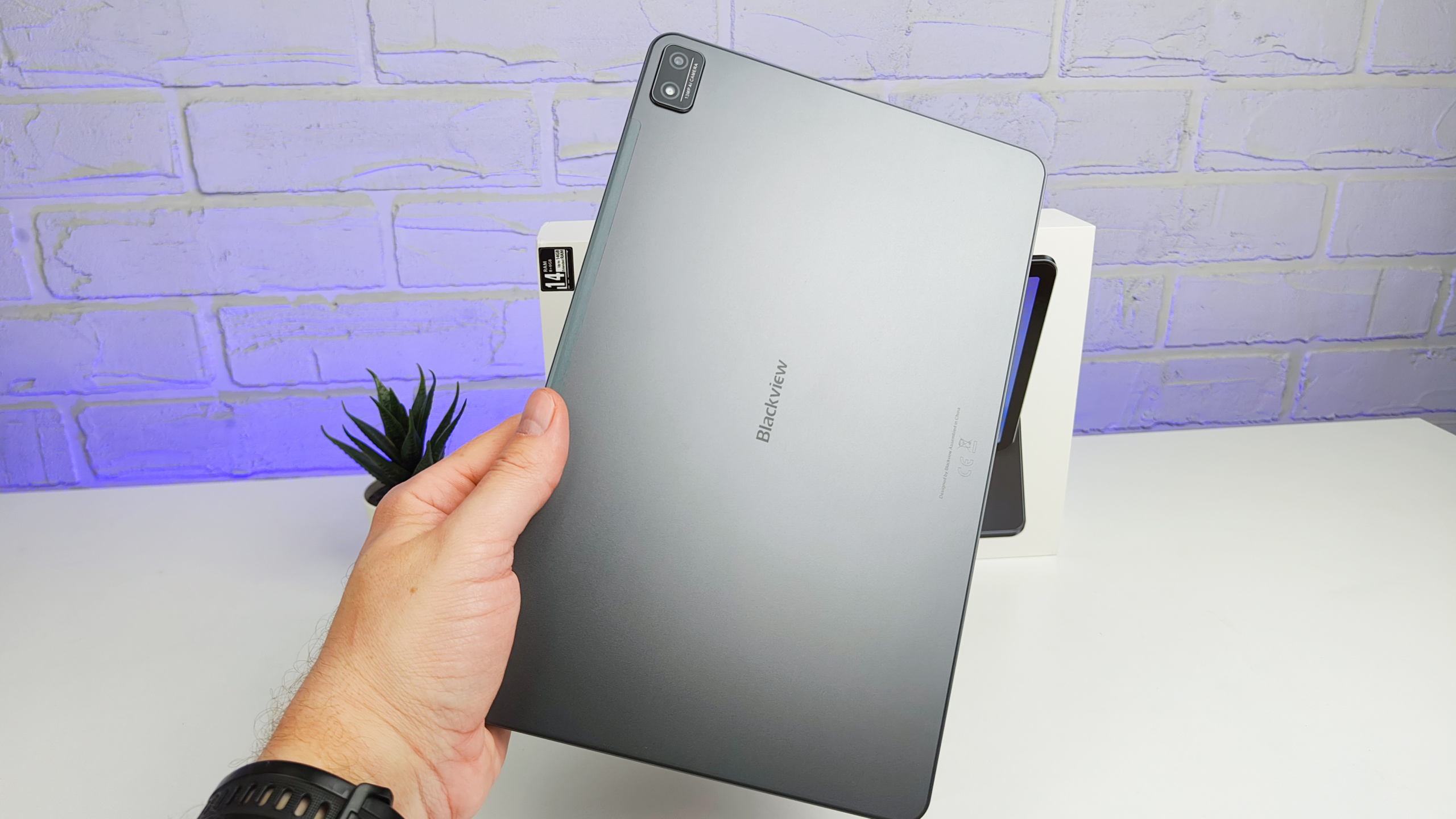 I used it for a week and a half and practiced different scenarios on it: I played, listened to music, read, watched videos, worked, rested. It is convenient to do all of the above on a tablet. Although the screen is not AMOLED and not 4K, there are no pixels, and the brightness is adequate.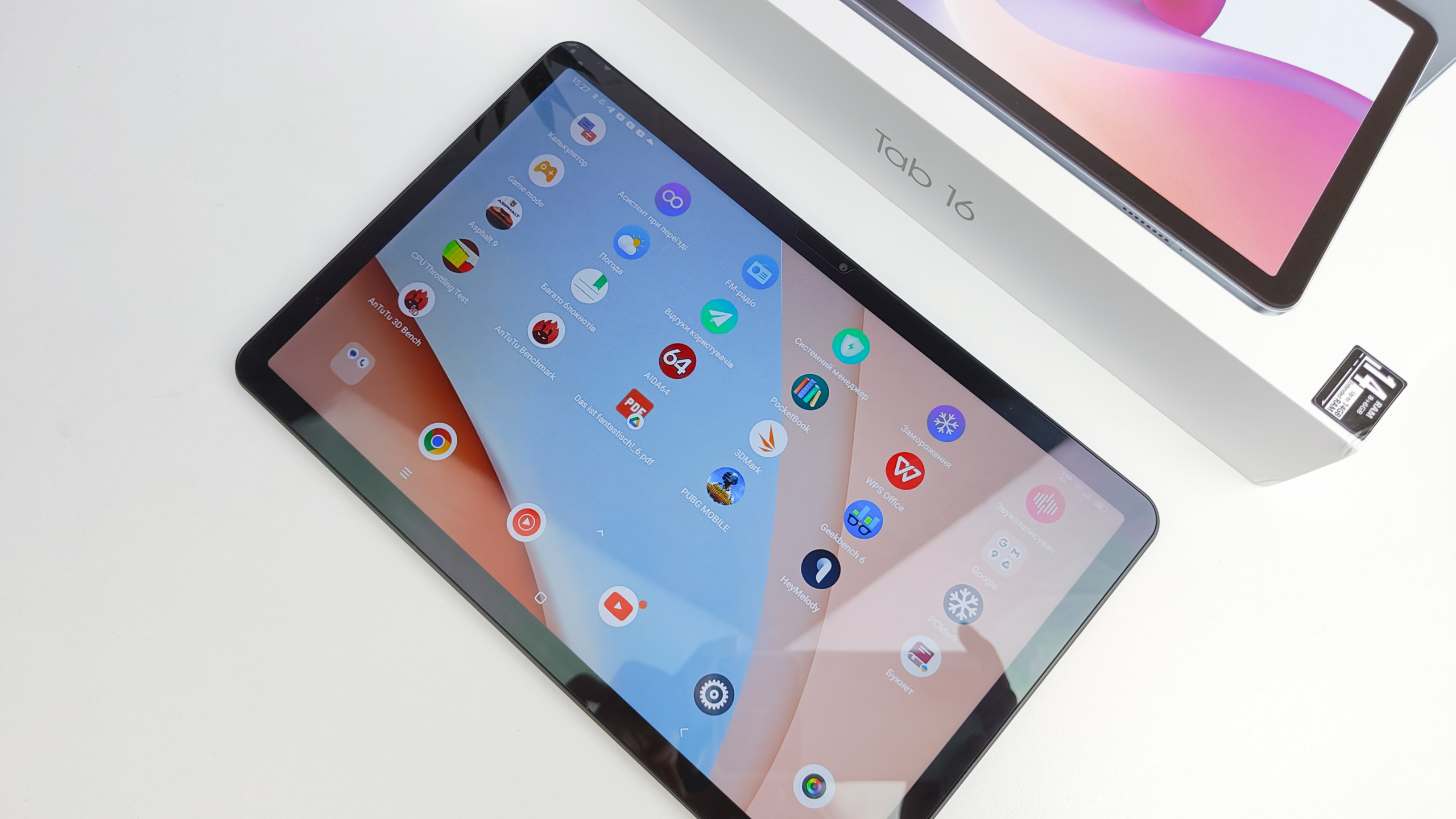 The device ran all my games at adequate settings, did not crash during operation, but sometimes there were slight slowdowns, which is acceptable for this category. I thought it would be much worse, but no.
I liked the sound. There are useful proprietary apps, and I'm impressed with the quality and number of accessories included. For such money, this is a super bonus. I was constantly looking for flaws, trying to understand why it was so cheap, adequate and so much? What is the secret?
In addition to a weak and cheap processor, I did not find options for saving, but it also behaves normally. Of course, the cameras are also a tick, but if you compare with other similar models and remember the price of the device, everything is more than great.
Conclusions
Blackview Tab 16 is a budget, modern and convenient tablet for all occasions and for all users. For a price of slightly more than UAH 7,000, we have excellent autonomy, loud surround sound, an adequate IPS screen and incredible equipment.
The tablet received a simple chip, but its power is more than enough for various tasks and popular mobile games. It has a lot of memory plus virtual RAM and a slot for a microSD card up to 1 TB. Of course, there are mediocre cameras, but they are like that in most modern tablets. Especially in the budget ones.
The device has a fast and convenient proprietary Doke OS 3.0 shell, as well as PC mode, which will be a useful solution for work and anyone who wants to have a multipurpose device with a familiar Windows interface. All this makes the Blackview Tab 16 an excellent tablet in terms of price/quality/set/features ratio.
Project partner?


Order Blackview Tab 16