Earlier, the supervisory agency banned Russian readers from accessing the website.
The Telegram channel was removed from the largest catalog of Telegram channels and chats TGStat, which contains more than a million channels and chats classified by countries, languages ​​and topics.
As it became clear from the editorial correspondence with the TGStat administration, the channel was removed from the database at the request of Roskomnadzor.
Despite the fact that the channel can still be found in the search, when trying to get detailed information, the site reports that this is no longer possible: "We found prohibited content on this channel, and limited viewing on TGStat"– the message says.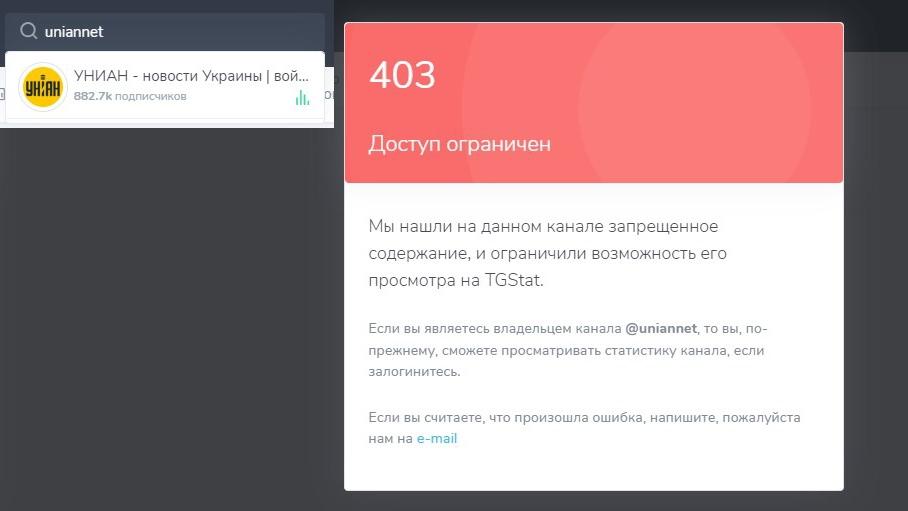 Our TG channel was automatically added to the analytics service base.
On February 28 of last year, with the beginning of the Putin regime's war against independent Ukraine, Roskomnadzor, at the request of the Prosecutor General's Office of the Russian Federation, added the Russian and Ukrainian versions of to the register of prohibited sites that cannot be viewed from Russia.
We will remind you that this is not the first year that Roskomnadzor has been trying to block the messenger in Russia, as well as limit the access of Russian users to information independent of the Russian authorities and to non-state opposition media. In November, at the request of the General Prosecutor's Office of the Russian Federation, Roskomnadzor limited access to the t.me domain belonging to Telegram, and in early January 2023, Roskomnadzor recognized the messenger as foreign and counted it among those that are not subject to integration with banks.