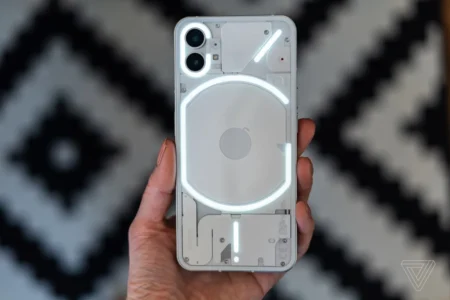 The popular publication The Verge made a review of the new interesting smartphone Nothing Phone 1. The author of the material, Alison Johnson, writes that this is a good middle-class phone, around which there is a lot of hype. We translated the article and chose the most important thing from it.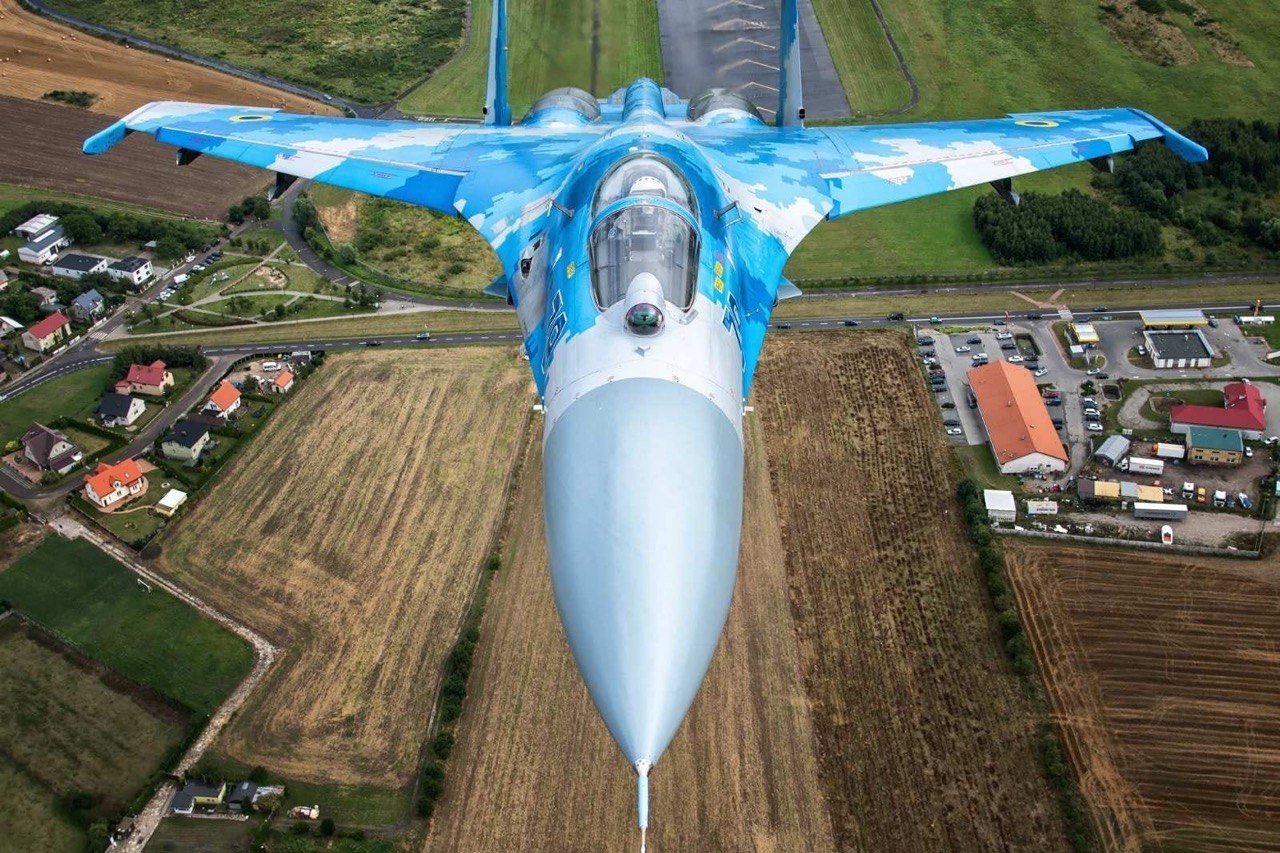 The creators claim that the new phone brings "deep interaction" and bold simplicity. But it's not a life-changing phone as advertised; it's just a good mid-range device, with twinkling lights on the back.
The Phone 1's unique glowing "glyphs" of notifications are useful in a way, but they're still a fashion statement first and foremost. Considering it comes with high performance and a fair price, I don't see anything wrong with that.
Important note: Phone 1 will not be sold in the US. Its sale began on July 21, it costs £399 (that's about $475) for a model with 8 GB of RAM and 128 GB of flash memory. The 12GB RAM/256GB version (the version I tested for this review) costs £499 (about $593). It will be available in the UK, select European countries, India and Japan, and other markets.
Learn how to program Python in a course with guaranteed training
REGISTER!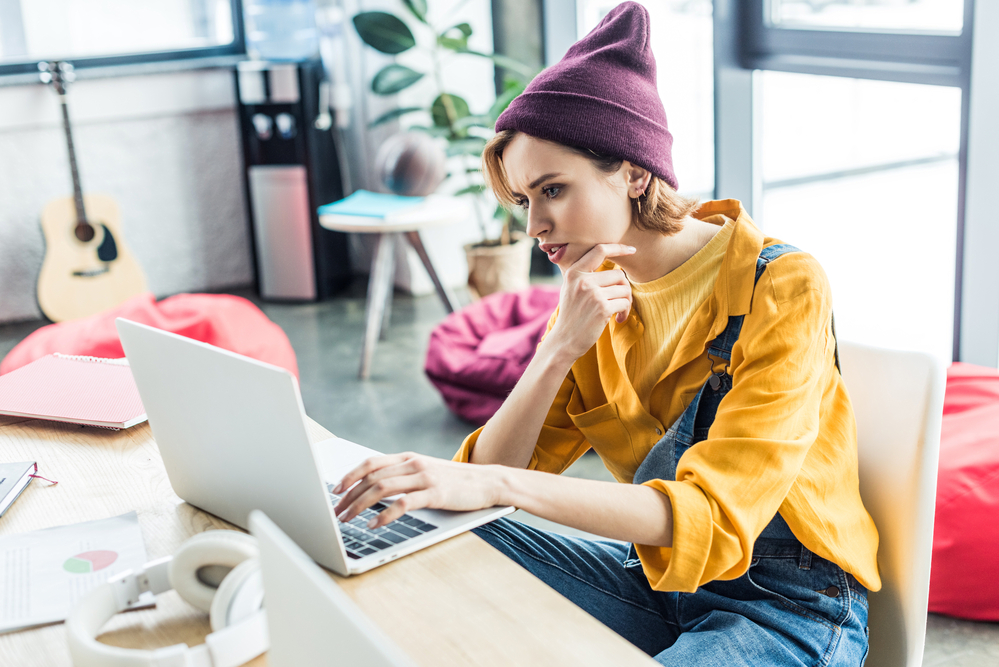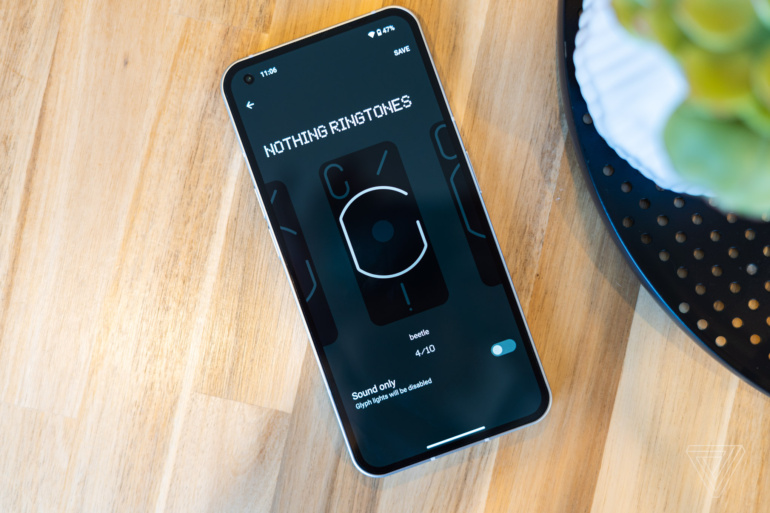 The light bars, the most talked about features of the Phone 1, flash in patterns the company calls "glyphs." There are 20 of them in total, each of which is associated with a response sound: 10 glyphs for notifications and 10 for ringtones. You can turn them on separately – only silent notification indicators or sounds without indicators, but you cannot change the tone of the "glyph". You can set one "glyph" for all incoming messages and one for all calls. More details can be found in the settings.
Since the "glyph" indicators are tied to specific tones, you can use them for any app or feature that allows you to customize notification sounds. You can assign specific "glyphs" to individual contacts, but you will only see (and hear) the selected glyph when that contact calls you, not when they send you a message. But who's on the phone now?
You can also assign different "glyphs" to different app notifications (or even different types of notifications from the same app, depending on the app). To do this, you need to go to the notification settings of this application and change the notification sound to the selected "glyph". This will change the sound of the alert, but it also means you'll see the appropriate "glyph" even when the phone is on silent. You can set a "glyph" for notifications of any app that allows you to assign a specific notification sound. For example, one "glyph" for work emails and another for personal emails, or separate "glyphs" for likes and comments on Instagram.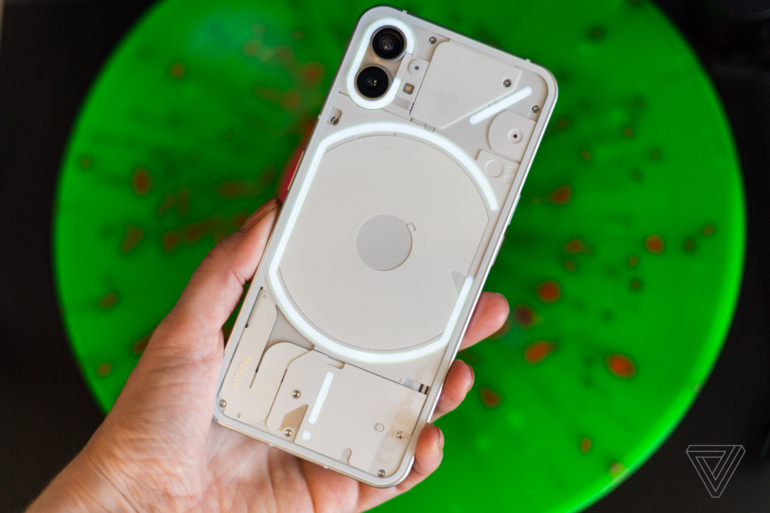 It's bad that the "glyphs" need to be memorized in order to recognize the difference between light patterns. Which pattern did I just see? Is the big flashing "C" an email or an Instagram private message? I found it more convenient when I set specific "glyphs" for one or two important applications, rather than a bunch for different applications.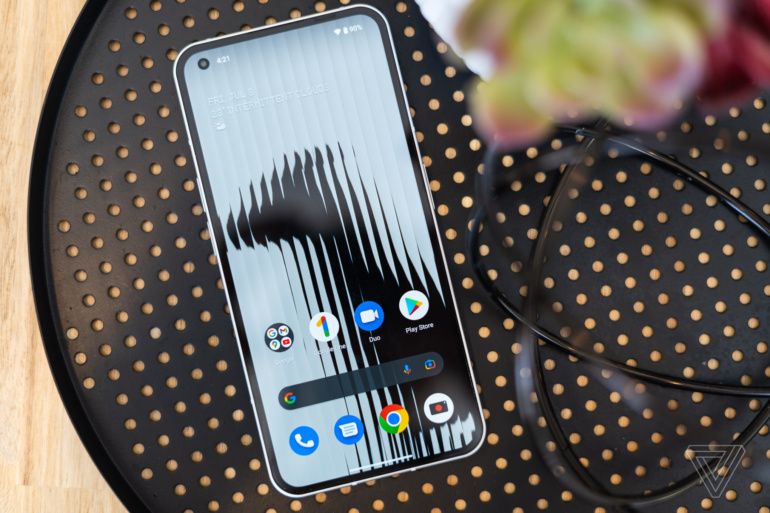 In addition to notifications, indicator lights can be used in several other ways. When the battery is being charged, a small exclamation mark is periodically illuminated at the bottom of the rear panel. It's beautiful, but somewhat distracting when you can just tap the screen to check the battery level. This light can also be used as a backlight for the camera. This is a good option, less intense than using flash, although with a cooler tone. And there's a bonus not mentioned in the ads: if you're photographing a small child, they'll definitely be looking at the camera.
The "glyph" indicators are also very bright by default. You can adjust the brightness, I lowered it to about 30%. If you're going to be outside on a sunny day, it might be worth leaving the default settings, otherwise it's very hard to see them – unfortunately, the brightness doesn't automatically adjust to match the surroundings. Glyphs also automatically turn off when the battery is low. When the battery is sufficiently charged, they must be manually turned on again in the settings menu.
As an original feature, "glyphs" are useful, but they are quite difficult to use. However, this makes the phone stand out, attracts the attention of others, and at the same time does not spoil the experience of using the device if you are not too interested in this function. Either way, it will encourage you to keep your clear phone case clean. Along with this, Nothing will be selling accessories made specifically for the Phone 1, but I didn't get a chance to test them for this review.
Most importantly, all this did not increase the cost of the phone. If this was a $1,000 flagship phone whose main selling point was a notification system that supposedly changes lives by blinking, I'd feel cheated. But it's a $500 phone, and the sometimes-useful backlighting looks more like a bonus than an attempt to deceive.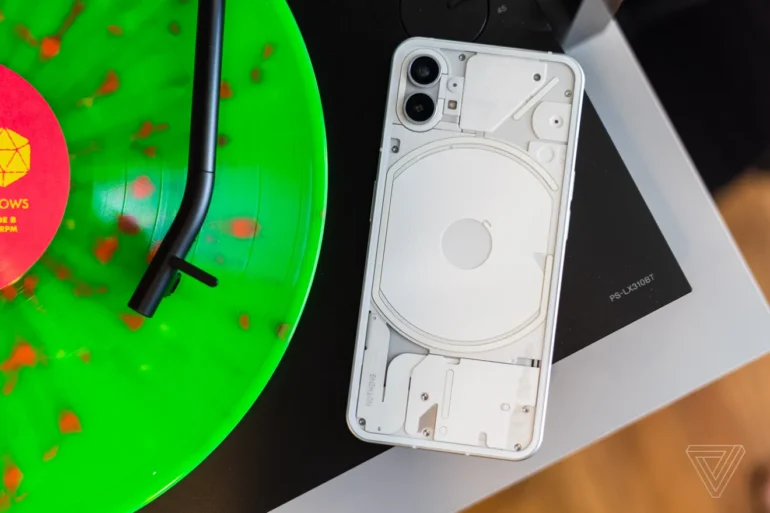 The Phone 1 has a 6.55-inch 1080p OLED display with an adaptive refresh rate up to 120Hz. These are great specs for the mid-range, where high refresh rates aren't common. The Galaxy A53 5G has a 120Hz refresh rate, the OnePlus Nord 2 only has 90Hz, and the Pixel 6A has a standard 60Hz screen. The Nothing Phone 1 screen also maintains this highest refresh rate most of the time, resulting in very smooth scrolling. It offers 1200 nits of peak brightness, making it usable even in direct sunlight. The fingerprint sensor is reliable and fast; it rarely misreads my fingerprint, even when my hands are wet or the sun is bright.
Nothing Phone 1 uses a mid-range Snapdragon 778 chipset with 5G support. My review device with 12 GB of RAM handles daily tasks without issue and apps load quickly. The vibration of the phone is strong, but not "buzzing". Combined with the high refresh rate, you can easily pay $500 or $600 for all this.
The smartphone does not have a headphone jack or microSD card slot; Nothing Phone 1 is IP53 splash and dust resistant, which is better than nothing, as is common with mid-range models.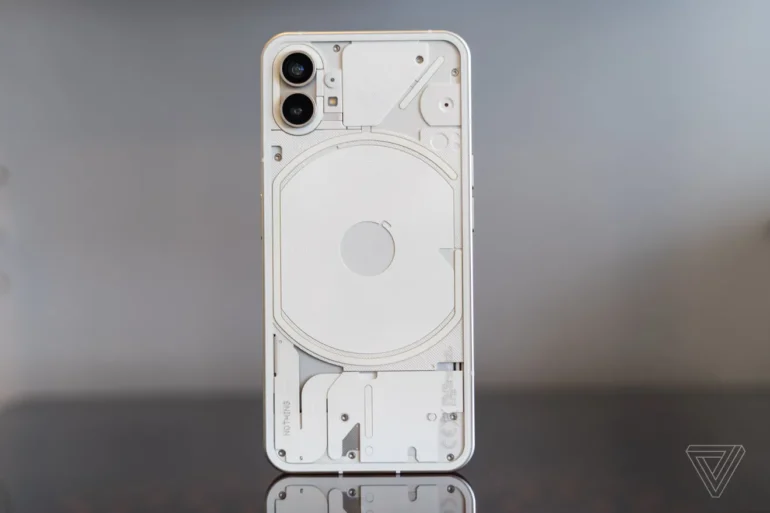 Battery Life: Here the Phone 1 falls short of other phones in this price range. The £399 (about $475) OnePlus Nord 2 lasted just over a day with plenty of screen time, while the $300 Nord N20 easily handles a full day of heavy use. In my experience, Nothing Phone 1 is able to last all day, but no more. It seems to consume a surprisingly large amount when in standby mode – the battery power has decreased by two bars overnight.
Most likely, the "glyphs" are not too to blame here. Their continuous use for 10 minutes only drains the battery by 0.5%. With regular use, they glow for such a short period of time at such infrequent intervals that I cannot imagine that they have a significant effect on the problem.
The good news is that Nothing Phone 1's 4,500mAh battery supports 33W wired fast charging. There's also up to 15W Qi wireless charging and 5W reverse wireless charging. All this you will not find in most mid-range phones. Note that the charger isn't included with the Phone 1, and you'll have to shell out another $30-40 for a fast charger if you don't already have one.
The 65W charger took the Phone 1 from zero to 100% in just over an hour. For a mid-range phone that offers wireless charging (i.e. not the mid-range OnePlus models), this is very good. Phone battery efficiency is no better than this money, so a quick 20-minute charge in the middle of the day will be very useful.
There's nothing wrong with having only two rear cameras on the Nothing Phone 1, without a depth sensor or a macro camera. I would like this to be the norm, and not a difference, because most Android smartphones have just such a set.
The main rear camera is a 50-megapixel sensor with an f/1.9 lens and optical image stabilization. OIS is unheard of for mid-range phones – the Samsung Galaxy A53 5G and Pixel 6A have it, but it's mostly a feature of flagship-class models. The other rear camera is a 50-megapixel one with an ultra-wide sensor and an f/2.2 lens. There is a 16-megapixel selfie camera on the front, but no telephoto camera. It's worth noting that this is a rare feature in phones priced under $800. Video recording is available up to 4K/30p.
Photos in bright light are detailed and vibrant. They have too much saturation, but this is not critical. There is a bit of a cold color cast that can make shadows look blue, but it's only noticeable when compared to another camera. Photos in portrait mode in good light look great with subjects that aren't overly complex. In very low light, they are very grainy.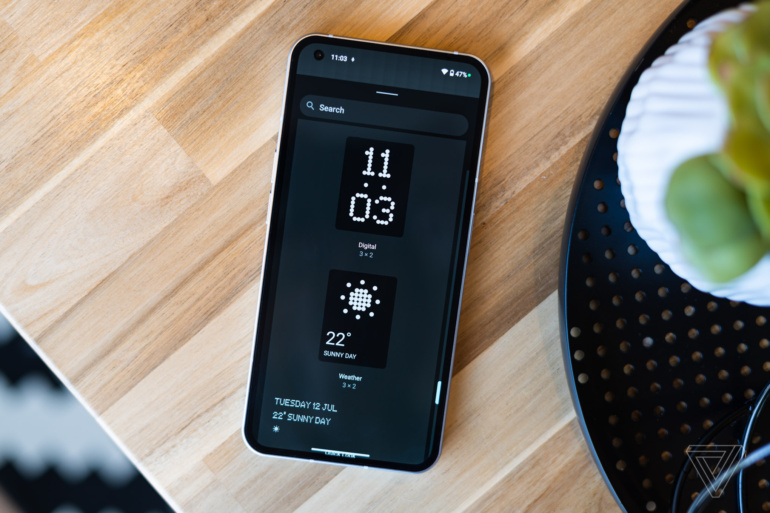 Movies are generally good, with a solid combination of optical and electronic image stabilization. There's also an interesting bonus 'glyph' feature for video: a little red recording light that flashes while it's being filmed. Nostalgia…
Nothing Phone 1 comes with Nothing's light-touch skin built on Android 12. The add-on is extremely clean – no repetitive apps or preloads. There are references to retro technologies throughout the interface, in particular, the dot-matrix font Nothing in the titles of the menu pages and the sound recording application, designed in the style of a vintage tape recorder. The home screen also has four widgets for time and weather, as well as a widget for the NFT image. It's a little thing that's not enabled by default, but it says a lot about who Nothing is designing this phone for.
The company promised three years of OS updates and four years of security updates. But given that this is the first device from a new company with no track record, that's a big if.
Nothing wants to allow third parties to bring their product controls right into the phone's OS, and it's working with Tesla to start. The company says it's possible to unlock the car's door and start the air conditioner in the system settings.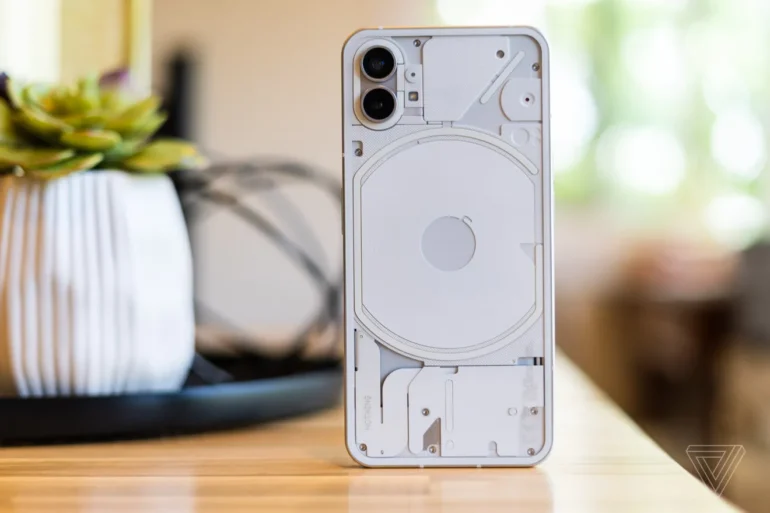 When Nothing launched its advertising campaign and went into detail about its first phone, it was this one that got some surprise: the Snapdragon 778 chipset. In particular, it was surprising that the phone didn't use Qualcomm's latest and greatest processor.
But the choice to go with a less expensive (but still high-end) chipset helped position the Nothing Phone 1 as a very good, reasonably priced phone with a solid software support policy.
The Phone 1's most talked about feature, "glyphs," is somewhat of a gimmick, but not a hoax. It's part of the phone's unique styling that some people might find attractive (perhaps those who own NFTs and drive Teslas). In fact, Nothing Phone 1 doesn't live up to Nothing's marketing hype, because no consumer tech product could do that. It's just a phone – but a good phone.
Rating The Verge 7 points out of 10.
Pros:
fast work;
Convenient OLED screen with smooth scrolling;
several unique usage scenarios for the "glyph" notification system;
promised four years of security updates.
Minuses:
battery life is not impressive;
no charger;
It is not known how successful this experience will be.