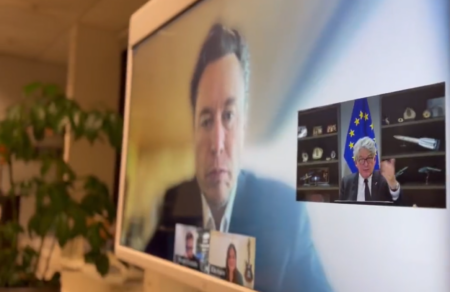 A top European Union official said Twitter has a huge job to do to prepare for tough new rules for online platforms. Thierry Breton, the EU commissioner responsible for implementing the upcoming Digital Services Act (DSA), released a short video of a meeting with Elon Musk, saying he welcomed "Musk's intention to prepare Twitter 2.0 for DSA."
Breton noted that Twitter will need to make a number of changes to comply with the DSA. The social network needs to "aggressively" fight disinformation, undergo an audit, provide clear criteria for which users are at risk of being blocked, and carefully consider the unblocking mechanism. Breton posted the full "DSA Checklist" on his Mastodon account, which includes the rules Twitter must follow.
Failure to comply with the DSA could result in a ban or fines of up to 6% of global turnover when the law comes into force – which will not happen until early 2024. For his part, Musk called DSA "very prudent." This is at least the second time Musk has spoken with Breton since announcing a mutual agreement on DSA.
I welcome @elonmusk's intent to get Twitter 2.0 ready for the #DSA🇪🇺

Huge work ahead still — how Twitter will adhere to transparent user policies, significantly reinforce content moderation and tackle disinformation.

Looking forward to seeing progress in all these areas. pic.twitter.com/Nc7sGlb9YL

— Thierry Breton (@ThierryBreton) November 30, 2022
Learn important technologies for a tester at a convenient time, and get $1300 after a year of work
REGISTER!
However, some legal experts question whether Twitter should follow the strictest rules set by the DSA. The network has not yet received the official status of "very large online platform" (VLOP), which entails large obligations for platforms with at least 45 million users in the EU. A representative of the European Commission was recently unable to confirm or deny whether Twitter would be included in the VLOP.
The meeting between Breton and Musk took place during a radical change in Twitter's moderation policy. In a blog post titled "Twitter 2.0: Our Unwavering Commitment to Public Dialogue," the social media network said that while "none of our policies have changed," it will be more open to experimentation in the future. "We believe this open and transparent approach to innovation is beneficial because it allows us to move faster and gather real-time user feedback," it said.
Among other things, Twitter made one highly controversial change to its moderation policy: it ended its policy on disinformation about the coronavirus. This angered the Vice President of the European Commission for Values ​​and Transparency, Vira Yurova, who said that "for [ее] In my opinion, Twitter is now at the top of the regulatory queue."
Due to the fact that the number of Twitter employees has significantly decreased since the purchase of the company by Elon Musk, EU officials are interested in the question of the ability of the social network to adhere to strict rules.
Musk reconciled with Apple – Tim Cook convinced Elon that Twitter was not going to be removed from the App Store
Source: The Verge