The Megogo media service presents the content popularity rating among platform users for the 1st quarter of 2023. It is noted that the number of viewings of Ukrainian-made films increased by 3.3 times compared to the same period in 2022.
In the categories "movies", "series", "children's content", "shows", "audio content", the TOP-10 projects selected by the total duration of views/listenings per hour on the MEGOGO media service are presented. "Movies on sale" is selected by the number of movies sold in units, and "Sporting events" is selected by the number of views.
The most popular movies by MEGOGO categories
Purchase by Mail (TVOD)
The American horror film with comedy elements "Menu", the digital premiere of which took place in Ukraine in January 2023, leads the rating. The top five in this category also included the sci-fi movie Avatar, the superhero movie from Marvel Comics' Black Panther: Wakanda Forever, the Ukrainian-Polish historical drama Shchedryk, and the superhero movie based on DC Comic's comics of the same name. Black Adam".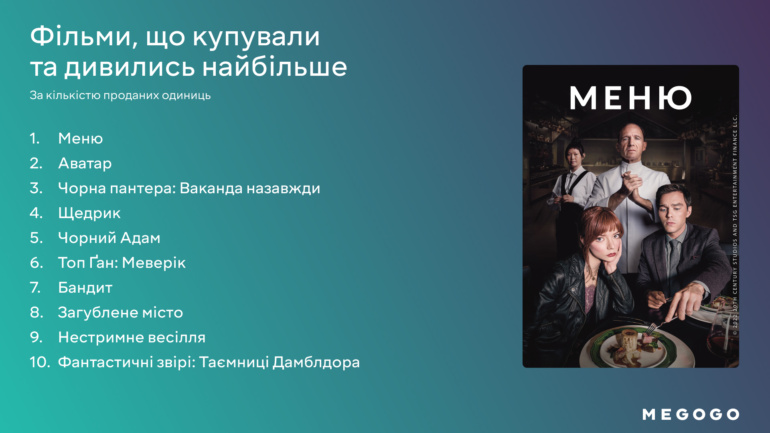 Subscription (SVOD)
The most popular films in the subscription were the American thriller "Poker Face", the Ukrainian game film "Sniper. The White Crow (Extended Version)" and the family Christmas comedy "Home Alone".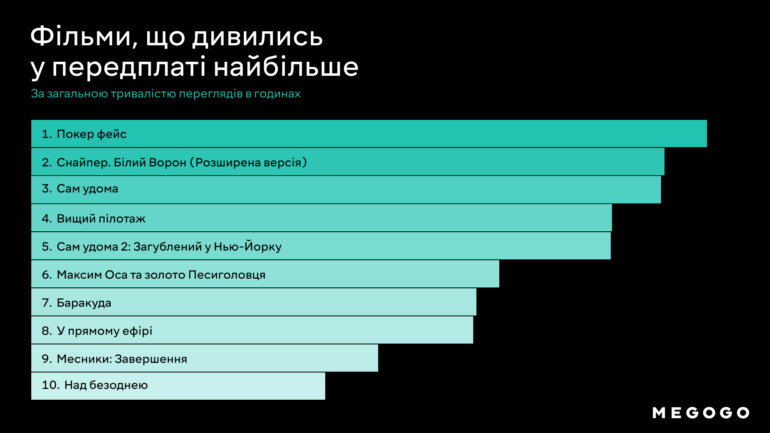 Free to Watch (AVOD)
The TOP-10 most popular free films include 4 projects of Ukrainian production dedicated to historical events: "Cyborgs", "Ilovaisk 2014". Battalion "Donbas", "Donbas" and "Kruty 1918".
Ukrainian production
The leader among Ukrainian-made films on MEGOGO is Sniper. White Raven (Extended version)". The second and third places in the rating are occupied by "Maxim the Wasp and the Gold of the Dog Head", "I work at the cemetery". The top ten also included films about war and two comedies.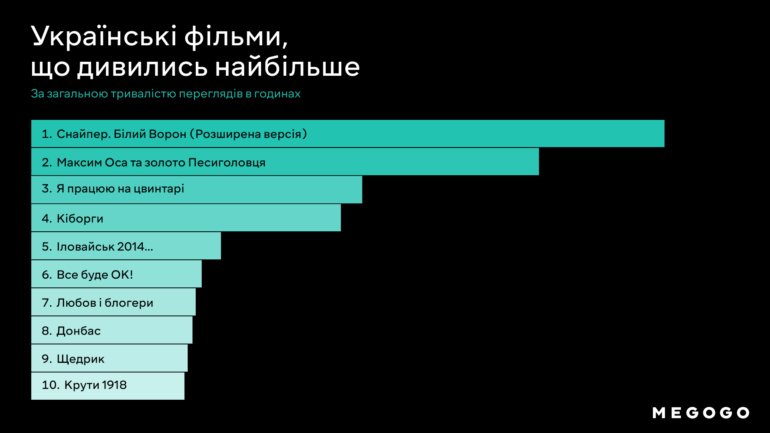 The most popular series on MEGOGO
Subscription (SVOD)
The TOP-10 most popular subscription series on the MEGOGO platform are opened by the post-apocalyptic series "The Walking Dead", the Ukrainian ironic series "Dilnychny z DVRZ" and "Father Brown".
Free to Watch (AVOD)
Among the most popular series available on MEGOGO on a free basis, 9 out of 10 are Ukrainian productions. Only one foreign project, namely the Swedish-Danish detective series "The Bridge" entered the top, occupying the second tier.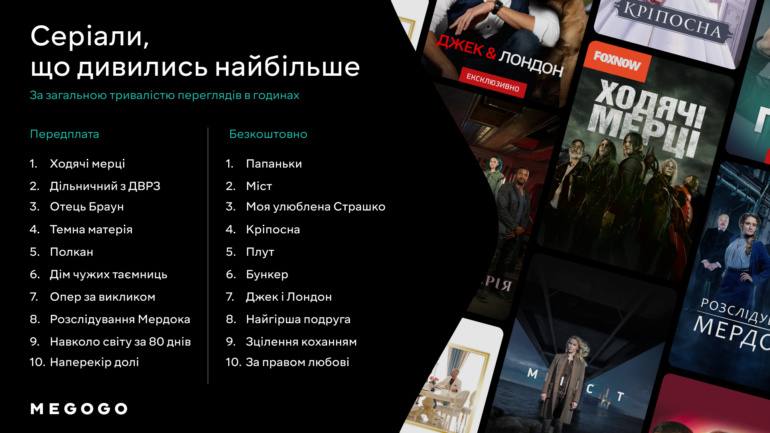 Popular children's content on MEGOGO
In the category of animated films, the first five are occupied by "Zeropolis", "Frozen", "Waiana", "Cars" and "Monsters Corporation".
Among the animated series that young viewers liked in subscription viewing, the top three are led by the iconic SpongeBob SquarePants, Paw Patrol and Teenage Mutant Ninja Turtles.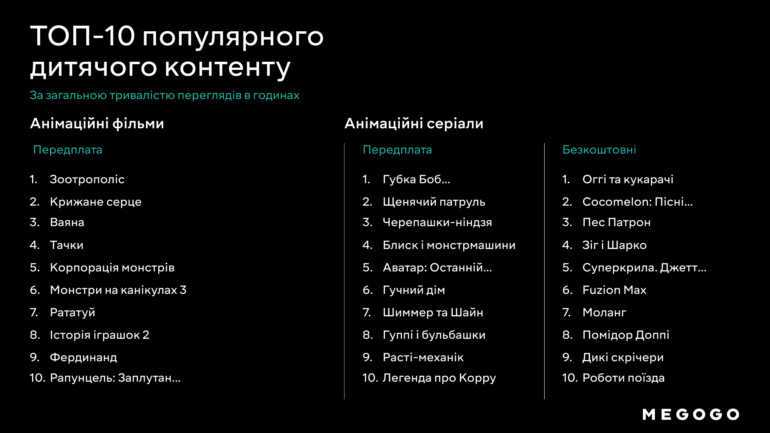 In the category of animated series available on the media service for viewing for free, the Ukrainian animated series "Patron Dog" entered the TOP-10.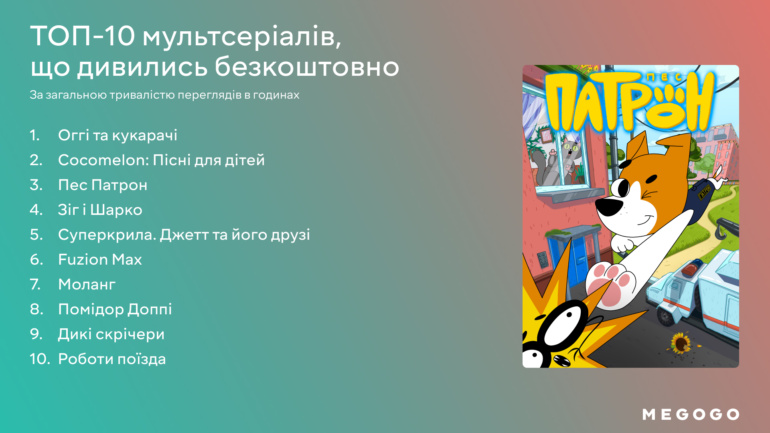 The most watched shows on MEGOGO
All genres are represented in this category, with the exception of news and sports projects.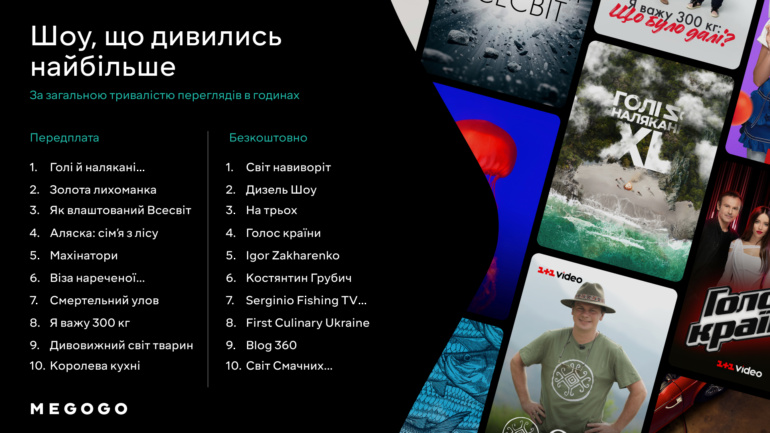 The most popular audio content on MEGOGO AUDIO
The "Audio" section contains a library of legal audio content: podcasts, audiobooks, and audio series, including self-produced projects.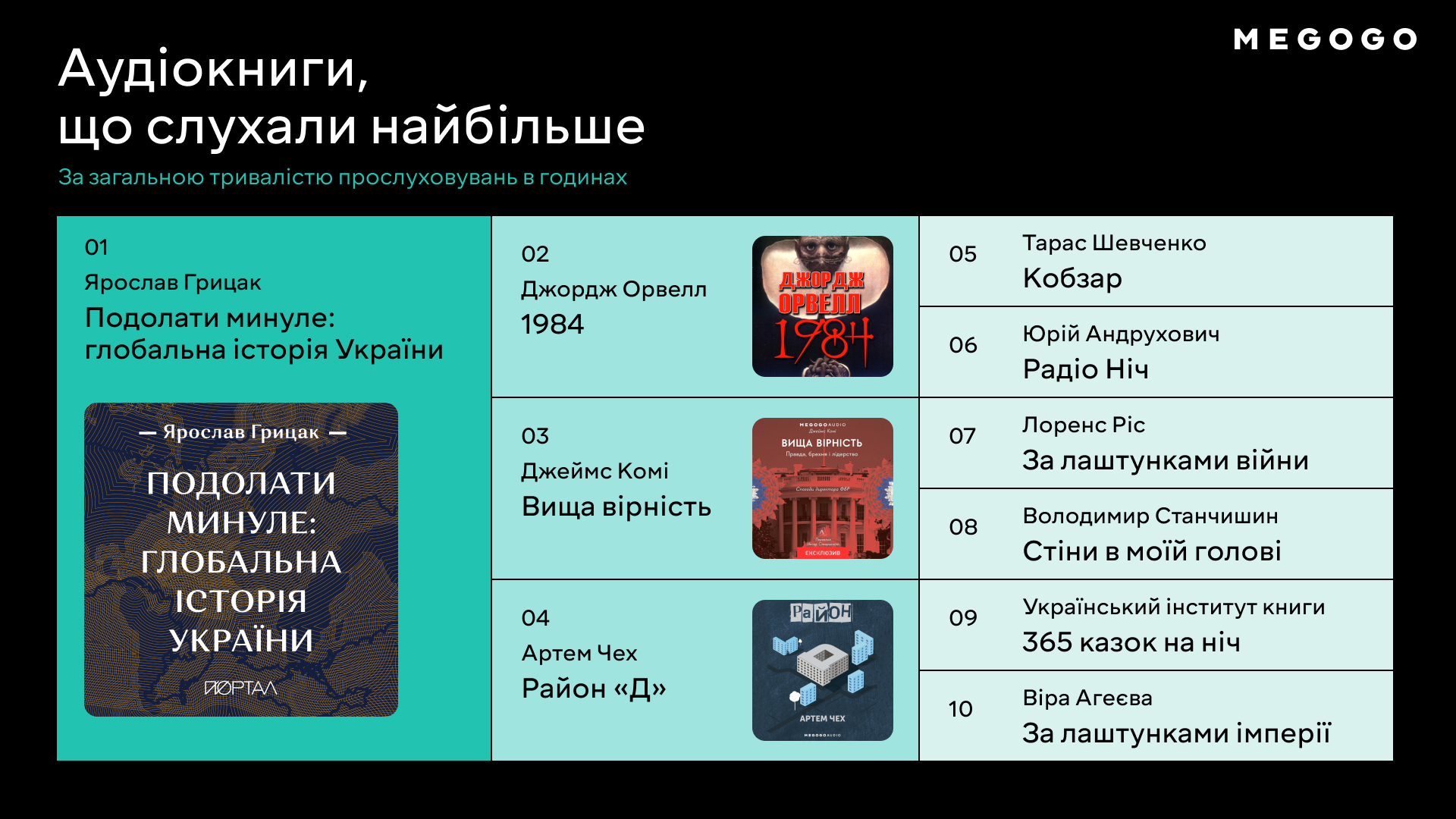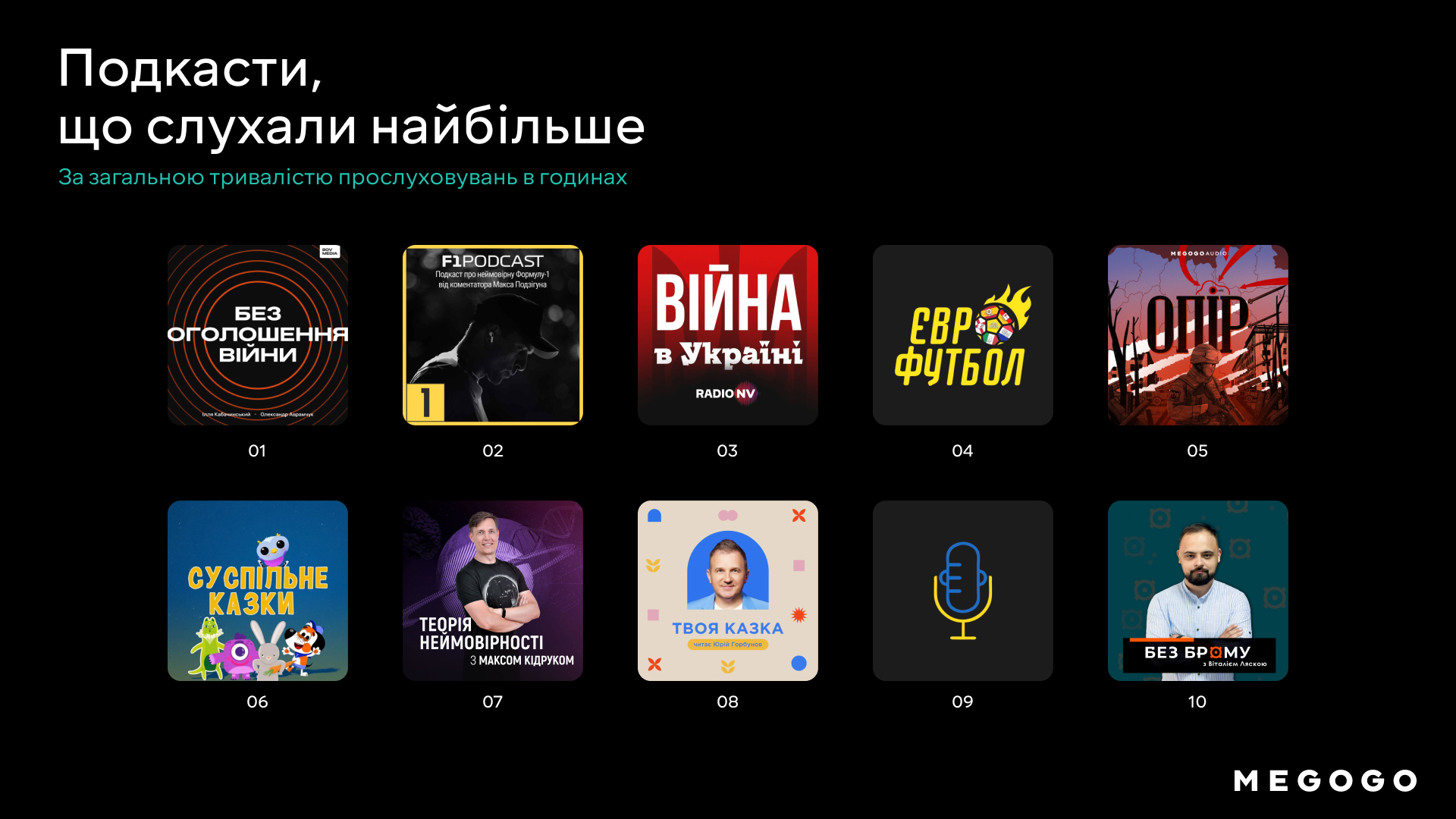 The most popular sports events on MEGOGO
The most popular event among football fans at MEGOGO was the match of the Ukrainian national team against the English national team in the qualification for Euro 2024, which took place on March 26. The next seven tiers are also occupied by the football events of the Europa League, Champions League and La Liga. The entire TOP-10 looks like this: