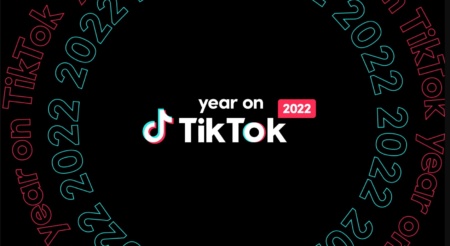 TikTok's highlights of 2022 include a giant chocolate giraffe statue, singer Rosalia's bubblegum and a viral remix of Tariq's 'corn boy'. The social network published lists of the best, in its opinion, videos, trends, authors and songs.
Most popular videos on TikTok (USA)
All of the videos on TikTok's list have millions of views and are the "most viral content on the app." However, the list provided by the social network is somewhat subjective and does not include other videos with even higher views and engagement.
@amauryguichon — Constructing a very large chocolate giraffe
@chipmunksoftiktok – Squishy's back after hibernation!
@rosalia — You can say a lot with the way you chew gum
@blondebrunetteredhead — A deadpan take on 'Jiggle Jiggle' by the leads of Riverdale
@little.blooming.women – "I'm just a baby!"
@schmoyoho — The beloved Corn Kid gets remixed
@lizzo — Lizzo helps us learn the choreo for "About Damn Time"
@itsmrfinn — A teacher's elaborate annual school musical reveal
@jimmydarts – Helping Tom get back on his feet
@meltandpour – The ultimate showdown: lava vs. ice
This year's top US user video is a video in which a pastry chef creates a giant chocolate giraffe statue while soft piano music plays in the background. The video has been viewed 308 million times, compared to 314 million views for the 2021 lead video (a dance filmed with a drone), and a video featuring TikTok star Bella Porch in 2020 with nearly half a billion views.
@amauryguichon Chocolate Giraffe! 🦒This 8.3ft tall 100% chocolate sculpture is my biggest creation yet. #amauryguichon #chocolate #giraffe ♬ dream river. – Woong Sun Hee
User @chipmunksoftiktok took second place on the list this year and has been on it for the second year. This time with a video where he feeds a small rodent (32.5 million views).
@chipmunksoftikt Thank you God my little Squishy is back from hibernation, fill the cheeks my sweet baby #fyp #welcomeback #cuteanimals #cute #chipmunks #squishy ♬ original sound — Chipmunks of TikTok
Many remixes this year were made for the song It's corn. It was created after an interview with a 7-year-old boy, Tariq, in which he carefully explained how much he loves corn.
@schmoyoho intro song for any bouquet/cabbage snack 🌽 — from iconic interview on @doingthings ♬ It's Corn — Tariq & The Gregory Brothers & Recess Therapy
Most popular videos on TikTok (world)
@ox_zung — The Stitch expert shares tricks that made us gasp!
@rosalia — Rosalia shows us all how to slay
@lav_sings — Wows us with her #DesiTok singing skills
@robertirwin — The Aussie conservationist rescues a baby blue-tongued lizard in the outback
@thammachad — An iconic Thai creator receives an award in all their glory
Leading the list is the user @ox_zung, who shares somewhat strange life hacks: how to make popcorn with a curling iron, cover a water bottle with an ordinary napkin, or pack a cebro with a frozen hot kettle. The video only has 9 million views, but TikTok still calls it the best in the world.
#stitch
Top trends (USA)
This year, TikTok was actively viewed and searched for new recipes, beauty and health tips, as well as life hacks. Here are some of the popular trends in the US in 2022:
@oursignedworld — How to get the attention of someone who is hard of hearing
@cookingwithlynja — How to make three types of grilled cheese
@brunchwithbabs — How to (easily) carve a pumpkin
@getaheadwithnick — How to nap like a Navy Seal
@davidsuh – How to pose with "Short Kings"
@charlesgross — How to keep your lips moist with olive oil
@lizzardbird — How to bind a book
@gavinflo — How to stop slicing golf balls on the golf course
@rob_skate4life — How to do a variation on a skateboard
@tiasamudaa — How to contour with powder
Leads the video with the advice "How to get the attention of a person who is deaf". It was viewed 4.9 million times.
@oursignedworld FYI it is quite appropriate in the culture municipality to get the person-match in the table. #deafdad #asl #signlanguage #deafandhearing #tiktoktaughtme #deaftiktok #deafawareness #deafculture ♬ Love You So – The King Khan & BBQ
Main trends (world)
@efritaasmr — Anyone up for a corn dog?
@oursignedworld — A daughter learning how to get her deaf father's attention warms our hearts
@shinanova — Getting to know us through Inuit facial expressions with Shina and her mom Kayuula
@satiscapybaraying_pottery — Fitting a Capybara into a ceramic mug
@mirendarosenberg – Lady Tallow sparking the #TallowTok trend!
The corn dog recipe is the leader among global trends in TikTok. In general, the topic in the social network became mainly "corn", thanks to Tarik himself.
@efritaasmr Balas @siselika jajan seribuan corndog mini super simpel #racunefrita #fyp #jajansd #cemilansimple ♬ suara asli — Efrita
The most popular songs (USA)
The list of the best songs on TikTok 2022 includes both classic tunes and fresh tracks. The community made 8.9 million videos using the popular US track Sunroof Nicky Youre & dazy. Kate Bush's 1985 hit Running Up That Hill (A Deal with God) also returned to the charts.
"Sunroof" – Nicky Youre & dazy
"L$d" – Luclover
"Ginseng Strip 2002" – Yung Lean
About Damn Time – Lizzo
"Just a Cloud Away" – Pharrell Williams
"Forever" – Labrinth
"Wait a Minute!" – WILLOW
"Jiggle Jiggle" – Duke & Jones & Louis Theroux
"BILLIE EILISH" – Armani White
"Running Up That Hill (A Deal With God)" – Kate Bush
The most popular songs (world)
"Ginseng Strip 2002" – Yung Lean
"Sunroof" – Nicky Youre & dazy
"Wait a Minute" – WILLOW
"Beat Automotive – WZ Beat"
"Cool for the Summer" – Demi Lovato
"Jiggle Jiggle" – Duke & Jones & Louis Theroux 💵
"Me Porto Bonito" – Bad Bunny & Chencho Corleone
About Damn Time – Lizzo
"L$d" – Luclover
"Una Noche En Medellín" – Cris Mj
The most popular authors (USA)
@dylanmulvaney – Dylan Mulvaney is a trans actress, comedian and content creator. A viral TikTok documentary about her "transition" has garnered over a billion views.
@pepperonimuffin – author Kirsten shares Hawaiian culture with users.
@kervo.dolo – Kervo Dolo is a comedian who makes good parodies.
@drewafualo – Drew Afualo makes witty content about misogyny.
@shoelover99 – Ophelia Nichols, known to many of her followers as "Baby Mama," shares warmth and positivity even through heartbreak.
@drewbarrymore – TikTok calls Drew "a ray of sunshine". The actress gives her followers a little insight into her everyday life.
@lupitanyongo – Lolita and her fun life in Hollywood.
@jaedengomezz and @karaleighcannella – Jaden and Kara – a duo that created many dance trends in the social network.
@guywithamoviecamera – Rhys Feldman's account became popular on TikTok while working on the set of The Amazing Mrs. Maisel.
@richardajefferson is a former NBA player turned game analyst. Richard often makes fans laugh on TikTok by making jokes about himself and his colleagues.
@thedrewbarrymoreshow We're so excited that @Drew Barrymore is one of @TikTok's Breakthrough Creators of 2022! #yearontiktok ♬ original sound — thedrewbarrymoreshow
The most popular authors (world)
@badbunny – Among the top artists on TikTok this year is Puerto Rico's El Conejo Malo, who has been sharing special moments before releasing his latest hits.
@luvadepedreiro is a writer with amazing juggling skills, exciting goal celebrations and the catchphrase "receba!"
@bayashi.tiktok – Japanese chef Bayashi won the hearts (and stomachs!) of the global TikTok community with his amazing cooking videos.
@dylanmulvaney – The trans-actress conquered not only the USA, but the whole world.
@astrosamantha – European Space Agency astronaut Samantha Cristoforetti takes subscribers on truly unearthly adventures.
@dylanmulvaney Day 100 (part 4)- cake in bed #trans #fyp ♬ Relaxing