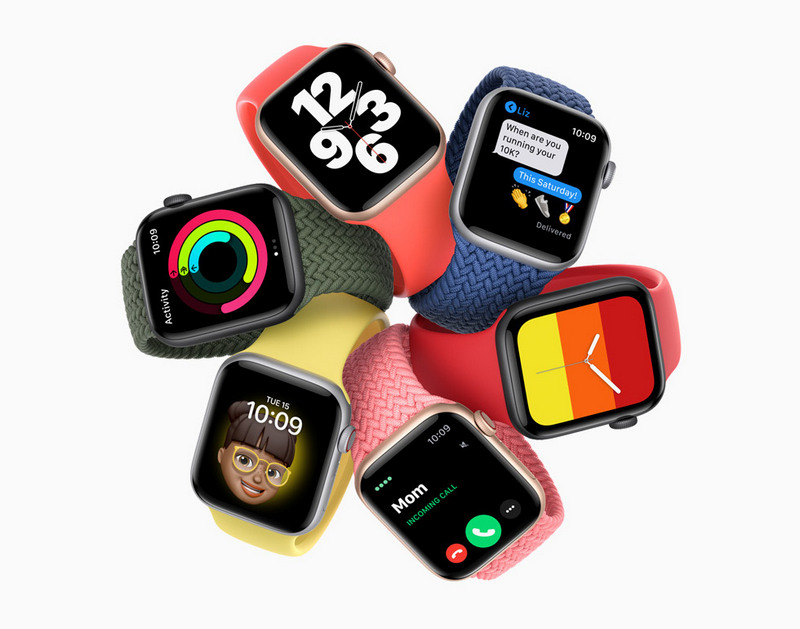 Each Apple presentation fills with energy and carries such a charge that after watching it, you want to run faster and buy new gadgets. How many years have passed, but so far no other manufacturer, even a cannon shot, has come close to Apple in the ability to tell interesting stories. And while this is so, you don't have to worry about the company: it will grow and prosper.
The presentation on September 15 was no exception. There were also the gorgeous new Apple Watch, which will make Android manufacturers cry in powerlessness, and the most powerful iPads, fearlessly winning in performance laptops, and most importantly, this service announcement, further shifting the sources of profit from hardware to services. It is even difficult to imagine the shade of green that other market players have acquired out of envy. And especially the same Samsung, which, despite all attempts, remains the manufacturer of memory and smartphones for the operating system invented by Google.
I know that many in my descriptions of Apple presentations try to look for sarcasm and irony. I can assure you that they are not. I believe that if someone does something well and interestingly, causes delight by their actions, then this is how it should be said.
So now let's go through the new products in order.
Content
Apple Watch Series 6
Major new watch features that make them need to be bought immediately
Apple Watch Series SE and Family Setup
Fitness +
iPad 8 generation
Apple iPad Air
Apple one
Conclusion
Apple Watch Series 6
Price: from 36 990 rubles
Apple watches have long been the unwritten standard in the smartwatch market as well as in the simple watch market. It's not for nothing that Apple sells more of its watches than the entire Swiss watch industry put together. With the launch of the 6th watch series, Apple will only strengthen its position.
First is the new S6 processor. Although Apple says about the S6 that it is not a processor, but a System in Package, implying that the S6 is much more than just a processor or a chipset. The S6 is a dual-core processor based on the Apple A13 Bionic, which is used in the iPhone 11. Nowadays, everyone compares that the performance of iPhones and iPads exceeds that of laptops, I would not be surprised if the comparison is soon made with the Apple Watch. The new processor works 20% faster, the claimed battery life remains the same (18 hours). By the way, Apple describes the operating time with the phrase "all-day", that is, all day. It seems to me that the clock is tailored to Tim Cook's daily routine, which goes to bed at 10 pm and gets up at 4 am. A new watch is charged in 1.5 hours. And the Always-On screen shines 2.5 times brighter than a 5th generation watch.
Major new watch features that make them need to be bought immediately
Constant altimeter
The watch now has a constant altimeter that can be displayed on the home screen.
Blood oxygen level
The main highlight is the measurement of oxygen in the blood. I know, many will say: yes, well, it has been on Samsung for like a hundred years, and Samsung has already removed this feature from its application and its smartphones, hiding it under another. You're absolutely right, but this only demonstrates Samsung's strategic narrow-mindedness. Previously, the level of oxygen in the blood was of no interest to anyone. After the coronavirus, which just causes a decrease in oxygen in the blood, this indicator is more relevant than ever. And Apple adds it! Not before, when he was not needed, but now! Because the road is a spoon for dinner! And Apple is also engaged in a variety of studies trying to figure out how else you can use blood oxygen levels to determine health status.
New dial designs
New design is a powerful sales tool. The new design always delights users. He allows them to show their individuality. Apple understands this! Nor is it any nonsense. Every design from Apple is a work of art, where everything is appropriate and to the point.
New straps
Happiness would be incomplete if only new dials were shown. The straps are equally important. And then Apple once again showed that it thinks not only about beauty, but also about practicality, and understands that different users need different types of straps, and not just different colors, as other manufacturers do, which we will not point our fingers to.
A separate delight is the monolithic straps without fasteners, which are put on like bracelets. Anyone whose work involves an active lifestyle (doctors, firefighters, fitness trainers, etc.) will definitely appreciate the simplicity and convenience. There are different sizes, so you can choose for yourself.
Super pretty braided straps that Apple describes as "polyester yarn with the finest silicone filaments." This is much cooler than a rag strap as it will stay stylish for longer.
And, of course, how to do without Hermes straps. However, there are versions with colored leather. Such straps will be popular with everyone who wants to once again emphasize their financial status and sense of taste.
Apple Watch Series SE and Family Setup
Price: from 24 990 rubles
I already wrote above that Apple watches have become a kind of standard. They not only show the time, but also monitor health, have a fall indicator, can call emergency services, and thanks to the presence of GPS, they can track the location. It is not surprising that many people want a watch like this for their children or elderly relatives. For cases like this, there are now more affordable Apple Watch Series SE that use a processor from the previous generation. They also do not have a sensor for measuring oxygen in the blood. But they have a huge screen, 1.78 inches, like the Series 5, and have an altimeter.
Apple Watch Series SE makes even more sense with the Family Setup option. For example, you can buy a watch for your kids to keep track of their health and location. But kids don't have iPhones of their own. Family Setup allows you to set up and manage the watch included in your family group. It is not known when Family Setup will be in Russia.
At the same time, the current skills of the watch will be enough for children for everything. You can even send a message.
It may seem that Family Setup is nonsense. But this is not the case. It is a powerful tool that will be popular. And most importantly, other manufacturers do not have similar, equally simple and convenient analogs when dances with a tambourine are not needed. The conditional owners of the Apple Watch included in the Family Setup, later, even if they want, will not be able to change the Apple Watch for a product from another manufacturer, because they will immediately lose this useful tool.
Another star in Apple's piggy bank. As I watch presentations, other manufacturers prefer to think of their customers as a pure individualist, completely denying that people live in a family.
Despite the fact that Apple Watch Series 3 is still on sale as the most affordable option to get acquainted with this product, it is the Apple Watch Series SE as a more advanced and attractive version that should become the gateway to the world of Apple smartwatches.
Fitness +
Price: 9.99 USD per month, 79.99 USD per year, launch time in Russia is still unknown, prices for the USA
Fitness + is a logical development of the smartwatch product line. Fitness + also shows that Apple has taken up services tightly.
Fitness +, as I understand it, is a kind of your personal trainer, who, based on your indicators collected for hours, selects all the best workouts for you. In this case, the user can indicate what type of training he would like to receive. Of course, training will be available not only for watch owners, but then it just turns out to be a recommendation service. All the salt is that Apple smartwatches allow you to choose the right activity for you.
Once again, you can marvel at Apple's super accurate timing. The company rolls out the feature exactly when it is needed most. In the US, gyms are still closed, and people will definitely be happy.
Of course, workouts will be designed and delivered by the best fitness trainers on the planet. Apple promises it, and I have no doubt about it. Still, the power of the Apple brand is so great that even the coolest Hollywood fitness trainer who works with superheroes from the Marvel Cinematic Universe will squeal with happiness if Apple calls him.
The trainings will be accompanied by music. The power of Apple is that Fitness + is paired with the Apple Music app. And playlists from Fitness + can be copied to your Apple Music account. And I'm sure the playlists in Fitness + will be something everyone will want!
iPad 8 generation
Price: from 29 990 for 32 GB, from 38 990 for 128 GB
Apple invented the tablet market and remains a major player in it. Despite numerous attempts by other manufacturers, the iPad is the only tablet that has the right to exist. If you are not buying an iPad, then either you have a specific taste or needs, or I don't even know … Today the # Echo88 issue was released, go to read what class notes modern students make on the iPad using a stylus.
This is Apple's most affordable tablet. Technically, this is the 8th generation, but Apple simply calls it "the new iPad." Convenient to some extent. People come to the store, just ask for a new iPad and rejoice.
The tablet is powered by the A12 chip, has a Retina display of 10.2 inches, and supports the 1st generation Apple Pencil. For those who question the power of the A12, Apple specifically emphasized that its entry-level tablet is 2x faster than the best-selling Windows laptop, 3x faster than the best-selling Android tablet, and 6x faster than the best selling Chromebook. There is, of course, a lot of room for interpretation.
Interestingly, Apple insists that the iPad is not a bedside device, but a work tool to take notes, draw, work or play.
Apple iPad Air
Price: from 55 990 rubles for 64 GB, from 69 990 rubles for 256 GB
The great new iPad Air is a work of art. Cool design, nice colors, unrealistic performance. As I understand it, we have before us the most powerful iPad from Apple with the new A14 Bionic chipset. The main highlight is that this is a 5 nm chipset. Apple left everyone. While the rest are calving, the company has gone and done. After all, whatever you say, but in chipsets, Apple has significantly overtaken everyone on the market. I really want to see real performance tests, and indeed to see what the 5nm chipset is capable of.
The iPad Air has a 10.9-inch screen, which is 0.1-inch less than the iPad Pro 11. At the same time, the Air's screen is clearly not worse. Similar dot density and color gamut, but 100 nits less brightness (600 versus 500 nits). Air supports 2nd generation Apple Pencil. The Air has a new 7MP front camera, 12MP rear camera, USB Type-C (!!!) and Wi-Fi 6. Apple says tablet users will be able to edit 4K video and work with Photoshop.
Among the interesting features is a fingerprint scanner on the side.
To be honest, I'm a little confused about iPads. Apple says the iPad Pro is the most advanced iPad ever. But after the presentation, the most advanced one is Apple Air, and nothing was said about the new iPad Pro. So far, the tablet line looks like this.
Apple one
Individual subscription: 365 rubles
Family subscription for 6 people: 525 rubles
Perhaps the main announcement of the entire presentation. Last year I said that Apple will definitely do it, and now it happened. All Apple services in one package!
The Russian subscription package includes Apple Music, Apple Tv +, Apple Arcade, 50GB iCloud for individuals and 200GB for family members.
There will also be a $ 29.95 Premier subscription in the US that will include Apple News +, Fitness + and 2TB iCloud. And all this can be immediately shared with 6 family members.
Let's not talk about the United States, let's take Russia. Tell me the truth, will there ever be one iPhone owner who, at this price point, will give up Apple's subscription services? It is not just profitable, but super profitable and super affordable. Apple is offering a price that everyone will pay. And we can confidently say that now each iPhone will bring an additional conditional 365 rubles a month to Apple's piggy bank. I think this is clear to everyone. This service component will allow Apple to grow in monetary terms for at least another 3-4 years, while the entire 1.5 billion user base is saturated with subscriptions.
Conclusion
Interestingly, although Apple did not impress with any technological solutions, the company makes strong products for life. That is, users will like each of the functions presented today, and people will use all of the presented functions. Nothing supernatural, just good products that will find their audience and replenish Apple's wallet, thanks to which the company will continue to delight us in the future.
Back to content >>>
Share: 





we are in social networks:
Anything to add ?! Write … eldar@mobile-review.com