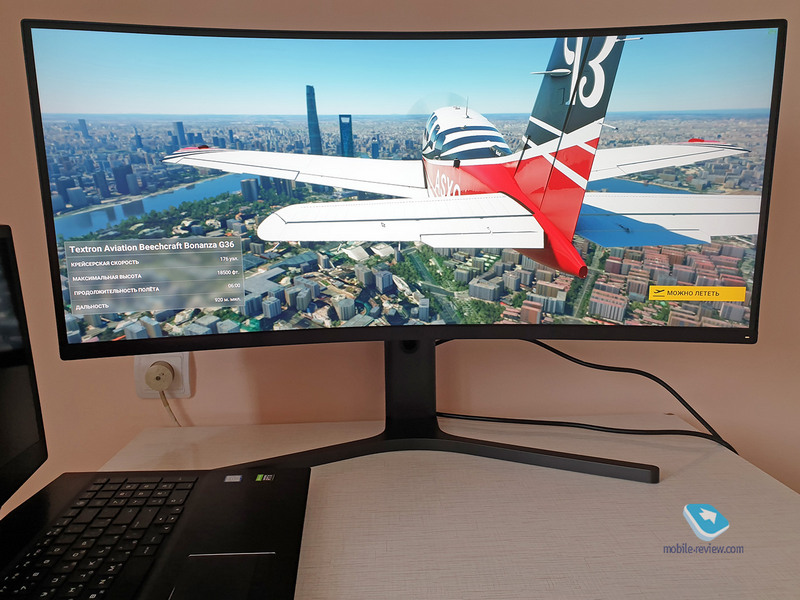 Content
Microsoft Flight Simulator Impressions
Apple closed ecosystem
About application size
Instead of a conclusion: the unexpected impact of TikTok
Microsoft Flight Simulator Impressions
Few impressions about the game. And this note is more likely for those who are not familiar with the simulator and are thinking whether it is worth wasting time. In short, then definitely, because here is our planet on a 1: 1 scale, aircraft and complete freedom of action.
After some exploration, I realized that writing about Microsoft Flight Simulator is a risky business. Since this series of games has its own circle of fans, which somehow reminded me of a sect of cyclists, where they aggressively preach to take off wings, shave your legs, and ride bareback. In the case of Microsoft Flight Simulator, complexity is put in the first place, and both the game and everything related to it. It begins to seem that the ideal for fans is when you need to get to the computer, as in the famous scene from the first Mission: Impossible, and play with the screen off (like you can't see anything at all, such bad weather). Fortunately, this applies more to previous versions of the game. By 2020, people still have become freer, and there are more and more people who just want to enjoy life, so they ride bicycles with a saddle and wings, and explore the world while flying in Microsoft Flight Simulator.
Until then, I only played the 2004 version of Flight Simulator 2003. And I didn't understand anything. Then I got my first computer, I just went through GTA Vice City, where everything was fun and bright. And a serious simulator from Microsoft then frankly did not come to me. I remember how a friend tried to convey to me the delights of the game, but everything crashed about my question "What's so funny?", And I happily went to fly in a helicopter in Vice City.
After 17 years, I, apparently, have finally grown mentally to Microsoft Flight Simulator. The game does not have the usual action like in some Doom or Uncharted, and there are no complex dilemmas like in Civilization. But Microsoft Flight Simulator has our entire planet in 1: 1 scale and complete freedom of action. And, of course, the opportunity to sit at the controls of various airplanes from a conventional maize to a double-deck Boeing, having experienced the hardships of piloting in various weather conditions.
You can even fully explore the Boeing's cockpit
I prepared for the game carefully. I asked HP for an HP Omen 17 laptop with a firm belief that the Nvidia GeForce RTX 2070 would help me get a decent frame rate. In principle, it happened. After connecting a monitor from Xiaomi with a resolution of 3440 by 1440 pixels and setting the graphic settings to maximum, I got around 40 fps.
Of course, to get the most out of Microsoft Flight Simulator you need a joystick. But I was playing with the keyboard and it was not easy.
Interestingly, Microsoft Flight Simulator requires not only a good graphics card, but also a powerful processor and good internet. When loading, the game offers to use either local data (this is sad) or stream satellite data (for this you need the Internet and a powerful processor).
Microsoft Flight Simulator is not a game where you can go without training. The entire process of aircraft control is followed, and for each action there is a button or a key combination – remove the parking brake, remove the flaps, landing gear and much more that you need to watch out for.
The good news is that after completing several training lessons, you quickly enter the main one. Well, the difficulties can be postponed for another time. So the game allows you to simulate not only difficult weather conditions, but also various variations of problems from an oil leak to a fire on board or a failure of all systems.
At the first stage, you just want to fly and look at the world. Here, probably, it all depends on your "baggage" as a traveler, but the first thing I did was to look at all the familiar places I visited. The game, by the way, has markers on the map, and you can choose to immediately be on the approach to an interesting place instead of long take-offs.
In conclusion, it should be noted that despite the localization of the menu, this is a game for those who know English, since all communications are in English. So at times (or something I didn't understand) the translation is not entirely correct. For example, in the screenshot below, I am in the process of accelerating down the runway, and in order to take off I need to press Num 2, which is responsible for the climb, and not Num 8, which, on the contrary, is for the descent.
Microsoft Flight Simulator is for explorers and airplane enthusiasts. To fly from Heathrow and head towards Big Ben is worth a lot. And it's not easy, frankly. When I was playing, I opened traditional Google maps on the next monitor.
After just a few hours of flying around a highly detailed world, the realization came that the game could be an excellent base for something more than just moving from A to B or fighting an airplane trying to land on instruments. Well, given the satellite thorough study, the game allows you to fly off and see what is around the hotel before going on vacation.
Apple closed ecosystem
Over the weekend, the site published a translation of an interesting WSJ article about how Tim Cook made Apple his company. If you missed it, I recommend reading it.
At the end of that article, I already wrote that it sheds light on the reasons why Johnny Ive left the company and gives an explanation of why Phil Schiller recently chose to resign. There was no place for them in the financial and accounting regime, which Cook approved in the company. And since they are already more than wealthy people (thanks to both good salaries and bonuses in the form of Apple shares), they apparently decided to retire. So I guess we're unlikely to hear anything about Johnny Ive's Lovefrom design studio. Perhaps, if he gets bored completely in retirement.
However, there is another interesting point in the article that attracted attention. There is a quote from Chris Deaver, who spent 4 years in Human Resources, serving R&D and Business Development: "This is something most people don't understand: the ability to grow sales is a revolutionary Apple technology. Once Apple falls into a category with its simple and elegant solution, the company can simply stay on course by owning the market. There is no need to set speed records, you just need to grow organically. "
On the one hand, this is an obvious statement. Apple has tremendous brand power and a huge audience of 1.5 billion users. This is more than the entire annual smartphone market. Accordingly, any useful, high-quality product that matches the spirit of the company will definitely get significant sales. At first, it will gradually spread across its own huge user base, and then, by inertia, will attract new customers.
But Mr. Deaver is absolutely right that this thought regularly escapes when thinking about Apple's future. Thus, for Apple today, the primary task is not to increase, but to maintain the current user base. I am sure that in the future the company will devote even more efforts to this, offering its clients all kinds of promotions.
In my opinion, Apple can be compared to a plant in a bottle. You know, when they plant a bush in a bottle and close the lid tightly. It turns out a closed ecosystem, as in the story of a British pensioner, whose bush has lived in a locked bottle for 50 years, water is released from the oxygen produced, carbon dioxide is released from fallen leaves, etc.
Apple is probably close to just such a customer base that will allow it to exist even in a confined space.
About application size
Over the weekend, I decided to slightly clean the smartphones by removing unnecessary software. And I was very surprised by the size of some applications. For example, Mi Fit, an application that, in fact, collects data from a fitness bracelet, processes and displays it in the form of graphs takes 231 MB, the app store weighs almost 0.5 GB, YouDrive carsharing – 357 MB, and Delimobil – 258 MB (while Belkacar "only" 73 MB), ticket search engine – 140 MB. The cache has been cleared.
The size of the basic applications is particularly impressive. As an application clock (alarm clock, stopwatch, timer, world clock) can "weigh" as a taxi call aggregator. Although there are questions about the calculator. On Windows, the calculator weighs 180 KB, while here it is 4 MB. So on Windows I can also draw graphs in a calculator.
By the way, at the same time, many applications on Windows weigh less. So Netflix takes 28 MB, while Android 70 MB. Another example is a VPN client that takes up under 100 MB on a phone, and nothing on Windows in the form of a Google Chrome extension.
I understand that you can justify the dimensions by the fact that Android applications require more different libraries, plus the images should be larger, since the screens of smartphones have higher resolutions, etc. However, it begins to seem that the developers and Google (and Apple, the situation is similar there) prefer to deal with increasing capacity, rather than optimization. It's funny if after 5 years "hours" will weigh under a gigabyte.
Instead of a conclusion: the unexpected impact of TikTok
Already in one of the issues I wrote about the difficult life of TikTok in the USA. The government promises to block the application if the Americans do not gain control over it. Saying that this is a matter of national security, since TikTok can be a propaganda tool. I don't know what the authorities suspect, but the WSJ published an amazing article on how TikTok convinced American men to wear ultra-short shorts that are only 13 cm long at the inseam.
The article describes that all of a sudden, girls in the United States began to write how they didn't like long shorts on men. The men saw these videos and went to the store to buy short shorts.
The news is funny, but perfectly reflects how you can gently manage the masses. All this played into the hands of the Chubbies brand, which has specialized in short shorts since 2011. As the company representatives said, when the trend was just launched, the traffic to their brand increased by 4600%. Subsequently, traffic decreased, but still shows an increase of 1500%.
Then, representatives of the gay community were outraged that why are heterosexual men encroaching on the clothes in which gays have sported for many years.
Perhaps this is China's revenge. So far, they cannot defeat the United States, so they decided first to change their clothes and bring confusion. What trade wars, when such problems with the length of the shorts.
Back to content >>>
Share: 





we are in social networks:
Anything to add ?! Write … eldar@mobile-review.com