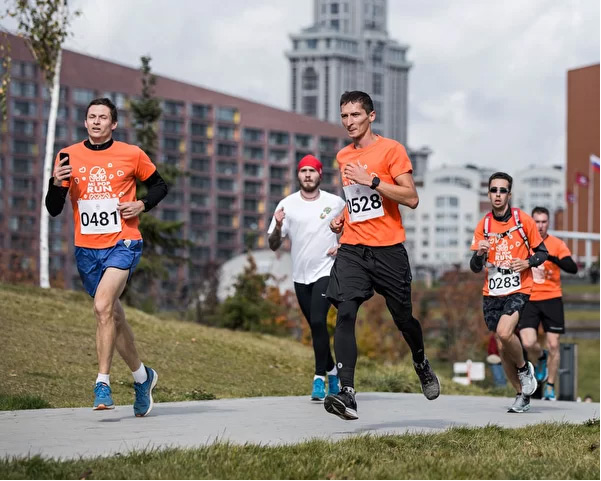 Content
Xiaomi Charity Run
Feel free to say what you think
Microsoft's underwater data center
Apple presentation
Conclusion
Xiaomi Charity Run
Xiaomi was asked to share the news about the annual charity run. This year it is held in an online format. From September 21 to 27, you need to run any distance with the Mi Smart Band and the Mi Fit application installed, take a photo that clearly shows the result, or a screenshot, post it on the social network with the hashtag # mipoprun2020. The idea is that the steps are converted into money that goes to charity and helps specific people. More details here: mipoprun.ru.
This year, 6-year-old Daniil Galitsky from the Tula region will become the ward of Mi Pop Run. Several months ago, doctors diagnosed the boy with a terrible diagnosis: medulloblastoma of the 4th ventricle. Only proton-beam therapy can save his life, an operation costing 2 rubles.
Considering that everything is virtual this year, it is not even necessary to run, it is enough just at the end of the day to take a picture of the number of steps taken and post it to the network. Accordingly, if you use or where a Xiaomi bracelet is gathering dust on the shelf, then you can participate and do a useful job with minimal effort.
Feel free to say what you think
Our world is great. You can reach anyone. The morning before Apple's presentation, Tim Cook tweeted that the event was 6 hours away. And I immediately received in the comments that Apple products are rubbish, and the threat that if you don't show your iPhone, then I'll go to Samsung right away.
Microsoft's underwater data center
Two years ago, Microsoft lowered a huge container capsule, which is a portable data center, under water. The idea is that data centers need a fairly complex infrastructure to keep them cool. And then they were hermetically sealed and lowered under water, where it is cold.
The downside of this decision is that for two years people did not have access to equipment. That is, if something breaks, it cannot be replaced. It's too early to judge, but Microsoft says that the failure rate in 2 years was 1/8 of the value shown by ground-based data centers. Scientists have hypothesized that the nitrogen atmosphere created in the capsule is less aggressive than oxygen. This and the lack of people to touch the components of the data center are the main reasons for the difference.
So far, an underwater data center looks cost-effective and promising. Another bonus is that such a data center is more environmentally friendly. They said nothing about whether he could boil water around him.
Microsoft's idea is that you can create portable data centers around the world where you need them most. Bonuses are that you don't need to build buildings, you don't need permanent staff for maintenance. The containers are networked, and if something goes wrong, you can replace one container with another.
It is drawn that after 100 years the Mariana Trench has become the largest data center in the world …
Apple presentation
Apple made a presentation last week. I did material on this topic, which was considered laudatory. But I still adhere to the position that in reviewing presentations, you need to convey the thoughts and mood that companies broadcast. Well, keep your position and analytics for a conclusion, or better for a separate material. This way, readers will be able to understand the position of both the company and the author.
Although the iPhone 12 was not shown, the event still sparked a wave of controversy and speculation. On our website, only the iPad Air 2020 presented, but not yet on sale, was defeated with a truly hockey score of 9: 1 in favor of the Samsung Galaxy Tab S7, after which the whole truth about the mediocrity of the first 5-nanometer A14 Bionic chipset was announced in the next article. … I recommend that you certainly familiarize yourself with the materials.
In philistine conversations, even more so Apple innovations were described by the simple and capacious word "nonsense". For some reason, I immediately recalled the origin of the word. Rubbish is the jargon of French students of the 18th century, which appeared as a result of crossing the Latin "gallus" – "rooster" and the Greek "matthias" – "knowledge", that is, literally rubbish means "knowledge of the rooster." Here you can admire the students of those years, because here you need to know both Latin and Greek.
I will dare not only disagree with the opponents of Apple, but also try to explain how the presentation demonstrates the power of Cupertino.
When looking at billions of dollars in earnings quarterly, Apple's competitors are tempted to think they can do just as well. Companies A or B, showing their watches or tablets, may hysterically urge to buy their products, because they are not only no worse, but even better, brighter, more powerful and cheaper. However, consumers are unforgiving. Apple continues to dominate the tablet market and is gaining ground in the smartwatch market.
The question arises, how can this be. The answer lies on the surface. Quoting Pelevin (this is a writer like that), I would like to say that Apple has perfectly studied one magic book, "after reading which one could no longer be ashamed of anyone and had no doubts about anything. It was called Positioning: The Battle for Your Mind and was written by two advanced American sorcerers. And this is true, because Apple has long been unable to compete either in the cost of raw materials or labor, or in the efficiency of the supply chain, or in the budgets for R&D or direct advertising. In general, Apple has lost most of the markets, if measured in piece terms. However, the company is not ashamed of anyone or doubts. After all, she is still strong in marketing, positioning, storytelling and other capitalist magic.
Many can be driven to white heat by the idea that some kind of "empty verbiage" brings billions of dollars, while the products of working engineers from companies A or B are gathering dust on the shelves. Such people should be treated condescendingly and their point of view should be respected, but remember that wherever you look in world history, people who own marketing have ruled and will rule everywhere. It is unlikely that Gaius Julius Caesar, spending the treasury budget to whitewash his name among the masses, knew about the personal brand, and Christopher Columbus had read Ogilvy's books about advertising so much that he managed to sell the "project" of the expedition, relatively speaking, no one knows where, but conceptually all this refers to marketing.
Innovation drop by drop
The history of all Apple presentations, peeling the husks, is very simple. Initially, the company takes some simple idea and brings it to perfection. For example, the first iPad. Essentially just a big screen for browsing the internet. And at the presentation, Apple first demonstrates how deeply and efficiently this idea was worked out, and then shows simple and understandable examples of how this idea can make the lives of customers better. The following year, Apple holds the next presentation, where to the first idea, with which people have already become familiar and used to using it, adds the following idea. A year later, another one – new software features, new applications, and finally, a stylus. It seems that Apple comes up with new features drop by drop, but that's just the speed at which most people are willing to learn new things.
A little clarification should be made here. Most of the regular readers of Mobile-Review, I think, in the marketing wording can be categorized as "innovators" or "early adopters." These are people who closely follow technical innovations, often they do not need to explain the scenarios of how to use this or that gadget, they themselves know better. However, sales are made by groups called "early majority" and "late majority". These groups are in no hurry and even late with the purchase, making it already when the gadget comes into use.
Accordingly, Apple focuses on these groups in product development. In a non-tech world, take a look at Disney's Marvel superhero franchise. The first film on this universe was released in 2008, and then for 12 years Disney painstakingly introduced new characters one by one, carefully introducing viewers to them. Bringing the level of knowledge of people about superheroes to the top, when, it seems, anyone has heard at least something. In contrast, let's take the Warner Brothers studio, which immediately shoved all its superheroes into one Justice League film and dumped it on an unprepared viewer. The result is obvious. Justice League raised $ 600 million, Avengers Endgame raised $ 2.798 billion.
This is also the case in the electronics market. Apple introduces its products, other manufacturers dump information on the heads of buyers. But many simply do not have time to delve into.
Thoughtfulness in the little things
Apple's second strength is its total thinking about the user experience. For example, let's look at the Galaxy Tab S7 tablet. Unlike its predecessor at number 6, the new tablet managed to avoid accusations of an abundance of bugs, but the user experience was still at risk. This is perfectly illustrated by the text from Android Central, where the author directly writes that the only cool tablet apps are those that Samsung has developed in-house. In original applications, the force of pressing is perfectly recognized and geometric shapes are drawn to the ideal (I drew a line, and the tablet itself made it straight). But once you download something from the app store, the magic disappears.
Apple, in addition to its own software, always works closely with third-party studios, which, under its leadership, lick their applications to perfection. After that, at the presentation and in advertising communications, the user is pushed to these applications, and he is happy. You must admit that no one likes to wade through app stores in search of the very thing they need.
Speaking about attention to detail, I cannot help but note that I have been using a smartphone of the same brand for a long time. This brand, together with Google, knows literally everything about me, including the fact that "Vladimir Nimin" is a pseudonym, and anyway, every time I open the branded sports application of the brand, the smartphone offers me, a heterosexual Orthodox man living in Russia (! ), track the menstrual cycle.
Timeliness
The 6th Apple Watch series has received notable criticism for the oxygen sensor. Indeed, in general, everyone has had this sensor for many years and everyone knows everything about it. Let's be honest. Before the coronavirus, no one gave a damn about the oxygen meter. It was just a percentage. And only in the era of the coronavirus it became widely known that this figure should not be lower than 95%.
What is Apple doing? The company starts cooperation:
is conducting research with the University of California, Irvine, USA and Anthem to determine how long-term blood oxygen and other physiological metrics can help monitor and manage asthma patients.
with the Ted Rogers Center for Heart Disease Research; and with the Peter Munch Center for Heart Disease, which is part of the largest research organization in North America, the University Health Network. Together, they are exploring how blood oxygen and other metrics measured with Apple Watch can be used to combat heart failure.
with Brotman Beytie Precision Medicine Institute and University of Washington School of Medicine to investigate the use of such data from Apple Watch apps. like heart rate and blood oxygen levels to detect in the early stages a variety of respiratory diseases such as influenza and COVID-19.
What is the result? Abundance of publications in all world media. During the pandemic, did you come across reports from other manufacturers that they also have oxygen sensors? Me not. Of course, now the rest of the brands will update their communication and will say that they too can like Apple. And despite the fact that they were actually the first, in the minds of the majority they will become followers.
By the way, everyone expects the iPhone 12 to have 5G support. And Apple has been criticized for starting this technology so late. Think about how much Apple missed out on? Has the majority already switched to 5G, or so far only geeks have got hold of 5G tariffs? And when watching the presentation, if the iPhone has 5G, pay attention to how Apple will show application cases, after which everyone will urgently want 5G.
Inevitability
Inevitability is already the concept of Tim Cook, who is convinced that if you give people a good service or content that is initially in their gadget, they will use it.
This category includes the launch of the Fitness + subscription and a single subscription to all the company's services. As noted by many, Apple Tv + did not win popular love. At the moment, this is indeed the case. Quite frankly, Apple Tv + stands out from Apple's concept. Apparently, this can happen when the product is in a really unknown area for the company.
But it is the single Apple One subscription that will push Apple Tv + to the masses, when you buy a subscription to games and music, you are given movies as a gift for free. The situation is similar to Yandex.Music with Kinopoisk. No, no, but I'll see something there.
"Fitness +", which Apple promises to launch in Russia by the end of the year, is also about inevitability. There is a certain category of athletes who buy sports smartwatches of the well-known brands "bitbit" and "minmin". However, most smartwatch and Apple Watch users are unlikely to buy a watch for sports. But if you offer them to go in for sports, when you do not need to make additional movements (watch on your wrist, "Fitness +" is in the package subscription), then why not? Especially if you accompany it with incendiary music and world stars from the fitness industry.
The power of "inevitability" can be judged at least by the fact that, less than an hour after the presentation, Spotify filed a lawsuit against Apple, accusing it of monopoly over a package subscription.
Freedom in exchange for success
Apple tightly owns its audience and ties users to the company's ecosystem, creating all sorts of barriers to transition. Relatively speaking, having bought a new Apple Watch, you are unlikely to decide to change iOS to Android, etc. On the one hand, this behavior should cause natural discontent, because Apple encroaches on freedom of choice.
But taking away some of the freedoms, Apple takes on the obligation that personal data will be protected, that if you use the company's applications and gadgets, the client will be successful, because the gadget will work exactly as promised. Yes, it will not have some experimental features like its competitors (for example, when a monitor is connected to a tablet, the desktop mode starts), but what it has will work as it should. And this is captivating.
Conclusion
Unfortunately, the world cannot be divided into black and white. And clearly say that this is bad, but this is good. Apple has identified its target audience and is working with it. If the company's products do not resonate in your soul, then it is likely that you do not need them. For example, I don't use Apple products, and I don't aim to. But it's important to understand what the company is doing and why, because while you may not like it, it's the majority buyers who pay, thus defining technology.
Back to content >>>
Share: 





we are in social networks:
Anything to add ?! Write … eldar@mobile-review.com