Content
Xiaomi presentation
About Yandex and the smart column
About smart speakers
Windows and Android apps
Conclusion: Ikea and drones
Xiaomi presentation
Yesterday evening there was a presentation of Xiaomi, which showed the "affordable flagships" Xiaomi Mi 10T Pro and non-Pro (regular), at the price of 49 rubles and 990 rubles. A review of this smartphone was released today. To be honest, I really liked the smartphone. Xiaomi managed to create a powerful product that will not compete with top models, but at the same time it will not seem to the buyer that he wasted money, overpaid or, on the contrary, underpaid, but it would be better to add and …
One of the factors in my positive perception was the complete absence of advertising. You can't even imagine how prettier MIUI 12 is without ads and notifications. Yes, I know that advertising on Xiaomi can be turned off in the settings, but it's so nice when everything is initially turned off from the box.
If you are thinking about buying, then pay attention to the gifts when pre-ordering. To quote from the press release:
Acceptance of pre-orders begins on December 3, and in the period from December 3 to December 9, buyers who pre-order the Mi 10T or Mi 10T Pro will receive a Mi Smart Band 5 fitness bracelet, Mi True Wireless Earphones 2 Basic and a charger as a gift Mi 65W Fast Charger.
Buyers of the Mi 10T and Mi 10T Pro receive an extended two-year warranty. In addition, if within six months from the date of purchase, buyers can count on one free display repair.
Each buyer of Mi 10T and Mi 10T Pro will be able to receive a three-month subscription to Yandex.Plus as a gift, as well as free or for 1 ruble access to subscriptions from Okko, More TV, Wink and MTS TV online cinemas.
Xiaomi has adopted a pleasant marketing tactic. If you look at Samsung, the manufacturer prefers to donate one gadget. For example, at the start of the Galaxy Note 20 Ultra, they presented Buds + wireless headphones (retail price – 10 rubles). Xiaomi, in fact, gives gifts for about the same amount, but takes in quantities – a bracelet, headphones, charging, subscriptions and free repairs. A very simple technique, thanks to which an abundance of gifts is created in the eyes of the user.
A new product on the Russian market is the Mi Watch. Quite a consistent development of the line of wearable gadgets. Xiaomi with its fitness bracelets has taught the whole world to similar gadgets. And it is natural that users will want to switch from a small screen on the bracelet to something more impressive. However, the same applies to the form factor. The bracelet is a street style after all. It is worth putting on a shirt, and immediately it looks somehow inappropriate.
In the photo, the Mi Watch Revolve is a slightly more premium version of the Mi Watch. Same characteristics, design differences
Mi Watch is aimed at those athletes who need GPS to track their location. In addition, the watch monitors pulse, heart rate, oxygen level, air pressure. The charge lasts 16 days, the screen size is 1.39 inches, it is AMOLED.
In Russia, the price will be 8 rubles in official retail. The price is even more favorable than on the Chinese Internet. On the one hand, it's nice, on the other hand, the Chinese think that they should give the Russians a discount, because otherwise they won't pull.
Liked the 65W fast charging. They will retail for 2 rubles. I am impressed by the idea of ​​universal charging, which can be used to charge both smartphones and laptops. After a couple of years of active development of such products, I think all manufacturers will follow Apple's path and remove the chargers from the boxes.
About Yandex and the smart column
Last week I released a review of Yandex's presentation criticizing the new Yandex.Max Station. And in the comments I got that, they say, the station is intended to be connected to a TV, why does it need a screen! And the sound in it is 65 W, which means it is very good! We will not talk about the fact that the sound quality is not determined by watts, and I had no complaints about the sound of the first station. Played well.
But what we should dwell on is that Yandex has made a product that tries to sit on two chairs.
There can be many interpretations of a smart speaker, but, as Western practice shows, the companion speakers were most liked. For example, small inexpensive Amazon Echo Dot. People put them all over the apartment and use them to control smart appliances, listen to music, etc. For example, such a set of a column and a smart light bulb is sold for $ 18 (1.5 tr.), So that the buyer can immediately feel what the taste is.
Of course, there are also speakers focused on sound quality. Since we're talking about Amazon, I'll take the second example from this manufacturer. Here is the Echo Studio, to which two Phillips bulbs (like a more expensive manufacturer) are already given as a gift. Initially, the price was 17 thousand rubles, now it is 13 200 rubles. 360-degree Dolby Atmos sound, support for Amazon Music, Spotify, Apple Music, Tidal (that's where the super-premium sound is), etc. For those who like to evaluate the sound in watts. Here the total power of 5 speakers is 330 watts. Yandex Station will meet your criteria. And there are no questions to the speaker: good sound, supports many services, looks nice. This is such an option for the living room.
Well, for the kitchen or bedroom, you need to use the column + screen option so that you can watch recipes, watch videos or communicate via video link.
Yandex.Station Max claims both the title of a music box and the role of a TV box. But with a price of 17 thousand rubles, the sound of the speaker does not reach the desired level. Of course, you can buy it, and I'm even sure that you won't have any complaints about the sound. It will simply remain the realization that a much better product can be obtained for the same price.
As a set-top box, Yandex.Station is wealthy, if only your addictions are limited to Kinopoisk and Amediateka. However, the speaker will not work as a soundbar for the TV. Let's face it, it's better to take the Nvidia Shield as a TV box.
And there remains a moment that you want, for example, to make a multiroom, then it turns out that you need to arrange speakers around the apartment that can output 4K video, but they will only be used for playing music.
I don't want to offend Yandex. The product really turned out to be cute, cool, and also a funny screen. And it is clear that Alice has no competitors in the Russian market. All other products are inferior, but this is not a reason to release something like that.
About smart speakers
The smart speaker market has been around for a long time. In Russia, they met him only in 2018, but smart speakers have been sold in the world since 2014.
As you can see, we are not even far behind. In the first years, people looked closely, and active growth began at a time when the production of smart household appliances was established, and subscription services became a part of everyday life. It took time for consumers to realize all the benefits of using a voice assistant. At first it was fun: Alice, Alexa, turn on the kettle! And, lo and behold, the kettle turned on. Today it has come into common use. For example, just yesterday I remembered that I forgot to send the robot vacuum cleaner to the kitchen to collect the crumbs, and while I was driving, I simply said the command, and the vacuum cleaner connected to Google Home rolled to carry out the assignment.
The market is far from saturation and shows double-digit percentage growth almost every quarter.
The current trend in the smart speaker market is smart screens, that is, in simple terms, a column to which the screen is still screwed. The share of speakers with a screen is 26% of the total sales of smart speakers (based on the results of the 3rd quarter), up from 22% a year earlier. This is quite a significant increase, considering that screen speakers are by definition expensive. The move to smart screens is understandable. The buyer realized that the voice is good, but it is even better when something is shown. It is interesting that in Russia there is not a single speaker with a screen yet, we are waiting for SberPortal.
Another trend in the smart speaker market is that manufacturers are becoming more open, allowing the use of not only branded services, but also third-party ones. Above was an example that Echo Studio can play Apple Music. The most conservative in this market is Apple, but there are no complaints about it. Rather, if it were the other way around, then they would start talking about the fact that the company has problems.
Why Yandex is in no hurry to present columns with a screen is understandable. Obviously, smart speakers have a maximum lifespan. Only a breakdown can force the user to update such a product. Well, the penetration of smart speakers on the Russian market is still small. According to the forecast for 2020, 1 million smart speakers should be sold. And in the absence of competitors, a completely simple and understandable principle operates. Now we need to sell something like this in order to present the model better and give a motive for renewal.
Windows and Android apps
Apple, introducing the M1 processor and allowing the installation of iOS applications on macOS, launched (I would say, "as usual") a chain reaction.
For some reason, not everyone pays attention to this, but we are following the path of universalization. Despite the fact that there are still disputes among minorities about Android / iOS, Windows / macOS, Linux / Unix / command line, most users do not care about the platform at all. Comfort plays a major role. A trivial example. Once I start watching a movie on my smartphone, I want to continue from the same place on my TV and laptop. Having written the text on a MacBook, I will continue on a stationary Windows PC. Now the principles of universality and cross-platform are being introduced into games, when, using a Ubisoft + subscription, you can transfer saves and play on different platforms.
Apple is also striving to make its system universal, and the move to a single chipset is a powerful step in that direction. Users will be able to use the same applications on their smartphone and PC. This is a significant advantage for both users and developers, as the latter will be able to sell their product to more people.
Microsoft understands this. So after the new MacBooks went on sale, Microsoft leaked about the Latte project, which will allow you to run Android applications on Windows.
Currently, you can run Android applications on Windows using Samsung smartphones and the YourPhone application. However, this is not a launch, but streaming a smartphone screen to a computer.
It is not a fact that Microsoft will be able to implement its ideas, since it cannot do without Google. Microsoft will face the same problem as Huawei, which, without Google services, has lost the ability to run applications.
Conclusion: Ikea and drones
In conclusion, I would like to tell you how technology is gradually entering our lives. During the presentation of Yandex, they said that not only couriers, but also one robot are engaged in deliveries. For some reason, I immediately remembered a joke about robots that were supposed to catch criminals and that in the USA a robot caught 10 criminals in an hour, in France 5 criminals, and in Russia someone stole a robot in an hour. I don't know how the process is organized, maybe a security guard is walking behind, but nobody has stolen the Yandex bot yet. I don't want to offend, but on the whole it is an extremely unpromising contraption that requires an ideal road, low curbs and generally a barrier-free environment.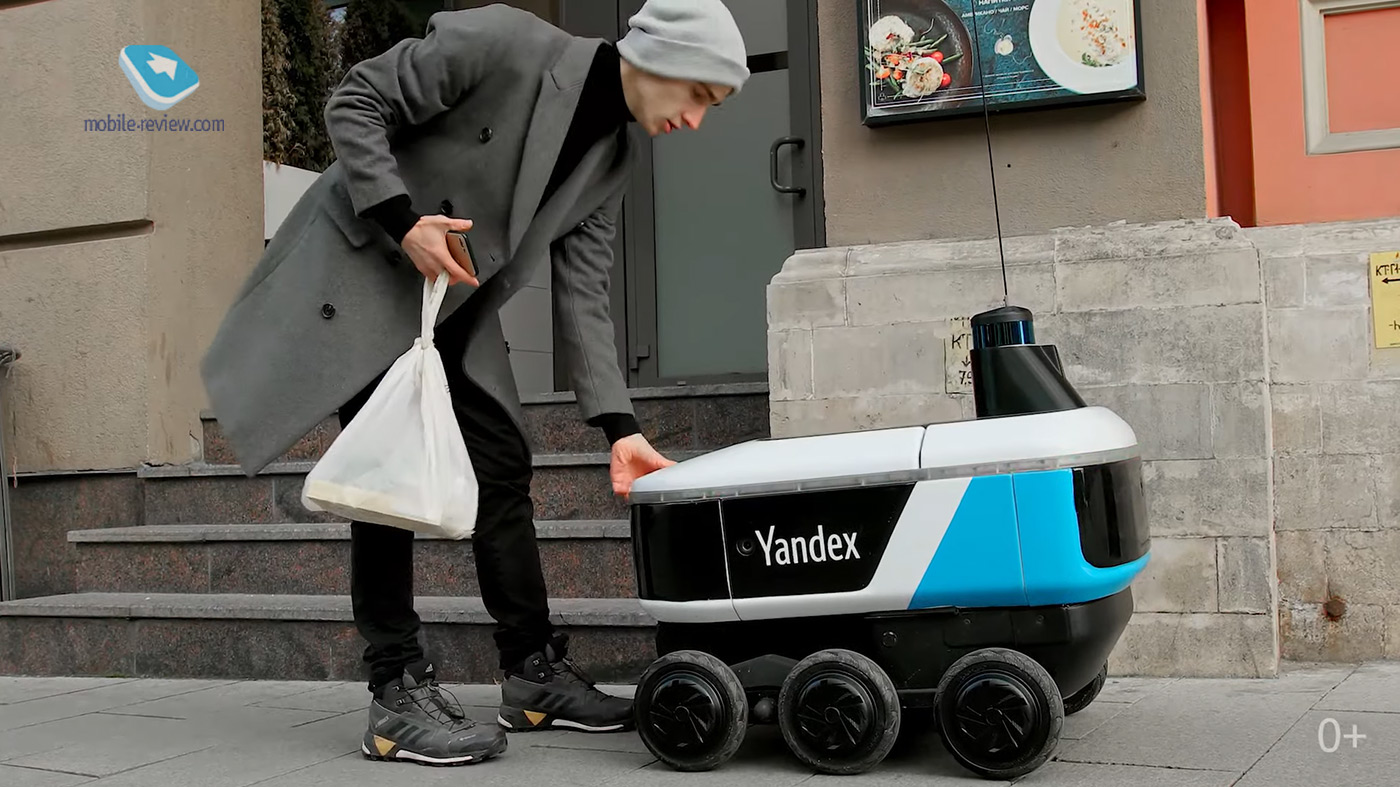 Much more interesting is how Ikea got down to business. An autonomous drone control system was organized at one of the warehouses. Drones fly, scan, take pictures, send images, which are processed. This helps to keep inventory and keep order.
The example shows that the robot detected when the workers wanted to send the wrong pallet from the warehouse. The man made a mistake, and the drone noticed and corrected. It is unlikely that in the near future the world will be deprived of janitors and couriers, as well as workers in warehouses. For the proper functioning of robots and drones, it is necessary that the world has a universal order and consistency: the same markings, standard height of curbs, and if we talk about a warehouse, then the same dimensions of trucks and methods of how to load goods in them, and preferably the absence of people, so as not interfered with underfoot. And to some extent, flying drones are more promising. The main thing here is to ensure that you do not get tangled in the wires.
Back to content >>>
Share: 





we are in social networks:
Anything to add ?! Write … eldar@mobile-review.com