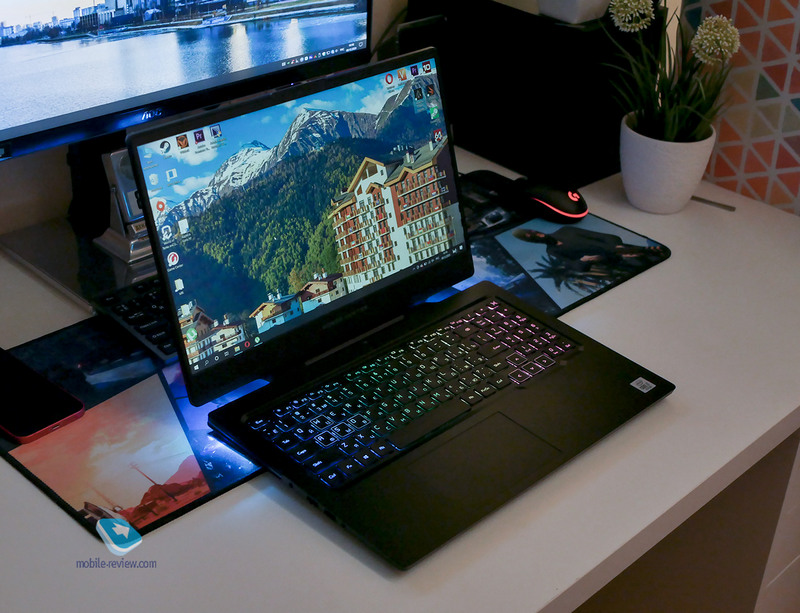 Content
TECH SPECS
Set
Introduction
Design, lighting
Разъемы
Keyboard and Touchpad
Screen
Processor, memory, performance
Temperature and noise
Nahimic Speakers and Sound Effects
Working hours
Impressions
TECH SPECS
Product name
HONOR HUNTER V700
Screen

– Diagonal 16.1 inches

– Thickness of the left and right frames 4.7 mm

– Resolution: 1920 x 1080

– Aspect ratio: 16: 9

– 144 Hz refresh rate

– Color gamut: 100% sRGB

– Brightness: 300 nits

Housing

– Dimensions: 369.7mm x 253mm x 19.9mm

– Weight: about 2.45 kg

– Color: Midnight Black

CPU
7th Gen Intel® CoreTM i10750-10H Processor Top (or i5-10300H Base)
Video card
Top-end NVIDIA® GeForce® RTXTM 2060 discrete graphics with real-time ray tracing (or GTXTM 1660 Ti graphics card as standard)
Random access memory (RAM)
4GB Dual Channel DDR16 RAM expandable up to 32GB (2 x 8GB)
Internal memory (ROM)
3.0GB PCIe 4 x512 NVMe SSD expandable from 1TB with two M.2 SSD slots (second slot empty, both come with 1 512GB slot)
Audio

– Two speakers + two microphones

– Nahimic sound effects for gamers

Buttons and ports

– Power button with fingerprint scan function x 1

– 3.5mm headphone / microphone combo audio jack x 1

– USB Type-C (DP 1.2 display port and data transfer) x 1

– HDMI 2.0 x 1

– USB 3.2 Gen 1 (formerly known as USB 3.0 Type-A) x 2

– USB 2.0 Type-A x 1

– Gigabit Ethernet RJ45 port x 1

– Power port x 1

Precise control gaming keyboard

– 4-zone RGB color keyboard

– Keys with double bend; key height: 1.8 mm; bend: 0.3mm

– 29 keys with protection against accidental pressing

– HUNTER key to change modes (Quiet – Balanced – Game)

– Numeric keypad (analogue mechanical) + full-size arrow keys (independent shifted down) + wide spacebar + backlit WASD keys

– Space between ESC and F1, F4 and F5, F8 and F9

Wi-Fi

– IEEE 802.11a, 802.11b, 802.11g, 802.11n, 802.11ac and 802.11ax (i.e. Wi-Fi technologies of generations 1-6)

– 2,4 GHz and 5 GHz

– Two antennas 2 × 2 MIMO

Bluetooth
Bluetooth 5.1
Camera
Standard camera, 720p
Fingerprint Scanner
Power button with fingerprint scanning function

Complete system startup in 8 seconds 

Battery
56 W * h
Charging
Adapter (not including charging cable):

– Power: 200 W

– Dimensions: 165mm x 77mm x 26mm

– Weight: about 570g

Charging cable: cable length – about 1.5 m

Software

– HONOR HUNTER GameCenter

– Microsoft Edge browser (default)

– Microsoft IME input method

– PC Manager to customize the screen (including eye protection mode) and restore factory settings

– Built-in Office Home and Student 2019 packages

– Installation and removal of third-party applications according to the regional strategy

Unique features

– Wind Valley ultra-efficient cooling system + Obsidian heatsinks with 240 ultra-thin panels + two 12V turbo fans + keyboard gaming area cooling + self-cleaning cooling system

– Gaming Mode: CPU running at 45W, graphics card running at 100W (RTXTM 2060 only)

– Nahimic sound effects for gamers

– All-round 100% RGB color backlighting: 4-zone backlit keyboard, HUNTER logo and Wind Valley cooling system

– HUNTER key: easy switch between quiet, balanced and game modes

– Intelligent Features: Highlight Capture, Multi-Screen and Backlight Timing
Set
A laptop
Power cable
Network adapter
Instructions
Warranty Card
Introduction
A device called Honor Hunter V700 was presented a month ago, but sales began just a few days ago. In fact, the V700 is the brand's first most powerful gaming laptop, at least until now I have not heard of a similar gadget from Honor or Huawei. Such gaming solutions were definitely not sold in Russia.
My story of acquaintance with Honor Hunter V700 began with the fact that I installed Battlefield V on my PC (the game is based on the events of World War II). I can't say that I am an ardent fan of such shooters, but this topic is close to me in spirit.
So, I could play only late at night, when the work was over and the child went to bed. However, it is almost impossible to play Battlefield V and not get emotional during the battle. Therefore, my wife made a strong-willed decision to send me out of the office, which is next to the bedroom, to the kitchen – they say, knock on the buttons as long as you like!
And it so happened that at the time of my exile to the remote corners of the apartment, the Honor brand offered me a Hunter V700 review. Of course, I agreed: it will be possible to play calmly and test the device.
The device is remarkable in many ways and meets all the criteria for a gaming laptop:
Unusual body shape
Bright illumination of the logo on the lid of the device, illumination of the radiator grille and keyboard
10th generation Intel processor
Monitor with 144 MHz
And most importantly, a discrete NVidia GeForce RTX 2060 graphics card with ray tracing. Note that this is not an RTX 2060 Max-Q.
Another interesting thing. The RAM is incremental and may eventually be 32 GB. In addition, it is possible to install another drive via PCIe.
In short, the ultimate gaming laptop from all angles! What about the cost? At the moment, Honor is asking 160 rubles for it! It seems to me that this is "tu mach", but with all sorts of discounts and gifts it comes out a little less.
Dealing with a gaming laptop: how cool the Hunter is without marketing tweaks.
Design, lighting
In the material about the Quantum 200 headset from JBL, I asked the question, why should gaming devices necessarily look pretentious and sparkle like a Christmas tree? There were not many answers, so I ask again 🙂
The Hunter V700 laptop has the following dimensions – 19.9 mm × 369.7 mm × 253 mm. That is, for such a powerful device, it is quite compact. Especially against the background of my PC in the NZXT H510 case.
Inside, by the way, is pretty commonplace hardware: AMD Ryzen 7 2700X, mother of MSI X470 Gaming Pro Carbon, 16 GB of RAM, 1 TB SSD from Samsung, NVidia GeForce 1060 Ti video card. Plus a 4K monitor from AOC. Suddenly someone will be interested to know the parameters of my system.
So, the notebook V700 weighs only 2.45 kg. It is easy to move with it (yeah – around the apartment) anywhere. True, you will also have to take with you a network adapter with dimensions of 160x75x25 mm and weighing a little over 500 grams.
MacBook Air 2013 and Honor
The upper part of the laptop case is slightly displaced forward, and the back – back. In profile, the V700 looks like a sandwich that has gone to the sides.
If you look at the gadget from above, you will notice that the upper area has a small protrusion. The hinges are located in it.
Of course, one cannot fail to note the large logo on the front of the lid. It is embossed and made of transparent plastic. Surely he has a fascinating history of creation, but to me he reminds me of the TIE fighter from Star Wars. Something smelled like mothballs, didn't it?
In front of the case there is a ledge for prying the cover and opening it. On the reverse side – the inscription HONOR HUNTER in gray. In the same place, on the right and left, you can see parts of the bluish grille. And the color is brilliant, I don't know how to describe it more clearly. My daughter has plasticine with this effect: not just a bright color, but as if with the addition of mother-of-pearl.
Bottom – one long rubber leg and two short L-shaped ones.
Top cover material – black metal. The surface is very easily soiled, traces remain instantly and are almost not erased. Even after starting the laptop for the first time, the lid becomes stained. Not that the aesthetics are spoiled, but the device looks sloppy, as if its owner had just had a snack on juicy pancakes.
A separate story is the appearance of the laptop when open. The first thing to note is the lifting of the back of the device when you open the lid.
This is done not only for a slight tilt of the keyboard, but also for more cooling of the device: access to the cooling system is opened, which more efficiently blows hot air out of the "machine". Looks original and unusual.
A few words about backlighting. When the device is started, the logo on the rear surface lights up, the entire lower rear part of the laptop lights up.
To set up the backlight, you need to launch the HONOR HUNTER Gaming Center app and select the appropriate section. Access to three zones is opened: logo, keyboard and edges.
The logo can glow in any color, in addition, you can choose the effect of "breathing" or "flicker". Each has a Speed ​​parameter.
I will return to the keyboard later, here – briefly about its backlight. It is necessary to highlight the following: the backlight is divided into 4 zones, for each of them a color and effect are selected. Since the backlighting is zonal, there is no smooth transition of colors. There are various options for flickering, but, frankly, this is all only to demonstrate the coolness of the laptop: friends came to visit, turned on the "laptop", and everyone fell out from such beauty 🙂
In real life, I only turned on the white backlight without any stroboscopic effects.
Total: interesting design, backlighting – as a bonus, quite compact and lightweight for its class.
Разъемы
I rarely test laptops, however, I notice how manufacturers are gradually phasing out certain ports. For users of Apple products, this is not new – the company makes super profits. It is inexcusable for Windows devices to equip a laptop with a couple of USB Type-C.
The Honor Hunter V700 gaming machine was equipped with connectors quite tolerably.
Left:
Food. Proprietary connector. I think they did just that so that the smart ones did not try to charge the laptop via USB Type-C
RJ45 port. It is quite logical: the device is a gaming device, lags over the Network are undesirable, even if you have Wi-Fi 6
USB 2.0 port
3.5mm audio jack for headphone and microphone. I used the JBL Quantum 200. Everything is great!
On right:
HDMI 2.0 port
USB 3.2 Gen 1 port
USB 3.2 Gen 1 port
USB Type-C port with video output (USB 3.2 Gen 1 and DP 1.2)
Well, okay? The only thing missing is a microSD card receiver. It would be useful for those who record video on a camera, and then mount it on a laptop.
Keyboard and Touchpad
Again, a question for connoisseurs of gaming devices: why should a gaming keyboard have large mechanical buttons? Well, it is clear that the matter is in reliability, but, for example, I hammer texts almost every day for five years for 20 – 000 characters on a regular membrane from A30Tech. No problem.
As far as I understand, in Honor Hunter V700, the keyboard is not mechanical. However, it is very similar to her.
Quite high buttons (2 mm), separated from each other by 3.5 mm, the stroke is sharp, the pressing is soft with an instant return to its original position. Each key has a 0.3 mm depression.
There are 29 keys in total. Despite the compact dimensions of the device, they managed to build in a row of number buttons on the right. Of course, for this we had to go to extreme measures:
CTRL, ALT, "/" button, Backspace, right Shift were shortened. Moreover, Backspace is really small here. However, this keyboard does not imply typing.
The WASD buttons and arrows are outlined in white. Well, like a gamer does not know which keys to press, but here the manufacturer has already circled everything. I don't know, it just surprises me a little: this device is unlikely to be bought by a schoolchild (it's too expensive), and an adult uncle will point at the buttons, they say, don't miss – such a thing 🙂 However, anything can happen in life. It's good that they didn't stuff themselves with stickers: Super Game Center Speed ​​100x NVidia RTX 2060. Modestly so in the lower right corner: "Intel Core-i7". Otherwise, you will also forget on which processor you bought the laptop.
The symbols on the buttons are white, large, the Latin alphabet is slightly larger than the Cyrillic alphabet. The latter are indicated in some strange font. Not that it reads badly, but non-standard.
I would also like to say that I had to get used to the Honor Hunter V700 keyboard. The impression is that a row with buttons is shifted to the side. You seem to be typing as usual, but you don't get to the right keys. On my keyboard, for example, the distance from the beginning of the S button to the end of the W button is 11 mm, and on the Honor keyboard it is 9 mm.
I have already said about the backlight. It is zonal, uniform, bright, and has two levels of luminescence.
In the upper right corner there is a separate button called Hunter to select the operating mode of the laptop. It switches to quiet, balanced and play modes.
The last one is the power button. Set apart again. It has a built-in fingerprint scanner.
The touchpad measures 120×72 mm. Relatively large. Plastic to the touch. Mechanical pressing – right and left. The top 20 mm are not pressed. An ordinary touchpad without any interesting features. The main thing is that there is no backlash, and the buttons are clearly pressed.
Screen
The screen diagonal of the Honor Hunter V700 is 16.1 inches. It seems to me that gaming devices should be equipped with at least 17 inches.
IPS matrix, resolution 1920 × 1080 pixels, density 136 PPI. By modern standards, this is not much. Most importantly, the refresh rate is 144 Hz.
I watched a lot of videos on the topic "How 144 Hz helps a gamer score more points in games." Allegedly in action games, the enemy appears earlier on a 144 Hz screen than on a 60 Hz screen. As soon as the video was advertising, the 144 Hz display immediately went into the gap. And if the video was filmed by an ordinary user who bought himself a monitor, then there was no difference of 144/60 Hz. In this case, I mean exclusively the ability to "kill" opponents faster.
I can only note the extremely smooth operation of the screen, which has a refresh rate of 144 Hz. Here Honor is very cool without question!
Want an example? Try using a smartphone with 90Hz refresh and then switch to 60Hz. I think you will notice the difference (yes, I understand that screen refresh and frame rate in games are different things). So it is with the Hunter V700. After its display, even my 4K feels a little nerdy.
In theory, Honor could have supplied a 2K sensor, but the 144Hz frequency would be useless, since the laptop simply would not have produced that many frames in toys. Now, in some applications, you rarely see around 100 fps. And even more so with RTX technology.
Brightness. I do not think that this is an important parameter, since it is hardly intended to use the device outdoors. Nevertheless, the peak brightness is 370 cd / m2 (measured at my monitor – 280, never changed). There is no PWM.
Total: excellent FullHD screen with 144 Hz, wide viewing angles and 100% sRGB.
Processor, memory, performance
I am sure that you know the technical characteristics of this laptop better than me. However, it is worth mentioning them briefly:
Intel Core i7-10750H processor. Octa-core from the Comet lake family, 12 nm process technology, 12 threads. The operating frequency is from 2.6 to 5.1 GHz.
The RAM is represented by hynix HMA81GS6DJR8N-VK with two 8 GB sticks. You can install a maximum of 16 GB.
3GB Western Digital SN4 NVMe (Gen730 X512) Speed ​​- 3200/2700 MB / s. This is a very fast SSD! You can put a second one nearby.
NVIDIA GeForce RTX 2060 graphics card
I don't like performance tests, especially in laptops, since almost no one understands them. I mean they are just synthetic numbers. However, below are the results:
1. WOT enCore with Ultra settings and RTX on – 15200 points.
2. PCMark 10 Express – 5260 points.
3. CineBench: multi core – 7000 points, single core – 1100 points.
4. 3D Mark graphics test – 2700 points, processor test – 3200 points, Time Spy Extreme – 2772 points.
5. Assassins Creed Odyssey on ultra with RTX produces an average of 47 fps.
6. Battlefield V at ultra with RTX produces an average of 65 fps.
In neighboring reviews, they write that Doom Eternal and Wolfenstein: Youngblood give out almost 130 fps. That's what a 144Hz screen is for.
Honor Challenge Table:
| | | |
| --- | --- | --- |
| Game | Test scenario | Frame rate (fps) |
| CS: GO | Offline 5v5 | 232 |
| DOTA 2 | Offline 5v5 | 119.5 |
| PUBG | Speed ​​test | 135.8 |
| Overwatch | Running speed test and 15 minutes shooting | 203.3 |
| Call of duty online | PVE Mode (Chapter 1) | 181.1 |
| Shadow of the Tomb Raider | Built-in performance tests | 87.1 |
| league of legends | Offline 5v5 | 196.5 |
There is no point in writing about performance in general, it seems to me. And so it is clear that these are top-end characteristics and nothing should be lagged here.
There are no problems with games either. I have played Assassins Creed Odyssey successfully. Above I indicated the average fps in the region of 50 frames. But this is in the test, and in real time the frequency rarely dropped below 70 frames.
And I played Battlefield V a lot and for a long time. Without ray tracing, the toy produces 80 – 110 fps, with RTX technology enabled – 55 – 70 fps. That is, RTX eats up decent performance in toys.
Have I seen the difference between RTX enabled and disabled? More likely no than yes. It depends on what kind of game. In Battlefield V, you mainly follow the enemy, and the last thing you notice is how the patterned glass window in the house casts a shadow on the floor. I do not argue – it is very beautiful, but this is not about a notebook story: all this must be viewed on a large 4K screen, and not on 16 inches in FullHD.
Laptop operating modes:
Quiet… Processor power is limited to 25 W. With reduced power consumption, the Honor Hunter V700 can handle almost any task with ease, except demanding games.
Balanced… The power of the processor and video card are maintained at 45W and 80W, respectively, thereby achieving a balance of performance and silence. Noise level can be limited to as low as 43dB (data from HONOR laboratories)
Game… Power is boosted to a maximum of 100W to help you achieve full system and graphics performance, and even with faster fans, the noise remains at 49dB (Honor data).
Temperature and noise
Honor's developers claimed that the cooling was done in such a way that it was comfortable to use the keyboard while playing. For example, the left zone with the WASD buttons heats up to 25-30 degrees, the central part of the keyboard – up to 37 degrees, on the right – up to 28 degrees. The screen is almost always no more than 25 degrees.
The temperature near the "exhaust" on the right and left is no more than 35 degrees. Above it, the temperature was maximum in the region of 33 degrees – down the center. Within the radius of the touchpad – no more than 28 degrees.
Like any Windows laptop, Honor Hunter V700 periodically turns on coolers "out of the blue". During loading, the noise is pleasant, similar to the rustling of leaves. No howling or hum, quite a comfortable sound. And if you play with headphones, you will not hear anything.
Is the hot air blown out strong? For such a system, no. Moreover, the surface around the perimeter of the notebook hardly heats up, it remains barely warm.
Several quotes from the manufacturer:
"A self-cleaning cooling system that, when activated, blows dust particles out through dedicated dust channels to help extend the life of the heat sinks, improve the stability and efficiency of the cooling system, and extend the life of the laptop."
"Our engineers introduced Obsidian heatsinks that transfer a certain amount of generated heat to the Wind Valley system, allowing cool air from the vents to lower temperatures. To improve the performance of the cooling system, the heatsink area is 28 mm542. The shiny obsidian surface combines with the laptop's lighting effects to create a great atmosphere for gaming.

With 240 ultra-thin panels, the heatsink surface area increases to 75 mm134. The panels are significantly thinner (2 mm each) than commonly found in laptops (0,1 mm thick), allowing more panels to fit in the same space, thereby reducing air resistance and increasing thermal management.

Combined with Obsidian heatsinks, the panels provide up to 103mm676 of cooling surface area, ensuring consistently high performance. "
Nahimic Speakers and Sound Effects
The volume is high, the sound is clear and bass. But it's better to connect a good headset to your laptop. Moreover, the V700 has decent power: already at 50% volume the JBL Quantum 200 headset starts screaming. The sound in the headphones is cool, especially in toys you feel the volume.
Working hours
There is almost nothing to write about here, since the device without power, even in typewriter mode, works no more than an hour and a half. But such devices are not designed for autonomous operation.
Impressions
I think Honor has a really cool product that looks cool and has decent components inside!
By cons:
High price
Not the most comfortable keyboard. At least it takes some getting used to typing.
Low screen resolution. It's clear why, but I would still like a clearer picture
Small storage space. Basically, I installed BF5 and Assassins – less than 150GB left. It is without programs, without user data.
Pros:
Compactness
Performance in games
RAM and storage speed
The ability to install additional RAM and storage
Screen refresh rate at 144 Hz
If it were not for the price of 150 rubles, I would definitely recommend the Honor Hunter V000 for purchase. However, now you can buy, for example, HP Omen 700-dh15ur for 1026 rubles with Intel Core i125 000H, 7 GB of RAM, two drives 10750 TB + 16 GB (HDD + SSD), 1-inch screen with 512 Hz, NVIDIA GeForce RTX graphics card 15.6 144 GB.
Or MSI GP75 10SFK-475XRU for 140 rubles with Intel Core i000 7H, 10750 GB of RAM, two drives 16 TB + 1 GB (HDD + SSD), 256-inch screen with 17.3 Hz, NVIDIA GeForce RTX 144 2070 GB graphics card.
In any case, Honor has a wonderful device that is worth paying attention to. Here, at least, there is no need to delve into models with tons of indexes – there is only one Honor Hunter V700 with steep parameters.
Friends, write in the comments how much you liked or did not like the new product! It's my pleasure to read your recommendations for buying the optimal gaming laptop.
Back to content >>>
Related Links
Share: 





we are in social networks:
Anything to add ?! Write … eldar@mobile-review.com