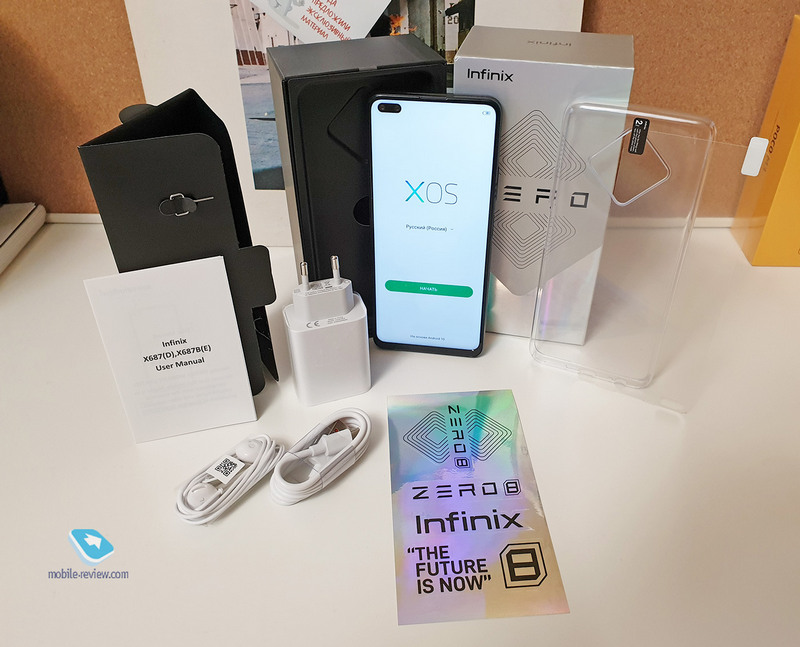 Content
Positioning
Equipment
TECH SPECS
Appearance
Screen
Performance
Battery
Camera
XOS 7.1
Conclusion
Positioning
Since its founding in 2013, Infinix Mobile has focused on two areas in its devices: fashion and advanced technology. To some extent, the desire for beauty is understandable. This moment is not known to everyone, but Infinix Mobile is of French origin. Perhaps someone even remembers Sagem Wireless, which later became Infinix Mobile (headquartered in Shenzhen). After the purchase, the French roots and the desire for beauty have not gone anywhere. Unlike other Chinese brands, Infinix Mobile has main development centers in France and South Korea.
Infinix Mobile has smartphones of various price categories in its portfolio. And Zero 8 plays the role of the flagship. The main advantages of a smartphone are the following:
Dual 48MP + 8MP front cameras (according to the company, this is the first smartphone in the world with a 48MP dual front camera). This camera allows you to record 4K video and take wide-angle selfies.
Main camera 64 MP, module IMX 686 Sony. The camera has an advanced Ultra Night Video Camera that allows you to capture crisp 4K video even at night.
6.85-inch screen with 90 Hz refresh rate and 180 Hz touch processing.
Helio G90T gaming chipset, 8GB RAM, 128GB storage and support for up to 2TB microSD (dedicated slot).
Liquid cooling technology to unleash the full potential of the powerful chipset.
Battery 4 500 mAh + fast charge 33W.
A minimalistic design that mimics the cut of a gemstone.
Price 16 000 rubles.
Equipment
Smartphone
33 W adapter
USB Type-C wire
SIM card tray clip
Headphones
Stickers
cover
Screen Protector Film
The most unusual element of a smartphone's equipment is a set of stickers. I especially liked the sticker "The Future is Now". A catchy lettering that you can clip onto your laptop. By the way, the stickers tear off normally, so you can cling to the equipment and not be afraid that traces will remain later.
TECH SPECS
Processor: MediaTek MT6785 Helio G90T (12nm), Octa-core (2 × 2.05 GHz Cortex-A76 & 6 × 2.0 GHz Cortex-A55), Mali-G76 MC4 graphics
Operating System: Android 10
Storage: 8GB / 128GB, separate microSD slot up to 2TB
Screen: 6.85 inches, IPS LCD, 1080 x 2460 pixels, 392 ppi dot density, 90 Hz refresh rate, 180 Hz touch refresh rate.
Battery: Li-Po 4500 mAh, fast charging 33 W
Main camera:

64 MP, f / 1.9, (wide), 1 / 1.73 ″, 0.8µm, PDAF
8 MP, f / 2.3, (ultra wide angle), 1 / 4.0 ″, 1.12µm
2 MP, f / 2.4, (depth sensor)
2 MP, f / 2.4

Front camera:

48 MP, f / 2.2, (wide), 1 / 2.0 ″, 0.8µm
8 MP, f / 2.2, (wide), 1 / 4.0 ″, 1.12µm

SIM card: 2 Nano-SIM
Network and data transmission: GSM 900/1800/1900, 3G, 4G LTE, Wi-Fi 802.11 a / b / g / n / ac, Bluetooth 5.0, A2DP, LE, A-GPS, FM radio, USB Type-C 2.0
Sensors: Fingerprint scanner (side), accelerometer, gyroscope, proximity, compass
Other: there is an FM radio, there is a 3.5 mm jack, there are headphones in the kit
Dimensions: 168.7 x 76.1 x 9.1 mm, weight 205 g
Appearance
No wonder the company has R&D centers in France, as the smartphone turned out to be really stylish and unique. A diamond-shaped camera module immediately catches the eye. Unusual arrangement, which has not been found in other manufacturers.
The back of the smartphone has a minimalist design and was inspired by the glass pyramids of the Louvre. The smartphone comes in several colors: black (dark blue), white (as if slightly pearlescent) and aqua.
One of the design features of the smartphone is the fingerprint scanner located on the side. Excellent positioning, fingers naturally fall on the scanner. Although you will probably use face unlock as a more comfortable option
The smartphone, in addition to two slots for SIM cards, has a separate slot for microSD memory cards up to 2 TB
At the bottom of the smartphone are USB Type-C and a 3.5 mm headphone jack.
The camera unit rises slightly above the body, but this does not prevent the smartphone from lying stably on a flat surface
The dual front cameras are elegantly integrated into the screen and the bezels around the 90Hz IPS LCD screen are very thin
The smartphone has a rich set: headphones, a film for the screen and a case. Most manufacturers prefer to save
Screen
The screen is one of the main advantages of the smartphone, which distinguishes the Infinix Zero 8 from competitors in its price category.
The smartphone has thin frames, a high resolution of 2460 by 1080 pixels, a pixel density of 395 ppi (that is, individual pixels are indistinguishable), a picture refresh rate of 90 Hz, a touch processing frequency of 180 Hz
With a price tag of 16 thousand, few smartphones can boast the same screen as the Infinix Zero 8. Still, 90 Hz is still a premium feature. In the settings, you can choose at what frame rate the screen will be refreshed.
The screen also supports 180Hz touch processing. This makes the smartphone interface more responsive to user touch. The thing is nice, but not very interesting for scrolling through the menu. Sampling rate is the parameter most revealing in games where speed is important. Faster response allows you to stay ahead of your competitors.
An unexpected feature of the screen is HDR support, so the YouTube app allows you to choose HDR versions of your video.
It is pleasant to note that the screen does not have PWM, that is, it will not flicker when the brightness decreases and tire the eyes. Of course, the smartphone has an option with blue filtering and a dark theme to reduce eye strain.
Performance
Infinix Zero 8 has one of the most powerful chipsets in its price segment MediaTek Helio G90T, made using 12 nm technology.
To ensure that all applications launch with lightning speed, the device has 8 GB of RAM and a 128 GB drive. Also, the user can independently install a microSD memory card up to 2 TB. Infinix Mobile didn't skimp on memory quality. Tests show that the smartphone has truly flagship speed indicators, for example, the RAM operates at a speed of over 20000 MB / s.
Another important point is liquid cooling. Given the powerful chipset, it is necessary so that there is no throttling effect, that is, so that performance does not drop under load. Under load, the Infinix Zero 8 has virtually no performance degradation, so you don't have to worry about framerate drops in games.
The graphics accelerator Mali-G76 MC4 is also one of the most powerful in its price segment. It allows you to comfortably play any game available. And most importantly, its performance will be enough for the future!
Battery
Considering the powerful chipset and the huge 2460 x 1080 screen, it's easy to think that 8 stars from the sky are missing in the Infinix Zero's battery life. However, it is not.
Firstly, the smartphone has a high quality battery with an excellent capacity of 4 mAh. By the way, if you are confused by the epithet about the quality of the battery, then this is not for a word of mouth. Indirectly, the reliability of the battery is evidenced by the fact that the smartphone supports 500W fast charging. And only high quality batteries can handle this power.
Secondly, the smartphone's chipset is made using an energy efficient 12 nm technology.
Thirdly, the device has a fresh version of Android 10 and a high level of optimization in general.
All this allows you to get really excellent results in battery life tests.
If you enable a high refresh rate of 90 Hz, then you can expect 15 – 15.5 hours of watching videos or refreshing web pages over Wi-Fi at maximum screen brightness. At 60 Hz, the performance becomes even more impressive – almost 17 hours.
In the PC Mark test, which simulates daily workload (browser, video, documents, etc.), the smartphone lasted 9 hours and 15 minutes (maximum brightness, Wi-Fi and mobile network on). Accordingly, these are the values ​​that the user can count on in everyday life. 9 hours of the screen is 1.5-2 days of operation on a single charge.
In games, the smartphone also behaves well. For example, Call of Duty Mobile can be played for just over 8 hours.
The smartphone comes with 33W fast charging, and it works wonders. 50% in 25 minutes, and in an hour the smartphone will charge 90%. At the end, it charges at a reduced power so as not to damage the battery, so the last 10% will take another 20-25 minutes. As a result, a full charge from scratch takes 1 hour and 20 minutes.
Camera
Infinix Zero 8 can be called a camera phone, as the device has impressive photo modules, both the main one and the front one.
The main camera is a 4-lens system:
64 MP, f / 1.9, (wide), 1 / 1.73 ″, 0.8µm, PDAF
8 MP, f / 2.3, (ultra wide angle), 1 / 4.0 ″, 1.12µm
2 MP, f / 2.4, (depth sensor)
2 MP, f / 2.4
In this set, of course, the 64 MP lens is the most interesting. This is Sony IMX 686 with Quad Bayer technology, that is, 4 pixels are merged into one. Thus, the output is photos with a resolution of 16 MP. However, you can always take photos in the original resolution of 64 MP, getting huge images weighing more than 20 MB.
The main advantage of the Sony module is excellent detail and wide dynamic range. In addition to physical characteristics, there is also artificial intelligence. Thanks to him, the photos are very Instagrammable, that is, you can upload them immediately and without processing. By the way, the "Gallery" application of the smartphone has Facebook and Instagram icons that allow you to upload photos to social networks in a couple of taps.
The camera application is standard. There are no questions for him. All settings are at hand, there are beautification filters.
The smartphone camera gives great results during the day, but its real potential is revealed in night shots. Night mode allows you to take juicy night shots. I think you understand that there are no miracles with detail in night shots, but the overall picture is excellent. Photos convey emotions.
The default camera has 3 modes: 0,6x – 1x – 2x. Several examples of such photos.
Just examples of daytime photographs.
A few examples of night shots.
The front camera consists of two 48 + 8 MP photo modules. The double front photo module is an unusual solution. By default, images are taken in 12MP resolution, since the same 4-in-1 technology works here. I was especially impressed that the front-facing camera has eye autofocus. In my memory, eye autofocus can only be remembered in a fresh flagship from Sony. So Infinix Mobile knows how to surprise.
See how Eye AF works.
XOS 7.1
The smartphone runs on Android 10 wrapped in a proprietary XOS 7.1 shell. The shell has several functions that I would like to elaborate on.
All on-screen controls are shifted to the bottom of the smartphone to make it easier for the user to handle the device with one hand.
YoParty2.0 is a very cool thing that allows you to create a mini-multiroom from smartphones. By scanning the QR code, you can connect up to 6 mobile devices to the player, which will synchronously play the same music – just like at a party. All smartphones must be connected to the same Wi-Fi network.
Game Mode is a simple but useful feature that allows you to customize your notifications so they don't distract you while you play.
WhatsApp mode – in this mode, other applications can consume traffic only during use and are automatically disabled in the background. This mode is a great solution to save traffic and battery. And when the quarantine is lifted, there will be no roaming price when traveling on vacation.
Funny thing: if you click on the star, the smartphone will show the available USSD commands.
Conclusion
Infinix Zero 8 with a price of 16 rubles is an excellent smartphone that is ahead of competitors in a number of indicators. Of course, he has disadvantages. There are exactly two of them. First, the smartphone doesn't have NFC. Secondly, the official website of Infinix Mobile offers to buy a smartphone on AliExpress, so the buyer does not have the opportunity to twist the smartphone live to make an impression.
Otherwise, at a price of 16 thousand rubles, the device turned out to be excellent:
Powerful liquid-cooled chipset
High-speed memory and storage
6.85 " 90Hz screen with 1080 x 2460 dots
Fast charge 33W and battery 4mAh.
Powerful main camera system with 64MP main lens from Sony
Advanced night photography
Dual 48MP + 8MP front cameras
Unusual design with diamond-shaped camera block
Excellent package bundle (case, headphones, fast charging and even stickers)
Back to content >>>
Share: 





we are in social networks:
Anything to add ?! Write … eldar@mobile-review.com