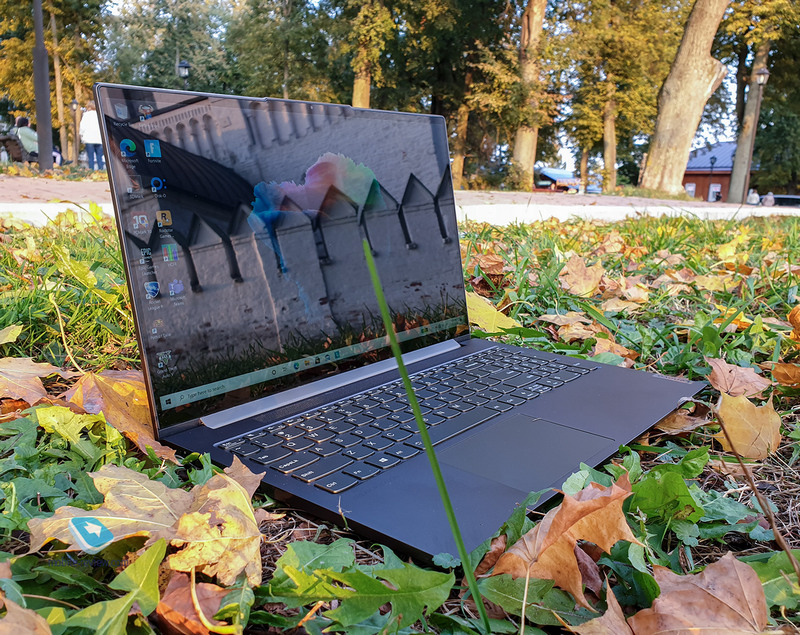 Content
Positioning
TECH SPECS
Appearance
Screen, webcam, Windows IR
Keyboard
Performance
Battery life
Impressions
Conclusion
Positioning
Lenovo's original positioning of notebooks was based on two pillars – the ThinkPad legacy of IBM, the most advanced and reliable business notebooks, and the IdeaPad, home notebooks for multimedia and entertainment. Subsequently, there was another ThinkBook – an intermediate product between the ThinkPad and IdeaPad. Positioned as a laptop for small businesses. Not as advanced as the ThinkPad, but significantly more resilient than the IdeaPad.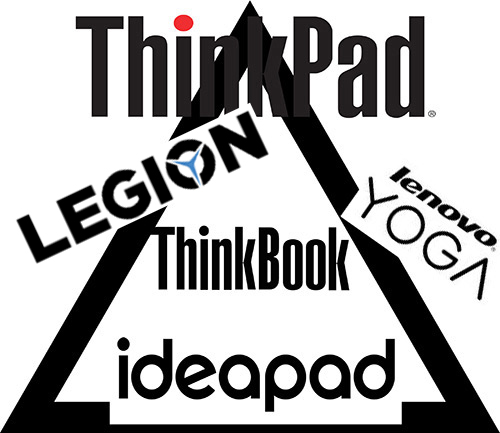 Then Lenovo decided to diversify and created a separate gaming brand Legion (powerful gaming laptops, desktops, monitors, etc.). And for experiments, they came up with the Yoga brand. Touchscreen devices that rotated 360 degrees, folded into a tablet, had stylus support. And then something broke at Lenovo, and the company decided that Yoga would be a semi-premium "civilian" brand with an eye to creativity. Accordingly, Lenovo Yoga 7 Creator does not have a touch screen, but it opens up to a maximum of 180 degrees.
Lenovo Yoga 7 Creator can be described as an affordable Nvidia Studio laptop. Nvidia used to target gamers in the first place, but then realized that it was possible to create the Nvidia Studio label and promote laptops as solutions for 3D programmers and designers working in Photoshop.
The main selling features of Lenovo Yoga 7 Creator are:
A combination of high performance (10th generation i7 processors from Intel + GTX graphics from Nvidia) and portability (weight 1.8 kg)
High autonomy (up to 13 hours of battery life), fast charging 80% in 1 hour
Delta E color fidelity display
Windows Hello and infrared camera
Proprietary eye tracking software (if you connect a second screen to your laptop, you can drag windows from one monitor to another with your gaze)
Premium body kit (aluminum body, Wi-Fi 6, high-quality keyboard with a numeric pad, you can open the laptop with one hand)
Wide range of ports (SD cards, two USB Type-A, HDMI, Type-C)
TECH SPECS
Processor: Intel Core i7-10750H, 4,7 GHz (47 x 100), 6 cores, 12 threads
Video Card: GeForce GTX 1650 (4GB), Integrated Intel (R) UHD Graphics (1GB)
Memory: 16185MB (DDR4 SDRAM)
Storage: SSD 1 TB PCIe
Screen: 15.6 inches, IPS LCD, 1920 by 1080 pixels, sRGB 100%, 300 nits brightness (declared), aspect ratio 16: 9, Delta E
OS: Windows 10 Pro
Battery: 70.5 W * h, 135 W power adapter
Keyboard: island type, with two-level backlit
Touchpad: 10.5 x 7 cm
Ports:

2 x USB-A 3.1 Gen 2 (one can be done Always-On)
SD card slot
USB Type-C (Thunderbolt + DisplayPort 1.4b + PD 3.0)
combo 3.5 mm jack
HDMI

Communication: Intel (R) Wi-Fi 6 AX201, Bluetooth 5.0
Webcam: 720p
Audio: 1 front speaker (above the keyboard), two side speakers inside the case
Dimensions and weight: 355 x 230 x 17.9 mm, 2 kg
Appearance
Right side: power button, 2 x USB-A 3.1 Gen 2 (one can be done Always-On), SD card slot
Left-hand side: proprietary power connector, Type-C (Thunderbolt + DisplayPort 1.4b + PD 3.0), 3.5 mm combo jack
Traditionally laconic design. The top cover has the Yoga logo and Lenovo tag. The tag is also duplicated on the inner surface. Visually, the laptop is perceived as an ultrabook with a slight correction for the dimensions, since the screen is 15.6 inches. However, the screen bezels are narrow, so the dimensions do not differ much from the 14-inch devices. The fact that everything is not simple here, you begin to suspect how you pick up the laptop: because of the discrete card, the weight starts from 1.8 kg. Another point hinting at increased performance is the tall rubber foot on the bottom of the case to create enough cooling space.
The top cover has the Yoga logo and Lenovo tag.
Non-standard screws, but you have no reason to look inside If you only want to change the SSD. The disassembly process of the laptop can be viewed here
A high, monolithic rear leg is needed to provide space under the bottom of the laptop. Still discrete graphics from Nvidia
An excellent set of ports, all USB SuperSpeed, the far right supports the Always-On function, that is, it is powered even when the laptop is turned off. You can disable the option in Lenovo Vantage software
Power indicator changes color when charging
Due to the powerful graphics, Lenovo had to use a proprietary charging connector. By the way, only versions with integrated graphics can be found on the market, Type-C will be installed there.
Lenovo already has so many models that the signatures of the series are probably not needed. However, it looks stylish
The laptop opens up to 180 degrees
The laptop can be easily opened with one hand
Screen, webcam, Windows IR
When describing the screen, keep in mind that Lenovo was faced with a daunting task. On the one hand, it was necessary to give a sufficient amount of style and quality so that the device would suit professionals, on the other hand, to save as much as possible, since Lenovo Yoga Creator 7 still belongs to the budget segment of creative laptops. So watch your hands.
Despite the fact that the declared brightness is 300 nits, in fact it turned out to be 345 nits. This brightness is quite enough to work outdoors. Glossy screen
The laptop has a 15.6-inch screen. It is an IPS matrix, Delta E color accuracy
The color gamut is slightly more than 100% sRGB. You might want to calibrate it slightly
The second approach to saving is color gamut and brightness. Here it is 100% sRGB, and the maximum declared brightness is 300 nits (and if the class of the device was higher, then DCI-P3 and a brightness of 500-600 nits would be used).
Actual brightness – 345 nits
Otherwise, Lenovo gave the maximum quality. All declared parameters clearly correspond to reality. So, Lenovo has supplied a good IPS panel. When measured, it showed 345 nits. And this is a very good result. Also notice how thin the bottom bezel is.
The laptop uses a pretty good webcam. And there is also Windows Hello with an infrared camera. In this case, this is such a slightly unexpected bonus. There is no fingerprint scanner, but Windows Hello was pushed in. For understanding, an infrared camera is usually for premium devices.
Webcam quality is relatively acceptable
The laptop has a pretty interesting audio system. The front speaker is in the keyboard and hidden in the case. The speaker above the keyboard is a wonderful thing. Loud and clear sound will be provided to you. The laptop sounds pretty good. You can even listen to music without frowning. It's great for movies or games.
Dolby Atmos mark hints that sound is loud
Keyboard
They did not save on the keyboard. Since the laptop is designed for professional users, a digital block was added. It has slightly smaller keys, but you can work blindly. I would, as usual, find fault with the arrow keys with the Home / End / PgUp / PgDn values ​​combined on them, but I'm not sure what is needed. For office tasks, these keys are needed, but are they used in Photoshop and 3D editors?
Keyboard 1.3mm travel and two-level milky white backlighting
I would, as usual, find fault with the arrow keys with the Home / End / PgUp / PgDn values ​​combined on them, but I'm not sure what is needed. For office tasks, these keys are needed, but are they used in Photoshop and 3D editors?
Of course, there are no complaints about the keyboard. 1.3mm depth, soft ride. You get pleasure from typing, your fingers do not get tired. With great pleasure I typed a couple of articles.
The touchpad is standard – 10.5 by 7 cm. There is nothing to add here. Could the touchpad be bigger? A counter question: would you have met the positioning and price standards then?
Performance
Responsible for the performance in the laptop is the i7-10750H processor with 6 cores, 16 GB of RAM, a 1 TB SSD disk, and an Nvidia GeForce GTX 1650 (4 GB) video card. There is also integrated Intel UHD Graphics. It's somehow even embarrassing to talk about performance, since all the components have long been known and commonplace. I will attach the test results below, but for now I will note a few features.
First, a 1TB SSD from SK Hynix, real volume 953GB. The SSD is good, it delivers top speeds.
Secondly, the laptop passed the stress test by 3Dmark at 99.4%. This is a very good indicator. The temperature of the video card and processor even under load does not exceed 80 degrees.
Before synthetics, here are a few results of the games I ran. As you can see, from an engineering point of view, the laptop shows itself quite well. Accordingly, if you are interested in how this or that game will go, you can search the Internet for the query "name of the game + GTX 1650". By the way, in the proprietary application Lenovo Vantage there is an option "Maximum performance". It adds 2-5% to productivity.
For example, the
in GTA V at the highest settings, the map produces from 40 to 50 fps
in Fortnite at "ultra" settings, which in the game are called "Epic" – 50 fps, and at high – 71-74 fps.
The Witcher 3 at "ultra" – 33-37 fps.
Assassin's Creed Odyssey – 26-30 fps
Yes, in most games it is not 60 FPS, but playing at 30 fps is quite good and comfortable. Although the laptop is not a gaming laptop, you can play it.
Battery life
The laptop is charged from a proprietary charging connector, and you are probably immediately interested in whether the Type-C connector can be used for charging. I could not get. The laptop comes with a 135 W power supply (required for a GTX 1650 card), and currently Type-C charging in laptops is up to 100 W. The power supply itself is of a typical size.
The power supply with cable weighs 530 grams
It is also useful to note that the laptop has a proprietary Lenovo Vantage application. There you can turn off the Always-On port, turn on fast charging (really 80% in 1 hour, and almost 2 hours on a full charge), and there is also a battery saving mode when the laptop keeps the charge at 50-60%. Almost all manufacturers have the option to save the battery today. I like the Lenovo app for its consistency and simplicity. For example, Dell has a lot of small applications (one for power, another for updates, etc.), and the save option is hidden under the settings.
Lenovo Vantage can be displayed on the taskbar and easily enable battery saving or fast charging mode, control function keys, and more.
In promotional materials, Lenovo promises up to 13 hours of battery life. They exaggerate. Although the 70.5 Wh battery is a good solution.
In the maximum performance mode, the laptop will last 1.5 hours. But when watching Full HD video without Wi-Fi in the VLC player at maximum brightness, you can get 11 hours. In the mode of daily work, when the brightness is at maximum, but the "Economic" mode, work on Wi-Fi – 7-10 hours. Such a wide spread, as it depends on the intensity of work. Sometimes it happens that many tabs in the browser are open or you need to upload 20-30 gigabytes to the cloud, then the battery is barely enough for 6 hours. And if as a typewriter, then you can squeeze out 12 hours.
Not fantastic, but very good for a laptop with a GTX 1650 card. It is quite possible to take with you to the city for a day without charging.
Impressions
The laptop also has a couple of features that were originally shown at IFA 2019. Their presence explains why Lenovo installed Windows Hello with an infrared camera in the laptop.
For example, if you connect a second monitor, you can drag the windows with your gaze. Here are examples from the exhibition.
And if then it was a demo sample, now it is a completely working product. At the same time, it was also finalized. All settings are in the Glance by Mirametrix app. Dragging to another screen is simple: you need to hold down the window with the mouse, and then look at another screen. And the window will jump over automatically, as in the video above. I tried to work for a day on two screens and drag windows this way. It is quite convenient, everything works well. But it takes a habit.
Another thing that office workers are likely to enjoy is dimming the second screen while not looking at it. Everything is as in the screenshot below. You turned away – the contents of the screen blurred. Turned back – everything returned instantly. In this case, the laptop is guided by the position of the eyes, not the head. Accordingly, you can simply move your eyes.
Most of all I liked the option with lock and unlock. The time interval can be adjusted, but the essence is this: you move away from the laptop, it is blocked, and the screen turns off. You come back, Windows Hello starts, recognizes you by sight, and the system unlocks.
All blindfold options work smoothly and naturally. That is, in this case it is not technology for the sake of technology, but a completely necessary and useful product. It will come in handy for those who plan to work in office spaces and want to respect confidentiality. In general, I thought that this theme would look the most organically in monoblocks as well.
Conclusion
Somehow, Lenovo is slowly becoming the main innovators in the personal computer market. They invent laptops with additional screens on electronic paper, make models with flexible screens, and come up with software improvements. This kind of thing adds extra value to Lenovo laptops. And over time, this will give a result. I say that over time, since the computer market, due to the fact that since its inception, there have been no cardinal breakthroughs, it became stunned. Users are so accustomed that nothing changes that, unlike the same smartphones, they are simply too lazy to even try new chips (however, the situation on the smartphone market is already a similar one). They learned how Windows works and calmed down. So it's very good that Lenovo is messing with the water.
In conclusion, as expected, in the review it is necessary to bring competitors. In this case, it is absolutely thankless work, because there is a carriage of similar technical characteristics of laptops and two whole small carts, especially considering the price of 120 thousand rubles. Lenovo only stands out with a slightly more accurate screen and software in terms of color rendition. We open Yandex.Market and see options for Intel and AMD – Dell XPS, Acer Nitro 5, Acer ConceptD, a scattering of options from ASUS. Accordingly, when there are so many laptops, there are two ways out. You can buy the first one you come across and not bathe (after all, the market leaders have, plus or minus, similar quality), and it is likely that you will buy Lenovo, because Lenovo has the most models. The second option is to touch at least one model of each manufacturer live and choose the laptop that caused you the most emotions.
Back to content >>>
Share: 





we are in social networks:
Anything to add ?! Write … eldar@mobile-review.com