Content
Positioning
TECH SPECS
Appearance
Screen
Battery life
Performance
Communications
Camera
Impressions and competitors
Positioning
At the spring presentation, the emphasis in the story about the Nokia 8.3 was made on the omnivorous 5G. Nokia promises that the smartphone will be able to catch 5G networks around the world, regardless of gangs, frequencies and network standard (NSA or SA). The company, without naming names, showed what gaps the current flagships have, along the way explaining what it threatens. Without going into details: due to the fact that 5G in the world is different for different operators, a conventional 5G user in the UK, arriving in the US, runs the risk of facing the fact that his British smartphone will not catch American 5G.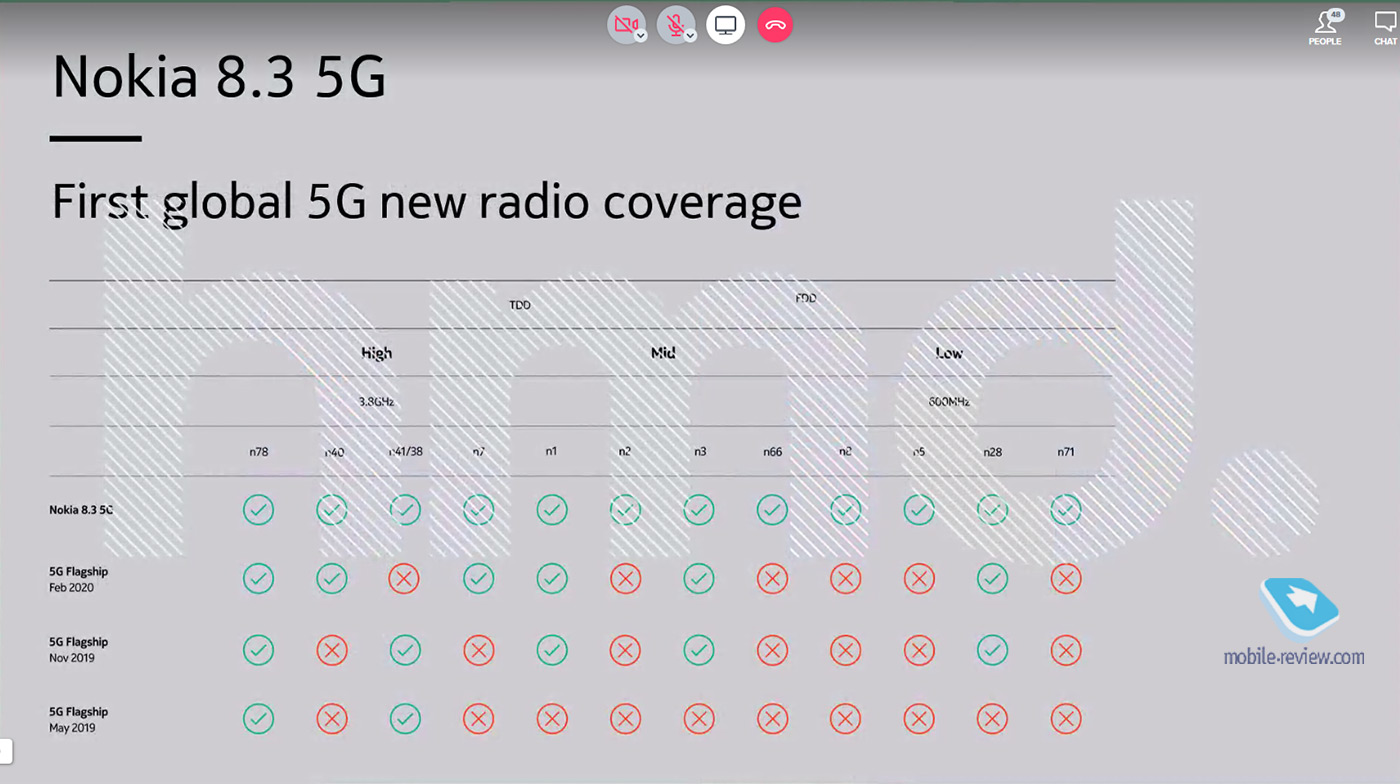 For most Russians and the entire coronavirus world, the omnivorousness of the Nokia 8.3 is not so necessary. However, when the restrictions subside, such a device will be very useful for those who often travel.
In addition to 5G, on the official website Nokia highlights the following advantages of a smartphone, focusing on the creative component:
4-sensor camera for all occasions – from macro photography to Action-camera mode.
Built-in ZEISS cinematic effects turn all your videos into feature films. Shoot like a pro – add anamorphic and blue highlights.
Large, bright 6,81 "diagonal screen for games and creativity. Advanced PureDisplay technology guarantees crisp images and true-to-life colors.
The battery will last for a long time. Up to two days of battery life on a single charge – use your smartphone without limits.
Two years of software updates and three years of security updates – your smartphone won't lose its relevance over time.
Dedicated button for Google Assistant.
Scandinavian design and color.
Energy efficient Qualcomm® Snapdragon ™ 765G processor.
Free BH-605 headset and Clear Case.
Separately, it should be noted that the device has an Android Enterprise Recommended tag, that is, the smartphone can be configured and controlled in accordance with business requirements (remote installation, updating, or, for example, prohibiting the camera from working when you are in the office, etc.). According to IDC estimates, business smartphones on Android are about 300 million units per year. Some companies just buy inexpensive basic smartphones and are satisfied. But there are also those who need more advanced solutions. Accordingly, taking part in this segment and taking at least 2-3% for Nokia (which sells 2-5 million devices per quarter) is an excellent and useful business.
Specifications
Processor: 
 Qualcomm Snapdragon 765G 5G, 7 nm, 8 cores Qualcomm Kryo 475 CPU up to 2.4 GHz graphics Adreno 620. The letter "G" in the name hints that this is a gaming version of the 765 processor, that is, the graphics are 10% more powerful than the base
Operating system: 
Android 10, coming soon to Android 11
Memory: 
8GB / 128GB, microSD support up to 512GB
Screen: 
6.81 inches, IPS LCD, 2400 x 1080 pixels, aspect ratio 20: 9, dot density 386 ppi, PureDisplay technology
Battery: 
Li-Po 4 500 mAh, fast charging 18 W
Main camera: 
64 MP, f / 1.9, (wide), PDAF
12 MP, f / 2.2, 13mm (ultra wide angle), autofocus
2 MP, (macro)
2 MP, (depth)
4K @ 30fps video recording, 1080p @ 30fps, gyro-EIS
Front camera: 
24 MP, f / 2.0, (wide)
Full HD video recording
SIM card: 
2 Nano-SIM
Network and data transmission: 
GSM 900/1800/1900, 3G, 4G LTE, 5G, Wi-Fi 5, Bluetooth 5.0, A-GPS, GLONASS, GALILEO, BDS, NFC, USB Type-C
Sensors: 
 Fingerprint scanner (side), accelerometer, light sensor, proximity sensor, gyroscope, compass
Other: 
 NFC, 3.5 mm jack, 2 years of updates and 3 years of support with security patches, separate button for Google Assisstant, FM radio
Materials: 
 3D Gorilla Glass glass and metallized polymer frame
Dimensions: 
 171.9 x 78.56 x 8.99 mm, weight 220 g
Appearance
Top end: microphone
Bottom end: speaker, USB Type-C, microphone jack 3.5 mm
Right side: SIM card slot, volume rocker, power button combined with a fingerprint scanner
Left-hand side: button under Google Assistant
Front panel: speaker, in-screen camera, 6.81 inch screen
Rear panel: flash and camera unit
Bottom: speaker, USB Type-C, microphone jack 3.5 mm
Top end: microphone
On points of thought about design:
Without lying, I will say that I really like the look of the smartphone. It seems nothing unusual, but it looks elegant. Probably the main reason is the stunning huge screen with the wallpaper in the form of a starry sky, which organically fits into the dark blue iridescent body.
Nokia says the smartphone has a Scandinavian design. This design is based on the idea of ​​a secure, sustainable, but not defiant standard of living with an emphasis on simplicity, minimalism and functionality. Very accurate description, suitable for Nokia 8.3 5G. Everything is so: it lies steadily, it looks respectable, but not defiant.
The smartphone is large: length – 17 cm, width – almost 8 cm, and thickness – almost 0.9 cm. And the weight is 220 grams (I would like to use the cliché "pleasant weight"). The device fits in my hand perfectly, I have been using it comfortably for a couple of weeks. It is logical to recommend that you hold your smartphone in your hands before buying. But it is absolutely certain that the device is not for fans of compact smartphones.
The camera module selects slightly, but does not interfere or cling.
The scanner on the back set the teeth on edge (although it is the simplest and most reliable solution), and the scanner under the screen needed a different type of display (not IPS, but AMOLED), so Nokia put the scanner on the right side. If I'm not mistaken, Nokia hasn't had an under-screen fingerprint scanner since the not-so-successful 9 PureView. Maybe they are afraid? Or maybe they are following Sony's path and trying to figure out how to stand out.
Right side: SIM card slot, volume rocker, power button combined with a fingerprint reader
In general, we chose a convenient place for the scanner, it is possible to set up recognition of several fingers. The only disadvantage of this arrangement is that while carrying the smartphone in your hand, you will involuntarily touch the scanner with your finger.
There is no LED indicator in the smartphone. This is a minus. You can wake up the screen with two taps.
On the left side is the Google Assistant button (so search in the settings and look). The button cannot be reassigned, but it can be disabled.
Screen
The smartphone has a 6.81-inch screen, IPS LCD, aspect ratio 20: 9, resolution 2400 by 1080 pixels, dot density 386 ppi. PureDisplay technology was used as a marketing spice.
The smartphone has an excellent IPS LCD screen. Brightness measurements show a value of 585 nits, which is more than enough for working with the device in the sun.
PureDisplay technology converts your video to HDR as you watch it. The result is a kind of artificial intelligence that adds brightness, sharpness, contrast to videos. The smartphone is trying to pull the video in any resolution. In general, the revision is quite neat and tactful. I tried to take a photo for you. A cartoon is the easiest way to show the difference in a picture. The colors have become richer, as have the outlines of the characters. The option is enabled by default, but you need to focus on the content. For example, for this cartoon, in my opinion, PureView is not very relevant. For example, I made the shorts on the baby from bright red almost deeply dark. But the option is often useful. First the original picture, then PureView processing.
The rest of the screen settings are standard. Of the pleasant things, there are two whole night modes. The first one simply removes the blue light, and the second one turns the screen into black and white mode.
Are there any nitpicks? Lack of AMOLED and Always-On? Someone loves IPS screens, and someone AMOLED. But the screen does not flicker (however, many AMOLED screens have a flicker-off function). Considering the price of the smartphone, I would like a screen with a higher refresh rate – 90 or 120 Hz. After reading the reviews of colleagues, everyone points out that in 2020 the resolution should be more than 2400 by 1080 pixels! What for?
The camera fits neatly into the screen, but there are no options in the settings to fill in or disable the cutout
Battery life
The smartphone has a 4 mAh battery and 500W fast charging. If you set the auto brightness, then under daily load with always on Wi-Fi or mobile communications, the smartphone can easily survive a couple of days, giving out a total of 18-6 hours of screen operation. However, at maximum brightness, the smartphone produces simpler results:
Video in airplane mode, maximum brightness – 7.5 hours
Call of Duty Mobile game, maximum brightness, Wi-Fi 5.0 GHz – 4.5 hours
PC Mark test, Wi-Fi on – 8 hours 16 minutes
The full charge time is 10 hours without 2 minutes. The rules oblige you to upload a screenshot of AIDA64 with a battery, but since the sample is engineering, the Android data does not match the data from the database.
The autonomy test from PCMark is the closest to the daily load – websites, videos, documents, etc. are scrolled on a smartphone.
As a conclusion, we can say that in everyday life, the smartphone has an excellent battery life. I traveled with the device for the whole day to Vladimir and Suzdal. The train was at 9 am, and 1.5 hours there, and the same amount of time the smartphone was distributing Wi-Fi, I took about 200 photos for the trip, the mobile Internet was always on, I used the device as a navigator, of course, the Internet, instant messengers, mail. When I returned home by midnight, I saw that 13% of the charge remained. In my opinion, an excellent result. But at maximum brightness, the 600-nit screen drains the device quite quickly. As for the disadvantages, I think, the lack of wireless charging can be noted. For example, the direct competitor Samsung Galaxy S20 FE has both wireless and reverse wireless charging.
The smartphone has a gorgeous IPS-screen without PWM and with high brightness. It is pleasant to look at the screen from any angle, but at maximum brightness the 600-nit screen drains the device quickly enough
Performance
The Qualcomm Snapdragon 765G found in the Nokia 8.3 is the star of the mid-range segment. Believe me, you will come across it often and for many more years. The advantage of the chipset is that it is very productive (any games you like!), Supports 5G and is very energy efficient.
The smartphone has 6 to 8 GB of LPDDR4X RAM and 128 GB of UFS2.1 storage. Instead of a second SIM card, you can install a microSD up to 512 GB.
It's nice to note that the smartphone is not very susceptible to throttling, providing a drawdown of 14% from maximum power.
However, this is not noticeable in games and other tasks. The same Call of Duty Mobile and Asphalt 9 fly. You play with pleasure, after all, a big screen is a big screen.
The appliance becomes warm at maximum load. Temperature measurements show that the battery heats up to 40 degrees.
Below are screenshots of synthetic tests. I recommend paying attention to the comparison of performance with devices from other companies and to the temperature data (the device does an excellent job). Also, the smartphone did not save on memory, that RAM, that the drive is just super-fast. Especially the drive breaks records – 880 MB / s reading. I'm used to 500-600 Mb / s being a good value.
Communications
The main advantage of the smartphone is the omnivorous 5G modem, unfortunately, it is absolutely irrelevant not only in Russia, but also in the world. In the current global quarantine, only Nokia itself can rejoice in its 5G modem – you can sell a smartphone in any market without additional adjustments.
Unfortunately, 5G is only unlocked in engineering samples, 5G will be locked on regular purchase. It is clear what the legal requirements are, but, in my opinion, this kills an important feature of the apparatus. So you could buy to travel abroad with such a Nokia, and if 5G is blocked, then how? Probably determined business users should be encouraged to buy a smartphone where 5G is available.
And here it should be emphasized that Nokia 8.3 5G works only in 5G sub6 networks, that is, the millimeter wavelength is not supported. In general, this is understandable, because the latter is still more likely for marketing purposes, since there is not much benefit from a signal that can be blocked by accidentally covering the smartphone with your hand.
The smartphone has a slot for 2 SIM cards, one of which can be replaced with microSD.
Of course, there are no questions about the reception of cellular communication. There is no need to ask about the presence of a recording of conversations. There is no such function in pure Android.
On the one hand, everything is decent – NFC, Bluetooth 5.0, even an FM radio and a 3.5 mm audio jack. On the other hand, why only Wi-Fi 5, but no Wi-Fi 6, or why didn't they make dual-band GPS? Or why does the radio only work with wired headphones connected (5G could be done, but the antenna in the case could not be placed?)? It seems that these are all trifles, but still the price of the smartphone hints that there must be redundant functions here.
Camera
Nokia 8.3 5G has 4 main photomos
muzzle:
64 MP, f / 1.9, (wide), PDAF
12 MP, f / 2.2, 13mm (ultra wide angle), autofocus
2 MP, (macro)
2 MP, (depth)
The camera interface is typical, with a choice of a switch between normal mode, ultra wide angle and macro. The scale, unfortunately, is only digital, although it would seem that 2x optical zoom could be added.
Dust will accumulate on an industrial scale around the lens. And nothing can be done about it. Or buy a cover.
I liked the daytime quality of photography. I would also like to note the ultra-wide-angle photomodule. Decent quality.
When shooting at night, there is an amazing moment – you need to use night mode, otherwise it is easy to get a blurry shot (example with a basketball court below). Frankly speaking, I am somehow used to the fact that in automatic mode the smartphone usually produces a result that is not too different from the night mode. In Nokia 8.3 5G, the difference is very noticeable.
Macro camera is not the strongest photo module of a smartphone. Could, of course, put 5 MP, and not 2 MP.
Below are some examples of selfies on the 25 MP front camera in the day and night. And also the smartphone has an effects mode. For example, there is an option when all the highlights or lights on the frame are replaced by some kind of objects.
The smartphone has an effects mode. For example, there is an option when all the highlights or lights on the frame are replaced by some kind of objects.
A few more examples of photography.
Several features of video shooting
Action camera mode
To start the mode, you need to go to the "Video" tab in the "Camera" application, select the "Motion" mode and turn on the filter in the top menu to remove wind noise.
You can shoot videos vertically, and there is a menu that lets you stream directly to YouTube. Why is there no Instagram – you ask. The answer is obvious, in some markets, the smartphone comes with the Android One mark, that is, only Google products, and Instagram is Facebook.
Cinematic effects from ZEISS
Separately, Nokia highlights the film mode. It's not about video, but about cinematic shooting with an aspect ratio of 21: 9. In a separate tab called "Cinema" there are many settings and color filters. You can shoot in 4K resolution 24 frames per second with a bit rate of 60 Mbps. On the one hand, such a well-thought-out regime inspires respect, on the other, it is quite difficult to figure out how to use it, and most importantly, where to look later. I wanted to post an original example for you, but I realized that Instagram won't work, YouTube will also squeeze it in 16: 9. How can I share with you? But sharing is the most important thing in 2020, for the sake of this all photos and videos are shot. If not social media, then no one would need cameras in smartphones and DSLRs would flourish. But these are my thoughts. The mode itself is cool, it provokes creativity.
Simultaneous shooting with the front and main cameras
You can shoot video on both photomodules at once, there is an interesting point that initially the screen is divided in half, but the user can manually set the border, thus placing accents. There is an option with a small screen. The main disadvantage of the mode is that for some reason it is available only for video. But what about the photo?
You can drag the border yourself
Impressions and competitors
The smartphone has no shells, it is almost pure Android (as far as this term is possible). In most markets, the device comes out in the Android One line, but Russian buyers can also count on the next two versions of Android (11 and 12), as well as 3 years of security patches. Previously, pure Android was boring and even difficult to use. The smartphone was just naked. If you want the "Weather" widget – go to the Market, search, buy. Now the weather is there, but the Calculator application is still missing. Do you know how difficult it is to find a good calculator on the Market (so that it is free of ads and convenient to use)? But you can uninstall any application! There are no built-in systems like Samsung has.
Everyone who buys Nokia 8.3 is entitled to 100 GB in the Google cloud for free for six months. You can activate it, and immediately afterwards refuse and not be afraid that in six months you will be charged 139 rubles due to forgetfulness. If you use Google Drive, this is a good thing. I somehow historically prefer the cloud from Mail.Ru.
I have no doubt that at a price of 49 rubles, finding flaws and competitors for the Nokia 990 8.3G will not be difficult. This is especially easy to do against the background of the Samsung Galaxy S5 Fan Edition, which was also estimated at exactly 20 rubles.
I really like Nokia 8.3, but, unfortunately, I can't help but compare with the competitors. I'll just list what the S20 Fan Edition has and what the Nokia 8.3 lacks – a 120Hz Super AMOLED screen, an Exynos 990 processor (yes, I understand, but this is an analogue of the flagship chipset), optical stabilization and optical zoom in cameras, 25W fast charging , wireless charging, Wi-Fi 6, a scanner under the screen, in addition to NFC, there is MST (that is, you can pay from a smartphone in terminals where there is no NFC).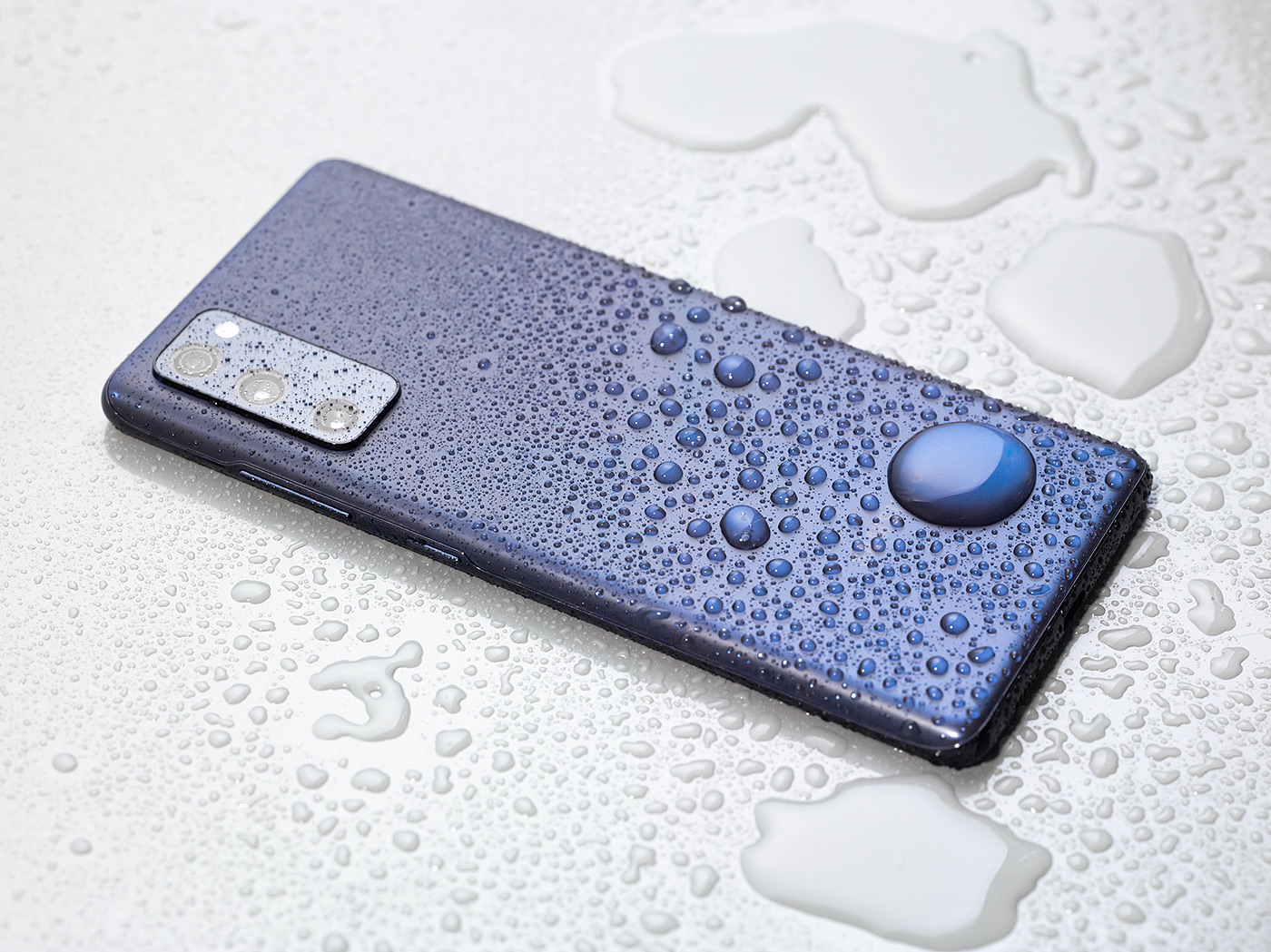 However, Nokia 8.3 5G is a workhorse, leaves a very pleasant impression, so before excluding it from the shopping list, I still recommend holding the smartphone in your hands. Maybe you will like it and close your eyes to the cons.
Back to content >>>
Share: 





we are in social networks:
Anything to add ?! Write … eldar@mobile-review.com