Hey.
During such crises as now, many people begin to repair equipment more often, do not buy new devices. This is the correct, rational approach, especially if the breakdown is simple, and the repair brings the device back to life. And it's trite cheaper.
The correct way when you repair equipment always looks the same – you go to the manufacturer's website, find the nearest service center and call there. In Samsung, you can see such centers for any city on the map, for example, these are services for smartphones.
Moreover, Samsung has an on-site mobile service that comes to a place convenient for you and repairs equipment in a small van. For owners of flagship devices, this service is free within the Moscow Ring Road, even if you end up with a non-warranty case. We had a material that describes how the mobile service works in Moscow.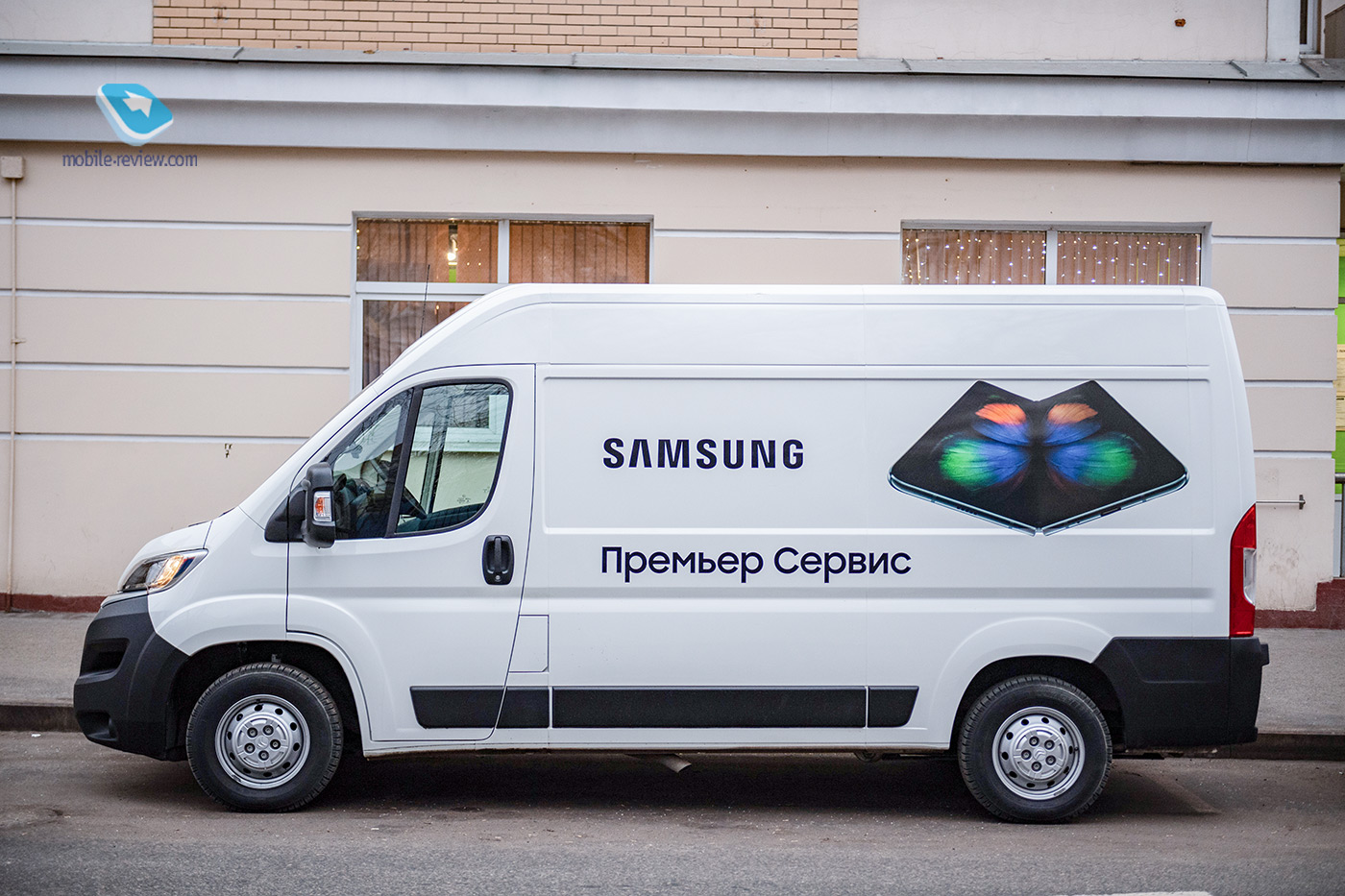 And now what do people do and what they get in the end. The phone is broken, a person immediately searches the Internet for a service, calls or leaves a request on the site. The work is done, there is a feeling that you are well done and did everything right, quickly solved the problem. There is no feeling that something might go wrong.
One of the many sites that appears in the search is "the official Samsung service center in Moscow", and what is interesting is typing the word "Samsung" in Russian this way, it is more convenient. And no bells sound in my head that the names of companies are not written in Russian, this applies to any manufacturer. There are no service centers for Apple, Sony, Acer, Asus, Nokia and so on. The corporate rules for any company are strict and unambiguous, no changes to the logo, company name, colors, etc. are allowed. Anyone who has once encountered this will never forget the rigor of the application of such rules. Often, marketing materials printed in millions of copies went under the knife due to the fact that they did not fall into the color of the logo and it had the wrong shade! Although this could only be seen by someone who is immersed in the corporate world and knows exactly what the logo and its colors look like, for ordinary people there was no problem in a slightly different color. For a person inside the system, this was the greatest sin.
Therefore, when I see the name of the company in Russian on the site, I immediately understand that I have a snag in front of me. There can be no other options here, and this applies to almost any resource, be it a service or a store selling goods.
How such decoy resources are created says a lot about their creators, how they try to disguise themselves. Let's take a look at an unofficial service that went all out, and my attention was drawn to it by acquaintances who forwarded this message from a social network:
CAUTION! PHISHING SITE !!!

Cleverly disguised as the official Samsung website, in fact, it has nothing to do with Samsung !!!!

https://samsung.repair-support.ru/

On Lev Tolstoy Street, orders are accepted through the site, but they are made in small, unknown workshops … Below I put my story …

Which ended up with the fact that I took the phone, not repaired, with broken glass, apparently because it was opened like that barbarously … In this service the folk path will not overgrow, people walk and walk, everyone swears … Awfully disgusting place !!!

A REVIEW ABOUT THE SERVICE CENTER THAT IS DISCOVERED AS SAMSUNG!

#Samsung #Samsung #Samsung #Service in Moscow

For almost 5 weeks now I have been waiting for the repair of the Samsung A50 smartphone, which I bought in winter, the warranty has not yet passed … Suddenly he died, stopped seeing the battery and died … And in Moscow, as you know, there was quarantine, so a free courier was sent from the official certified service. I filled out an application contract, he left me a receipt and left … Since then, I have not seen the phone, it was May 11 … I hardly got through to the service, found out that I did not have a warranty case … I was told that there was a power surge, and one board has deteriorated, you need to replace it … Wait 11 days, deliveries of spare parts from Korea are delayed … The amount was announced by 4800r … I understand that the phone is quite expensive and its repair is also not cheap, agreed with the price … They started repairing … 11 days passed, 2 more -3 days, no one calls me … I hardly get through to them, because the music plays endlessly and calls are dropped … Finally, they answered the phone, I asked how my order was, I was assured that they would give them back within a week … I wait again … 8 June received a call that details from Korea are delayed, now wait until June 21 … As a result, I can't get through, I wrote many times, there is no answer … I have a complete feeling that my phone is playing and they are not going to give it at all … In the process it turned out that there is very decent site of the official ser certified service Samsung, orders are received there, and they are made in small unknown workshops … In the receipt, which they left me with the phone number and address and email of this workshop … it is not possible to get through, music is playing, calls are dropped … Today 17.06.2020/XNUMX/XNUMX I called the official service number, they talked to me harshly, call that workshop whatever you want, that's it, we don't have anything to do with this business anymore … ALL!
Let's start with the simplest, this resource has nothing to do with either Samsung or other manufacturers, but simply stole the logos (this is illegal use of other people's trademarks), invented the status of an official service center. Moreover, these guys did not hesitate to do it for both Samsung and Apple, they have a second subdomain for the equipment of this company – https://apple.repair-support.ru/
Everywhere proudly flaunts the inscription that this is an official service center. What is not true and you can check it on the websites of the companies. This fact alone is the reason why such a "service" needs to be bypassed in an arc, never have anything to do with it in principle. But people in our country do not pay attention to the little things, and then they start calling the manufacturer's hotline (and in the end they find numbers!) And demand that the device, money and something else be returned to them. The explanation that they fell for the scammers is perceived solely as a personal insult. As such an adult, intelligent and adequate person, how could I fall for such a child's divorce? Not! It is you who are stirring up some nonsense and simply do not want to fulfill your warranty obligations. It is easier to believe that an international corporation is trying to deceive Vasya Pupkin than to imagine that Vasya simply did not do his homework and confided in someone else. It is so?
Pay attention to the name of the site – there are no company names in the domain, the reason is that corporations track the registration of such resources and make claims against their owners. Without a separate permission, it is impossible to use the brand in the name of the site, in some countries it is monitored very closely, for example, in the USA, somewhere corporate employees work carelessly.But the name of the site is also always a wake-up call, corporations usually do not spray their efforts. and all activities are carried out on their own resource.
Let's take a look at the credentials for this resource.
You can see that he is registered to a private individual, and not at all to a company. This is also an additional alarm bell that should stop you. In such "services" anything can happen to you and your devices, but you will not achieve any truth. The device can disappear, it can be broken, or it can be repaired on the knee, replacing the components with Chinese counterparts. At the same time, the cost of repair is not less than in the official service, and there is no warranty repair as a class. That is, when you come with a warranty repair, you are faced with the fact that it will always be paid, there are no other options.
To clear my conscience, I called the "service", my legend was simple – broken pixels appeared in the Galaxy Fold, I want to replace the screen. The conversation, of course, amused me:
– I have broken pixels on the screen, I want to replace it, the device is under warranty, I bought it six months ago.
– Which Galaxy Fold do you have, the first or the second?
– In terms of?
– Do you have a new Galaxy Fold 2 or last year?
– What's new?
– Yes!
– I have no old one.
– Now I will clarify the cost of repairs … Replacing the screen will cost 49990 rubles.
– And in the store they talked about the VIP-guarantee and the fact that you can replace the screen with a new one for minimal money, and you told me that amount.
– Go to the store and find out.
– But you are an official service center?
– Yes, we are an official Samsung service center.
– And you can not solve the issue with the repair?
– No, it's better to do it in the store where you bought it.
– Okay, thanks and goodbye.
The conversation is notable for the fact that the person simply does not know anything about Samsung equipment. A Fold 2 has appeared in his world, which he wants to renovate. I was a fool, I had to say that I have just such a device and find out the cost of repairing it.
But later he asked a friend to find out in the same Apple service how much it would cost to replace the screen on the iPhone 12, he was calmly named the price and offered to drive up, nothing bothers people from the service. This well characterizes the meaning of all operations, it is important to create a certain flow of customers, to accept equipment from them, but at the same time it does not matter what exactly they bring. This business operates from the flow, taking a bite off. The repair is carried out by others.
For example, in the case of Fold, there is a high probability that you can simply lose the device, it will disappear and it will be impossible to find the ends. But even if, for some external reason, they decide not to risk and fix the device, then the cost of repair in the official service will be 9500 rubles within the warranty. And it doesn't matter what I did with it, broke it, poured it with wine or something else – this replacement will cost that way for a year.
But even if we assume that VIP insurance will be refused, the cost of an official repair is about 40 thousand rubles (there is also a cashback).
There are not very many services that can work with Fold and have spare parts, they can be counted on the fingers of the hand. And this is reality!
The story got an unexpected continuation, I got a call back from the "service":
– You just called about Fold, please write down the Samsung hotline number, they will tell you which service you need to contact. So that you do not get into some left, unofficial service again and you are not deceived.
– Thank you, but what center are you talking about? I only called you so far. Are you an unofficial center?
– We're official! But suddenly you find yourself on some scammers, we value such clients.
I admit that it was very funny, because for some reason they decided to play along with me. But this does not change the essence. Before us are scammers who deliberately deceive customers. Another sign that allows you to realize this and is extremely important is the lack of information on maps from Google or Yandex. Scammers do not want someone to leave feedback on their work, and such reviews are instantly visible on the cards. No photos of the service, no reviews – nothing.
Recognizing scammers is not so difficult, you just need to think about it. But thousands of people don't, and then they get hysterical because they were deceived. And they guess that they themselves have surrendered themselves into the hands of crooks, but they are trying to minimize their losses by eating the brains of the official support service. An attempt to save time (we are not talking about money here in principle) turns into nerves and difficulties. The way to solve the problem is very simple, you need to write a statement to the police that the device was fraudulently lured away from you, allegedly to provide repairs and / or provided you with poor-quality repairs. A sufficient reason is also the statement of the service that it is an official partner of Samsung / Apple, this is a deliberate misrepresentation of you. Unfortunately, it will hardly be possible to achieve something, as the service will close and move to another location. Those who served customers will suffer the most.
An interesting point that always surprised me – working in such places people often say that they are not scammers, they never knew that the service was unofficial. This is slyness, since it is impossible not to understand the nature of such a service on the very first day of work. And equal responsibility rests both on those who organized it and on those who worked inside and deceived dozens of people every day.
Both Samsung and Apple always react to such companies that they hide behind their official status, dozens of them are closed every month. The problem is that corporations are slow, having closed a company in one place, scammers immediately revive it in the same way in another. The fight is doomed until people become responsible when choosing a place where they repair their devices, and they don't understand how to choose a service.
I hope that you will not fall for the tricks of scammers and will understand exactly how and what you choose. Good luck with a reasonable approach to any questions! And goodbye!
Related Links
Share: 





we are in social networks:
Anything to add ?! Write … eldar@mobile-review.com