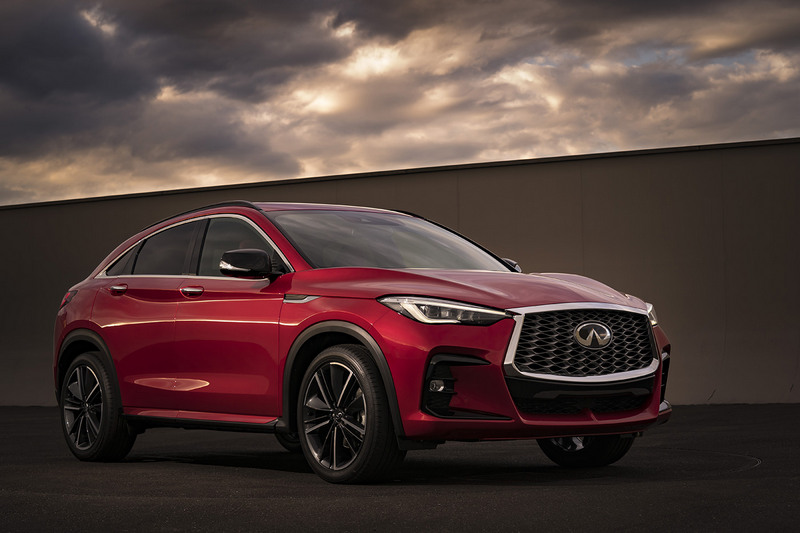 Content
Huawei sold Honor
Cloud gaming
Master a new profession in IT
Column with alarm clock and charging
Black Friday at AppGallery
Infiniti FX heir presented
Xbox and OLED TV
… and dessert
Huawei sold Honor
Huawei has officially sold the Honor brand, which will now belong to a new legal entity, Shenzhen Zhixin New Information Technology Co., Ltd. The amount of the deal was not disclosed, but it was estimated at 100 billion yuan (15.2 billion US dollars). The idea is that now the new owners will be able to submit a request to the United States to remove restrictions from Honor, as Huawei and Honor legally become different companies.
We have already published a detailed article on what will happen to Honor after the sale of the company and what is Huawei's strategy:
Cloud gaming
Mail.ru Group has launched public beta testing of a new gaming cloud service MY.GAMES Cloud. The service allows you to play modern 4K games on any device, however, during the test period only on computers with Windows OS. In 2021, it will be possible to work on Android and iOS devices, as well as on Smart TVs. Two plans will be available for users: the first is the free Basic, which includes 23 hours of play per month in Full HD resolution, and the second is Ultimate, which allows you to play 70 hours per month at a resolution of up to 4K at 120 frames per second. This tariff will cost 999 rubles per month, and in order to try it out, players will be offered to use a free 120-minute version.
And the competing gaming service GFN.RU has become available for users of smartphones on the iOS operating system. Many of the games in the GeForce NOW library will be playable on iOS, allowing iPhone and iPad users to enjoy the power of GeForce without purchasing any gaming hardware. The service can be used by every owner of devices running iOS 14.2 or iPadOS 15.2 by going to the page using the Safari browser.
On the weekend, I'll probably try to play through GFN.RU on the iPhone, it's interesting to see how this is implemented and how convenient it is. By the way, we have released a fresh article about the launch of GeForce NOW on Apple smartphones and tablets:
And, without departing from the theme of the game, it should be said that the nominees for The Game Awards 2020 were announced this week. The category "Game of the Year" includes Animal Crossing: New Horizons, DOOM Eternal, Final Fantasy VII Remake, Ghost of Tsushima, Hades and The Last of Us Part II.
Master a new profession in IT
On Black Friday, November 18-30, SkillFactory is offering a 50% discount on all of its online courses, which is a real opportunity to get a new career in IT. You can purchase discounted courses for software tester, web developer, DataScientist, Android developer and others.
For example, the online course "Software Tester Profession" is the most affordable way to enter the IT sphere. Throughout the training, you will be assisted by a mentor, and upon completion, you will be helped to write a resume and your own portfolio on GitHub. All training is based on solving real problems – students write autotests in Selenium, use bug trackers and learn to work in a team and with a customer. The course is designed so that no technical education is required, and the best students will be able to undertake internships in partner companies.
Black Friday is a good chance to purchase the SkillFactory training course you are interested in at a discount and go to work in IT. If you have always dreamed of trying your hand at this field, wanted to master a new, demanded, well-paid profession, then now is the time to do it.
Column with alarm clock and charging
HARMAN presented in Russia a replenishment of the line of multi-room and cinema speaker systems Harman Kardon Citation – the Oasis model. The Citation Oasis features a built-in alarm clock, monochrome clock display and QI wireless charging. For the alarm, you can choose one of several preset melody options, assign your own or set your favorite FM station. You can control all the functions of the device using the touch keys located on the top edge, or through the voice assistant Google Assistant. You can stream music to the Harman Kardon Citation Oasis through almost all standard wireless protocols – the new product supports Bluetooth, Wi-Fi, Google ChromeCast and Apple Airplay. The recommended retail price for the Harman Kardon Citation Oasis is 13 rubles.
An interesting device that you want to try out in work, because there is a speaker, and a clock with an alarm clock, and wireless charging – in general, an ideal bedside device. What do you think?
Since we are talking about audio devices, we published several reviews on wireless headphones this week:
Black Friday at AppGallery
AppGallery continues to celebrate its second anniversary and is also joining Black Friday with the launch of a campaign running from November 23rd to December 6th, 2020. Huawei and Honor device owners are once again invited to play the game in which they can win many different prizes and discounts from partners app store. Among the gifts, the user can get bonuses from such companies as Ozon.ru, Kaspersky Lab, L'Etoile, Vsemayki and SHEIN. Users will be able to win a discount coupon for purchases from Huawei and Honor online stores. The competition also raffles off lucky coupons for the purchase of a Huawei Mate 40 Pro smartphone or a Huawei Band 4 Pro fitness bracelet, as well as an Honor 10X Lite smartphone and an Honor Band 5, Honor Watch ES, Honor Watch GS Pro bracelet for only 1 ruble.
Infiniti FX heir presented
Japanese automaker Infiniti has officially unveiled the Infiniti QX55, the successor to the FX model. The novelty is a coupe-like crossover and from some angles is very similar to the Mercedes-Benz GLE Coupe. The QX55's interior is similar to that of the Infiniti QX50, featuring a dual-screen InTouch media system that has Android Auto and Apple CarPlay support, as well as a 4G modem. The car will be supplied with a two-liter turbocharged petrol engine producing 249 hp. and 380 Nm of torque, with a continuously variable transmission. There will be three fixed configurations to choose from.
Honestly, I don't really understand why the Japanese call the QX55 the heir to the Infiniti FX when it's just a QX50 in a cross-coupe body. Yes, the machine is cute, but there is practically nothing from the brutal and charismatic FX in it. The novelty will arrive in Russia next year, there is no information on prices yet, but it will probably cost a little more than the Infiniti QX50 crossover, which we have already talked about:
Xbox and OLED TV
LG Electronics and Microsoft have announced an exclusive partnership agreement to, they say, highlight the incredible gaming experience of the Xbox Series X console and LG OLED TVs in key markets in Europe, Africa, the Middle East and Asia Pacific. LG's OLED TV will be the official partner of Microsoft's new console in the listed regions. The technical capabilities of the TV and console offer gamers the ability to enjoy games in 4K resolution at up to 120 frames per second, thanks to the latest advances in real-time graphical ray tracing technology. LG's 2020 OLED TVs offer support for the new HGiG profile for the first time.
I have OLED TV from LG 2019 model year and does not support HGiG, and I'm just looking at the new generation consoles, because now I don't see any releases that would interest me, but I fully support the partnership of the two companies. LG's OLED TVs do offer great picture quality and are great for gaming, and the new Xbox in this generation of consoles looks more interesting to me for now than the PlayStation.
By the way, on November 19, Sony began official sales of PlayStation 5 consoles, but many Russian buyers who pre-ordered did not receive their coveted gadget. The company announced the delay in orders and apologized, but a flurry of negative comments fell on the official Sony PlayStation Russia Twitter account that congratulated on the start of sales. The situation is really unpleasant, since among those who were left without a prefix, a considerable part are buyers who paid for the pre-order in full.
And for those who are used to playing on a PC, I can recommend our latest review of a gaming laptop from HP:
Here, too, Logitech introduced the lightest gaming mouse to date. The Logitech G Pro X Superlight weighs only 63 grams, which is 3 grams less than the previous record holder – SteelSeries Aerox 3 Wireless. The mouse will be available for purchase at the end of December at a price of 12 rubles. The model can provide up to 990 hours of operation on a single charge, while it demonstrates top-end performance. So, it uses a HERO sensor with a sensitivity index of 70 DPI. It has a symmetrical design and is equally comfortable for right-handers and left-handers. Comes with a tape that you can stick on top to change the texture of your mouse. To improve sliding on working surfaces, the device uses large Teflon legs. Using Lightspeed wireless technology, the manufacturer has achieved a 25ms response time that rivals its wired counterparts.
We also published material on another model of the company:
… and dessert
Tom and Jerry, favorite childhood characters, will become the heroes of a new feature film. True, the story in the cinema has completely changed, Jerry for some reason does not live in a house, but in a hotel, and Tom turned out to be a homeless cat.
Related Links
Share: 





we are in social networks:
Anything to add ?! Write … eldar@mobile-review.com