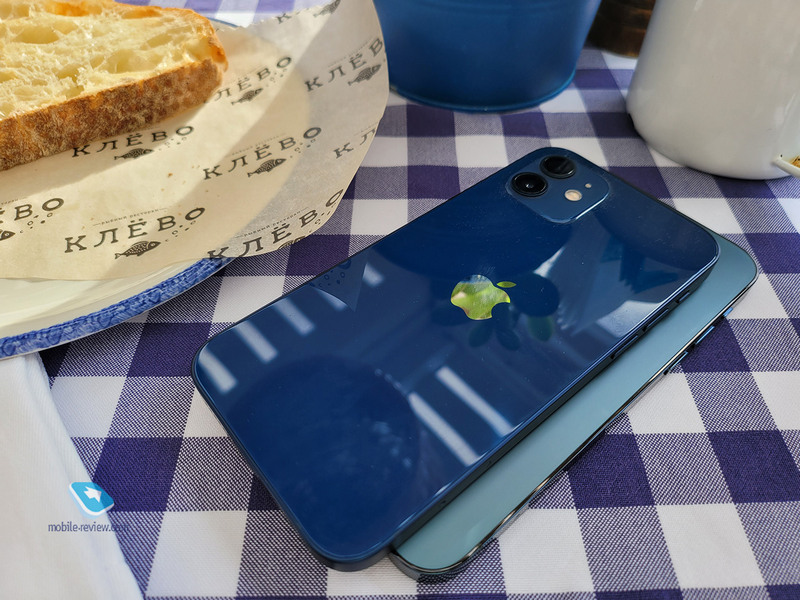 Hey.
Every year they take me out into the open, they catch me by the hand in the most literal sense. Did I know that while having a snack at Coffeemania, I would cause such a storm of emotions in the young man at the next table? After all, I had an iPhone 12 Pro on my desk and a Galaxy Z Fold2 on top. A conspiracy theory was built right there, and then a letter incriminating me was written, it brought me to clean water! Like, you scold the iPhone, but the iPhone itself, and not something else. Now there will be a break in the covers, I will show what the young man did not see and what many other people could observe, two iPhones on the table in the restaurant!
I don't know what's going on in the minds of those who see my iPhone and immediately scribble letters on this subject, messages on social networks, and surreptitiously take photos (come, I'll take a picture with pleasure and I can pick up the iPhone for you!). I have never made a secret that we write reviews and materials not from photographs of devices or their descriptions, but after we have fully used them in practice. The same iPhone 12 Pro is my second device, since it has a lot of all kinds of jambs that come out all the time, and I had to study them before reviewing them, which took time. But conspiracy theories sound more attractive and better, and my words above are, of course, only pathetic excuses! There is so much beauty in the world that I never get tired of being surprised. But I want to start our release of Spillikins with Black Friday and some price observations. Go!
Content
Honest "Black Friday" – about changing meanings
Sometimes a broken thing is a broken thing, almost Freud
Google's Task Mate is a dual-use technology
Key conference "Yandex" and the new "Yandex.Station Max"
Honest "Black Friday" – about changing meanings
The higher the competition in the market, the more discounts from different players, as they have to fight for the buyer's attention. Market volume remains an unchanged component, when players strive not only to make money, but also to gain market share, which, in turn, automatically opens access to the marketing budgets of manufacturers. For example, in Russia, both components for aggressive competition from different players are present, and therefore we constantly see certain discounts, including on electronics. It is impossible to say that the Russian buyer is not spoiled by discounts and various promotions. Communicating with friends from Ukraine, I often hear the comment that discounts in Russia are real, while they cannot buy one or another smartphone with a similar discount. Wholesale and retail companies in the Ukrainian market prefer to make money here and now, since there is nothing else left for them. Just for comparison, I will give this figure, in 2019 the Ukrainian market of smartphones and phones amounted to 6.4 million devices, of which 4.9 million were smartphones. The average cost of a smartphone was UAH 5 (just over $ 800!). But the distribution by price segments, typical for countries with poor economies, emphasis on Chinese brands, as well as Samsung's choice in the middle segment with not the most efficient cost (including budget models). The total volume of the retail smartphone market in Ukraine amounted to UAH 200 billion 28 million ($ 420 billion). For comparison, the Russian smartphone market in 1 amounted to $ 2019 billion, the difference is obvious, and the average price of the sold device is also higher. The Ukrainian market is not key for large manufacturers, as a result, it does not receive significant marketing budgets, which can lead to a lower retail price of certain goods.
Let's take a look at the US market, where "Black Friday" offers significant discounts on many products, this market is somewhat reminiscent of the Russian one (competition, there are marketing budgets, the market size is significant). I remember the times when I envied the prices in the USA for many goods, discounts were tasty and fair in any coordinate system. Let's take a look at the TV from Samsung, the model Q900 with a diagonal of 98 inches is the flagship, the price before "Black Friday" was about 100 thousand dollars. I honestly admit that I did not track the price in the USA, so I cannot say how much this unit cost exactly. It is quite possible that the price was in the region of 75-80 thousand with all the discounts that are offered, and a 50% discount is a nice move to Black Friday.
Why did I remember this TV? Several people poked me at it and commented on this event as something incredible in Russia, such a price is impossible to get! I would formulate a little differently: it is impossible to get such a discount, not the cost. I looked at the Samsung website to make sure I was right.
Before "Black Friday" the cost of this TV was 5 million rubles, as part of the sale decreased by a million. In dollars, it turns out that it was 66 thousand and became 53 thousand (in the US, you still need to add sales tax, in most states it is above 5%). It turns out that the Russian price is at least not higher, but initially even less.
But marketing works on the minds flawlessly, large numbers of discounts are remembered, 50% or so. So it turns out that many companies from year to year draw discounts on Black Friday, first raise prices, and then give a discount. It turns out that way, there is no special discount.
This weekend, a friend went with her mom to buy a TV. You can call them ordinary buyers who do not constantly monitor the market, chose several TV models and went to watch them in stores – the choice was between Samsung, Sony and LG. The preferred diagonal is 55-65 inches. In "MVideo" Sony was highly praised, while the picture on this TV was wonderful, but Samsung produced crumbling squares.
In my kitchen there is just the same model, after the message that everything is not very good, I climbed to peer at the screen, I did not find anything like it. I looked at the rewards of sellers for each brand of TV, got an answer to my question, how it happened and why. Little tricks on how to increase your personal income, you can write a novel about this in three parts, since the sellers have their own personal secrets and know-how.
Throughout the entire period of self-isolation, we had one endless Black Friday, as many federal chains sold goods at cost or even cheaper. The same "MVideo" and MTS gave away smartphones at purchase prices, which turned the market into a scorched field for players with a smaller caliber. But such happiness for buyers could not last forever, for example, MTS calculated the losses from this holiday and at the end of the year refused to discounts as such. MTS never relied on the ability to sell goods, but offered the minimum cost for smartphones, we get tired of counting the number of attractions of unprecedented generosity that the operator launched. Discounts for flagships of 20-25 thousand at some point became the norm for MTS, they happened all year round. No sales? The operator adds a discount and they appear. The only problem was that it is a needle that cannot be slipped off. This is not a loyal audience that is ready to buy goods from you, because it trusts the opinion of sellers and the quality of service. Most of them are those who come for the minimum cost (I can't even count how many people I sent to MTS).
In October and November, the share of MTS in smartphone sales in the market decreased by 1.5 times (someone claims that it is almost twice, but this is an exaggeration, as for me). The reason is trivial and lies on the surface, the company removed discounts, and prices became like everyone else's, the main reason for buying from an operator has disappeared. As part of Black Friday, MTS is trying to make up for lost time and raise its own sales in five days, noticeable discounts, for example, you can buy an iPhone 12 at a nice price (minus 8 rubles (!) For the most popular version of 100 GB).
Taking this opportunity, I cannot but note that this year another myth around the iPhone was destroyed, that there are no discounts on them. Here is the most "scarce" product, as some places say, the product, it is given in many chains at a discount. A year ago, he claimed that the 12th generation will be the first to receive discounts almost in the first month of sales, and so it happened. Cause? The growth in the cost of these devices, weakness in comparison with competitors.
But discounts on the iPhone at MTS are just flowers, look how much the Galaxy S20 costs. The discount reaches 19 thousand rubles (10 discount plus the same discount when purchasing accessories for 000 rubles).
In fact, the MTS site is somewhat confusing, and the HOME71 discount gives minus 10 rubles without the need to purchase accessories. Total minus 000 thousand rubles.
The price for the S20 is exactly the same as in Samsung's Black Friday, but the phones ran out almost instantly.
If you look at this year and Black Friday, which lasts not one day, but a week or even a month, you can highlight several key points. The discounts offered by manufacturers have met before, but now they are collected within the same offer and different product groups. Many companies talk about fair discounts, a clear reference to the experience of previous years, when buyers did not see discounts or they were insignificant. The Russian market is a key one for electronics manufacturers, hence discounts and marketing, as in the American market, which can be safely considered one of the largest (we are not touching China now). But the highlight of the current situation is that we have seen such discounts throughout 2020, and I am sure that they will periodically pop up in the coming quarters. For example, Samsung will have a warehouse clearance for the S20s ahead of the S21. And we can say that those wishing to buy these models at very low prices should attend to this now, then it will be too late. There is time before the New Year and a little after it.
Black Friday this year is good for everyone in Russia – for manufacturers, retailers and online sales. The reason is that the event itself attracts attention, pushes people into stores to purchase certain goods, and this is not only and not so much electronics. But nothing happened to me, because I bought most of the things I needed in the household before. On the other hand, I bought a large number of bottles, since the prices for many items became equal to the wholesale ones. But this, in fact, is all that I bought.
How was your Friday or is it going? Did you buy something for yourself and your loved ones? Fair discounts, as the companies say, or nothing like that? Tell us about your impressions in the comments.
Sometimes a broken thing is a broken thing, almost Freud
I got an additional provider outside the city, a cable was installed in the house, an old router was connected, and everything worked at the promised speed. I decided to separate different providers, duplicate smart home and security systems, so as not to depend on one Internet source and possible breakdowns that happened in the past. The guys who set up the Internet left, and I took out a Wi-Fi 6 router to transfer the connection to it. Of the advantages – the possibility of expanding the network almost indefinitely, it covers almost the entire site, and not just the house.
Setting up a router – little wisdom, cheerfully went through all the stages of express installation, but the machine did not start! This did not happen the second time, and the third. Interestingly, the old router worked fine, but the new one refused to do it. Of course, the first idea is that I have crooked hands and am doing something wrong. I suffered, read the Internet, my hands were not to blame. I am sure that you had a feeling of annoyance when you bought an expensive item, and for some reason it suddenly does not work or does not work at all as it should. In my case, it turned out that the WAN port was not working, he ordered to live long. There was an option to alter the router with an alternative firmware and assign an input to one of the LAN ports, but did not bother, and why. I will hand over the router under warranty, especially since the manufacturer's support line said that this can sometimes happen and you just need to bring the device in the box.
It is necessary to treat the breakdowns of new technology philosophically, it cannot be done otherwise. The same router was impossible to check in the store, the maximum you can unpack it and look at the case that no one opened it. But checking the connection at most points of sale will not work. However, it is possible and necessary to check many goods in the store so that later you do not waste time on trips back and forth, proof that you are not extreme and did nothing like that.
My friend got into trouble buying a TV. Large diagonal, the movers of the online store lifted it home. They did not drop it, the box looked intact. But attempts to connect the TV and make it work led to the same result – the screen remained black, the TV did not show signs of life. The reverse procedure – movers, packaging, examination in the store, which recognized damage to the TV due to careless handling. And only thunder and lightning sent to the manufacturer's hotline resolved the issue, the model was replaced and they also apologized, adding some kind of soundbar as a gift.
But there are often completely different stories, when the buyers themselves turn into terrorists, consumer extremism is a widespread phenomenon in our latitudes. I will never forget the instructions for determining the "marriage" of the screen in one of the smartphones. You had to go into a dark room, preferably a bathroom, and put a gray background on your smartphone screen. Then set the brightness to 5-10% and slowly rotate the device in front of your eyes, after about five minutes you will see a green color, which proves that the screen is defective.
I suspect that someone wrote the instruction as a joke, it is absolutely impossible to consider it as something big. The only problem is that about a dozen people turned to service centers with such a "defect". It is clear that this is a negligible number of calls if you look at the sales of such a device, but the story itself is remarkable – people believe in anything, you just need to present them with the methodology.
Manufacturing defects are absolutely normal, it happens to everyone. You need to treat this stoically, although it is unpleasant that a new thing needs to be carried back. Sometimes marriage manifests itself in small things, sometimes in something serious, then you decide how to live with it and what to do. But in about 0.5% of cases, the defect is visible out of the box, for large production volumes with millions of copies, this is a noticeable amount in absolute numbers.
To protect yourself from marriage, you need to try to check what you buy. And also try to buy things in stores where you will definitely be exchanged, and not begin to explain that you are to blame. You often come across a factory defect, how was this issue solved in your case? In my entire life, these are isolated cases, which can be recalled by bending the fingers of one hand.
Google's Task Mate is a dual-use technology
In a number of countries, including India, Google is testing the new Task Mate service. You can connect to it only with an invitation, you are offered to perform simple tasks and receive a reward for them. For example, you may be asked to photograph store signs, describe their opening hours. Or go somewhere to take a photo of a particular place.
Any Google Maps user who has come across the "Impressions" section knows that you can leave your feedback about places there, and the new service is something like that. The only difference is that you are paid for the description of the places, and the tasks are given by the service itself. The choice of India as a testing ground for Task Mate is understandable, there is a small number of smartphones in this market, and users are not eager to describe new places, Google's buns do not attract them. And such a service allows you to quickly type the desired POIs that you would not have received otherwise. A kind of outsourcing in a modern way.
But such an application can be safely called a dual-use technology, since data collection can also be used around military facilities located in settlements, and cartography can be done by someone else's hands. And getting rid of the feeling that the world has become much more accessible for intelligence will not work. You do not need to enter the territory of another state, it is enough to pay users to post descriptions and photos on their own. I think that Google understands the ambiguity of its position with this service and therefore is cautiously testing it, looking at the reaction of other states. I think we have every chance to hear about Task Mate in terms of espionage and accusations of this on Google. As for me, the initiative is understandable, but it is dubious in the long run.
Key conference "Yandex" and the new "Yandex.Station Max"
After the conference, Sberra expected what Yandex would tell at its key event, because YAC 2020 is an introductory presentation that shows the key directions of the company's development and answers questions about business. To a lesser extent about technologies and specific products, more about what will be and how it will be read from Yandex. But I certainly did not expect such disappointment in all possible aspects. Almost two hours with the videos recorded, which turned into one big Yandex advertisement, but an advertisement of a strange kind. For example, Tigran Khudaverdyan shared a number of revelations about the company, I was hooked by the fact that checking the quality of Yandex services and products is the responses of friends that they are scolded if something goes wrong. This explains a lot about Yandex in general and about the iron direction in particular, which was able to release and kill a smartphone, continues to painfully create columns with Alice.
We had a separate material about the presentation, it summarizes everything that was shown.
My attention was attracted by the extent to which Yandex has become a fragmented company, where everyone plays their own game, and the management does not really understand who is doing what. A kind of student campus in which to have fun. I'll start with a simple statement, which is hard to argue, that Yandex does not believe in its own technologies and their attractiveness to users; they rely solely on what Google does. The culture of borrowing has permeated Yandex so much that the company has become secondary in spirit.
Let me remind you that Yandex has launched its own service for online video, Yandex.Ether. I thought that the link to the recorded YAC 2020 would appear in this service, but everyone was invited to watch videos on YouTube! To admit to the whole world that your service is unpopular and is not needed even by the company itself, there was no better opportunity, and Yandex used it one hundred percent. This is shocking to me, because no one thought about it.
To be fair, the recording appeared on "Ether", and it could be rewound (unlike YouTube) and not spend almost two hours on an endless stream of advertising, to see the main and only announcement of a new piece of hardware.
Want another sad example? Yandex has enough loyal users, those who use the company's services, for example, the same Alice. And people asked Alice to show them YAC 2020, in return they got emptiness. The voice assistant from Yandex simply did not know about the main event of the year for the company. How so? This is exactly what I consider to be a student hostel, where you can spend your time cheerfully and carelessly, and you don't need to think about connecting some services with others. Yandex does not have a systematic approach, and where does it come from today? This is working in the scalded cat mode, when sand castles are being built, so that then the concept changes again and everyone starts over. And this, for a minute, is the strongest IT player in Russia, which confuses me a little.
The iron direction inside "Yandex" has never been distinguished by its rationality, it is enough to recall the release of "Yandex.Telephone" and its enchanting failure, which on our pages was described step by step, and even before the start of product sales. It's nice that everything happened exactly as expected, in compliance with all deadlines.
Yandex dug up a gold mine with speakers with Alice, since this is the only way to control a smart home using a voice. This is not a column for music or questions for Alice, most buy inexpensive speakers to control their smart homes, and in this capacity Alice shot in Russia. While there are no voice assistants from Google in Russia, there is no Amazon, this market remains with Yandex, and great efforts could be made to firmly gain a foothold in it. The absence of direct competitors is a gift that Yandex is wasting mindlessly. And this happens for a simple reason: the company itself does not understand the device market, and they do not want to understand it. They live on their own wave. But at the same time, Yandex has all the necessary statistics to add 2 + 2 and get an answer to what you need to do.
Let's take a look at Yandex.Station Max, which is an updated version of the usual Yandex.Station, two years have passed, and the company has added a number of useful and not so much functions to its product.
The first thing you notice is the control panel! The logic of this decision eludes me, since the voice-activated speaker assumes that you will talk to it! You can also talk to the remote control, but rather it will be used to control the volume, navigate the menu. It turns out that this is a crutch for an audio interface, it helps to eliminate complaints about menu navigation, but not to solve the problem with the help of your voice. Why solve problems in the voice interface?
The Max Station now has an LED screen, it displays the time, different event icons, and this is a nice addition (all over the world voice assistants come out with full-fledged screens, there is savings). The downside of such a screen is that you cannot customize its behavior, it works according to its own program (it changes the brightness itself), for example, at night it continues to shine brightly enough, which sharply limits the places where you install the station.
With an HDMI connection to a TV, you now have the opportunity to play 4K video from Kinopoisk. This is good news for those living in the Yandex ecosystem. But for those who hoped that "Station Max" would be able to reproduce sound from TV, I have bad news – it cannot, and so far there are no plans to teach this to the speaker. That is, it is impossible to replace the standard sound from the TV, which means that those who want to get a kind of soundbar for TV with a station will not get it in any way.
The price of the new station is 16 rubles, which is comparable to the cost of the same speaker from Sonos (there is no Alice in it). About "Max" I liked the statement of our reader, who claims that it is a stereo speaker, since the sound is three-way, but Sonos is just mono! Iran-Iraq, hand-foot, what's the difference! Both speakers are essentially mono, in order to add stereo, you need to install two speakers (in the "Station" this is now possible due to the multi-room option). But the number of built-in speakers, their power is completely different, and here the new "Max" was changed for the better. But considering that this is a Chinese speaker, assembled in an ordinary factory, where the sound technology is described by the fact that it is stuck into the case from the speakers, then to the level of Sonos it is like walking to the moon. These are just products from different classes, Sonos is excellent in music, Yandex.Station is about a voice assistant and attempts to do at least something that sounds at the level of speakers for 990 thousand rubles.
Yandex could not get fresh hardware, so inside Bluetooth 4.2, it's cheaper and easier. This is, perhaps, all that you need to know about the iron direction of the company and its capabilities.
What else can I say about Max? The price is 16 rubles from some other world, the station was clearly not created for the Russian consumer. In the wonderful world of the future, where a toy for controlling a smart home can cost so much, the station will be dismantled like hot cakes. In modern times, this cost puts an end to the station as a commodity to be bought. Undoubtedly, Yandex, as usual, will successfully start donating stations in order to expand the number of their "sales". A profitable business is to buy from oneself and "sell" right there, even though this is how it reaches some sales figures.
In place of Yandex, I would create inexpensive speakers (Mini does not qualify for this role) for controlling a smart home. He actively encouraged partners to create such devices so that Alice would de facto become the standard for Russian smart homes. While the flagship stations are being created, and there is no energy left to create mass products, a phantasmagoria is obtained. Potentially, Yandex has a huge market, in fact, the company's lack of understanding of iron stops you from working on it, limits sales (you can sell 5-6 times more than now, but with other products and the share will grow even more). The development of sales of columns with Alice today is happening not thanks to Yandex, but rather in spite of. But even here the window of opportunity is rapidly shrinking, soon Yandex will face serious competition and the story of search will repeat itself, when Google consistently ate it from the company.
Do you know what Yandex's problem is? This is the culture of secondary and copying of the same Google. Since there is no example from Google in Russia, it is not clear what and how to copy. So the invention of expensive stations, which no one really needs, is underway. And the mass market is being ignored.
The speed of Alice's development is not happy, the voice assistant has frozen in its capabilities. Many mistakes remain as such for many months (try saying "music is playing on the ship" – Alice will give you a reminder instead of a song!).
I want to be proud of Yandex, but so far all this is surprising and rejection. Each of us has our own institutions, Yandex needs to get rid of the secondary complex, stop copying and start creating something of its own. The path is difficult, it will not be without mistakes and mistakes. But, in the end, it will allow you to do something new and win much more, and not survive within one country, relying on administrative resources and the fact that the Russian government will help and save.
As an illustration, I will give a letter from our reader, he asked not to indicate his name and address:
Hello Eldar!

I have been reading the Mobile Review for a long time, following your articles. I agree with something, sometimes not. I also left comments, but I was not drawn to the large format of communication. However, the topic of Yandex touched me so much that I decided to write a letter. Partly, I honestly admit, because you are one of the few public, famous people read your mail. This is captivating 🙂

I will try to be as honest as possible, including towards myself, in order to maintain objectivity.

I am a professional programmer already in my mid-fifties. I will not say that some outstanding in quality, but quite above average, has now gone to the leadership. The experience is very large, including the experience of participating in large projects with close interaction with production, bringing a sample to a series. Naturally, I interviewed quite a lot, including Kaspersky, Yandex, but always in the end I was drawn to the hardware. Of particular interest is the fact that my HR wife with vast experience and knows a lot about the labor market "from the other side".

I must say right away that I am surprised by Yandex's work with personnel. They are sifting through the labor market, looking at huge numbers of people and putting them through formalized tests. Then the main interview. On the one hand, as they say, "they can afford it" and this technique allows you to select people who are stress-resistant and with knowledge. On the other hand, the specificity of IT is such that many truly talented guys simply do not go to them. Among HR, Yandex has a solid reputation as a meat grinder that people go to after a line in their resume.

I was once in Yandex at an introductory interview. There was a feeling that there is a constant fire, people are being thrown from project to project. I didn't go further: on the one hand, I was not sure that I would go through all these interviews to the end, on the other hand, I simply did not want to waste time on a company that I clearly didn't want to come to. Of course, this is my personal impression, many people go, but this is their business. Let's just say that my wife and I were extremely surprised to see Yandex in the first place in a recent survey of "best employers". My wife spoke very categorically, but I will not give her opinion 🙂

Now for the products. There are obviously very clever guys with excellent knowledge working at Yandex. Life experience suggests that the methodology for selecting a company does not allow getting loyal and team workers, but there can be no doubt about their qualifications. Why does the company have such gaps in hardware? I found the answer for myself in the words of Mr. Khudaverdyan, I quote from your article: "The main thing is … not delivery or unmanned vehicles, but technologies … which made it affordable"

It just isn't true. The main thing is always the final product! Is always! Only he brings money to the company, only he makes all further experiments possible. All technologies are not worth a penny if they cannot be sold. It is possible and necessary to work for the future, but this perspective should be clear, specific and ultimately marketable.

Let's take a look at Yandex's long-suffering column. Even without a difference, the first or the second. Again, I do not pretend to know the ultimate truth, I speak only about my feelings. Why should I spend money on it?

It is very cheap, can you buy it just like that, at the "look"? Obviously not. Does it carry some unique functionality? Perhaps, but I don't need it, I just can't appreciate it. Does it have an image component? Not at all. In fact, Yandex columns can attract people who constantly use Alice, possibly having a "smart home". A lot of those?

By Yandex.Telephone, by two columns, by the style of hiring employees, by the phraseology of top managers, I got a steady feeling that Yandex as a company loves itself very much. Perhaps even a little adores. How else can you produce raw products or products with dubious, not outstanding functionality at rather high prices in completely new niches for yourself? I would understand the release of a product of the first price (conventionally "Yandeksiao") or a designer product at an image price (conventionally "Yandaison" or "Yandabloko", as you wish), but what the company does from time to time is inexplicable. Some kind of rake dances.

Separately, it is necessary to express sincere bewilderment with the company's goal-setting. The promise of an electronic pilot for cars is obvious. Deals with this topic – and quite successfully! – Yandex has been around for a very long time. Where is the result? The pilot consists of a mass of algorithms that could have been packaged separately for a long time and at least try to sell to automakers, paying for their work and gaining invaluable experience, gaining a foothold in a niche. How many resources are spent on the phone and speakers? I repeat – there is no doubt about the qualifications of Yandex employees, so where are the real results in the extremely promising niche of driving? A question for management.

Let me emphasize that everything I have said is just a personal value judgment, born of the experience of more than twenty years of work in IT (it is important – in close contact with production) and does not pretend to be the ultimate truth. For the sake of objectivity, I will also say that I constantly use Yandex search (it indexes Runet obviously better than Google), their maps and a navigator. These are products, the quality of which is completely satisfactory to me (although advertisements are now being crammed into the navigator, I'm afraid soon there will be no place for a track).

This is probably all. Thank you if you read the letter. You can use it in whole or in part, but without mentioning my name and generally without disclosing the source of information. Do you know why? I am sure that personally Arkady Volozh is a wonderful, reasonable person. In general, generally all people are like that, more or less. But I absolutely do not trust Yandex corporation. In case of the slightest need, they can trample me to dust. This is obviously easier than admitting your mistakes and working on yourself.
How do you like the letter? How do you like the questions that are put in it?
PS The week promises to be hot, as ahead of Qualcomm Tech Summit, instead of Hawaii – the usual computer window. But on the evening of December XNUMX, and on the second of December, you can read a lot of interesting and curious things about new chipsets and other capabilities of modern hardware. Be sure to come to us for a light.
There are a lot of comments about the fact that I bypass Apple's M1 processor and the first MacBooks with it. But I don't have such a laptop, I can't say anything sensible about it. I thought that I needed to buy a MacBook Pro on the M1 as the main typewriter, I called a couple of people who received these computers for reviews and asked their opinion about such a purchase for myself. I liked the frank answer: "Man, you know, PR and all that. Excellent as a typewriter, but for the rest it is expensive and definitely worth the wait. " Now I am tormented by doubts whether or not it is worth experimenting, after all, 150 thousand is a noticeable amount, and then what to do with it if you don't like it? Give it to someone? Selling at half price? What do you think about it?
There are so many questions for you in today's issue that I even get lost. But, apparently, such a mood with the onset of winter, which will happen the other day. Successful week and good mood!
Back to content >>>
Related Links
Share: 





we are in social networks:
Anything to add ?! Write … eldar@mobile-review.com