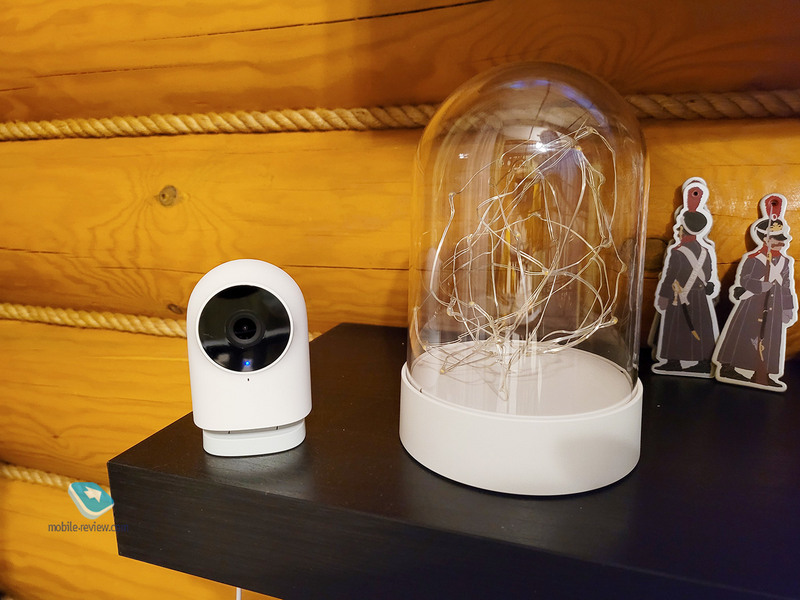 Hey.
Happy New Year! The first days of 2021 have flown by, our long January holidays are still ahead. For those who have missed Happy New Year greetings, I wish you all the best once again, may everything turn out well. Usually these days I was already going to Las Vegas for CES, this year the exhibition has become virtual, nevertheless, the organizers take money from both participants and virtual visitors. Which causes a certain dissonance, since the format itself is noticeably inferior to live communication and the ability to touch the device with your hands. Many manufacturers did not refuse to participate in CES, but there is no race for new products, and the participation itself raises big questions, why not organize their conferences outside of CES? After all, everything on the network is exactly one click away, and for large manufacturers it will not be difficult to attract visitors from the industry, these are all the same familiar faces. Something tells me that we are waiting for the victorious reports from CES, they are always like that. The exhibition business in America is set on a grand scale, so it is impossible to say that CES will fail, but it will clearly not have enough advertising budgets and will lose space in rent. Alas, this is life.
The next big event in June should be MWC, it was moved from the usual early spring to summer in order to definitely avoid problems with border closings. But while everything develops so that MWC has every chance of becoming the same virtual event, 2021 hardly gives grounds for optimism in this aspect, at least at the moment. Therefore, we are preparing for the fact that the main events will take place online, especially since January will be full of various announcements. But I want to start this issue of Biryulek, the first in 2021, with a different story, which I drew attention to.
Content
Scammers and January – the suffering of deceiving people
About data transfer during the New Year holidays and not only
Video camera Aqara G2H – a hub for a smart home and a smart camera
Scammers and January – the suffering of deceiving people
Every January, a lot of letters appear in the mail about the same thing. For example, complete strangers often write to me with the question of how to find instructions for a particular smartphone, coffee maker, or something else.
Some are persistent, write daily and ask if I had time to find instructions. It baffles me that people know how to use email but deny that search engines can find what they want. You can find instructions in a matter of minutes by searching, but they take the time to write to me. This is some kind of special form of laziness, which still baffles me.
It is clear that the holidays are conducive to lazy pastime, but there are also letters that I especially love that look like a one-way dialogue, each line is a separate letter:
– Does it have NFC?
– I read your review, did not find about NFC and what color it is.
– The price is exactly the same, maybe you can find it cheaper somewhere?
– Why are you silent when you answer?
– Awww, are you there?
The funny thing is that a person does not even write about what kind of model he is interested in, I have to guess about it myself. There are many such letters, and there is no desire to answer them, they are sent to spam, which they are.
Another thing is that in January dozens of people who have become victims of scammers write in the mailbox and social networks. New Year's mood, general relaxation and belief that nothing bad can happen to them specifically. For example, one of our readers told his story. "Eldar, good evening! I beg your pardon for disturbing me, I got caught by scammers with Avito, who introduced themselves as Mvideo employees and offered a discount on the purchase of Samsung TV, and ended up at 180 thousand. Now I can not return the TV back, I receive a negative answer on the return due to the fact that the scammers have stolen all the points. Perhaps you know to whom in Mvideo you can write and try to explain the situation in order to get out of the water with minimal losses? Thank".
The scammers offered a discount on TVs on the bulletin board, the scheme looks very simple. Allegedly, these people are employees of "MVideo" and can spend bonus points twice as efficiently. Here is what the victim said: "You pay for the goods, you get them, the points come, and the person disappears with them, without making any discount. Loch is not a mammoth, did not expect me to get there. And he convinced me beautifully, said that they themselves, as mvideo workers, somehow doubled the received points, so they are ready to return all the received points in rubles. If this were not a fairy tale, then there would be nothing to catch me … The fraudster at the moment when the points are credited, runs to the store and buys three iPhones for them in Nalchik (and I am in St. Petersburg). That's all".
Any points in a particular trading network are also money, they are simply presented differently. And you need to treat them accordingly, you cannot give them into the wrong hands, including when you are told this or that fairy tale. All schemes in which someone wants to do you good, as a rule, end in the same way – you waste time and money. Trying to get justice from the trading network is also doomed to failure, since it is not responsible for you and your actions. In this story, the same "MVideo" should not, and indeed cannot, return the money, since the person himself made a mistake. After all, no one turns to the Bank of Russia when fraudsters pull out banknotes from you.
I attribute all this to the general relaxation of January, but not one or two such stories happen, they sweep the whole country. The desire to save money is understandable, but free cheese is only in a mousetrap.
Interestingly, in the story above, there is every chance of finding a thief. To do this, you need to write a statement about theft of money and fraud to the police. After that, "MVideo" will provide the police with information about who and what bought with the stolen money, if it happened in a store, there will be photos and videos of those who came to get the goods. If you bought an iPhone, it is easy to find them on carrier networks (a stupid purchase that very well allows you to find scammers). It is not very difficult to untwist the chain, and the police do this, there are many leads left to find scammers. Their calculation is that a person will not torment himself by going to the police, and they can persuade them not to write a statement. And that is why such schemes flourish, because, having lost money, people do not try to complete the case, do not demand that fraudsters are found and brought to justice.
What surprises me is that very often voices are heard that retailers are to blame, as they gave the goods to the scammers. But excuse me, this is already shifting responsibility from a sore head to a healthy one, here retail chains cannot do anything, this is clearly not their area of ​​responsibility. So there is only one advice, and it is very simple – be careful, try not to fall prey to scammers and always turn on your head. The scammers are persuasive, but free cheese only happens in a mousetrap.
About data transfer during the New Year holidays and not only
For many years in a row, electronics have remained one of the coveted gifts for the New Year. Children, and not only them, receive new smartphones, game consoles, computers. It seems that on the first of January everyone should sleep, rest and walk, but many begin to customize their gifts, and operators see how the traffic on the networks is changing. Moreover, you can immediately understand who and what received as a gift for the New Year. For example, my son got a PS5 for his birthday, but I gave him the prefix only on December 31st, because until that moment he was studying and did not want to distract him from it. In the end, for the first few days off, the console worked on loading toys, and this is not a couple of gigabytes (out of 800 gigabytes of memory, about 450 GB in two days). It is clear that this is not at all typical for everyone, but an ordinary Android smartphone downloads about a gigabyte of information on average when updating the system, installing programs from the list of pre-installed ones and updating them. There are also a lot, especially against the background of how many such devices are presented for these holidays.
The profile of Internet use is fundamentally changing, they are increasingly using mobile networks, as they move from their usual habitats, for example, out of town or on a visit. But it is impossible to say that traffic in general is growing, since there are no work meetings, a large number of "heavy" files and projects. And the number of videoconferences is sharply decreasing, we call up not for work, but with loved ones to celebrate the holidays themselves or just to chat. By the way, this format involuntarily became a habit, before the New Year I phoned my friends, and we celebrated this holiday together. Previously, they congratulated each other in a chat room, now they were also able to have a drink remotely, raise their glasses.
A good, high-quality Internet is becoming a basic need for a modern person. Whether we like it or not, almost nothing is impossible without the Internet. Neither the implementation of a smart home, nor modern TVs, which require the presence of the Internet in order to show you series and movies in online cinemas. The way people use these online cinemas is clearly visible during the holidays, there is a surge in consumption. I have never experienced any problems with "Kinopoisk HD" on my TV, all the series went without problems. My family did not see the series "Project Anna Nikolaevna", they decided to watch it. Approximately every hour and a half, the application simply crashed for no apparent reason, before this was not observed. I think that the problem is not in the quality of the Internet or something like that, but in the congestion of the service. Share your observations, it will be interesting to compare them.
Of course, everyone has their own standards of beauty, but, in my opinion, the minimum speed of a high-quality Internet should start from 50 Mbit, and honest and without any reservations. With minimal latency and equally good access to resources of both your region and other countries.
The availability of a VPN service is also becoming important, since without it there is simply nowhere. The main thing to emphasize here is that when choosing such a service, you need to look at the availability of servers in different countries of the world, and also check what speed such a VPN gives with your specific provider. It often happens that you have a fast connection, but VPN cuts it a lot.
I recommend ExpressVPN, which is my favorite of the paid programs. Expensive, but the quality is worth it, as is the availability of a client for different devices. But remember that in any case, the presence of a VPN reduces the speed of your connection, the technology itself is designed like this, an additional link is added. For those who use cloud gaming, latency can be critical, for everyone else it is not so important.
Video camera Aqara G2H – a hub for a smart home and a smart camera
The smart home theme is taking off, and in 2021, many will acquire such systems. Usually, people from buying sensors are stopped by the cost of the hub itself, it is not clear why it is needed, I do not want to pay for it separately. And you can understand this approach, since for the majority it is not yet clear how smart a house will be in the yard, how it will make life easier.
I have a smart home from Aqara, a very handy thing with a bunch of different sensors, scenarios, the ability to combine different sensors into groups and control them from one application. The price / quality ratio for this solution is excellent, I began to build my system according to a standard scheme, a hub and additional sensors. In Russia, before the New Year, a smart camera G2H appeared on sale, which simultaneously serves as a hub, that is, there is no need to buy a separate device.
And for many, such a camera will be the first step towards building a smart home. From the absentee advantages, I note that the camera was created primarily for Apple HomeKit, this is also the cheapest solution for this system (5-6 thousand rubles, competitors cost from 11 thousand and more!). There is an integration with iCloud (if you have a data plan of 200 GB or higher, and you also need free space). The maximum video resolution is FullHD, but the picture is not bad, and most importantly, the camera in iCloud can analyze your photos and you can assign names to them. For example, for a son, indicate his name and receive messages about events: "Ivan entered the room". There are a lot of settings, we'll talk about this in the review, but here are just impressions.
Another point is that such a camera has two-way communication, it has a speaker, and you can "call" it. You can think of a lot of use cases for this, from a call to the kitchen asking when lunch will be ready, to installing a camera behind a child's workplace to watch what is happening and how. It is also a modern version of the baby monitor, when you can see what is happening in your baby's crib.
Traditionally, events are configured for such cameras, it is possible to save everything to a memory card, as well as view the camera from anywhere in the world, the main thing is that the camera has the Internet. I will add that the camera is equipped with a night vision system (IR illumination), which allows you to use it at any time 24 by 7. This camera is for installation inside the house, requires an AC connection. The camera will not work for the street, completely different solutions are needed there. In the review, I will consider in detail all the capabilities of the camera and modes of operation. But I can say for sure that an alternative solution has appeared for building a smart home, when you do not need to follow the classic path and initially buy a hub, you can purchase such a camera and connect sensors and other devices to it.
PS Once again, Happy New Year. I hope that you are having a good time with these holidays, walking and relaxing, charging yourself with positive. "Spillikins" are unusually small, but there is a logical explanation for that – I walk, almost never pick up the phone (it is constantly in "Do not disturb" mode, I charge my "battery"). Someone may call it a digital detox, but for me this is an opportunity to take a breath, as it worked until December 31 inclusive, the year turned out to be intense. Soon again in full mode to the machine, so I take the opportunity to read and gain impressions. What I wish you with all my heart!
Back to content >>>
Related Links
Share: 





we are in social networks:
Anything to add ?! Write … eldar@mobile-review.com