Content
Introduction
Why is it interesting?
Key facts and tests
Conclusion
Introduction
Right now I have two pretty damn good laptops on my test. The first is a Dell Alienware with a 4K OLED screen and a GeForce RTX 2080 Super Max-Q card. A tight fusion of stunning design and impressive performance. The second laptop is the MSI GS66 Stealth. It's subjective, but visually simpler, but it has a 240Hz screen with a resolution of 1440p and a stunning new RTX 3080 Laptop GPU card, executed on the third generation Max-Q design technologies. Each laptop deserves a separate review, materials will be released soon. In the meantime, since there is such an opportunity, let's see what the new RTX 3080 card can do (a lot of things!), How far behind the RTX 2080 (lagging behind, but not as critical as it might seem), is it worth running headlong after laptops with cards Series 30 for owners of Series 20 (you can wait, but everyone else should upgrade) and can a gaming laptop replace a gaming desktop or console (100% can!).
Why is it interesting?
Games are new books and series
In recent years, the games industry has received more and more attention. There are many reasons. For example, the spread of mobile gaming leads to the fact that after smartphones, users begin to want better products and they pay attention to computers and consoles. Plus, esports competitions have come out of the underground and onto the big screens. The income of cybersportsmen is still far from the salaries of football players or MMA stars, but they already allow them to lead a correct lifestyle.
Well, the pandemic put almost everyone at the keyboards and gamepads. Still, in addition to books and TV series, active entertainment is also needed, and games with their huge open worlds and incredible graphics have become, to some extent, a substitute for travel.
In addition, the stories told in good games are often not only as good as TV shows and literature, but also surpass them. Since, unlike the book, in the game it is the player who will have to make a difficult choice – to save his brother or residents of the city, take revenge or spare, show pettiness or generosity, decide what is more important, his interests or public needs. And each decision will affect the plot as a whole, the development of events and the fate of other characters.
NVIDIA makes AAA gaming more accessible than ever
Nvidia's 30th series of graphics cards was a big deal. If we talk about the desktop versions presented in September 2020, throwing away all the talk about technological innovation, then two things were most impressed: performance and price.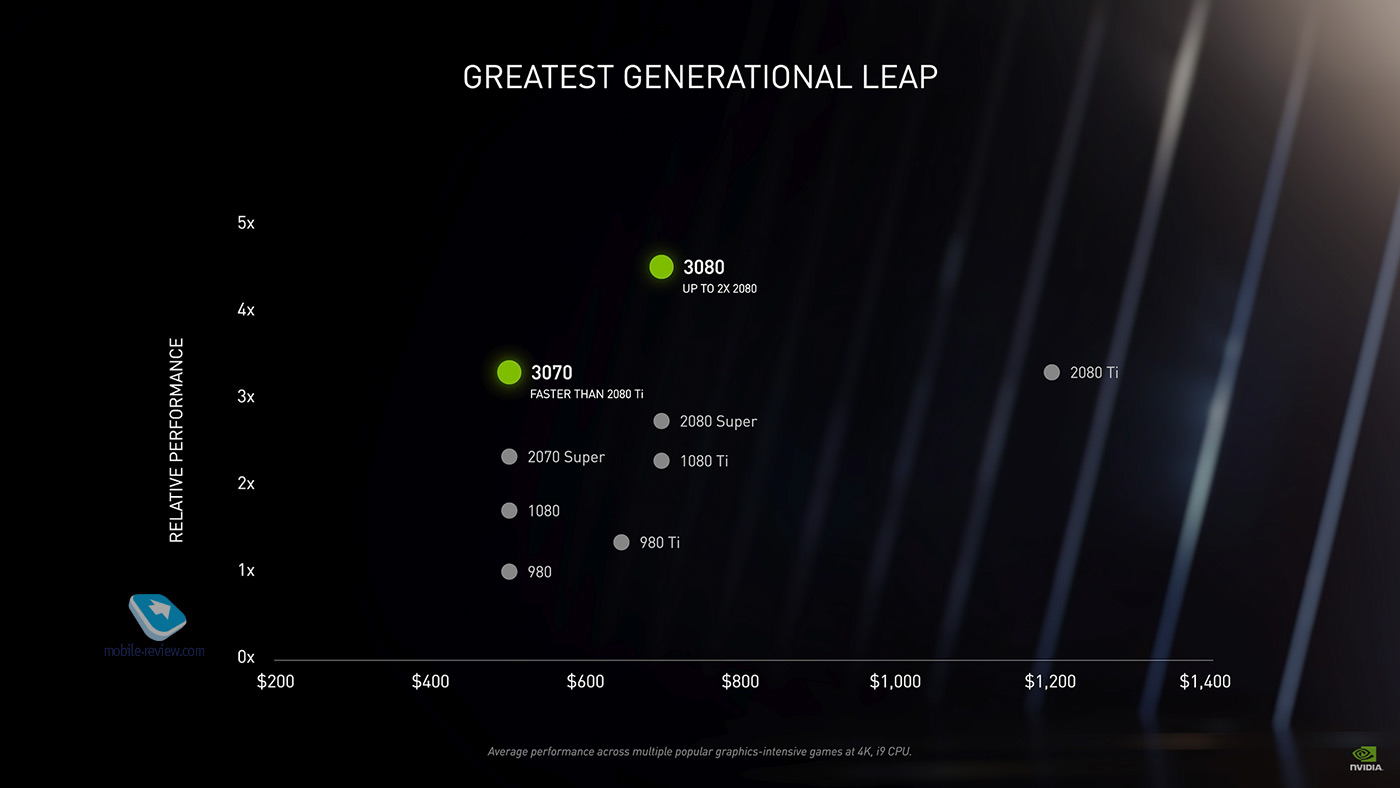 The above chart has become widespread. First, estimate the performance gap between the RTX 2080 Super and the RTX 3080. For comparison, look at the difference between the 1080 Ti and the 2080, or the 980 Ti and the 1080 Ti. Secondly, the price. Nvidia is offering to buy a graphics card that was more powerful than the 2080 Ti and 2080 Super in terms of performance at an extremely attractive price.
What about laptops?
However, these were all desktop versions. Comparisons of the sizes of new maps with consoles quickly appeared on the Internet. Accordingly, the question immediately arose as to how these technologies would be transferred to laptops, especially given the fact that Nvidia promoted the idea of ​​thin gaming laptops (18 mm thick), made possible by Max-Q graphics card design.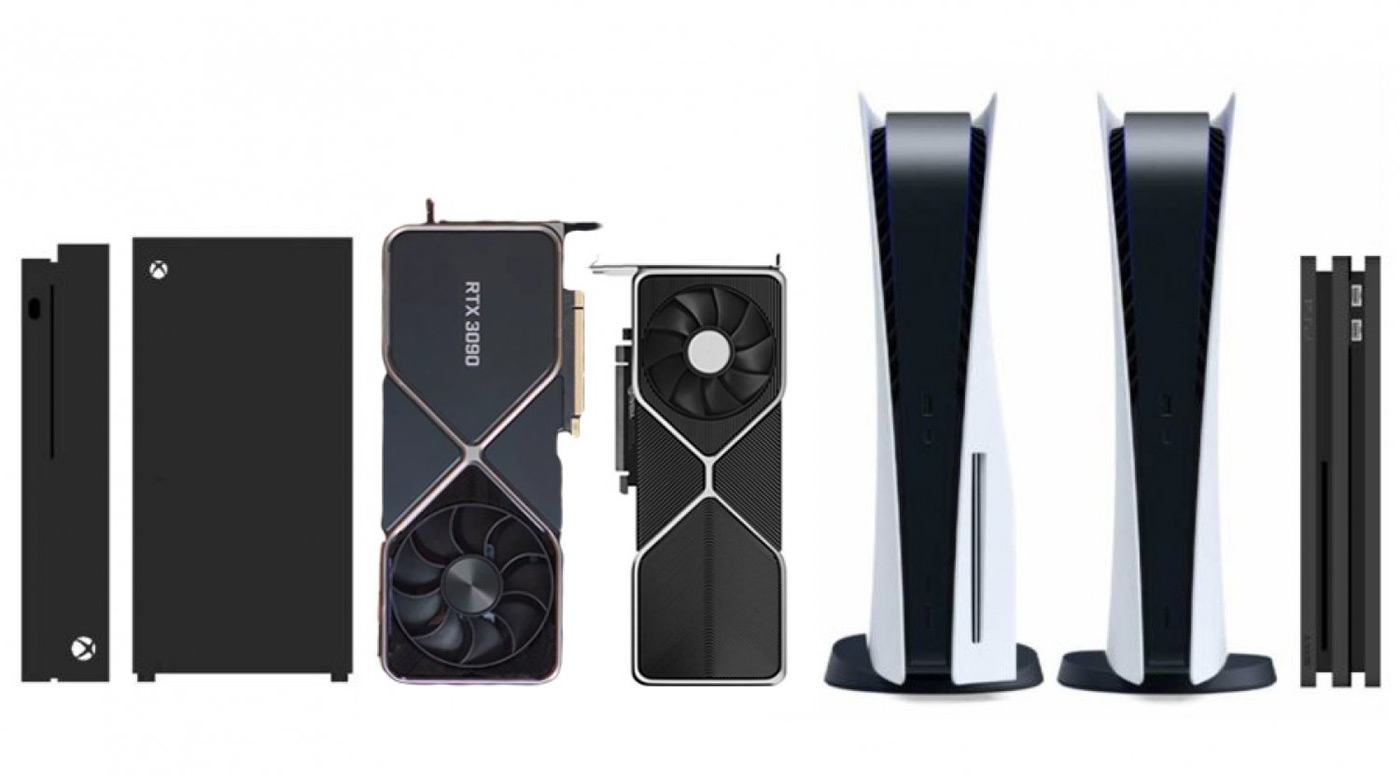 Let's be frank, despite all the efforts of manufacturers, many people still have the opinion that they need a gaming desktop computer for games, and if we are talking about a laptop, then it should be a five-kilogram box as thick as a palm.
With RTX 30 Series cards, skeptics will find it increasingly difficult to deny the obvious fact that the new gaming computer is not a coffin on wheels, but a thin and light machine that makes it fun to play at Ultra settings at 1440p and 4K.
Key facts and tests
What is an RTX 3080 Laptop GPU 16GB?
The test sample was the MSI GS 66 Stealth.
Main technical characteristics:
Processor: 10th Generation Intel Core i7-10870H
Video card: GeForce RTX 3080 Laptop GPU 16 GB GDDR6 + Intel UHD Graphics
Screen: 15.6 inches, IPS LCD, 240 Hz, G-Sync
Memory: 16GB DDR4
Storage: SSD 1 TB
Battery: 99 W * h
Dimensions: 358 x 248 x 19.8, weight 2 kg
When the next generation consoles were introduced, there was a lot of talk about how fast games load. It seemed phenomenally cool. But laptops don't lag behind! It takes 44 seconds to start Cyberpunk 2077 starting with a click on the desktop icon, then you need to click "Continue game", and now you can control the hero. Loading Assassin's Creed: Valhalla from the main menu (click "Continue") takes 6-7 seconds. And this is very good!
Speaking of the video card, it should be noted that this laptop has a 16 GB version. This amount of memory will be more appreciated by those who are engaged in rendering graphics. The rest can save and take 8 GB. During the test, no game required more than 6 GB of memory.
By the way, one of the nicest features of the new laptops (however, it became available in the RTX 20-series Super) is Advanced Optimus. I guess all gamers know what G-Sync is. For the rest, I will explain. It often happens that the screen does not have time to update the picture behind the video card, a slight desynchronization occurs, and so-called breaks occur. This often happens in games in which the video card produces a high number of frames per second. Nvidia figured out how to synchronize the screen frequency with the graphics card, and called the technology G-Sync. The thing is cool, but there was one drawback. To keep things running smoothly, Nvidia prohibited integrated graphics. As such, the laptop has always used discrete graphics, due to which the battery life has been significantly reduced.
Advanced Optimus allowed us to correct this unpleasant moment. A laptop with a G-Sync screen is now able to switch between graphics cards. For example, with a discrete graphics card, a laptop can work for 3-3.5 hours. Switching to Optimus mode already gives about 6 hours of work, which is a completely different story.
New designation
The main postulates were announced in a recent presentation, when Nvidia announced in flight that even laptops with GeForce RTX 3060 are 1.3 times faster than the scarce PlayStation 5. GeForce RTX 3080 goes even further and takes the 100 fps bar at Ultra settings in resolution 1440p.
However, let's take it in order.
The new graphics cards for notebooks are based on the third generation of Max-Q technology. By the way, good news. Now Max-Q graphics cards can work with both Intel and AMD processors. The main visual difference is that Nvidia has hidden the Max-Q name. If you look at the list of devices, you can see the Laptop GPU subscript. Max-Q is now positioned as a complex of technologies.
For example, the 3rd generation Max-Q includes:
Dynamic Boost 2.0
Advanced optimus
DLSS 2.0
WhisperMode 2.0
Resizeable Base Address Register (BAR)
energy efficient GDDR6 memory
Well, to find out if the Max-Q technology is used in a particular video card, you need to go to the Nvidia control panel. There, by the way, you can see how much the video card consumes. Nvidia also promises that manufacturers will provide this information on their websites.
1440p gaming
Gaming laptops have been coming out with Full HD screens for a long time. To some extent, this was justified. There are relatively small screens here, and in general, the performance for 4K gaming was not always enough. The 20th series of RTX graphics cards got things off the ground, and more options with screens other than Full HD began to appear on the market. However, all of these were optional and rather rare solutions, such as the Dell Alienware with a 4K OLED screen, in which the main options provided a screen with a resolution of 1920 x 1080 pixels.
GeForce RTX 30 Series games are games at 2560 x 1440 by default. With this resolution, a typical 15.6-inch display turns into a retina display when the eye cannot distinguish a single pixel. A simple rule applies here: the more pixels, the sharper the image. To be honest, it's a great pleasure to switch to 1440p after Full HD.
Full HD is a thing of the past. It is replaced by Quad HD. And, perhaps, this is a change that even those who are not interested in games will notice. Probably, ultraportable laptops will come out with Full HD screens for some time, but you can't argue with the market and consumers. The proliferation of 1440p laptops will lead everyone to want a similar resolution.
Dynamic Boost 2.0
Dynamic Boost 2.0 is one of the main technologies in new graphics cards. In short, it deals with the distribution of power between the CPU and GPU. Traditionally, capacity allocation has been statistical and predefined. However, often, especially in games (depending on different game scenes), the load is distributed unevenly between the processor and the video card. The first version of Dynamic Boost could take power from the processor and redirect power to the graphics card.
The updated version of Dynamic Boost 2.0 is much better. First, artificial intelligence helps allocate energy even more accurately. Secondly, now not only the CPU can share energy with the video card, but also vice versa.
To check how energy is distributed between the processor and graphics, you can download the FrameRate application, which monitors the indicators (in the upper left corner in the picture above). The easiest way to notice the difference is when you change the graphics settings. The higher the graphics settings, the more power the video card takes and the less the processor receives, and vice versa. And in Assassin's Creed Valhalla and Cyberpunk 2077, the energy distribution is not very noticeable, but in Metro: Exodus at low graphics settings CPU / GPU – 45 W / 69.6 W, at the settings "RTX + DLSS On" CPU / GPU – 19.6 W / 92.9 Watt
Unfortunately, the user himself cannot measure the performance gain from Dynamic Boost 2.0, since the technology is activated by default. But according to measurements by Nvidia itself, the performance gain is from 10% to 16%, depending on the game. Thus, thanks to the technology, the player simply gets about 10 additional fps.
Whispermode 2.0
Whispermode 2.0 is a technology designed to make gaming laptops quiet in marketing slogans. To put it simply, this is an attempt to find a balance between frame rate and fan noise. Whispermode 2.0 is only for laptops with 30-series cards, since there is not only software, but also hardware mechanisms.
There are three options in GeForce Experience – Balanced, Quietest, and Quietest. Also, there you need to set the frame rate to which the system should strive (from 30 to 60 fps).
I don't have a professional sound level meter, so I had to use the application on my smartphone. In normal mode, in Cyberpunk 2077, a smartphone lying next to the ventilation holes showed a noise level of 58 dB, and in the quietest Whispermode 2.0 mode with 30 fps – already 49 dB.
Whispermode is also available on RTX 20-series cards (but not 2.0), and it is available by activating experimental mode. On a Dell Alienware laptop with an RTX 2080 Super card, it was 59 dB in normal mode and 48-54 dB in Whispermode. In my opinion, the main difference is that in Whispermode 2.0 the laptop runs stably with a noise level of 49 dB. And in the previous generation, at first it works quietly, then it accelerates to 53-54 dB (apparently, it cools down), then returns to quiet mode. Subjectively, this makes Whispermode 2.0 much cooler, because after a short period of time you forget about the fan noise. The previous generation regularly reminds of itself.
Different series of video cards, but the thickness of both laptops is the same.
DLSS 2.0
Quite frankly, this is probably my favorite technology from Nvidia. DLSS, or Deep Learning Super Sampling, is a technology where a trained artificial intelligence completes a picture. DLSS has come a long way. The first version of the technology did not take off, since to train the AI ​​for each task (game), it was required to create a separate training ground. And this is not an easy and overhead thing, so the developers simply sabotaged DLSS 1.0. It's different in DLSS 2.0. Now there is no need to train the AI ​​separately for each game, and it is much easier for developers to implement technology into the game.
For example, DLSS 2.0 in Cyberpunk 2077 works wonders, allowing you to get up to 80 fps. By the way, DLSS settings have now changed. Previously, the option had two positions, "on." and off. Several options are now available to the user – auto mode, emphasis on picture quality, balanced mode, performance and ultra performance.
By the way, DLSS 2.0 allows you to play Cyberpunk 2077 at medium-high settings and 40 fps on battery. You can play for a long time, the battery will last for 1 hour and 15 minutes, but this in itself is very good.
In Cyberpunk 2077 at 2560 x 1440, the RTX 3080 laptop card is capable of delivering about 30 fps at Ultra setting with maximum ray tracing. If you add DLSS 2.0 to this option, then the performance will already be 54-56 fps. If you put ray tracing in the middle position, you can get 80 fps.
Probably, the choice of DLSS 2.0 mode depends on the specific game, since in Cyberpunk 2077 I could not see a significant difference in textures in different modes. More precisely, if you open in the original resolution and take a closer look at the pine needles, you will notice that the original image seems to be slightly sharper than the 80 fps image.
Nvidia Studio
Historically, graphics professionals bought Quadro series graphics cards. However, today it is obvious that working with graphics is not only the lot of professionals. Everywhere you look, there are bloggers and content creators looking to buy more mainstream laptops with GTX and RTX graphics cards. In response to the situation, Nvidia has come up with a separate driver for those who work with graphics. It can be selected in the GeForce Experience app.
Internal analytics of the company showed that the driver became popular. And if earlier it was updated every few months, now a new version is released every month and is often tied to the update of one or another professional software.
The RTX 3080 has tried to accommodate the needs of the graphics worker. Especially for them, there is a version of the video card with 16 GB of RAM instead of the standard 8 GB.
In general, the new video cards have the second generation of RT cores and more memory. All this gives a significant increase in productivity. For example, the Octanebench rendering benchmark shows a performance boost of about 1.5x over the RTX 2080 Super. The V-Ray benchmark shows 2x growth.
Below are screenshots of Octanebench. The RTX 2080 Super has 236 points, the RTX 3080 Laptop GPU has 341 points.
And here is the Blender benchmark. The payoff for the RTX 3080 Laptop GPU is significant. The card passes tests much faster.
How much ahead of the RTX 3080 Laptop GPU compared to the RTX 2080 Super Max-Q?
Perhaps I will immediately reassure all laptop owners with RTX 2080 Super Max-Q. You have a great graphics card that will delight you for many years to come.
The RTX 3080 Laptop GPU is definitely better. And if measured as a percentage, then the difference will seem more than significant. Hereinafter, we are talking about the resolution of 1440p (the new standard after all) and the "Ultra" settings.
Unfortunately, photography does not capture the limitless blackness of the Dell Alienware OLED screen. However, the MSI GS66 has a gorgeous screen too. Powerful anti-reflective coating and no glare.
For example, in Assassin's Creed: Valhalla, the increase is almost 40%, that is, 41 fps for the 2080 Super Max-Q versus 57 fps.
In Cyberpunk 2077, the percentage difference is 25-40% depending on how you play with the settings. After all, DLSS 2.0 is a thing! But still, I could not knock out more than 60 fps on the RTX 2080 Super, while the RTX 3080 Laptop GPU knocks out 80 fps perfectly. Another point is that the OLED screen in Alienware will give 100 points ahead.
And, of course, I could not help but run the benchmark for the ages "The Witcher 3". I am glad that both video cards allow you to play at maximum settings. The RTX 2080 Super Max-Q delivers a stable 60 fps, while the 3080 Laptop GPU delivers a whopping 76 fps. What is missing here is, of course, DLSS and ray tracing.
In numbers, the difference is significant, but if you do not take competitive games (Fortnite or Call of Duty), will you notice the difference between 60 and 80 fps, or will you just play and enjoy the game without paying attention?
In Microsoft Flight Simulator at Ultra settings, the frame rate jumps in the range of 45-60 fps. As I understand it, you also need to take into account that the game constantly downloads data from the Internet.
Finally, some synthetic tests. Nvidia shared a sign like this showing how the RTX 3080 Laptop GPU dominates. You will likely see this table frequently on the Internet.
Here you should pay attention to the fact that there is a comparison with the RTX 2080 Max-Q card. I had a Dell Alienware with an RTX 2080 Super Max-Q in my hands, which showed much better results.
Screenshots of RTX 3080 Laptop GPU.
I could not help but notice that the new GPUs have become a little hotter. GPUs of the 20-series usually showed temperatures in the region of 65-70 degrees in the test. RTX 3080 Laptop GPU shows 76 degrees. Although, of course, you cannot judge by one laptop.
Take a look at the DLSS test. In the "DLSS off" mode, 27,8 frames per second, in the "DLSS on" mode – 67,9 fps.
Screenshots of RTX 2080 Super Max-Q.
Conclusion
The conclusions are quite simple. First, a new era of gaming begins when the default resolution is 1440p. Developers will be guided by this value, so all owners of hardware sharpened for Full HD should slowly start thinking about an upgrade.
DLSS 2.0 technology works wonders. I would like to believe that more and more developers will implement it, as it allows you to significantly increase the frame rate. For example, I ran Cyberpunk 2077 on a laptop with an RTX 2060 card and DLSS 2.0. In Full HD resolution, it delivered a stable 60 fps.
The RTX 3080 Laptop GPU is a very good graphics card that turns a laptop into a full-fledged gaming computer. If you have an RTX 2080 Super Max-Q, then you shouldn't run to upgrade. You can safely wait a couple more years, since the safety margin of the 20 series is still good.
And finally, fly in the ointment. A gaming laptop can be as thin and light as you want, but the power adapter is still a brick weighing under 700 grams.
I can assume that the 30th series from Nvidia will lead to a turning point, when speaking of a gaming computer, they begin to mean a laptop, not a desktop.
Back to content >>>
Share: 





we are in social networks:
Anything to add ?! Write … eldar@mobile-review.com