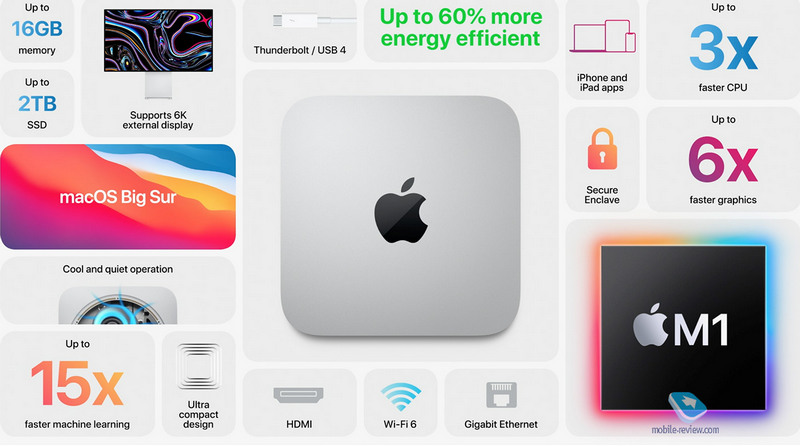 Hey.
The third presentation from Apple in the fall, an unusual event, the number of emojis poured onto people's heads has left not a single living neuron, the company's fans can only open their mouths and slowly whisper the cherished word. Yes, and there is not enough money in the pockets, new prices around the world force people to get rid of addiction and look towards competitors, who are unexpectedly prettier in the eyes of the buyer. The difference in cost by half with the worst characteristics refreshes almost everyone – and better is the soul of Charcot. For the first time in Apple, they betrayed Jobs's precepts and made an announcement long before the announcement, announced in early autumn that they were preparing computers on the ARM processor and would show them later. The effect of novelty was not, everyone knew what they would show – prices, device configurations and performance remained incomprehensible compared to conventional MacBooks on Intel processors. For the sake of this, the presentation was watched, but, running ahead, I will say that it was scanty, answered only a number of questions and there was no confidence in how the products were shown. The feeling that Apple has lost its fervor and is now repeating the same thing at every presentation, forgetting the original meanings of the words. Solid emitting in unconsciousness.
Attempts to create computers on ARM-processors have been made for several years already; Apple is not entering a new market. Microsoft is developing Windows for ARM, and hardware manufacturers have already created a dozen models. Some are better, some are worse, but they are all united by a couple of features – they work for a long time on a single charge, but outright lose in performance to computers based on Intel, both in graphics and in everything else. You could expect from Apple that the company will optimize macOS for performance to be slightly higher and better.
I'll start simple, we were shown three computers – the new Air, MacBook Pro and Mac Mini. They all run on the M1 processor, which is already dubbed the best in all areas.
The processor is so miraculous that it outperforms ordinary laptops at times in every aspect.
Those who could touch the cars live were banned from any measurement of performance, which brings up strange assumptions that in practice everything is a little different from the presentation. In all recent presentations, Apple has at least been cunning about certain things, and why they had to change themselves this time is absolutely incomprehensible. Tradition is a good thing.
So let's take a look at the 13-inch MacBook Pro. The price in the US starts at $ 1, in Russia this model costs 299 rubles (129 GB version), and the older 990 GB model costs 256 rubles. Yes, I remember that Apple is good, but the ruble exchange rate is to blame for everything. But as for me, the dollar cost for an ARM machine is, to put it mildly, not very adequate. On the other hand, such laptops based on i512 processors cost from 149 rubles, which is also invigorating (the old entry-level models were withdrawn from the sale).
The characteristics of the device are in one picture, as Apple is used to.
RAM 8 or 16 GB, there is no choice of processor, it is one. The operating time is impressive – the laptop spins video up to 20 hours, in the browser it works up to 17 hours. It is clear that this is the perfect timing, but it still looks great. Another thing is how this device will behave under load, active cooling has been added to it, this hints that the M1 will still be warming up.
It is curious that on the M1 you can run applications created for the iPad (if the developer has allowed it), Apple believes that the transition period will take up to two years, which means that universal applications for two systems will gradually appear. Many developers are writing their applications for Apple's new ARM machines, which is also a good thing. But you can't say that everyone will rush to code and try to do it.
X86 applications will run through the emulator, which already raises questions with performance and stability. And here you can only wait for the feedback from the first users who will begin to collect the bumps of this system, become pioneers or, more precisely, beta testers. Considering how much new cars cost, the cost of beta testing is prohibitively high.
I don't see any point in talking about MacBook Air or Mac Mini, it's just as expensive a side view. And cars are simpler in every sense, there is nothing like that in them. Yes, probably not necessary. It's good that they didn't take out the charging blocks from the delivery kit, this time Apple didn't give a damn about the environment, despite the fact that the charging is standard on USB Type C. This proves once again that there is no logic in such a solution for phones, but only a desire cash in on the sale of accessories.
In bad news, now the Intel-based MacBook Air is no longer on sale, it can be found in retail stores, but its days are numbered. Thus, Apple will try to inflate the sales of ARM computers.
The PC market has skyrocketed into a pandemic, but it's impossible to say that Apple is determining trends in it. Too small market share, too dubious devices in recent years. But there is no doubt that everyone will be watching the success or failure of Apple's new ARM computers.
Should you run after these computers now? Definitely not. You need to wait for the reviews of the first buyers (not reviews, but people's reviews), see how the new devices behave. I am sure that Apple engineers will not let you down and the presentation will noticeably diverge from the experience in real life. ARM computers have sales and a good market share in the future. But today it is possible that they are simply not ready for the average buyer and there are nuances. It remains only to find out what and how they are manifested. On the other hand, if you want to become a beta tester, you can head over to Apple's website and order one of three machines to see how it all works in practice.
Alas, the presentation showed the products in full dress without answering many questions and showing no real use cases. The most powerful laptops, which are more productive, outperform Intel processors, and so on. The best graphics and games (I want to cry here, since games and MacBook are antonyms). It seems to me that in real life there will be enough nuances for many articles and discussions.
How many of you are going to get new laptops and why? Amazing successful or not? Share your impressions. And may emasing be with you forever and ever.
Related Links
Share: 





we are in social networks:
Anything to add ?! Write … eldar@mobile-review.com