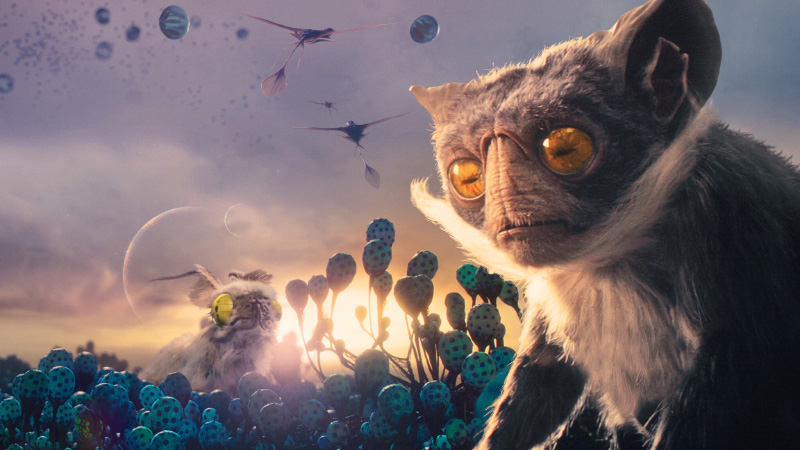 Content
"Alien worlds"
"Die by 2020"
"Minimalists"
Headspace Guide to Meditation
The Watch
"History of English curses"
Outside the Wire
Disenchantment
WandaVision
"Losing Alice"
Snowpiercer
"Resident Alien"
Palmer
"Little things" / "The devil in the details" (The Little Things)
Conclusion
"Alien worlds"
Where: Netflix
When: already
I somehow managed to skip it, but it turns out that this 4-part documentary was released on December 2.
Over the past two decades, astronomers have discovered thousands of planets outside our solar system, but in fact there are still trillions of new worlds left. If life exists in at least some of them, then the universe should be teeming with alien species. But what do they look like, what do they eat, how do they reproduce and develop? Applying the laws of life on Earth to the rest of the Universe, one can try to imagine how life is in alien worlds.
4 episodes of 40 minutes each show a mixture of scientific facts and their visualization. That is, they take some planet and imagine, fantasize, if you like, how it could be there (or maybe it is), how life can develop under the influence of these conditions. The first series explores the origin of life on the exoplanet Atlas, in the second on the planet Janus (with different conditions) all sorts of cockroaches are crawling, on the oxygen-rich Eden there is generally a riot of the biosphere, and a hyper-advanced civilization living on the doomed planet Terra must find and colonize a new world.
In short, very interesting, good and correct. Be sure to watch it yourself, with children and pets. Let everyone be enlightened! Watch the one-minute trailer. And you will immediately understand what awaits you.
"Die by 2020"
Where: Netflix
When: already
2020 was a terrible year in which we got so deeply immersed in technology that even Black Mirror could be skipped. However, this does not mean that the creators of "Black Mirror" have nothing to say. In a pseudo-documentary genre, they filmed an hour-long comedy episode dedicated to the events of 2020. There is a plot (fictional), a real chronicle is played against the background. It turns out funny and believable. Then there's Samuel L. Jackson, Hugh Grant, and Lisa Kudrow.
You can watch it with pleasure!
"Minimalists"
Where: Netflix
When: 1 January
I'm sorry, but another documentary. Maybe Tyler Durden is to blame, who told me that knowing what the word "duvet" is, like owning this blanket, won't make me happier, or maybe it's a psychological trauma from childhood, when I was constantly forced to clean up and I came to the conclusion that the fewer things, the faster the cleaning. Who knows … However, in contrast to one family of my friends, who, relatively speaking, have a gnome on each shelf, and there are a million shelves, I am a fan of minimalism. Less furniture, clothes, a minimum of items in the house, and everything that is available is crammed into the corners so that there is as much free space as possible. And if the house is a mess and there are too many objects, then I am physically uncomfortable, I start throwing things away.
However, in general, I am adequate, but there are minimalists turned to the full head. And here's a Netflix documentary about them. Of course, everything will be served under the right sauce that our planet is choking due to the culture of consumption. Well, and also, perhaps, learn something useful on the topic of how to clean up your house.
Headspace Guide to Meditation
Where: Netflix
When: 1 January
A series about various meditation techniques is also being released in the same neighborhood. Probably, in the wake of self-isolation, when everyone's kukukh rides, they started talking a lot about meditation. Meditation is based on the important observation that breathing is the only process in the body that is simultaneously controlled by the peripheral nervous system and the brain. Accordingly, breathing exercises can be helpful when dealing with stress.
The series are small, 20 minutes each. Suddenly they will say something useful.
The Watch
Where: BBC
When: 3 January
It is a series based on the Ankh-Morpork City Watch sub-cycle from the Discworld fantasy book series by Terry Pratchett. The show has a long history. They have been trying to remove it since 2012. Initially, they ordered 6 episodes, then decided to make 8 episodes. The storytelling style has been described as a "punk rock thriller".
I like Pratchett's Discworld, but if they decide to retell it verbatim, it will turn out badly. Here you need to approach carefully and carefully rework the script, after all, Pratchett's books are not so much about the actions and the result, but about the story and the process. From the trailer it is absolutely incomprehensible what happened, so you need to watch and check.
"History of English curses"
Where: Netflix
When: 5 January
As you know, in general, in all languages, mat is based on the same powerful pillars tied to the genitals and sexual acts. In 6 episodes, they will tell not only about the history of English curses, but also about their reflection in culture. The show was hosted by Nicolas Cage.
Specific series for fans of the English language.
Outside the Wire
Where: Netflix
When: 15 January
Finally, at least some kind of fantasy. The action takes place in the future. The drone pilot finds himself in a war zone, where he falls under the command of an android officer. His goal is to find some kind of Doomsday device that the rebels are creating.
The trailer is in Russian, there are familiar Hollywood actors. Unfortunately, I'm not expecting anything good, since this is a film, not a TV series. As you know, Netflix is ​​good at TV shows and terrible at movies.
Disenchantment
Where: Netflix
When: 15 January
Season 3, or the third part of the first season, or the second season – I don't know how to number correctly. However, it doesn't matter!
On January 15, the 3rd set of the episodes about the princess, the demon and the house elf will be released. It is clear that it is all for an amateur. But I really like it. A wonderful cartoon for adults and older children. It is imperative to watch.
WandaVision
Where: Disney +
When: 15 January
Disney is poised to spread its wings and flood the world with series based on the universes of "The Avengers" and "Star Wars". The first volley is a series about Wanda (Scarlet Witch) and Vision. 6 episodes are announced, judging by the trailer, everything looks like some kind of retro sitcom. No details, but so much the better the intrigue! Along with "The Mandalorian" this series will be watched, talked about and discussed.
"Losing Alice"
Where: Apple Tv +
When: 21 January
TV series from Apple. Here, it seems, Apple is in its repertoire. The story of 48-year-old Alice: A filmmaker who becomes obsessed with a young screenwriter Sophie who is willing to go to great lengths to pursue a career.
8 episodes, a big drama, the plot reflects the entire topical world agenda. This is how you read the descriptions and imagine how somewhere in Russia, in the wilderness, in Saratov, they look at this and the bonds of spirituality are crumbling.
The series, by the way, was shown as part of the Cannes Film Festival program.
Snowpiercer
Where: Netflix
When: 25 January
I didn't find it in the official schedule, but Google claims that the second season of "Through the Snow" will begin on January 25. The first season turned out to be exciting, and in the best traditions it ended at the most interesting place.
Perhaps, in this case, we can say that the series is definitely better and more versatile than the film. The series, thanks to the abundance of screen time, was able not only to provide action and fantasy, but also to touch upon moral issues in more detail.
"Through the Snow" is also good because there are no positive and negative characters. Initially, it seemed that the black detective from the tail of the train was hovering on white wings, but after a couple of episodes it is obvious that he is no better than those who live in the head of the train.
Below is the trailer for the second season. If you haven't watched the first season and don't want spoilers, then don't watch it!
"Resident Alien"
Where: Syfy
When: 27 January
A comedy and fantasy based on a famous comic book series. An alien comes to Earth, in a small town in Colorado. He takes the guise of a doctor and struggles with a moral dilemma related to his mission on Earth. Judging by the few seconds of the trailer, the result is an uncomplicated but light comedy.
Palmer
Where: Apple Tv +
When: 29 January
All of a sudden, Apple gave birth to a drama starring Justin Timberlake. Although it is wrong to say so. The movie was shot, and this summer Apple bought the rights to it. According to the plot, the main character was the star of the student football team, served 12 years and now returned to his hometown. What exactly the film is about is not clear. But a chance must be given. I think this year should be very important for Apple Tv +, as free annual subscriptions end in February and users will have to decide if they want to watch Apple streaming or not.
"Little things" / "The devil in the details" (The Little Things)
Where: HBO Max
When: 29 January
Warner Brothers recently discouraged many with its announcement that in 2021 it will be releasing films on its streaming platform at the same time as showing in theaters. Where cinemas will operate, the releases will be shown on the big screen. And if it's a quarantine or a lockdown, then you can look at HBO Max. Many actors and directors were outraged and disappointed, as the studio did not agree with them on this issue. Outrage that some people thought that their pictures would look on the big screen, and on small screens the viewer will not get the proper impression and may be disappointed in the actors and directors. Someone even threatened to sue and received compensation from the studio. Probably, the actors and directors know better, but, in my opinion, a good film does not matter where to watch. Although, of course, if we are talking about attraction films, where there is nothing other than graphics, then yes.
However, the first picture, released by Warner Brothers, should be quite good on small screens. This is a crime drama starring Denzel Washington, who will hunt down a serial killer.
I don't know how the new film will turn out, but I'm absolutely sure that if the movie doesn't catch on, then I'll just watch Training Day again with pleasure. Perhaps Denzel Washington's best role.
Conclusion
January is a great month. Interesting new items are evenly distributed throughout the month. At the same time, there are not only serials, but also curious documentary projects.
Back to content >>>
Related Links
Share: 





we are in social networks:
Anything to add ?! Write … eldar@mobile-review.com