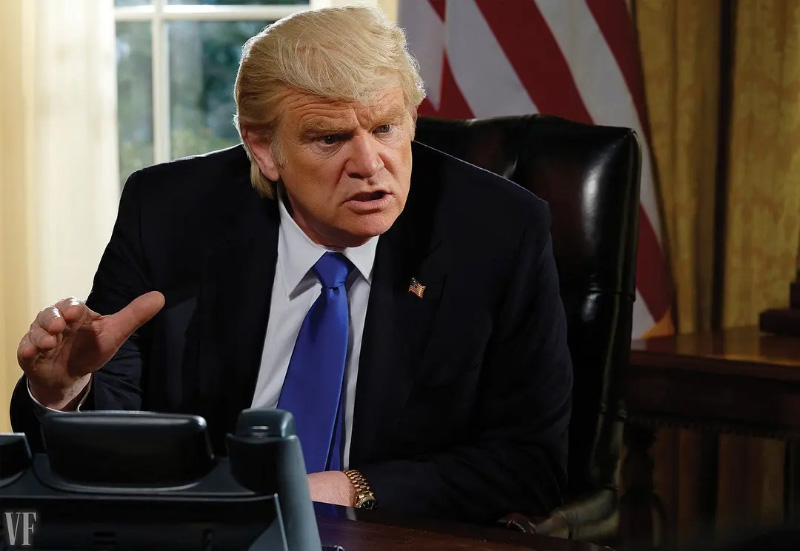 I want to start with a little disappointment. Enola Holmes, a film about Sherlock Holmes's younger sister (played by Henry Cavill), was recently released on Netflix. And this is a failure. In the summer, Netflix made me happy with its full-length tapes a couple of times, and I was really glad that now not only TV shows, but also films can rivet. Unfortunately, they do not know how yet.
Content
"Komi Rule"
Family Guy
David Attenborough: A Life on Our Planet
Books of Blood
Hubie Halloween
The Haunting of Bly Manor
The Right Stuff
Social Distance
"Cadaver" / Cadaver
Helstrom
Queen's Gambit
"Mandalorian"
"The last straw" / On the Rocks
Conclusion
"Komi Rule"
When: September 28
Where: "Amediateka"
The series about Donald Trump. The full description is below. It seems that I have already voiced this thought, but I even feel a little sorry for Donald Trump. They do not like him so much that he is constantly under pressure, while being beaten at everything that they can reach – business, personal life, family (Donald, as a man of traditional views, these concepts, I think, are divided), politics. He has to fight back, but also to steer the state, and for a person who has no experience in politics, this is not an easy task. However, appreciate how attractive the power is that, having chopped off 4 morally and physically difficult years, Trump still wants a second term. And my grandfather is already 74 years old. Such an age when you don't want to work around the clock, but you want to lie down.
Series description: Political drama with Brendan Gleason as Donald Trump. The project is based on the book "A Higher Loyalty: Truth, Lies, and Leadership" by former FBI Director James Comey. James (played by Jeff Daniels, known for the legendary TV series "News Service") was not afraid at one time to go into open conflict with Donald Trump, for which he paid with his career. Billy Ray is in charge of directing in "The Comey Rule", a man savvy in high-profile intrigues – it was not for nothing that he adapted the story of Richard Jewell for the film by Clint Eastwood.
Family Guy
When: September 28
Where: somewhere
Many consider Family Guy to be a horrible cartoon with dumb jokes. But think about it, the series has been running for 20 years (season 19!), While the approach to humor has practically not changed. I don't think that this characterizes me on the positive side, but every time I come across a cartoon, I look and have fun. I would describe the show with the phrase "it's so bad it's already good." And the presence of such TV shows calms me down a little. When you read the news about political correctness and tolerance, decrees, what you can talk about and what not, it starts to seem that the world has gone crazy. But while cartoons of the Family Guy and South Park format come out, all is not lost. By the way, do not forget that the 32nd season of The Simpsons has begun.
David Attenborough: A Life on Our Planet
When: October 4
Where: Netflix
David Attenborough is already 94 years old, and more than 65 of them he makes programs about animals, going on expeditions around the world. Over the years of expeditions, Sir Attenborough, in addition to visiting countries and continents more than once, could observe live how our planet is changing under the influence of man. And he wants to share his thoughts on this. It seems that Netflix has officially launched in Russia, so the subtitles will definitely be there, and perhaps the translation will be done.
Books of Blood
When: October 7
Where: Hulu
In the mid-80s, Cleve Barker wrote a series of short stories "The Book of Blood", which earned him fame as the main writer of horror films. Since then, he has written many more novels. If you haven't read them, you probably saw at least HellRaisers or Candyman. Hulu have agreed to film Books of Blood. Ideally, a very scary miniseries should be produced, which will be slightly adapted so as not to upset those who have already read the book.
Unfortunately, I did not find a trailer in Russian.
Hubie Halloween
When: October 7
Where: Netflix
Hubie Dubois (Adam Sandler) spends every Halloween ceremoniously ensuring that the people of his hometown of Salem celebrate happily, respecting all the rules. But this year, due to an escaped criminal and a mysterious new neighbor, Hubie is on high alert. And when the disappearance of people begins to occur, Hubie realizes that real monsters appear on Halloween and only he can stop them.
On Netflix, the tape is described as a fun family movie, but apparently with a touch of mysticism and a couple of nerve-racking moments. The film was made by Adam Sandler's production company. And here we must pay tribute to the fact that Sandler knows how to make a light funny movie. Check out the trailer for the mood of the film.
The Haunting of Bly Manor
When: October 9
Where: Netflix
Relatively recently there was a rather successful TV series "Haunting of the Hill House". The plot, I suppose, is not necessary to describe, right? It turns out that a whole series of "Ghosts" is planned. The next chapter is "The Ghosts of Bly Manor". The plot is similar (old house, ghosts), but the new setting is Great Britain in the 80s.
I probably won't watch the series, but it turns out that it is based on the 1898 story "The Turn of the Screw" by writer Henry James. I downloaded the story and began to read. It's very interesting so far. Along the way, I learned that the best film adaptation of Henry James is considered the film "Innocents", filmed in 1961 by director Jack Clayton. So here's the idea – instead of a TV series, read a story and watch the classics of cinema.
The Right Stuff
When: October 9
Where: Disney +
The series is based on the book of the same name and the 1983 film. This is the story of the first NASA pilots chosen for the Mercury 7 project, starting with which a new profession "astronaut" appeared in history. For his book, Tom Wolf has done significant work, including not only research, but also numerous interviews with both pilots and their families.
Social Distance
When: October 15
Where: Netflix
Netflix is ​​in advance and is already releasing a mini-series dedicated to the strength of the human spirit in the face of self-isolation. Each episode focuses on a specific story of how people find themselves isolated and forced to communicate using technology.
There is no normal trailer, and it is not clear what Netflix did. But out of curiosity you have to look.
"Cadaver" / Cadaver
When: October 22
Where: Netflix
Cadaver in Latin means a dead body, a corpse, this is also the name of a medical exhibit made from a human corpse.
After the nuclear disaster, Eleanor, Jacob and their daughter Alice are on the verge of starving to death. One day, the local hotel invites all survivors to a theatrical play, promising that there will be a charity dinner as well. The hotel director presents the entire hotel as a stage. Visitors are given masks to separate them from the actors, but the play takes an eerie turn as the audience begins to disappear. The line between reality and theater quickly fades when Alice disappears in front of her parents, and there is no longer any room for doubt: there is something wrong with the hotel.
I noticed that films always come in waves. So, a year ago, science fiction was in vogue. Now, apparently, the audience has a request for horror movies. However, in October, horror films are appropriate because of Halloween.
Helstrom
When: October 16
Where: Hulu
Helstrom is another comic book adaptation. Damon and Anna Helstrom's father was a serial killer. Brother and sister at birth received superpowers, and when they grew up, they began to fight evil in any of its manifestations – even maniacs, even demons. Judging by the trailer, it turned out to be such a superhero fairy tale interspersed with horror.
Queen's Gambit
When: October 23
Where: Netflix
A story about a talented female chess player who grew up in an orphanage and suffers from drug addiction, but wants to win the chess championship. Why shelter and drug addiction? Because there must be drama and experiences!
I do not understand the reason, but for some reason this series is actively written in the Western press and is downright waiting. Perhaps this is a clever promo campaign from Netflix. Anyway, I love chess, so I decided to add. Probably, the name was chosen for sonority, because otherwise they would have called the "London System" or "Blackmar-Diemer Gambit". I don't see any point in discussing the series, but you can tell in the comments your favorite variations for white and for black (here I like the "Caro-Kann Defense" lately, it's a very solid position).
"Mandalorian"
When: October 30
Where: Disney +
I can't say that the date is accurate, but there are rumors about the start of the second season on October 30th. Frankly, there is no impatience. The first season disappointed me. In fact, to understand the meaning, one could watch the first two episodes and the last. Plot twists and decisions turned out to be commonplace, most episodes were superfluous. There is little hope that Disney, after seeing the success of the first season, decided to put more meaning into the second.
"The last straw" / On the Rocks
When: October 23
Where: Apple Tv +
Comedy-drama with Bill Murray, directed by Sofia Coppola. Bill Murray plays an elderly womanizer father whose daughter (who believed that she is happily married with two children) begins to suspect that her husband is cheating on her. Together with their father, they decide to conduct their own investigation. Probably, the film claims some kind of awards, as it will be shown in theaters for a limited time for a couple of days, after which it will immediately go to Apple Tv +. I haven't seen a Russian trailer yet, but since Apple Tv +, then at least there will be Russian titles.
Conclusion
Not to say that October is a hot month in terms of new series. But, firstly, there will be the 4th season of "Fargo", the second season of "Boys" is on, we need to watch "Raised by Wolves".
As always, I urge you to share which films and TV series you remember in recent years. I regularly come across in the comments on TV shows that I missed or underestimated. I think other readers too.
If you decipher the title, then among the good films I would classify the documentary project by David Attenborough and On the Rocks from Apple TV +. Well, on TV shows … Who am I kidding? Like everyone else, I will watch The Mandalorian. I will also appreciate the "Books of Blood" and "Cadavr". And I'll have a quick look at the Donald Trump and astronauts TV series. Well, maybe a comedy with Adam Sandler. He is cool. And if you missed it in the text, then check out The Ghosts of Bly Manor, there is a link to a good book and a movie.
Back to content >>>
Related Links
Share: 





we are in social networks:
Anything to add ?! Write … eldar@mobile-review.com