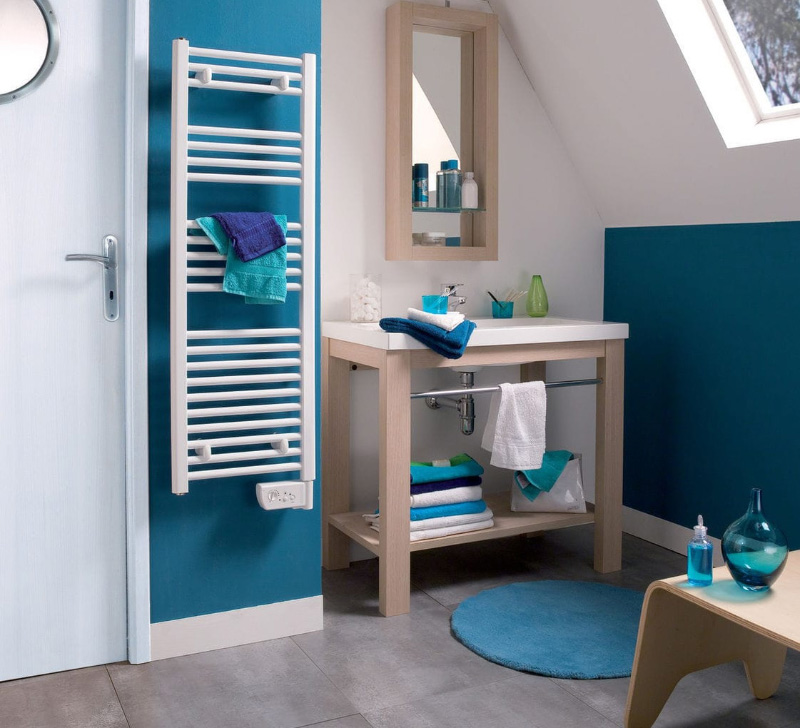 Content
Introduction
Rating of manufacturers of electric towel warmers
Which heated towel rail to choose – water or electric?
How powerful should an electric heated towel rail be?
Additional functions and modes
Design and construction of a heated towel rail
conclusions
In the spring, at the very peak of demand for water heaters, I told in as much detail as possible how to choose this type of heating equipment for a house.
Alexander Shub, expert reviewer of household appliances and electronic portable gadgets
Since September, every year, citizens are actively thinking about how to choose a heated towel rail for the bathroom. Moreover, more and more often, preferences are reduced to electric models. About them (electric heated towel rails, not citizens) and will be discussed in this material.
Graph of the number of requests "to buy a heated towel rail" in Yandex. I am sure that the obvious peak was caused by a situation typical for Russia, when the central heating has not yet been turned on, and the September-October cold is already in full swing around the apartment. And in the most insolent way he looks into the bathroom. Where naked is comfortable only under streams of a hot shower, and as soon as the flow of water is blocked, an unpleasant coolness immediately attacks you. Willy-nilly, you are thinking about buying a heater, or even better – a modern electric heated towel rail.
About 3 million heated towel rails are sold in Russia every year. Of these, 85% are water and only 15% are electric. But it's not that simple. Yes, in general, in Russia, the water type of heated towel rails is the most popular, mainly because of the deceptive cheapness (we will burn about this later). But in large cities the situation is radically different; in 2020, electronics accounts for about 50%. More and more consumers are realizing that a heated towel rail is not a snake that we are used to in Soviet homes for drying panties. In the case of the electric model, we are talking about heating equipment that can dry a towel in just an hour. And also fully heat the bathroom and allow you to take a shower in a warm, and then not shiver from the cold.
In other words, the electric heated towel rail is becoming the choice of those who value personal comfort, high quality of life. And it will not allow itself to be deprived of modern climatic technology due to an increase in electricity costs by 150-200 rubles per month.
Rating of manufacturers of electric towel warmers
Judging by the list of "Yandex.Market", there are about 70 manufacturers of heated towel rails on the Russian market. In reality, if you thoroughly delve into the open spaces of the Runet, there will be about a hundred domestic brands alone.
Such a large number is due to the relative simplicity of the manufacturing process for heated towel rails. The largest investment is in the purchase of pipe bending equipment. Finding welders is easy. Of course, in the overwhelming majority of cases, we are not talking about any high-tech production and quality products. Where does it come from, quality products, if thin and cheap supposedly stainless steel is purchased … The nodes are connected by rough manual welding without grinding … But it turns out cheap!
This is not spy footage intended to discredit a competitor. And quite an official footage on the website of a domestic manufacturer of heated towel rails. The title of the article is "Automation of heated towel rails welding using ORBITEC equipment". As they say, no comment.
By comparison, the French brand Atlantic has invested $ 78 million in two heated towel rails in Turkey. These are expensive, highly automated lines with a consistently high quality of products. When the pipes are welded not by Petrovich from a hangover by hand, but by a $ 5 million automatic machine. That's the whole "simple" secret, for example, durable, barely noticeable neat seams.
Factory for the production of Atlantic heated towel rails in Turkey. Again, the investment in production was $ 78 million!
The products of European manufacturers, of course, are much more credible. Here you will no longer doubt that what kind of heated towel rail will have to be changed in a month or two. But you also have to pay for the European name in full. Often, 30-40 thousand rubles is only the starting price, and the best top-class heated towel rails, the most powerful and functional, easily exceed 100 thousand rubles. It's funny, but the obstacle to buying is often not the price tag at all, but the banal lack of models from the Russian seller. Few people want to invest money and carry expensive heated towel rails with unclear sales prospects.
It is interesting that the problem with availability is a characteristic feature of Russian manufacturers as well. The work is organized according to the following principle: a catalog is formed with hundreds or even thousands of combinations according to parameters such as size, design, color, power, additional functions. And then the brand is ready to custom-make the model on an individual basis. The approach is not devoid of consumer appeal. But, in my opinion, with such an organization of work, it is difficult to talk about a serious brand with a clear understanding of the required assortment. Rather, it turns out a kind of bazaar barker "Hey, dear, come, do not be shy! Have money? Now we'll find something for you! "
Well, let's see what the leading brands of the domestic electric heated towel rail market are interested in.
Atlantic
It is included in the TOP-5 of the world's largest manufacturers of home and professional heating equipment such as water heaters, convectors and heated towel rails. The company was founded in 1968 in France. To date, it has 30 factories in its homeland and another 28 enterprises around the world. The staff is 8 people. Atlantic spends 000% of its income on research and development every year, that is, about 4 million euros.
Atlantic has been developing and manufacturing heated towel rails since 2012. At the moment, the company is in the TOP-3 in terms of sales of this equipment in Europe. A whole division in Italy is engaged in the development of model design. That is, we get Italian design plus French technology.
Atlantic manufactures premium models, and with the same functions and power as competitors, the French company's "dryers" are at least 5 times cheaper than the top developments of any other European manufacturer. And 2-3 times cheaper than Russian counterparts.
Why? Due to the huge scale of production, the company has a colossal reduction in costs. Atlantic alone produces 3 million heated towel rails a year. For comparison: all Russian brands produce so much in total. For our country, Atlantic has formed an assortment of just over ten different models, which are always in stock and do not require waiting for delivery from Europe for a month or two.
Margaroli
Italian manufacturer of premium heated towel rails. The company was founded in 1949. Owns only one plant in Italy. As its main distinguishing feature, it leads the manufacture of heated towel rails from brass pipes. According to Margaroli, the use of this expensive material is justified by its increased resistance to corrosion, high heat and electrical conductivity, as well as resistance to low temperatures down to -100 ℃.
Despite its Italian roots, the Margaroli range, in terms of design, is more likely to be a typical heated towel rail, both water and electric. There are no trendy design solutions among the models.
Arbonia
It is unlikely that Joseph Forster could have guessed what the opening of a forge in the Swiss city of Arbon would lead to in 1874. At first, only copper dishes and teapots were produced here. Then in 1922 it was decided to start producing steel pipes. As a result, today Arbonia is known all over the world, also for its steel tubular radiators. Today the Arbonia brand is part of the Swiss-German concern AFG Arbonia-Forster-Holding AG. Factories are located in Switzerland, Germany and the Czech Republic.
And again I will not refrain from parallels with Atlantic. Arbonia also produces mainly electric towel warmers. There are no questions about design solutions, there are both tastefully selected options for colors, as well as actual design findings. A variety of control units are available. There are both electric cartridges with a wired connection to a heated towel rail, and with a remote one "by air".
Zehnder
And again, a manufacturer with Swiss roots and a long, this time a hundred-year history. Zehnder credits itself with the world's first steel tubular radiators and heated towel rails.
Frankly speaking, I don't want to talk about the models of this company – you have to see it. Zehnder calls its heated towel rails nothing other than designer – and has every right to do so. It is difficult to choose the best heated towel rails of the company. One gets the impression that the creators of the products treat their creations as a special kind of art. Moreover, Zehnder has an extremely diverse lineup, the company in no way can be blamed for the same type. And it is all the more interesting that the designers manage to keep the high bar of the "exterior". This is who the Russian apprentices should learn from, who, in an attempt to stand out, invent a heated towel rail of completely wild shapes. It's just a pity that Zehnder pays too little attention to electric towel warmers and mainly focused on water models.
Terminus
One of the most popular Russian manufacturers of heated towel rails and design radiators. The company was founded in 2001 and owns its own production in the city of Elektrostal. Almost no rating of heated towel rails is complete without models of this brand. I remember Terminus for its branded online store, with no way to find out the price of the models.
Here's a typical page. It seems like the price changes when choosing different sizes. However, we go down a little lower in the description and see that there are two different control panels to choose from. It is not clear how much which option costs, whether it is already included in the price or not. In a red frame it is written in red letters – check the prices and terms with the consultant managers. What I said above – the assortment seems to be "on paper", but in fact – call and write to the managers, place an order, wait for production at least a month, coordinate the delivery … Well, how – "write"? The site has a fictitious chat consultant who automatically replies to any message like this.
Internet communications in the 21st century, according to the Terminus plant consultant Tatiana
As it is often found among Russian brands, any Terminus heated towel rail is offered to be painted on order. Possibility of painting "in the most popular colors of the RAL palette" (German color standard) is indicated. What kind of term is this – "popular colors of the RAL palette" – apparently, it also needs to be clarified with the managers. Because I did not find such information on the Internet. In addition, it is not clear which of the three RAL color tables we are offered – Classic (213 colors), Design (1 colors) or Effect (825 colors).
"Sunerzha"
"Ascetic", "Bohemia", "Bohemia with a shelf" (!), "Nuance", "Epatage" – these are just a few examples of the creative names of towel warmers of the St. Petersburg company "Sunerzha". The manufacturer began work in 1996 and by now has become the most popular supplier of heated towel rails to the Russian market. In any case, of all the companies I checked, Sunerzha showed the highest queries in Wordstat. With a margin of almost two times from the closest competitors. And also "Sunerzha" I remember with a completely insane number of options and methods of painting. Where there is only one powder coating Terminus …
At Sunerzhi, the description on the official website can be distinguished into a separate genre, see for yourself: "The modern system of ion-plasma spraying of resistant, environmentally friendly materials – titanium nitrides and oxides, forms a superhard protective coating". Or: "15 soulful colors in symbiosis with amazing textured finishes to create unique product looks."
Do not take it for sarcasm, but honestly – I got the impression that the individual selection of a heated towel rail is almost the most important thing in the life of any Russian. Well, that is, in the full version, something like: "A Russian must build a house, raise a son, plant a tree. And choose a heated towel rail in symbiosis with amazing textured finishes. " To be fair, Sunerzha clarifies that in the case of RAL we are talking about the Classic palette. In general, among Russian companies, this particular manufacturer left me with the impression of the most professional approach and thoughtfully formed assortment.
The rest of the smaller, but well-known brands in Russia, I will only list – these are "Nika", "Dvin" and "Trugor". As in the case of Terminus – a huge variety of models, various control units from the Polish company Terma are offered as an option. Of course, there is nothing about any uniqueness, testing and adaptation for specific models.
Which heated towel rail to choose – water or electric?
There are three main types of heated towel rails.
Water heated towel rail… The most primitive and outdated solution with a complete lack of the ability to control and manage work. It was with water heated towel rails from Soviet times until the beginning of the 90s that builders equipped apartments of citizens in Russia and the countries of the former USSR. The cheapness of such devices has become the main reason for their widespread use.
Electric heated towel rail… The most modern solution, depending on the model, various operating modes and additional functions for temperature control are available. For example, maintaining a certain temperature in the room or turning on by a timer. Depending on the power, an electric heated towel rail can act as a full-fledged heater.
Combined heated towel rail… A hybrid of electric and water types. Allows you to select both hot water and electricity as a heat source, if necessary.
In the vast majority of cases, citizens choose between a water and an electric heated towel rail. So we will consider in detail the main features-differences between these types of "dryers".
Water heated towel rail
Electric heated towel rail
Choosing a heated towel rail
It is almost impossible to find the optimal model for heating your bathroom. Manufacturers in the bulk simply do not give the calculated heat transfer in watt equivalent, depending on the temperature of the water in the line.
For any model, the maximum power is always indicated. This is important, first of all, when choosing the optimal heated towel rail for heating a bathroom of a given area. The selection is carried out on the basis of 100 W for each square meter of the room.
Installing the heated towel rail
Only the work of the master costs about 2 rubles. Generally, installation accessories are not included with towel warmers. The simplest set with wall holders, a Mayevsky crane and corner joints costs about 000 rubles. Do you want to somehow regulate the temperature of the heated towel rail? A shut-off angle valve costs about 3 rubles. In total, at least 000 rubles comes out, excluding the price of a heated towel rail. 

If you have a new building – depending on the builders' appetites, add at least 3 rubles. These are the costs for the withdrawal of the pipe, for the payment of the tapping point, etc.

2 rubles for installation. 
Source of work
Hot water. If you are connected to a central heating system (typical for Khrushchev), the heated towel rail will become cold for six months every year and turn into a hanger. 
If to the central water supply – the device will be useless every year for the period when hot water is turned off. It is impossible to rectify the situation. 
Year-round uninterrupted operation from the socket. As long as there is electricity, the heated towel rail will function. Some aesthetes even connect a heated towel rail directly to the mains, bypassing the outlet. However, this is not suitable for budget models, where there is no on / off switch, only pulling the plug.
Temperature control
Virtually impossible. Even with an angle valve, it is extremely difficult to fine-tune the temperature. It remains to either use the heated towel rail "as is", or completely shut off the water supply.

These limitations are aggravated by the fact that the maximum heating temperature of the pipes is equal to the temperature of the hot water supply. That is, on average 60 ° C. However, as practice shows, cool 40-50 ° C are often found. On the one hand, it will slow down the drying of the towels. On the other hand, depending on the available space, it may not be possible to select a model for heating the bathroom.

Depending on the model. The simplest heated towel rails are devoid of adjustments. Either working at full capacity or unplugged. That is, manual control is required.

More advanced models have a different set of modes and functions. For instance:
– maintaining the selected temperature in the room
– timer for working at maximum power for a limited time, for example, 2 or 4 hours
– automatic daily switching on at a certain time and work for several hours.

Such opportunities allow economical consumption of electricity. And at the same time, find the optimal balance between quickly drying towels and maintaining a comfortable temperature in the bathroom.

Security
Due to the inability to control the temperature, a child or an adult can easily burn themselves when touching a hot heated towel rail.
Thoughtful models have a temperature limiter, which makes the heated towel rail safe and prevents the possibility of getting burned. This is especially important if there are children in the house or apartment.
Typical operational problems
1. Hard water will inevitably form salt deposits and corrode. A heated towel rail can rust and leak within 1-2 months after installation.

2. On average, heated towel rails leak every two years, especially if you installed yourself. The call of the master and the repair will cost 2-3 thousand rubles. 

3. If the unscrupulous management company allows constant pressure drops in the hot water supply or the heating system, the heated towel rail will flow constantly. And the likelihood that sooner or later you will flood your neighbors will increase significantly. 

4. During installation, there is a risk of getting into the hands of an inexperienced craftsman, who will not foresee the need to shut off the water supply with a tap when switching off the FGP or heating. As a result, due to unstable pressure in the track, we will get wear of the gaskets, which will have to be changed every few years. The services of the master will cost 2 rubles. 

None.
Heating and drying… With this size, the equivalent power of the given water models does not exceed 100 watts. Atlantic NW 300W with 300 W will work for 2 hours, dry the towel and turn off automatically. Both string dryers will take at least 10 hours to dry. Also, these models are not able to heat the bathroom. Whereas the Atlantic apparatus can heat a bathroom up to 3 m2.
Operating costs… Atlantic claims a five-year lifespan. When you activate the "24 hours" mode, the heated towel rail is automatically turned on every day at the set time and works intensively for two hours. This is enough to warm up the bathroom and then dry the towel. Costs for 5 years will be 0,3 kW * 2 hours * 30 days * tariff 6,29 * 60 months = 6 780 rubles. In total, it comes out 14 rubles for a powerful and modern heated towel rail with an Italian design, a set of premium-class functions and a full-fledged bathroom heating.
Water competitors will cost about the same amount, but … Absolutely nothing can oppose electrical development. As already mentioned, these are primitive, unmanageable and ineffective models at the price of a premium European product. And – yes, do not forget that installing a heated towel rail in the water version will cost four (!) Times more in comparison with the electric one.
How powerful should an electric heated towel rail be?
I have already touched on this point above in the paragraph "Operating costs", but I will dwell on it in more detail.
Why do towel warmers need high power, from 300 W and above?
Very often consumers do not even suspect that "dryers" are capable of performing the role of a full-fledged heater. For which a certain power is needed, depending on the size of the room. An interesting fact – for example, Atlantic models in the certificates are indicated not as heated towel rails, but as radiators. The company simply does not have low-powered models. "Starter package" – 300 W, which is enough to heat a bathroom up to 3 m². According to my observations, this is the size of the bathroom in the bulk of apartments in Russia.
What are string dryers?
String dryers are low-power heated towel rails with actual or equivalent (for water models) power up to 100-150 W. Such devices are unable to heat the bathroom and dry the towel for at least one day. At the same time, they have sufficient power if the owner's needs are limited to drying thongs and other small items made of very thin textiles.
A typical 450 x 650 mm string dryer with only 99 watts. But the price is 13 350 rubles. For comparison, the French Atlantic NA 300W at 300 W with dimensions of 400 x 798 mm with a designer color "anthracite" costs 13 690
If you want to purchase a separate heater in addition, then … Better not. Purchase costs – about 3 thousand rubles, plus 3-4 thousand for a heated towel rail. In total, the budget is about 7 rubles. Two sockets, the need to install two devices instead of one.
Finally, your heated towel rail will most likely end up without a thermostat and will scald at full capacity 2012/300. Therefore, you will spend more on electricity than in the case of the cheapest Atlantic 300 White 8W with a power of 390 W for 200 300 rubles. With a full set of modes, like the more expensive models of the company. So that the heated towel rail does not work constantly, but strictly out of necessity, and costs you a maximum of XNUMX-XNUMX rubles per month.
How to choose the optimal power of the heated towel rail?
Let's agree that we select a modern heated towel rail, which means that it is capable of performing the task of fully heating the bathroom. As a rule, manufacturers offer to select the capacity based on the area of ​​the bathroom. Based on 100 W per 1 m². For completeness, I will clarify that some companies advocate a more corrosive approach and call the rate of 40 W for each cubic meter of space. Which, in principle, is more correct, because, for example, in Khrushchev, the ceiling height is almost 2.5 meters, and in modern houses it reaches 2.7-2.8 meters.
Large bathroom of 7 m². For heating, you need a heated towel rail with a capacity of at least 700 W
Another important detail is that according to GOST 30494-2011, the minimum comfortable temperature for a person in the bathroom is at least 18 ° C. Recommended – 24-26 ° C. So, 100 W per 1 m² are given for the same 18 ° C. If you want to reach the recommended rather than the minimum temperature, it is better to start with the calculation of 150 watts per square meter.
If for some reason you do not need bathroom heating, and you only need to dry towels and textile clothes, as a rule, experts recommend dividing the power of the heated towel rail, which is optimal for you, by two.
As you can see, choosing power at random is, to put it mildly, short-sighted. Therefore, I was frankly shocked in some articles about pearl heated towel rails like this, I quote:
"By and large, it makes no sense to focus on such an indicator as capacity. It is better when choosing to pay attention to the appearance, how it fits into the interior of the bathroom, its functionality (for example, fixed or rotary, with or without a timer). "
How not to splurge on electricity bills when using an electronic towel warmer?
We'll talk about this in the next section.
Additional functions and modes
The ruinous electricity bills for the electric heated towel rail – is it true? No, if the question of which heated towel rail to choose, the seller will answer you: "It is obligatory with a thermostat, that is, a programmer." This piece is a control unit that allows you to control the operation of the heated towel rail. The minimum functionality implies the ability to choose one of, as a rule, five power levels (that is, heating power). And also set a timer. Even with such a limited set, you already get not a ruinous device, but an economical one. And you have a real chance, depending on the usage scenario, to spend 150-200 rubles on electricity. Why?
Unlike models without a programmer, the device will not constantly operate at maximum power. Otherwise (depending on the power of the model), it may be corny uncomfortable for you to be in an overheated bathroom. This means that the heated towel rail works ineffectively – you overpay for the excess heat you do not need. The thermostat allows you to select the optimal power to achieve a comfortable temperature in the bathroom.
The most important thing is the timer, the ability to set the automatic shutdown of the heated towel rail after N hours. Ideally, in a typical scenario, you set the time it takes for the model to warm up the bathroom, you take a shower, and then the model has time to dry the towel. You calmly go to work / go to bed / go for a walk and you know for sure that the heated towel rail will turn off on its own. And it will not wind up the counter idly, as it happens in models without a programmer.
Of course, in modern heated towel rails there is a wider range of modes and capabilities. For example, I'll take a look at the Atlantic thermostat. The peculiarity of the company's approach is that the buyer receives a full top-end set of features both in the most affordable model for 8 rubles, and in the most expensive – for 390 rubles. That is, the question of which heated towel rail to choose, with "full minced meat" in terms of functions or not, is not even worth it for Atlantic.
Basic manual mode… Allows you to fine-tune the temperature from 7 to 30 degrees. The heated towel rail maintains the set temperature in the room.
Boost… Designed for intensive heating of the room. From the moment of activation, the device operates at maximum power for 2 hours, regardless of the set temperature. The "string dryers" of competitors are basically incapable of heating the premises, they lack power.
"24 hours"… Automatic daily heating of the room in intensive mode, in fact, this is the inclusion of the Boost function every 24 hours at the same time. The cost of running a heated towel rail in this mode is 300 rubles per month. In continuous operation, costs would be 12 times higher. This mode is intended for heating the bathrooms in the morning, so that you want to go there after a warm bed.
"Automatic drying"… The heated towel rail is automatically operated daily at medium power for 2 hours 15 minutes. Mode for drying towels.
"Anti-freezing"… It maintains a temperature of 7 degrees in the room, this mode will help protect a country house or cottage without central heating from freezing in winter.
European companies use proprietary control units. Russian companies, as I have already noted, prefer ready-made third-party thermostats, usually from the Polish company Terma. The price of such accessories ranges from 3 rubles for the simplest options to 000-8 thousand rubles, depending on the functions, presence / absence and power of the heating element (tubular electric heater). True, the arithmetic turns out to be rather strange. For example, the Terma KTX-10 control unit with functionality at the level of the French Atlantic models costs 3 rubles for the version with a 8 W heating element. Whereas the Atlantic 400 White 300W heated towel rail costs even 2012 rubles cheaper – 300 10 rubles. And this is the price for the finished product, not just part of it!
Polish control unit Terma KTX-3 with heating element for 300 W, 8 400 rubles. French heated towel rail Atlantic 2012 White 300W with the same power and functions entirely costs 8 390 rubles
Design and construction of a heated towel rail
By design, all heated towel rails are divided into:
U-, M-shaped, classic S-shaped, foxtrot (combination of external U-shaped and internal coil). Due to the large, about 4 centimeters, diameter of the pipes, such heated towel rails are effective for drying small textile items. Socks, underpants, scarves, etc. Such models are not suitable for towels, first of all, because of the large, up to half a meter, distance between the horizontal tubes.
A significant part of the towel, about 80%, does not come into contact with the heated towel rail, which slows down drying. Also, the drying time is maximally increased due to the small number of tubes with which the towel is in contact, only 2-4. Against at least 7-8 for more modern ladder heated towel rails. Also U-, W-, M-shaped, classic S-shaped options and foxtrot are morally outdated, "soviet" design.
Lesenka… The most progressive design of heated towel rails. Modern, efficient design. The distance between the bars is usually less than 15 centimeters. This allows the heated towel rail to cover a larger area of ​​the towel (about 50%) and dry it faster.
The best heated towel rails in terms of energy efficiency are models with high crossbars. When the slats in each section are spaced about one centimeter above each other. This forms a virtually continuous "web" that is in contact with 80-90% of the surface of the towel.
As a result, for the same energy costs, tall bars dry a towel 1.5-2 times faster than a tubular one.
However, the production of such elements is the most expensive in comparison with other options. However, everything is relative. For example, tall bars are used throughout the flagship Atlantic Adelis range. The price of the highest (1.4 meters) powerful (750 W) version will be 20 rubles. Let's compare how much the analogs of this type and comparable power cost.
For Russian brands, a model of similar power and size will cost almost 2.5 times more – from 48 rubles. European ones – about 000 times more expensive, from 4.3 rubles. Moreover, in the given example of the Swiss company Zehnder Nova Spa, by default, the consumer receives a "naked" heated towel rail without a control unit. As an option, only a thermostat is available for an additional 90 rubles. No automation, timer, thermostat is provided.
Also, do not forget that in the case of Terminus and Zehnder, such expensive heated towel rails are not kept in the warehouse, but are brought or produced only to order. While models like the Atlantic Adelis Anthracite 750 listed on the official Russian website are always in stock. By the way, this is the most powerful heated towel rail available on the market, 750 W. As real measurements show, the power of competitors is limited to 600 watts.
"Design" solutions… A special form of art, where instead of the effectiveness of a heated towel rail, a spectacular, often absurd appearance is a priority. This also includes severe forms of aesthetic incontinence, such as painting a heated towel rail under Gzhel.
Kitsch (kitsch) (German Kitsch – hack, bad taste, "cheap") – one of the phenomena of mass culture, a synonym for pseudo-art, which focuses on the extravagance of the external appearance, loudness of its elements (c) Wikipedia
Deep analytics of the heated towel rail market shows that it is not functionality or power that affects the price of a model to the greatest extent, but design. Therefore, almost any rating of heated towel rails turns rather into an incoherent set of models, where the logical relationship between the characteristics and prices of models is hardly traced.
The approach to value formation is the same as in the case of art objects. Brands are guided not by objective indicators of production costs, but by the principle "beautifully cannot be cheap!".
In Russia, as soon as a heated towel rail is made not of ordinary pipes, but welded from metal bars, instead of 9 rubles, the model starts to cost at least 000 rubles. "Let's bend the upper tube into an arch and give the pretentious name" Versailles "- and the Russian apparatus for only 17 W already costs 000 rubles.
In the case of European brands, heated towel rails are unambiguously equated with high art objects. Therefore, the Italian "string dryer" Margaroli Panorama made of bar beams and a power of 100 W costs 140 rubles. Accordingly, installing a Margaroli heated towel rail automatically transforms your bathroom into an exhibition gallery.
Although Margaroli is more of a pretentious exception to the rule. Again, at the same Zehnder I was in a culture shock from the variety of really beautiful designer models. But prices from 100 rubles are the norm here.
Atlantic's design division is also busy. The line shows trendy, relevant approaches to the appearance of models.
For Russia, in particular, a certain assortment of the "always available" category has been formed. This includes, for example, the top-end Atlantic Adelis series, which I have repeatedly mentioned above. These are the best heated towel rails of the company, the most energy efficient models with high crossbars. A special anthracite paint is also available here. These are the names of rocky cliffs, which are mainly composed of carbon. The word "anthracite" itself is of Greek origin and means "like charcoal."
conclusions
Modern electric models are no longer just a bathroom accessory, but the choice of those who value personal comfort and high quality of life.
Water heated towel rails – cheaper than electric ones? This is a myth, in fact, when calculating all costs in the future, the water type will cost literally a couple of thousand less in five years. That the electric heated towel rail compensates at least by the absence of the need to buy an additional heater for the bathroom for 3 rubles. In addition, the water model will tremendously lose in opportunities, from automatic on / off modes at a certain time to full heating of the bathroom.
The minimum power of a modern electric heated towel rail is 300 watts. Only in this case, the device will be able to function as a full-fledged heater for a bathroom with an area of ​​about 3 square meters. And at the same time it will save at least 3 rubles, because you do not have to buy a separate heater. The power is calculated based on 000 watts per square meter. It is worth buying a 100-100 W "string dryer" only if you are not going to dry anything except handkerchiefs, socks and underwear.
You should buy only models with a thermostat (programmer). In this case, you can control the operation of the heated towel rail and avoid wasting electricity. And at the same time, set up the automatic operation of the model so that every day at a given time the device turns on by itself, warms up the bathroom for you, dries the towel, and after an hour or two (depending on the settings) it turns off.
Don't be afraid of high wattage towel rails. Remember that this very power allows you to quickly warm up the bathroom and dry towels in literally 1-2 hours. The rest of the time, the heated towel rail is usually turned off. As a result, the total monthly expenses, even with a powerful 750 W model, can be 200-300 rubles. It makes no sense to buy a low-power, but supposedly more economical "string dryer" for 100-150 W, because you will simply dry the towel much longer. Instead of an hour or two – about a day. And as a result, pay for electricity the same as with a "ruinous" powerful heated towel rail.
Alas, there is price chaos in the market for electric heated towel rails, the cost of models often defies any logic. In any case, powerful models with a programmer from Russian manufacturers easily cost 30-50 thousand rubles, and from European ones – all 100-150 thousand. There is no direct relationship, they say, the best heated towel rails cost one amount, simpler models cost another. The exception is the French-Italian Atlantic heated towel rails. Due to the huge scale of production, the company has achieved a significant price reduction. On average, premium Atlantic models are 5 times cheaper than European heated towel rails in terms of power and function. And 2-3 times – devices from Russian companies with Polish programmers.
I hope you have found in my material the answer to the question, which and how to choose an electric heated towel rail for the bathroom. If you have something to add to the article or want to share your personal experience, I invite you to comment!
Back to content >>>
Share: 





we are in social networks:
News:
01.03.2021/XNUMX/XNUMX Roskomnadzor accuses Twitter of malicious violation of Russian law
01.03.2021/6/XNUMX EZVIZ CXNUMXW – "smart" home panoramic video surveillance camera with True-WDR sensor
01.03.2021/60/600 Video on the channel: Correct gaming TWS headphones Saramonic SR-BHXNUMX-B and SR-BHXNUMX
01.03.2021/XNUMX/XNUMX LG patented sliding OLED TV
01.03.2021/XNUMX/XNUMX Xiaomi reports a shortage of Qualcomm chips
01.03.2021/2021/14 Apple iPad Pro 1 with AXNUMX chipset will be as powerful as Mac based on MXNUMX
01.03.2021/9/XNUMX Release date of OnePlus XNUMX series smartphones has become known
01.03.2021/21/XNUMX A database of XNUMX million users of VPN services put up for sale on the Darknet
01.03.2021/XNUMX/XNUMX Casio Launches New MT-G Watch Inspired by the Beauty of the Blue Phoenix
01.03.2021/XNUMX/XNUMX A revision of the criteria for entering software into the register of domestic
01.03.2021/XNUMX/XNUMX Microsoft is working on the next generation Surface Duo
01.03.2021/5/3.5 The number of 2026G users will grow to XNUMX billion by XNUMX
01.03.2021/XNUMX/XNUMX Mir cards will be available in Apple Pay
28.02.2021/3/XNUMX World's Largest Video and Computer Gaming Exhibition EXNUMX Will Not Be Live This Year
27.02.2021/XNUMX/XNUMX Bill Gates said he prefers Android over iOS
27.02.2021/8/XNUMX Lenovo is preparing to release the third generation Lenovo Tab MXNUMX tablet
27.02.2021/5/XNUMX Leak revealed the design of the smartphone Samsung Galaxy XCover XNUMX
27.02.2021/19/1200 OPPO F90 Pro + will receive a Dimensity XNUMX chipset and a display with a frequency of XNUMX Hz
26.02.2021/XNUMX/XNUMX Chery demonstrates the salon of the flagship crossover for the Russian market
26.02.2021/600/XNUMX Telegram must return $ XNUMX million to investors by the end of April
26.02.2021/870/XNUMX Video on the channel: OPINION | SSD SAMSUNG XNUMX evo
26.02.2021/6/XNUMX Nubia revealed the design of the Nubia Red Magic XNUMX smartphone
26.02.2021/60/60 Global versions of Vivo X870 and XXNUMX Pro smartphones will receive Snapdragon XNUMX chipset instead of Exynos
26.02.2021/3.9/XNUMX The loss of the online rental service Airbnb in the fourth quarter amounted to $ XNUMX billion
26.02.2021/XNUMX/XNUMX March Games for PS Plus Subscribers Announced
Subscription