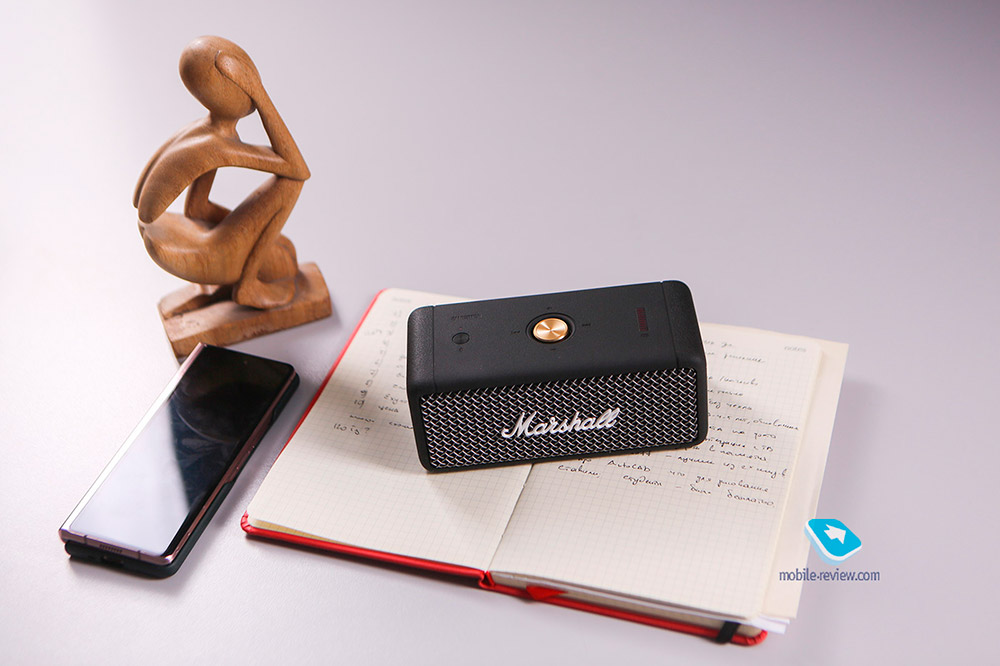 Live photos
Contents of delivery:
Column
USB Type C cable
Instructions
Specifications:
Dynamic Drivers, 2 " 10W
Frequency 60 Hz to 20 kHz
Working time – up to 20+ hours, full charge time – three hours;
20 minutes of charging gives up to 5 hours of playback;
Bluetooth 5.0;
Dimensions – 160x68x76 mm, weight – 700 grams;
IPX7 water resistant.
Whoever makes today wireless speakers for every wallet, taste and idea of ​​ uXNUMXb uXNUMXbthe beauty. The market is flooded with different speakers, and what was previously considered bad taste is now perceived as the norm even by well-known companies, which is worth the light music that JBL builds into its speakers. It all started as an outspoken Chinese thing, now it has become the norm for everyone, including even Sony. About times, about morals.
The Marshall brand is strongly associated with rock, professional equipment, at least that's what young people think who buy headphones from Marshall and thus signal to the outside world who they are and what kind of music they choose. The music is varied, and the same headphones or speakers can be created for certain tastes, which Marshall does, the emphasis on rock is such that the compositions are fully revealed on any device. Utopia that you can create one universal device that will sound good for everyone, and most importantly, will be great for any music. Versatility is always some kind of compromise that you can agree with or not. Therefore, the new wireless speaker from Marshall is aimed at those who listen to rock, and only secondarily for everyone else. Although she has many advantages that cannot be ignored.
To begin with, Marshall (Zound Industries, who owns this brand today, they also produce headphones for Adidas, Urbanears devices) did not want to create a universal device for all occasions. The Emberton speaker does not have a built-in microphone, it cannot speak in the voice of one or another assistant. It's just a wireless speaker for any place – from apartment to field conditions.
Small, fits in the hand, although the column cannot be called light, the weight is 700 grams.
But on the other hand, the column is made of excellent materials, the body is rubberized, all the control elements are placed on the top panel. Here you can see the button for pairing Bluetooth, in the center is the control joystick. And here on the right is the battery charging indicator.
The battery can easily cope with 20 hours of operation, while you have the ability to quickly charge the speaker (USB Type C connector), in 20 minutes you will get up to 5 hours of music playback. In practice, this is approximately the case. My speaker played at maximum volume for 15 hours, at a slightly lower volume it will obviously last longer.
But the main thing in this column is how it looks. This is the corporate identity of Marshall, it is impossible to confuse the column with any other – black color, the corporate style of the company name.
The engineers who created the column wanted to achieve several fundamental points. The first is 360-degree sound no matter how you place the speaker. It turned out almost to the full, the speaker sounds great in any direction, there is no sound distortion or attenuation. The second is the sound itself, which, despite its size, does not differ in any way from other Marshall speakers: powerful, energetic sound, specially emphasized bass. I repeat that it is great to listen to rock, energetic music on such a speaker. But if you are used to pop, then it will sound unusual, although some people like this sound. The speaker is surprisingly good at drawing jazz compositions. Other genres cause mixed impressions, you need to listen and evaluate. But I want to say right away that this speaker, despite its portability, has high-quality, good sound. Devices of a lower class simply cannot produce such sound, although, of course, everything here is subjective and depends on what you are used to.
There are no complaints about the volume, in nature you can turn the speaker to the maximum, in the apartment you don't need to do this, it sounds loud. There are a huge number of people who use their speakers as a speakerphone for a smartphone, there is no such use, there is no microphone.
Now a few words about codecs, there is only one – SBC. This will upset some, but most will shrug their shoulders and say that this is enough. The speaker still sounds good. Of the minuses, I want to note that when the speaker is turned on, it plays a sound that cannot be turned off. A kind of musical arrangement that not everyone will like.
The fact that the column has an IPX7 protection standard allows it to be used even in the pool, it is not afraid of diving. Alas, the time for swimming pools and swimming in nature has already passed, so I could not test the column in such conditions.
The Marshall app is completely useless, so you can forget about it right away. Moreover, the speaker often does not see, although it is connected to the phone.
The closest positioned speaker in the Marshall lineup is the Stockwell II. The difference is that you can adjust additional parameters on the column. You can also connect to it with a cable directly, it sounds plus or minus comparable, but you can change the sound parameters yourself.
The speaker originally hit the market in the summer of 2020 and was priced at $ 150 for the US market. The column turned out to be a bestseller, it was swept off the shelves around the world in a little over a month, the company could not cope with production. In the fall, the column returned to the shelves, but in Russia the price is slightly higher – $ 180 or 11 rubles (the minimum cost that I found is a thousand less).
Who is this column for? For fans of Marshall and their sound, there is no doubt about it. The popularity of this speaker in most countries of the world is easy to explain – the price and compact size. In Russia, this speaker will be chosen by young people, including those who already have Marshall headphones and are satisfied with their sound. And there are more and more such young people every day, in our market it is Marshall that has become to some extent a cult and continues to gain popularity.
For me, this column has become the column that they carry around the house when guests come. They are taken out into the yard during gatherings or cooking. Actually, for this it was created. And when no one is there, she lives in my office, and if desired, I turn on the music in a couple of clicks. The speaker sounds great, stands side by side and warms the soul. I recommend this speaker to you too, here is a choice of design, sound and perception of the Marshall brand.
Related Links
Share: 





we are in social networks:
Anything to add ?! Write … eldar@mobile-review.com