Content
Introduction
Yet Another Conversation (YAC) 2020
Instead of a conclusion: the new Yandex.Station Max as the personification of Yandex technologies
Introduction
The slogan "National Treasure" belongs to Gazprom, but I associate it more with Yandex. Of course, there are other technology companies in Russia, but specifically in my (albeit, perhaps, mass) unconscious, it is Yandex that is associated with the country's main IT company. A kind of domestic pride, they say, not all of us bast soup bastards and poke Google with Instagram, and Russia has its own "Ilona masks"!
This positive image gives Yandex an impressive margin of safety, allowing it to make mistakes without harming the company's health. As examples of errors, one can cite the sale of Yandex.Telephone with a non-working second module in the camera, and the fact that it took the company more than a year for Alice to start distinguishing the voices of people in the first Yandex.Station, and strange prices in the car sharing service. when it is easier to call a taxi or take a BMW or Mercedes from competitors than an economy car from Yandex.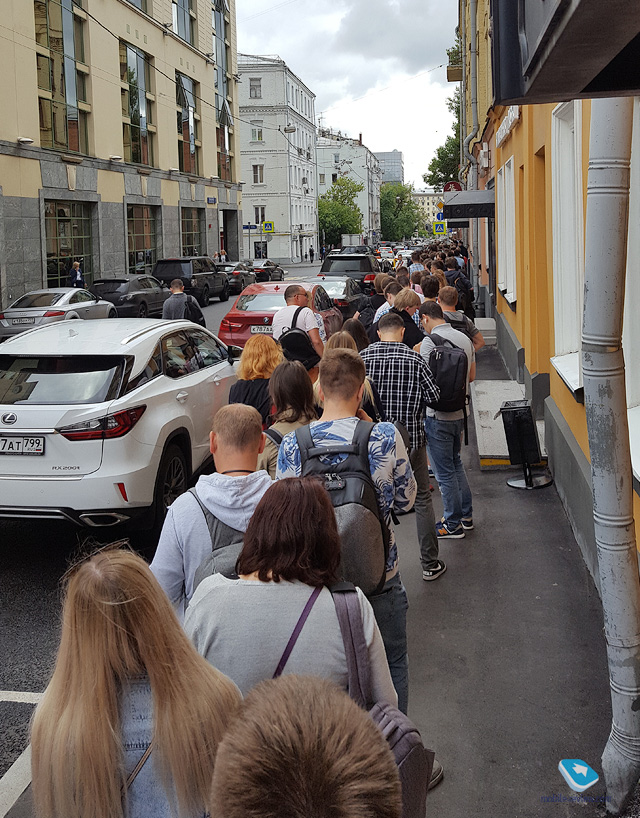 Queue at the start of sales of the first "Yandex.Station"
I suppose it will not be a mistake to say that Yandex is treated, if not with unconditional love, then with warm feelings. This can be easily traced both in comments on the Internet and in local events, like the launch of the first Yandex.Station for sale, when a good live queue gathered.
However, this also imposes a great responsibility on Yandex, because you want the company to comply. So I watch the annual presentations with the ironic title Yet Another Conference (YAC) with excitement and light emotion.
YAC 2020 was held in the form of a selection of different interviews (for coronavirus!), So the word Conference in the title was replaced with Conversation. They also invited Alexei Pivovarov as the host. Cool!
Despite the fact that the whole presentation was a big commercial, it turned out very well: interesting, lively, I would like to say, humanly. Not feigned emotions, it is clear that people really love and worry about what they do. The conference looked especially gorgeous against the background of the recent plastic "SberConf" from Sberbank.
However, after watching it, there was a feeling that there were delivery workers, retailers-marketplacers, taxi drivers, refuellers, travelers and just very talented and intelligent dreamers and dreamers who could guess Rachmaninov's second concert from the first notes (Shazam took more time!) In short, anyone, but not representatives of the IT giant moving the world. It is for this reason that I chose the phrase (taken out of context) as the title of the article, said by the head of the Yandex.Taxi project, Daniil Shuleiko: "Yandex is a place where there is no right answer".
Note: Initially, Mr. Shuleiko meant that in Yandex there is democracy and freedom of thought, when employees can criticize even the ideas of their bosses and offer their own options.
Yet Another Conversation (YAC) 2020
About delivery
The first part of the presentation was devoted to the delivery component of Yandex. Viewers were told up and down how Yandex.Lavka works and how each employee thoroughly delves into all the subtleties so that ideal tomatoes and the best lavash are on the client's table. They gave inconceivable figures about delivery in 4 minutes, or even faster, when you click "Order", and the courier is already ringing the doorbell. After receiving the order, it takes 70 seconds to collect the goods and another 7 minutes for delivery by courier, we did not forget to tell that so far the only robot "Rover" is also rolling around, fulfilling orders.
For one of the invented technologies, Yandex is worth praising. Couriers often arrive at the most inconvenient times. One gets the feeling that it is worth going to the toilet, starting to brew coffee or taking a shower, as the courier will immediately appear. Yandex invented click-to-order delivery, when the goods are first delivered to the closest darkstore (local warehouse), and the user will receive a notification about it. Accordingly, as it is convenient, he will press "Deliver", and the courier will deliver everything within 15-20 minutes. Yandex says that "while testing is in progress, click-to-order delivery works only in Moscow and only for goods weighing no more than 20 kg ordered on Yandex.Market."
Yandex has a service that allows you to refuel without leaving your car. You register in the application, you arrive, an employee fills you up, you leave, and the money is debited from the card. Improved the service. Now food and drinks from the range of gas stations can be ordered to be brought to the car.
Along the way, within the framework of the educational program, Yandex enlightened that services like Yandex.Lavka or a Yandex.Plus subscription can work only with a larger number of users, since otherwise they will simply be economically unprofitable. They also substantiated why they replaced all discounts with cashback points. Yandex says that it is more convenient and cashback for a taxi or car sharing can be spent on buying cinema tickets. On the one hand, yes. On the other hand, cashback is much more profitable for the company, because Yandex itself determines what exactly you can spend points on. Secondly, discounts are issued here and now. The user gets it and is free to go to another service. And cashback binds to certain services, and there is also a time gap, and not even the fact that the user will spend cashback. It may be trite to forget.
About Yandex.Business
Yandex wondered how best to promote its Yandex.Direct advertising service for small businesses. Probably, Yandex saw how actively Google bombards the audience with commercials, telling stories about how, thanks to Google AdWords, a trampoline center, a hairdresser for dogs and other representatives of small businesses get customers. But if Google says that everything is easy and simple to set up yourself, then Yandex decided to go further and offer subscriptions to an automated CRM system:
"The algorithms will automatically form the customer base and divide it into segments so that business owners can, say, reward loyal customers or return those who have not contacted them for a long time. You can also arrange an online appointment through Yandex.Business: then customers can sign up for a haircut or book a table in a restaurant directly in Search or on Maps. Most of Yandex.Business's features are free. The fee is charged only for working with advertising tools – access costs from 5 rubles per month. "
The idea is certainly interesting, since, indeed, small business owners may not be familiar with the intricacies of customization. Usually, for these purposes, they recruit either the so-called targetologists or freelancers. And then the algorithm will replace everyone.
Yandex is convinced that the correct algorithm will take out any project. I immediately remember the difference between the approaches of Apple and Spotify, which for their music services hire live editors to compose playlists, and Yandex with its algorithm. In fairness, it should be noted that after years there was a breakthrough when the algorithm became quite good (inferior to people, but still good). So maybe it will shoot here over time. But so far I cannot overcome skepticism.
And, of course, the approach is a little amusing. Google says it's simple and anyone can figure it out. Yandex says that everything is very difficult, we will not make it easier, but you can pay and we will try to figure it out for you.
In any case, the service has many free and useful features, so if this is your part, then you should study.
About Yandex.Zen. Now, not a trash heap, but blogs of enthusiastic people!
Continuing the conversation about algorithms. Users are already familiar with Yandex.Efir, which is a recommendation service for a variety of videos from all over the Internet, including television channels. As an idea, by the way, the project is super!
Now the next step is the modernization of the recommendation feed, including Yandex.Zen, which after its launch quickly turned into a trash heap with an abundance of yellow clickbait news. Now they want to reformat the platform into Blogs of Passionate People. Simply put, the trash heap will remain, but the recommendation algorithm will try to get out of it what is interesting to you.
The subtle point is that views on Zen are money, so everyone will try to cheat the algorithm to get into the recommendation feed. Yandex believes in the power of the algorithm, and I believe in human ingenuity. We'll see!
YATI technology – text analysis
YATI is a technology for text analysis using ultra-large neural networks, which are also called transformers, therefore YATI stands for Yet Another Transformer with Improvements – "Another transformer with improvements." The advantages of such networks are that they are better able to recognize the semantic component of the text, that is, they can search not by keywords, but to view entire documents by meaning.
Yandex says "YATI is delivering such a significant increase in quality that we consider the introduction of this technology to be the most important development in Search in the last ten years."
Frankly, in the last six months I have rarely used Yandex search and did not notice any dramatic improvements. So be sure to write your comments if you feel the power of Transformers!
Instead of a conclusion: the new Yandex.Station Max as the personification of Yandex technologies
In 2018, Yandex.Station became a mini-hit. The first smart speaker on the Russian market! In the West, there have long been options from Amazon, Google, Facebook, Apple, and Russia is empty. Yandex.Station was estimated at 9 rubles, which is, of course, expensive, but permissible. Still the first product in the absence of competitors.
Over the past couple of years, none of the global market leaders have come to us, but their own local speakers and many voice assistants have appeared – Alisa, Marusya, Oleg, options from Sberbank, etc.
By the way, in general, the technology of voice assistants has been mastered and has ceased to be a secret. Anyone can create their own assistant. By the way, at this year's presentation, Nvidia presented new solutions just about voice assistants, offering a kind of preset combination of hardware and software, on which any buyer (talking about business clients) can put a personality, making his voice assistant unique. The idea implies that each business can make its own assistant, which will reduce, for example, the load on the call center. An excellent implementation of such an idea is Oleg's voice assistant from Tinkoff (I don't know if Tinkoff uses Nvidia products for this), which allows you to do a lot of actions (release a card, close an account, answer a question, etc.) without involving a live operator.
Our business has also mastered the market of smart speakers. Although against the background of the West, it looks dull. The only powerful product in this category was recently presented by Sberbank – SberPortal (price and release date are still unknown). This is a combination of a speaker with a screen and a camera for video calls.
Similar solutions have long been offered by Amazon and other Western companies. The price range is from 50 to 230 dollars (17 rubles at the current exchange rate) for the Facebook Portal + with a 000-inch rotating screen and a tracking camera.
As you understand, at least from the actions of Sberbank, nothing needs to be invented, all technologies are available. Sberbank simply went to the market and chose the solution it needed. Looking at all this, I must admit that I was really looking forward to the second generation of Yandex.Station, since only Yandex can release a cool version with a screen. A third-party vendor itself cannot do this. Or rather, maybe, but Alice also needs to be planted there and befriend the Yandex ecosystem. In short, I was impatient and anticipated.
And now, after 2 years, Yandex shows Yandex.Station Max. This is how it looks. It costs 16 rubles.
I revisited the launch snippet carefully. No one has a drop of shame on their faces. So they say: "Today we are launching our best" Yandex.Station "!" (that is, somewhere in the storerooms, apparently, the worst is also lying). On the other hand, everything is in trend. There is a LED screen, the weather can show.
Yandex says that it has pumped up the sound – 5 speakers of 65 W with a total power, now 4K movies and 4K screensavers, Dolby Audio. You can also make a multi-room, that is, place several speakers around the apartment, and they will work in unison.
I wrote positively about the first Yandex.Station and praised it in advance, expecting that this was the first pancake that turned out to be not lumpy (already good!), And then it will only get cooler.
Let's fix it again. Look at Facebook Portal +, which even in terms of the current terrible exchange rate costs 17 thousand rubles, and then at Yandex.Station Max for 16 rubles. I understand if the current "Yandex.Station" was lowered to 990 rubles, and the new one was made at 5 rubles (although the original column at retail costs 990 rubles).
No offense, but I will use the same words as in the work chat. Yandex.Station is a fantasy product for the beautiful Russia of the future, where ardent Yandex fans live who do not count money, do not follow the technology market, and fundamentally refuse to turn their heads around.
Yandex's confidence in its abilities is especially striking. Sber's presentation took place not yesterday, they saw an example of the technology that Sber bought and decided to bring to the Russian market, but still felt that their product had the right to exist at such a price.
Managing Director of Yandex Tigran Khudaverdyan says that it is not he who runs Yandex, but who "actually runs Yandex is unclear." Although it should have been clarified, otherwise what is going on!
During the presentation, various characters repeated that at Yandex they know how to admit mistakes and draw correct conclusions. Well, if that's true, then the next column will definitely be better.
Mr. Khudaverdyan proudly said that, in general, the main thing in Yandex is not delivery or unmanned vehicles, but technologies developed by Yandex and made it affordable. And I remembered how I drank coffee that morning and, looking out the window, felt the full power of technology, watching a courier in a recognizable yellow uniform walked through a mess of melted snow and mud in the rain. An order, if anything, can be done by a wired phone without the Internet, but without a courier – a pipe! The Rover will not pass on our roads.
And, frankly, all the presented "technologies" are, rather, tweaks-improvements, as they attached online payment to gas stations and taught employees to bring coffee to the car. Whatever one may say, Alice is still very far from Google Assistant with its capabilities to call and write to the hairdresser. And the same Sberbank in this regard, with its voice assistants, is on the right track, unlike Yandex.
Back to content >>>
Share: 





we are in social networks:
Anything to add ?! Write … eldar@mobile-review.com