Eugenia Kovalevskaya
BBC News Ukraine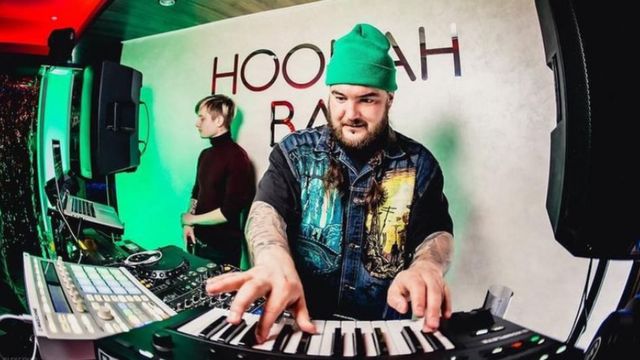 The phrase "Good evening, we are from Ukraine" lifts the spirits of Ukrainians from the first days of the war. It has already become a marker for belonging to a nation that is fighting.
It is used by journalists on television as a friendly greeting, making patriotic videos with the military, creating memes and clips.
The chairman of the Nikolaev OVA Vitaly Kim who with each words began each video address also added popularity to a phrase.
BBC News Ukraine spoke with the co-author of the popular phrase Artem Tkachenko, aka Dj Probass.
Very loud and mystical
Long before the war, on October 29, when Russian press near the Ukrainian border reported only foreign press, two sound producers from Kremenchuk, Artem Tkachenko and Maxim Mokrenko, known as PROBASS ∆ HARDI, released the track "Good Evening" (Where are you from ).
It mixed electronic music and Ukrainian folklore motifs and added a single phrase at the beginning – "Good evening, we are from Ukraine."
The track quickly became popular. By the beginning of May, he already had 7 million views on YouTube and 600,000 clips for this track on TikTok.
"We have been working together for three years. There were tracks that were played on the radio, they took some places in the charts. But something was not enough." Good evening "sounded very loud and undermined all our achievements," Artem Tkachenko told BBC News Ukraine.
The band came up with the idea to combine melodies and sounds of Ukrainian instruments and singing and electronic music in their music.
To do this, says Artem, he and Maxim listened to folk music, authentic singing and interviews with ethnic groups that promote Ukraine.
That's how the phrase "Good evening, we are from Ukraine" happened to them. It was said in an interview with Canadian radio by the frontman of the band "DakhaBrakha" Marko Galanevich. It is his voice that is heard in the popular track.
"For me as a musician, this is a very mystical theme." DahaBrakha "has been promoting Ukraine abroad for a long time. Therefore, it is very symbolic that the track with the voice of the band's leader became so popular," says Dj Probass.
"This is also their contribution to our victory, which will take place very soon. I am convinced of this, as are all Ukrainians," he added.
The DJs "sampled" the greeting phrase and she, in their opinion, fell very organically into this track.
"There was not even a thought to re-sound or rewrite this phrase. It would not be the energy, not the message," – says Artem.
The finished track "Good evening" PROBASS ∆ HARDI was given to listen to the band "DahaBrakha".
Artem admits that they were counting on collaboration, which is now so popular between bands and artists. But "DahaBrakha" listened to the track, said it was cool and went on tour.
"When the track started to go viral and scored 100,000, they took a teak with this track and wrote to us," recalls Dj Probass, adding that the collaboration will take place after the victory and work in this direction has already begun.
Musical front
Artem Tkachenko is happy that music does not stand aside in the war and helps to support the fighting spirit of Ukrainians.
"We were written by friends who left Kyiv in the first days of the war and listened to our track. He inspired and supported us on this dangerous and difficult journey. This is our musical front," says the DJ.
During the war, PROBASS ∆ HARDI released two more patriotic tracks. One of them – "Cossacks are coming" – calls to repel the enemy and defend their country. Another – "The day will come" – about the belief in victory, which is sure to come.
Artem Tkachenko is an active volunteer. In his native Kremenchuk, together with like-minded people, he created a volunteer center that helps both war-affected regions of Ukraine and IDPs who have come to Poltava region.
It is almost impossible to combine music and volunteering, says Artem, although he is preparing for charity performances online.
Despite the fact that the phrase "Good evening, we are from Ukraine" has become so popular that it is used in various videos and life situations, the DJ has no jealousy or resentment.
"Our job was when we were writing the track. When we released it, it stopped being ours. Everyone who listens to it adds meaning to it," says the co-author of "Good Evening."
PROBASS ∆ HARDI are happy to be able to unite and support so many Ukrainians with their track.
"We all need support. If music helps to accelerate our victory for at least one day, that's the most important thing," says Artem Tkachenko.
Want to get top news in Messenger? Subscribe to our Telegram or Viber !