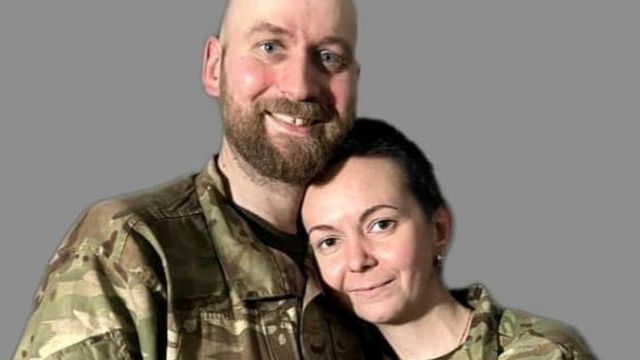 Ukrainian servicemen Andriy and Valeria got married in the dungeons of the besieged Azovstal. They were husband and wife for only three days, and then Andrew died.
In three days Valeria managed to visit the bride, wife and widow.
Valeria remains at Azovstal. She dreams of getting out of there alive, as she promised Andrew, and living for the two of them. And to meet Andriy's parents, who consider her a daughter.
Valeria told her story in a video shot in the dungeons of Azovstal, which is subjected to daily shelling from the air, sea and land.
Valeria and Andriy met three years ago. She was the head of the press service in the Donetsk border detachment.
"It felt like the person I was about to meet. He really just came into my life. He was a man of happiness and a man of celebration," Valeria recalls.
The girl has had a disability since childhood and is unfit for military service during the non-war period. But when the war broke out on February 24, Valeria called the military registration and enlistment office and was mobilized.
So he and Andriy were surrounded by Azovstal in Mariupol: she was in the Azov Regiment, he was in the border troops.
Occasionally corresponded with short messages.
Foil rings
The lovers first met when Andrew came under fire and had a shrapnel wound.
"Then he ran from the hospital to me at night and said, 'Let's get married here. We talked about marriage a long time ago, but it was supposed to look different. It was supposed to be a moment of happiness,'" Valeria recalls.
The girl cut her hair and joked that as soon as the braids grow back, then you can get married.
"After a while, Andrew came again, but with foil rings, which he made himself. And it was the most precious gift that was in my life," – says Valeria.
The military mentions a case when it came under air strike. Many of her siblings died then.
"We said that I was saved by a miracle and love," says Valeria, with tears in her eyes and trembling in her voice.
Wedding vows
The lovers decided to get married on May 5, the birthday of the Azov Regiment.
"Then we exchanged other rings – I had a ring of my late mother, and he had my grandmother," – says Valery about his marriage.
"We went together and took wedding bunker photos. I was very happy. It seemed to me that nothing else was needed. We were both alive. Nothing more was needed," the woman said in a trembling voice.
And on May 7, Andrei died as a result of airstrikes by the Russian military.
"In our last conversation, I told him to make sure he survived, and he told me to make sure I got out of here," Valeria recalls.
"But at least his soul would be selected from this hellish place where our defenders are dying. And I am still here," the Ukrainian military added.
At the same time, the woman understands that she has to get out of Mariupol, which has been wiped off the face of the earth by the Russian army for more than two months, in order to do everything she planned to do with her late husband. Live for two.
"It seems that he is somewhere nearby, he will come in now. I am still in danger. He cannot leave me. He has always protected me," Valeria shared his feelings.
Valeria's parents died a long time ago. Now the woman wants to survive and see Andrew's parents, who consider her a daughter and are very much waiting.
"Give us life"
The military also wants to properly bury her husband and believes that all parents, children and wives of fallen defenders of Ukraine should have such a right.
"Here (on Azovstal) are the bodies of Ukrainian defenders, severely wounded without arms and painkillers. As well as Ukrainian servicemen who do not deserve to simply die," the woman said.
Valeria hopes that the world will hear Azovstal and find an opportunity to save the Ukrainian military defending Ukraine.
"I'm just asking you to give us life," says Valeria.
Want to get top news in Messenger? Subscribe to our Telegram or Viber !