The BBC News Russian Service app is available for IOS and Android . You can also subscribe to our Telegram channel.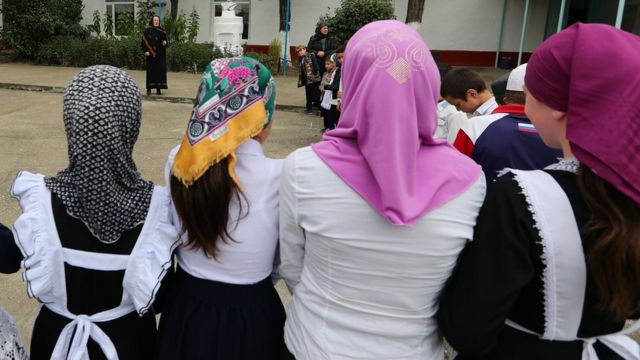 In Dagestan, during a school assembly dedicated to the last call, a graduate spoke out against the war in Ukraine. Soon, a video appeared on the network in which the girl, as well as her mother, apologize. According to media reports, even the head of Dagestan, Sergei Melikov, intervened in the situation.
The day before, the group "Atypical Makhachkala" published a video from the school line, in which one of the students speaks into a microphone: "No to war! Freedom to Ukraine! Putin – hell!" The post claimed that the video was filmed at the last bell at secondary school No. 11 in the city of Izberbash.
Soon, a video of the schoolgirl's apologies appeared in Dagestan publics. In a video posted on the Dagestanskiye Izvestia telegram channel, she introduces herself and says that she regrets her action.
"I just wanted to draw attention to myself. Recently, I was worried about exams and, against the background of all this, had a fight with my mother. I admit my mistake and apologize for ruining everyone's holiday," the girl says.
The telegram channel also published a video with an apology to the schoolgirl's mother. On it, a woman says that she regrets the "emotional, thoughtless act committed by her daughter," and repeats her words about the great stress due to exams.
The woman also stated that she fully supported "the course of President Vladimir Vladimirovich Putin" and "the ongoing special operation on the territory of Ukraine." "I sincerely regret that I overlooked, missed something important in raising my daughter," she said.
Telegram channels without citing a source reported that a report was drawn up against the graduate about "discrediting" the Russian army (Article 20.3.3 of the Code of Administrative Offenses), and about her mother's failure to fulfill the obligations of raising minors by her parents (Article 5.35 of the Code of Administrative Offenses).
According to the source of "Kavkaz.Realii" (recognized in Russia as a media outlet acting as a "foreign agent") in the government of the republic, local officials forced the girl and her mother to publicly apologize after the head of Dagestan, Sergei Melikov, personally called the mayor of Izbirbash "with a demand to look into happened." The city administration declined to comment to the publication.
According to the BBC and Mediazona (recognized by the media as acting as a foreign agent), Dagestan is in first place in terms of the number of confirmed deaths in the war in Ukraine. According to the BBC, at least 146 residents of the republic have died since the beginning of the Russian invasion of Ukraine.
To keep getting BBC news, subscribe to our channels:
Download our application: