Diana Kuryshko, Victoria Zhugan
BBC News Ukraine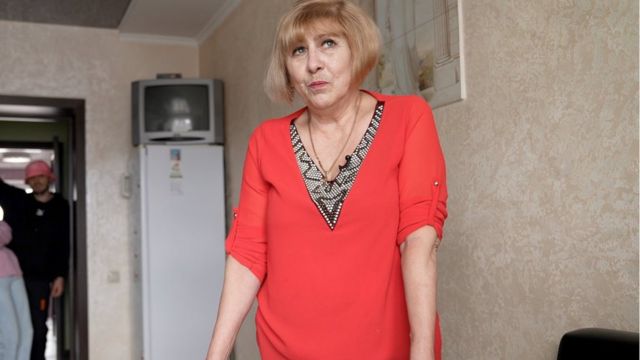 On the 60th anniversary of her 60th birthday, a saleswoman from a shop in Kalush received an unusual gift from her son – a song with her name.
Stefania Psyuk is the mother of Kalush Orchestra soloist Oleg Psyuk. After the song's victory at Eurovision, its name is known throughout Europe.
Stephanie is not used to such media attention and is surprised that people at the market in Kalush want to take a selfie with her.
Svitlana Muzychuk from Volyn is the mother of Tymofiy Muzychuk, a bagpiper from the Kalush Orchestra. The folk motif of the song and solo on the flute of the song "Stephanie" appeared thanks to him.
The BBC visited the mothers of Kalush Orchestra musicians before the Eurovision final. We tell their stories.
Stephanie Psyuk
When the Kalush Orchestra competed for the right to represent Ukraine at Eurovision in February 2022 with the song "Stephanie", the mother of soloist Oleg Psyuk appeared in the frame during the concert.
This was her first filming in her life and it was a surprise for her son.
"I thought I would fall there. I'm not a public person, I'm not used to such attention. There were about 15 cameras in that room and I didn't know how to react. It was a shock for me," Stefania recalls filming the national team.
It was there that she first heard the full song "Stephanie".
"I found out on the Internet that there was a song in my name when I started asking in the comments where to find Stephanie, about whom the Kalush Orchestra sings," the woman said. Before the national selection, only excerpts from the songs were published.
"I thought someone had confused the name of his girlfriend Sasha and Stephanie. Then I heard an interview with Oleg saying that it was a song for my mother. Of course, she cried… My Oleg loves surprises," says the woman.
Stefania Psyuk used to work at a chemical plant in Kalush, and now – in a grocery store. She comes from a large family, has four siblings and says she never thought the song would ever be dedicated to her.
"Oleg Vynnyk sings the song" Nino "- it's a good name, you can put in the song. And I have a name that you can't even put in the song. But Oleg managed," laughs Stefania Psyuk.
The mother of the soloist of the Kalush Orchestra honestly says that at first she did not like rap as music.
"When Oleg started singing rap and walking in such wide pants, it was a shock for me. As I was in the seventh grade – so small, thin, even coughing, and pants ten sizes larger," – says Stefania Psyuk.
Now she listens to all the songs of Kalush Orchestra and reads all the comments on social networks. He wants to know what people think about his son's music.
In the band's work she likes lyrical choruses the most. Among his favorite songs he calls "Dawn", "Mountains", "I will not forget". "I like all his songs, because this is my child… I support all his views, all his endeavors. I always say goodbye to God with words," says the woman.
Due to tours and concerts, Oleg Psyuk now rarely comes home. Mostly it happens on holidays.
He was not in Kalush for Easter for two years. For his family, this is a great holiday when everyone gathers together. Stefania Psyuk prepares delicious Easter cakes and pies.
This year Oleg arrived for Easter. He went to church with his parents to celebrate Easter.
"I think Easter has become even more important than usual this year. It's a family holiday, and a lot of people can't be with their families right now. It was important for me to get into a family this year. My parents are quite old. , and we want to celebrate more Easter with them, "- says Oleg Psyuk during the filming of the BBC documentary about the Kalush Orchestra.
"Parents always want their children to be at home. But I understand that it's not the best option for him if he stays at home," says Stefania Psyuk.
After a short visit home to Kalush, Oleg and the band went to Turin.
On the night of the final, Stefania Psyuk was very worried. After the speech of her son and his words about the salvation of Mariupol and Azovstal, I immediately sent him an SMS with the words: "You're great!".
According to her, he did what he had to do.
Svetlana Muzychuk
Svitlana Muzychuk, the mother of Kalush Orchestra piper Timofiy Muzychuk, has been involved in music all her life and has instilled a love for her and her son.
Family from a small village in Volyn. Svitlana Muzychuk, 50, works at a music school and teaches children to play the bandura. Her son also studied there.
"He went to the accordion, and after a while to the flute. I took him everywhere with me," – says the woman.
Tymofiy Muzychuk's grandmother Lydia had a folklore ensemble, and he is a musician-folklorist with a higher education.
Timothy's fascination with Ukrainian folk music influenced the melody of "Stephanie". This is how the folk motif of the song and solo on the flute appeared.
At home, the Muzychuks keep a chest with ancient Ukrainian clothes – about twenty antiques, shirts, belts, belts. It was collected by grandmother Timothy Lydia, who dressed the entire folk ensemble in the village. She handed over a chest of clothes to Svetlana's daughter-in-law for safekeeping.
Easter cakes and local traditional drink – birch sap on coffee – are prepared at Muzychuk's house at Easter. When BBC journalists visited the Muzychuks, Ms. Svitlana was worried about her two sons, Timothy, who was preparing for Eurovision, and Nazar, who was fighting on the front lines and did not get in touch that day.
Her husband, Roman, and her father, Timothy, were working in Poland when the war broke out. He returned to Ukraine and went to the defense.
In the Eurovision final, mother Svetlana sang with her son. He is on stage in Turin, his mother is at home in front of the TV, wrapped with her husband in Ukrainian flags.
She says she kept trying to catch her son's eye. It seemed to her that he was looking at her.
"Now he was looking at me," Svitlana Muzychuk said in a TSN story.
When they heard about the victory, they could not hold back their joy with their father. They jumped, hugged.
"God, what good people they are," says Svitlana Muzychuk and cries.
The woman says that on Eurovision night her heart was in Turin.
Want to get top news in Messenger? Subscribe to our Telegram or Viber !