We know firsthand about the MoonDrop company. In a fairly short period of its existence, it has already managed to win the hearts of a huge number of music lovers. But before it was exclusively headphones of all kinds and configurations. Today we will get acquainted, probably, with their first implementation of a mobile DAC. Although the name MoonRiver 2 suggests the existence of the first version, but even on the network there is no information about that. The device boasts conventional and balanced outputs, support for high-resolution DSD and PCM formats, as many as two Cirrus Logic CS43198 converter chips, a very unusual appearance and an output voltage of 4 or 2 Vrms, depending on the gain level. Technically, the DAC is great, this has already been repeatedly confirmed by various tests, but what it sounds like, we will figure it out today.

Characteristics
DAC: 2 x Cirrus Logic CS43198
Output voltage: 4 Vrms
Audio resolution: up to 384kHz/32bit, DSD256
Support for decoding formats: PCM, DSD
Frequency range: 6 Hz – 85 kHz
Power supply: 5 volts 0.125 amps
Inputs Type C
Outputs: 3.5 mm jack and balanced 4.4 mm
Dimensions: 56.8 x 19.4 x 12.5 mm
Weight: 17.1g
OS: Android, iOS, Windows 10, macOS
Packaging and equipment
The device is delivered in a gray cardboard box with an image of the internal device, the same heroine of one of the anime and a complete list of technical specifications on the reverse side.


In the kit we were given instructions, it is also a warranty card, an adapter from Type C to a classic USB connector and a small transparent Type C to Type C cable.

I personally have questions about the quality of the latter, since the device heated up noticeably with it. When I replaced it with a similar one from DDHiFi, the heating decreased significantly. Well, nothing is provided for the iPhone, so the Type C to Lightning cable will have to be purchased separately.

Design/Ergonomics
The case of the DAC is small, made in a futuristic design with strict chopped edges. An indicator LED is located on its upper part, on the bottom there is a diagram of the internal device already familiar to us from the cover, and on the side there are two volume keys.


If you clamp them together, then the gain level will switch, as indicated by the color of the indicator diode (green or red). The device, alas, does not remember the last state.

At the ends we already have a standard Type C input and two outputs: a regular 3.5 jack and a 4.4 mm balanced pentacon.


In work
The device consumes humanely, 0.125 amperes per 5 volts. Which, of course, is not small, but on a par with other solutions of the same output power. Moreover, the choice of an output for connecting headphones has almost no effect on consumption – the difference is 0.002 amperes.
Of the resolutions, PCM up to 32 bit 384 kHz and native DSD up to DSD256 are available to us. The device does not support MQA decoding.

Regarding heating, I have already warned you, be sure to replace the stock cable with a high-quality one, there is no noise in the pauses here, as well as headset support. Inside, we installed as many as two Cirrus Logic CS43198 converters, capable of squeezing up to 4 Vrms from the review hero at a balanced output. Which is more than enough to shake even very tight full-size headphones, not to mention any sensitive in-ear solutions.

The volume here is simply with a huge margin, especially if you do not install drivers from the official site, which noticeably underestimate the peak level. Without them, Windows 10 picks up the device automatically, providing exclusive access to the device via WASAPI. If you have an older system or need ASIO interface support, then those same drivers are at your disposal.

The control panel here is exactly the same as we have repeatedly met, for example, from Shanling. It's simple, but everything you need is there.

Under Android and iOS, the DAC is supported on all applications and services, including high-quality BitPerfect mode with hardware level control. Just don't forget to activate it in the settings of the HiBy Music or USB AudioPlayer Pro players.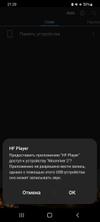 measurements
I took measurements in 24-bit 96 kHz resolution from a balanced output to the E1DA ADC. Like all other bloggers, the results are simply amazing. Almost the best I've ever seen in the mobile segment.

The frequency response curve is excellent in its linearity, noise is somewhere at the level of minus 155 dB, a very impressive dynamic range, intermodulation distortion is below minus 130 dB, and harmonic distortion is below minus 138 dB, with a percentage ratio of 0.00005.



You can study the resulting table yourself, the technical level of the device is really fantastic. There is nothing to add here.


Sound
By its very nature, the model turned out with simply excellent clarity and drawing of the entire musical canvas. MoonRiver 2 is about detail, technicality and a touch of melody. Because of what, the sound seems much sharper and more detailed than it was, for example, in DDHiFi TC44C, but not as voluminous and spectacular. Therefore, if you like the transfer of nuances, purity and transparency of sound, then it is better to look towards xDuoo Link2 Bal and MoonRiver 2. Both of these models, although slightly different, but implement the same concept of sound formation.

Compared to them, DDHiFi TC44C seems more rounded, with a slightly closer scene and enlarged images. That is what the musical orientation includes. At the same time, from the point of view of detailing, I did not find any significant differences between them. All of these models build the auditory canvas quite accurately. I personally see the greatest serious difference in the so-called transient characteristics. For MoonRiver and xDuoo, the signal rise is sharp, while for DDHiFi it is soft. Well, the overtones of DDHiFi seem a little longer.
If we compare Link2 Bal and MoonRiver 2 with each other, then MoonDrop, in my opinion, the sound body itself is juicier and softer than it was in xDuoo. From which the features at the edges of the range logically follow: the MoonRiver 2 will have a tighter, more percussive bass, while the highs will be natural and warm. In addition, I was able to face-to-face compare the hero of the review with the older model Shanling: UA5. In fact, it turned out to be an intermediate link between MoonRiver 2 and TC44C. The sound there is noticeably clearer than it was with DDHiFi, but with a more melodic bias than MoonDrop. That is, just a great option for those who love the sound at the same time detailed and as melodious as possible.

In the bottom line, the hero of the review will allow you to get as close as possible to technicality, the quality of working out at speed, whipping, punch, and at the same time maintain such an easy analog softening throughout the range. If I express my personal opinion, then all these models are about the same level with purely taste differences: someone wants a sharper sound, someone softer, and someone something in the middle.
Parsing by frequencies, we have simply unrealistically clear, biting bass, super detailed, textured mids and very natural, extended highs. Well, thanks to a touch of melody, its own mass, volume and depth are enough. That is, absolutely any headphones will fit in conjunction with MoonRiver 2. Those with a bias in musicality will add emotions and expressiveness to the sound, and something, for example, purely reinforcing, will emphasize the speed of attacks and make the sound just perfectly transparent. So in this regard, you can focus solely on your taste preferences.
I also see no obstacles in building a sound stage in depth. The model simply chic draws even serious orchestral works, not to mention heavy metal, good old rock, spatial and not very electronic, blues, jazz and other genres no less demanding on the quality of acoustic design.

Personally, MoonRiver 2 tempts me with the naturalness of its sound, the naturalness of its presentation, the mass that is pleasing to the ear, excellent processing even of the most demanding pieces, and, of course, a slight bias towards melody. That is, without dry neutrality, detachment or monitoring. Listening to MoonRiver 2 is not just pleasant, it really makes you want to do it. I tested the review heroes in conjunction with Kinera URD tribrid headphones, Kinera Skuld fully armature headphones, 7Hz Ethernal pure dynamics and Raptgo Hook-X planar hybrids. It seems that all the most common configurations were taken into account.

Of course, you can also connect something absolutely budgetary to the heroes of the review, but here it makes sense to select headphones from a much higher price segment. The possibilities of MoonRiver 2 are more than enough for their full disclosure. I would rate it at about the same level as $600 audio players or a little higher.

findings
Bottom line, MoonDrop MoonRiver 2 is, in my opinion, one of the best representatives of mobile DACs that I have ever listened to. Simply amazing dynamics and punch, the purest and at the same time saturated middle, with such a slight bias in emotions, and, of course, chic in their length and naturalness of the top. And everything is just perfectly balanced. Headphones will fit any, the style of the device is also not limited. That is practically a music lover's dream. In addition, it is worth noting a very interesting appearance, normal and balanced outputs, acceptable power consumption, just a huge volume margin and two latest generation converters from Cirrus Logic.
Of the minuses, one can note the complete cable, with which the DAC seriously heated up during operation, the system signal level adjustment and sharp corners clinging to the pocket. Otherwise, the device turned out to be exemplary, with a level of measurements that surpasses even E1DA products. Just super cool device, highly recommend.
GET THE CURRENT PRICE FOR MoonDrop MoonRiver 2
My other reviews, on audio topics and not only, can be found in my profile . And you can quickly find out about discounts, distribution of coupons, AliExpress promotional codes on my telegram channel – KVPokupok (the link to it is below). Check it out and join!